Reading Time:

2

minutes
Do you want an easy, refreshing and fast recipe for your summer? There is no better recipe than Andalucian Gazpacho. Gazpacho is the quintessential seasonal summer soup because all of the ingredients are at perfection this time of year.
Plus, the soup is traditionally made with completely raw ingredients, so there's zero need to heat up your kitchen by turning on the stove. Just prep your ingredients on a cutting board, then your blender or food processor will take it from there.
Traditional Gazpacho Recipe
In Spain, the locals usually use small 6-inch cucumbers. Since they aren't readily available everywhere, you can ideally use an English cucumber instead. Tomato-wise, I tend to go with Roma, but any plump, medium size and round tomato should do the trick.
Andalucia, the region of origin for Gazpacho, is known for its sherry. Therefore, most people use sherry vinegar in their gazpacho. You can substitute it with red wine vinegar if you can't find sherry. If you don't have stale bread, just toast up some white bread to achieve the necessary consistency.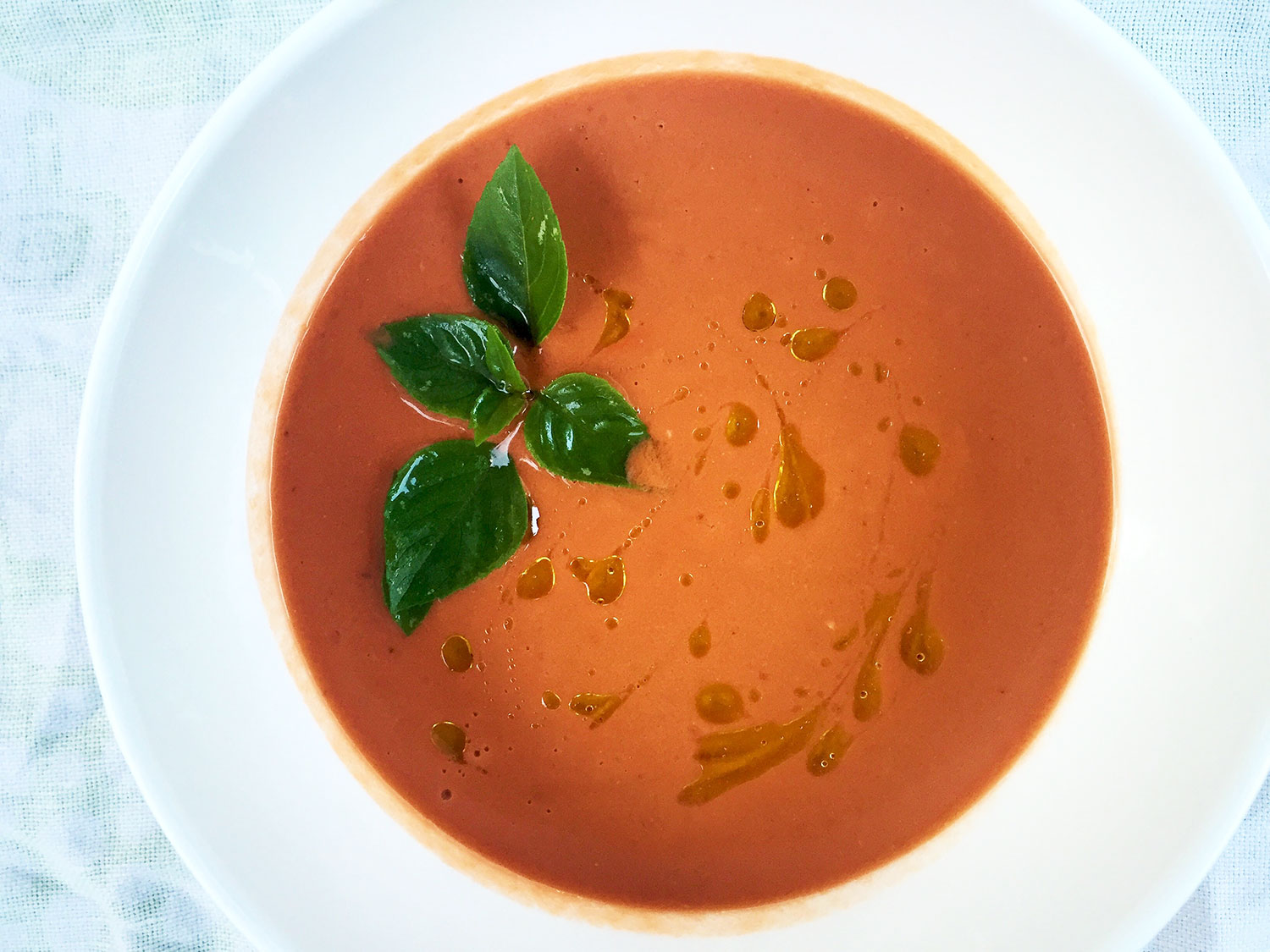 Ingredients
2 lbs of ripe (!) Roma tomatoes
1 English cucumber, peeled and seeded
1 green bell pepper
1 red bell pepper
75g of crusty white bread, most of the crust cut off
half of a red onion, peeled
2 garlic cloves
2 tablespoons of sherry vinegar
3 tablespoons of olive oil
1 teaspoon of ground cumin
salt and pepper
Method
Combine all the ingredients, except the bread, in a food processor and pulse for 30 seconds. Transfer to a bowl.
Poke the bread into the middle of the soup and let it soak for about ten minutes. Transfer back into the food processor and pulse for another 40 seconds. This step will result in a very smooth consistency. If you like it chunkier, blitz for a little less time
Transfer the soup into a sealed container and chill in the fridge for minimum 3 hours, overnight for best result.
Serve with your favourite toppings. You could make your own croutons or add a dash of (sour) cream. Whatever you do, drizzle a bit of olive oil on top in every bowl.