Reading Time:

6

minutes
The scientific dog-human bond was first researched over 30 years ago by psychologist, Alan Beck and psychiatrist, Aaron Katcher. The two documented what happens to the human body when a person pets a familiar dog. Immediately, they noticed that the person's heart-rate began to slow, and their breathing became more regular. These beloved four-pawed animals play an essential role in our lives, emotionally and physically. This is why the world needs more yoga and puppies. 
As time passed, the person's blood pressure also decreased, and their muscles were less tense. Each of these indicators was signs of reduced stress and confirmed the health benefits of spending time with a dog. It's no surprise that over 30 years later, a Toronto couple has fused the idea of playing with puppies and exercising.

Calling All Dog Lovers
Lisa and Leo are a Toronto couple who have always been dog lovers, "but as busy professionals, we don't have time to own a dog," Lisa explains, "When we heard about yoga and puppies popping up in different cities in the US and Canada, we thought it would be a great opportunity for us to combine our love for yoga and spend time with some puppies, so in 2018, we started Pups Yoga."  
Time to De-stress
It's a brilliant idea, considering hundreds of dogs are surrendered in Toronto every year, often by people who realize their busy professional lifestyles are not conducive to owning one. Pups Yoga offers those dog lovers, who are unable to adopt, the chance to interact with puppies while de-stressing the Beck & Katcher way.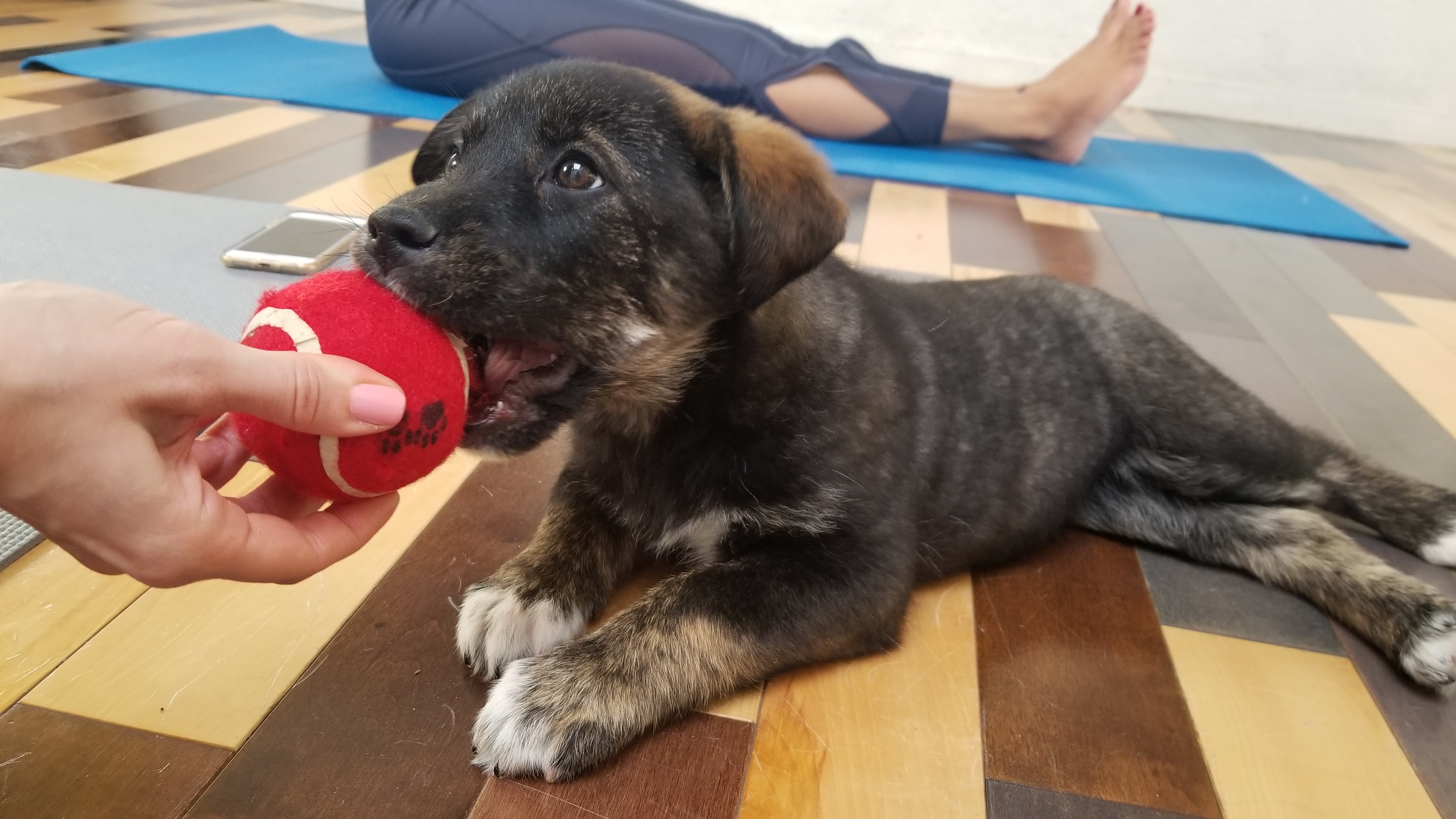 The couple even collaborates with the Toronto Humane Society for special events. According to Makyla Deleo, Public Relations Specialist at the THS, Pups Yoga isn't just beneficial for humans – it's advantageous for the puppies too. "It's a great chance for pups to meet new people and socialize," Makyla explains, "Yoga is a relaxing experience, so while the groups are somewhat large, the energy level is relatively low, and our supporters are quite respectful of the animals."
Keeping the Puppies Happy
As an animal lover myself, I had to ask Makyla if there could be any adverse effects on the puppies. "There could be." She illuminates, "If the litter was shy or under-socialized and they were let loose in a large group of people, with minimal supervision, they could become quite stressed. Class lengths could run too long, or appropriate breaks may not be given to the animals, leading to physical stress as well. 
Also, if the organization is not sourcing their puppies from reputable breeders, they could be supporting puppy mills or backyard breeders. This further confirms that it is crucial to ensure we are supporting a reliable puppy and yoga organizer. It's also essential for attendees to pay close attention to how the animals are being treated, as this is not a regulated industry.
The Pups Yoga Class



Lisa invited me out to one of her Pups Yoga classes, insisting it was something I had to experience first-hand to understand the joy it truly brings. I headed over on a sunny Sunday morning, which, in my opinion, is the perfect day to get in a good yoga and puppies session. On this day, the puppies were a German-Shepherd/Border Collie mix. The type of puppies frequently changes, which gives patrons the option to come back and meet a new litter and breed almost every week.  
There are three classes: 10:00am, 11:15am, and 12:30pm. Each class is an hour, with extra time left at the end for photos and puppy cuddles. The puppies are most energetic in the first class and gradually calm down toward the last class, some even fall asleep in your arms or piled on top of one another. I took the 11:15 am class.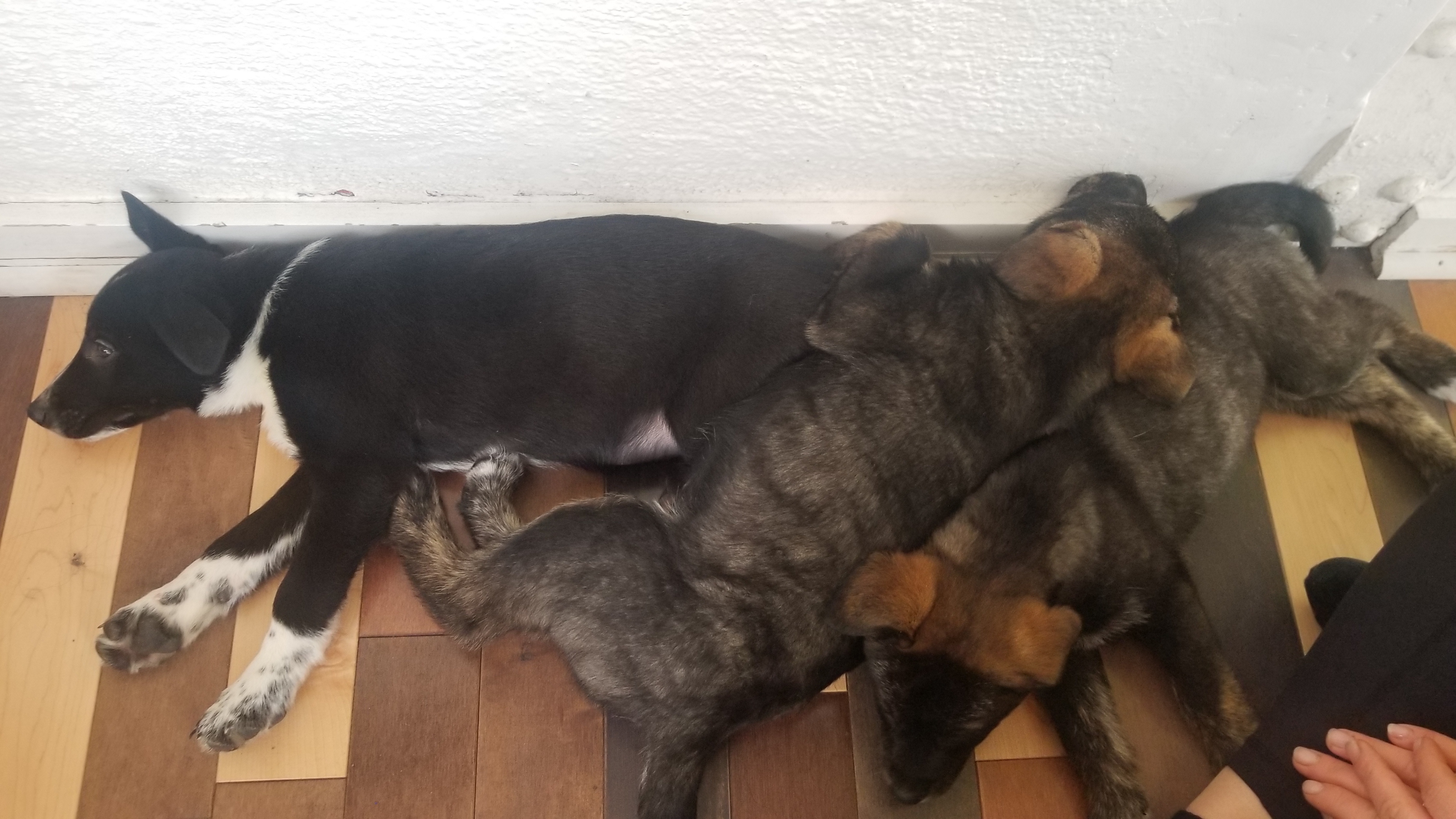 Right away, I was in heaven. There is a lot of commotion when you walk into the room between the puppies running around, and everyone excited to see them. Two girls sat at the side of the room, gently petting three puppies they found piled on top of one another sleeping peacefully. The rest of the litter ran around freely, sometimes biting each other's ears or stopping to sniff a person's toes. I laid my mat down in the center of the room, right in front of the instructor, Madhuri, who had that peaceful yogi aura that all great instructors exude.
The Best Class Ever
She stood patiently and enjoyed the moment as she giggled at participants gushing over the puppies. "It is a wonderful feeling to see people smiling," Madhuri enlightened, "They always enter, letting out a few aww's an exit with a big grin. It fills me with satisfaction. There's nothing better than de-stressing people. I feel blessed to be able to do it."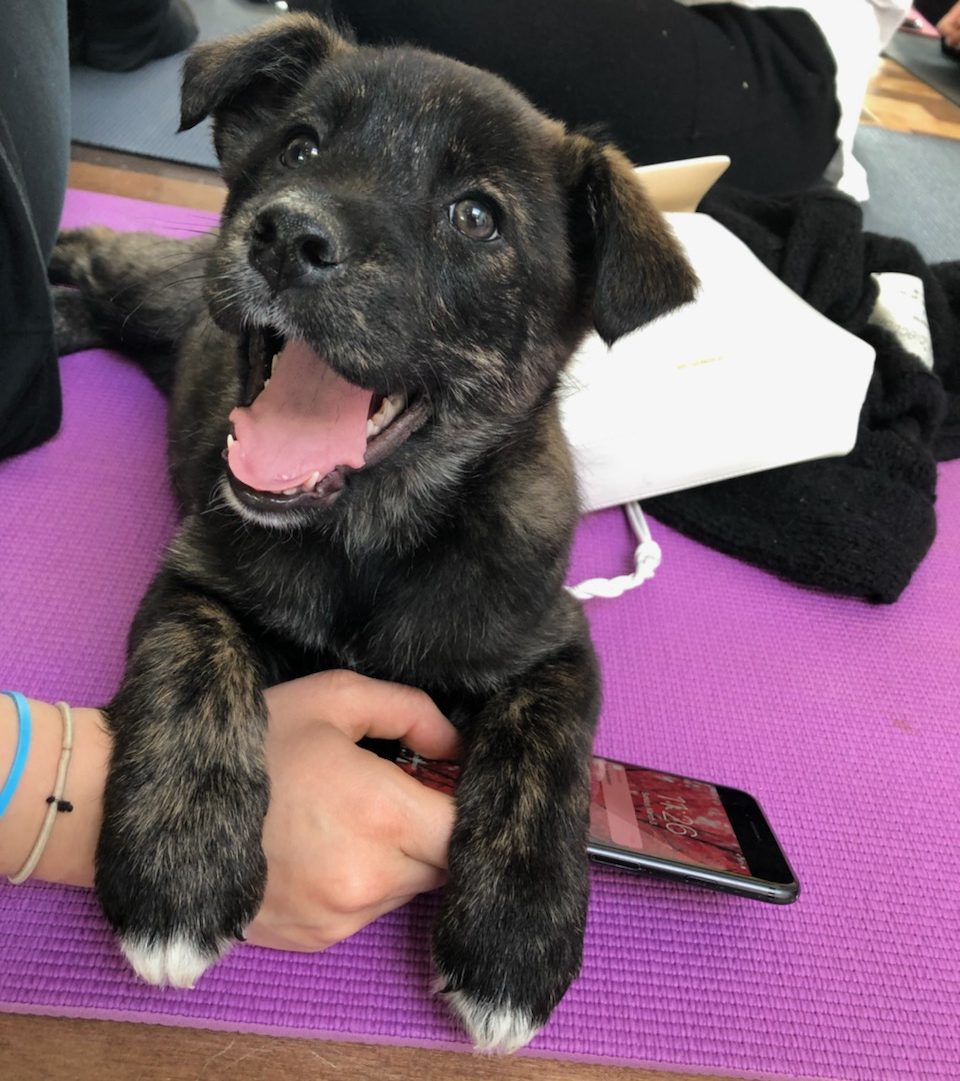 As the yoga and puppies class began, you could tell that some people were there to partake in yoga, some people just came to see the puppies, and some people wanted to do a bit of both. "You get people who come for different reasons." Madhuri elaborated, "It doesn't bother me if some people aren't concentrating on their moves. I just keep teaching and love watching people enjoy the experience. It truly is my dream job." I happened to be one of the people who came for a yoga class but also wanted to play with puppies.
A Unique Class
Although there are distractions in the class, I found that it forced me to have more awareness, which is a big focus on yoga. I remained focused on Madhuri's voice and on positioning myself correctly. The puppies didn't interrupt me because they had enough people in there to keep themselves busy, but when I wanted some attention, there was always one around willing to come and play with me. It's noisier than a regular yoga class, but no one gets upset about it. Everyone got along well, and part of the pleasure in this experience is listening to the other people in the room radiated happiness.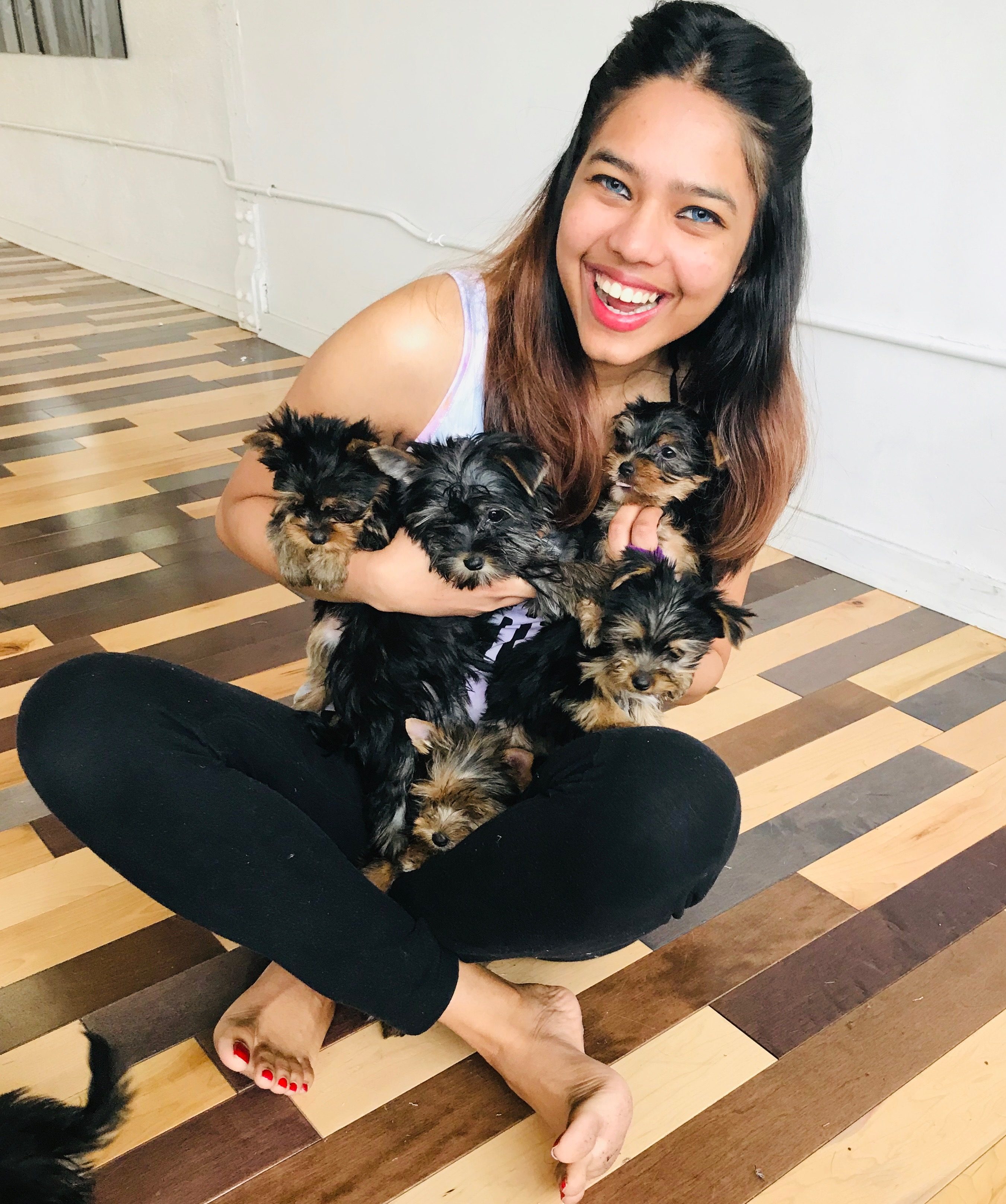 Every time I leave a yoga class, I walk out in a calm trance, and there's a stillness to the energy around me. When I left puppy yoga, I walked out feeling light, but giggly. It was a different feeling than a regular yoga class, less stillness, but more of energetic happiness. If dogs and yoga are both healthy ways to relieve stress, ease anxiety, and lower blood pressure, putting them together can only have positive benefits—more reasons why the world needs more yoga and puppies. 
Happiness is a Cute Pup
The entire experience will put you in a happy and energetic mood for the rest of the day. My favorite aspect of Pups Yoga is what Makyla from the Toronto Humane Society pointed out to me, which is that puppy and yoga classes promote and encourage animal adoption. 

Read more: