Reading Time:

3

minutes
We are inching our way closer to 4/20, and this week we have a classic THC edibles recipe for you: a delicious brownie. Many of us will have had an edibles experience with a "pot brownie" or a "space cake". How that experience turned out can determine your future level of comfort around cannabis edibles. Our aim is to give you a safe and comfortable buzz with our recipes. Read up on our articles about dosage in Cannabutter and Cannaoil if you have any leftover concerns, or write to us in the comment section or on our social media accounts. We got you covered.
Let's Make Some Brownies
We chose brownies as the baked good of choice because the chocolate better masks any residual bitter chlorophyl tastes, that might have ended up in your Cannabutter. Butter-based cookies won't be able to that as successfully. This recipe will yield 16 servings. Each serving will hold roughly 10mg of THC. Your mileage may vary, so less is more at the beginning. If you are serving these at a party, where no one is there to supervise the spread, label and explain the situation.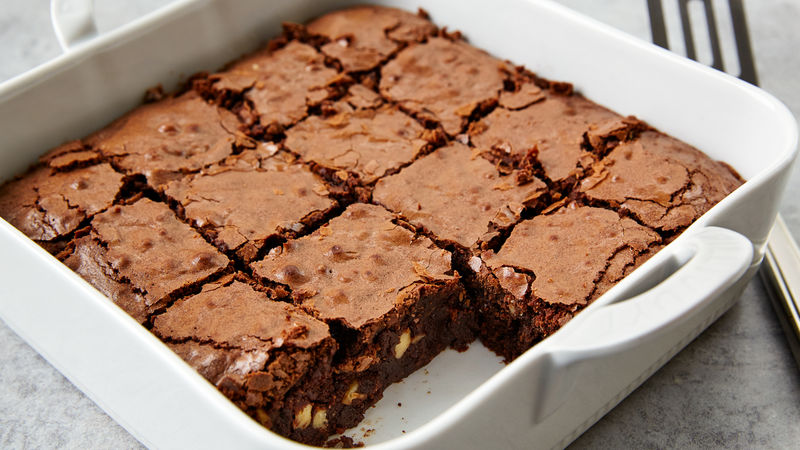 Ingredients
75 grams of unsalted butter
40 grams of (unsalted) DINE Cannabutter
1 cup of all-purpose flour
1 cup of blanched almonds (whole)
170 grams of semi-sweet chocolate – can also be substituted for bittersweet
1 cup of granulated sugar
1/4 cup of cacao powder
3 eggs
2 teaspoons of vanilla extract
1/4 teaspoon of salt
Method
Preheat your oven to 160°C (325°F). Once it reaches temperature roast your almonds on a baking sheet for approximately 10 minutes. You are looking for them to be lightly toasted. Take out the almonds, but don't shut off the oven. Roughly chop the almonds with a knife or give them two or three pulses in a food processor.
Butter (not with the cannabutter or the 75g you need for the recipe) or spray a square/rectangular baking dish.
In a mixing bowl, combine the dry ingredients: flour, cocoa powder and salt. In a second bowl combine chocolate and butter. If you bought the chocolate in a bar, roughly chop it. If they come in button/chip form you should be alright.
Place the chocolate-butter bowl in the microwave. Heat up for 3 minutes, stirring the chocolate halfway through. For a gentler and longer version, you can do this on a double boiler. Set aside to chill.
In a third, larger, bowl, whisk your eggs and then mix them with sugar and vanilla. Pour the entire chocolate mixture into the larger bowl and combine until evenly mixed. Then stir in your dry ingredients gradually. Don't incorporate them too heavily, overworking will make the brownies tough and dense.
Spread the batter into your baking dish and smooth the top. Bake for around 40 minutes. Your edges should be firm and the middle should be set. If you were taught to stick a toothpick in and waiting until it comes out clean, reprogram your brain. Often that means that your brownies are overbaked. No liquid chocolate coating should cling to it, but if it's a bit crumby, that is perfect.
Cool on a baking rack for 15 minutes to half an hour. Cut into 16 equal pieces.
You can leave them out at room temperature for up to three days or freeze them and they can keep for up to a month.
Enjoy the ride.
Read more: