Reading Time:

12

minutes
Researchers confirm the effectiveness of CBD benefits and its ability to improve wellbeing. It's not only a trendy product but an effective way to relieve daily stress and anxiety, reduce chronic pain, and naturally enhance the quality of sleep.
Bitter oil or sweet gummy? Oil, beverage, or on-the-go snack? There is a wide range of different CBD-infused products to suit any taste and budget. In this article, we'll discuss the most popular CBD products and their features. Keep reading to choose the one that would meet all your needs and benefit your health.
Always speak with your doctor before starting a new wellness regimen. While several studies suggest CBD carries potential wellness benefits, not all products are approved for medical purposes. It is also recommended to make sure that you are consuming products that are subject to regulations regarding product safety and quality.
What is CBD?
Short for Cannabidiol, CBD is a natural compound derived from the Cannabis Sativa plant. It is one of more than 100 natural phytocannabinoids found in this plant but offers significant benefits and potential healing properties. Unlike Tetrahydrocannabinol (THC), CBD doesn't have psychoactive properties and doesn't cause a "high" effect.
When consumed, CBD activates the receptors of the endocannabinoid system which are cells located throughout the body, and controls a number of physiological functions such as metabolism, mood, digestion, sleep, immunity, heart function, and temperature. There are two primary cannabinoid receptors; CB1 and CB2: 
CB1 receptors are located mostly in the brain and the central nervous system (CNS). They are responsible for motor functions, stress response, pain perception, and memory. These receptors are activated by the body's endocannabinoids as well as naturally occurring ones, such as tetrahydrocannabinol.

CB2 receptors are spread mainly in the body organs, on white blood cells, in the tonsils, and the spleen. These are responsible for the cardiovascular, immune, and muscular systems.
CBD interacts with the endocannabinoid system but more peripherally and subtly. CBD may inhibit enzymes, protein molecules in cells, which break down natural cannabinoids of your body, by changing the CB1 receptor's shape, making it difficult for psychoactive THC to stimulate the receptor.
CBD doesn't activate CB1 receptors and therefore causes no intoxicating effect. Even high levels of CBD in a consumed product such as CBD oil or taking more than recommended may cause an uplifting sensation, but not a "high" effect. High doses of CBD can cause side effects, such as dizziness, nausea, low blood pressure, or diarrhea. However, CBD products usually don't have any significant risks for users.
CBD benefits
CBD products may be helpful in the following health conditions:
chronic and neuropathic pain

anxiety, depression, and psychosis

epilepsy

diabetes and high sugar level

inflammation

skin disorders, such as psoriasis, eczema, and acne

appetite loss

seizures and convulsions 

nausea

nervous system degeneration

muscle spasms

cancer-related symptoms

sleep disorders
CBD enhances the ability of the endocannabinoid system to maintain balance. Everyone can experience the potential advantages of CBD products.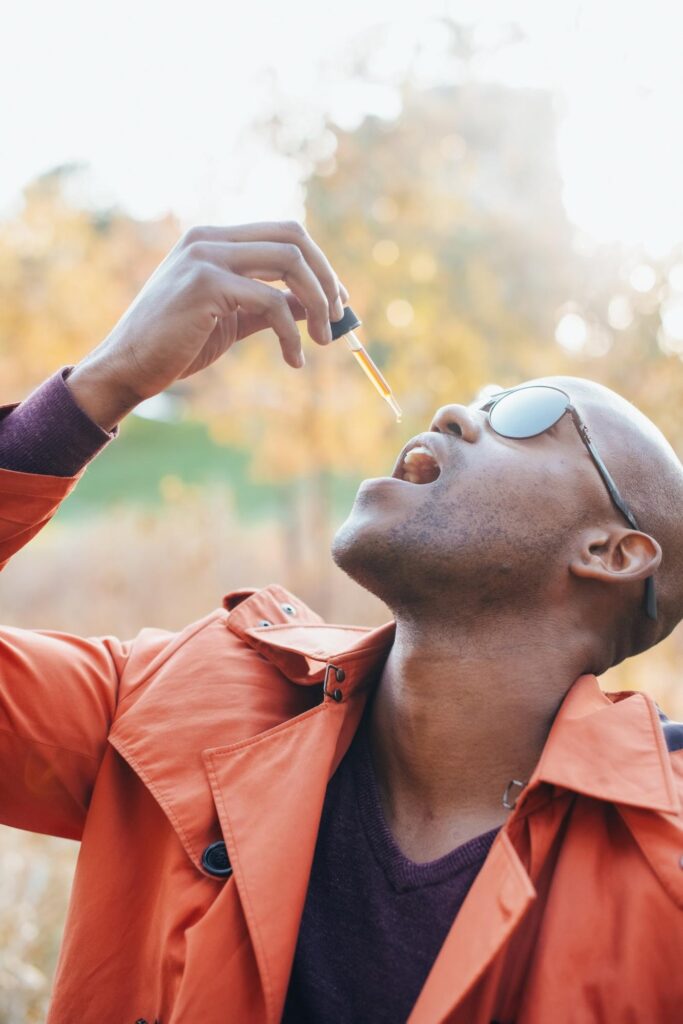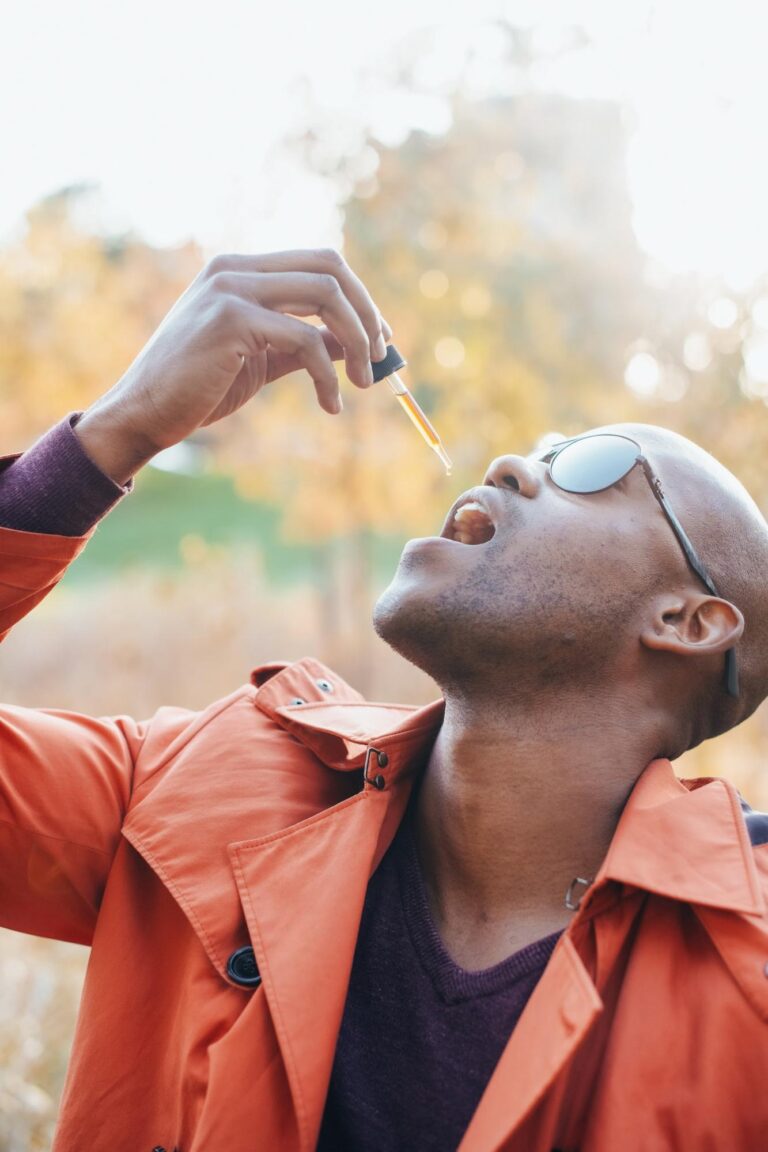 CBD products
Different CBD products vary in CBD concentration and method of consumption. Some products contain useful additives and are enriched with minerals and vitamins from other ingredients. Let's look at the most popular CBD products and their benefits.
Pure CBD Oil
So far, cannabidiol oil, also known as CBD oil, is the most popular product. The oil is created by extracting CBD from the cannabis plant and diluting it with a carrier oil such as grapeseed, coconut, or hemp seed oil. CBD causes no "high" effect or any other form of intoxication.
The potential therapeutic application of CBD oil has been studied for use in:
Stress and anxiety relief,

Epilepsy and anti-seizure effect,

Neurodegenerative disorders, such as

Alzheimer's disease

,

multiple sclerosis, and Parkinson's disease,

Skin disorders,

Chronic and workout-induced pain relief,

Alleviation of cancer-related symptoms.
CBD oil can be put into capsules or pills and taken orally, or mixed into lotions or gels and rubbed directly on the skin.
CBD Oil Tinctures
CBD tincture comes in liquid form and contains CBD in an alcohol base. Vinegar or glycerin can be an alternative base for alcohol. However, it produces the most efficient tincture. CBD tinctures may contain other ingredients, such as herbs, flavoring agents, and essential oils. The tincture has a high CBD concentration and no more than 0.3% THC.
It is used for the same health conditions as regular CBD oil and affects the body in the same way. Due to the high CBD level, the tincture should be taken in smaller doses than oil.
Tincture is usually taken sublingually, by dropping a couple of drops under the tongue.
CBD Concentrates
Concentrates are similar to tinctures but contain the highest level of CBD compared to other CBD products. CBD concentrates on providing a large CBD dose quickly, and they're some of the most cost-effective ways to use a CBD product. Concentrates can come in the form of hemp wax, CBD crystals, or shatters. To take the concentrate, you should place the needed amount under the tongue and along the cheek and swallow it.
CBD Syrup 
CBD Syrup is a flavored CBD concentrate that comes in a variety of different flavors, colors, and CBD strengths. CBD Syrup is often used in health and wellness applications, mostly as stress and anxiety relief products due to its potential healing properties. You may consider purchasing CBD syrup if you suffer from insomnia and stress. It helps to relax and get a better quality of sleep. The syrups may be useful in cases of some mental disorders.
Syrups are user-friendly due to its liquid form. You can use it as an addition to your meals with no noticeable changes in their taste or texture.
CBD Spray 
Sprays contain relatively low CBD levels compared to other products. CBD concentration in a single spray serving usually ranges from 1-3mg. The whole bottle may carry up to 300mg of CBD. The liquid spray formula improves the absorption, while the natural flavoring agents add a pleasant taste. CBD may contain a full spectrum of cannabinoids, flavonoids, and terpenes naturally occurring in cannabis, such as CBDA, CBDV, CBG, CBC, BCP. The interaction between these compounds, which creates more robust benefits, is called the entourage effect. The product is consumed by spraying a needed amount into the mouth.
CBD Topicals
A CBD topical is any CBD-infused balm, cream, or serum that can be applied directly to the skin. Due to the anti-inflammation properties of cannabis, CBD topicals may be helpful while treating acne, psoriasis, and eczema. The studies suggest that topicals with CBD content may reduce swelling, pain, and inflammation caused by arthritis.
As CBD doesn't go through dermal layers smoothly, it's essential to consider the potency of the product Potent CBD topicals typically contain from 200 mg to 1000 mg of CBD per package. The strength of the product may be proven by the indication of nanotechnology, encapsulation, or CBD's micellization on the label. CBD topicals can be applied to body areas that can benefit from it.
CBD Beauty Products
Among the most popular types of CBD beauty products are oils and capsules, lotions, bath bombs, face masks, and hair care products. Enriched with CBD, they may benefit your skin and hair. CBD has shown the potential to slow down the aging processes. It encourages collagen production, which is one of the main components of our beauty, which is beneficial for skin, hair, and nails. CBD protects against the damages caused by inflammation, making it useful for acne treatment. It was recently found that CBD is a good source of fatty acids, essential nutrients, and antioxidants. This combination has a high potential to repair the skin and prevent the appearance of wrinkles, scars, and discoloration. CBD-rich products help to retain moisture and make the skin glowy and vibrant.
CBD Chocolate
By eating CBD chocolate, you get both pleasure and potential health benefits of CBD. Due to its anti-inflammatory and antioxidant properties, such chocolate causes stress relief. Its sweet taste makes the supplement a yummy treat.
CBD chocolate is an easy way to get the daily CBD dose. You can take it with you anywhere to cheer yourself up at any moment. It may be a healthy after-lunch snack as dark chocolate acts as a healthy prebiotic and improves digestion.
CBD Gummies
CBD Gummies are sweet edibles infused with CBD. They contain low CBD doses (10-50mg) and offer the same potential benefits of the hemp compounds. They're easy to dose (no measuring or droppers are necessary), portable, and discreet, which makes them an excellent choice for first-time users. They may quell anxiety and help with insomnia. CBD gummies provide long-lasting effects as it takes longer to go through the digestive system.
Gummies may come in different flavors to suit individual tastes. When searching for a high-quality product, you should check that it has no artificial ingredients, preservatives, or high-fructose corn syrup.
The ideal CBD gummies are made with organic, non-GMO ingredients, real sugar, and natural flavorings. These CBD edibles may also be enriched with turmeric and Spirulina, nutrient-dense superfoods with a wide range of reported health benefits.
CBD Vape Oil
CBD vape oil is a liquid that contains CBD. Some of the vapes are pure additives mixed with existing flavors, while others are pre-mixed blends. Vaping CBD oil causes calming and relaxing sensations, elevates the mood, and can even alleviate pain.
You might be confused by its name, as CBD vape oil is not a real oil. The name comes from hemp oil, which was used for vaping a long time ago. Therefore, more accurate names would be CBD e-liquid or CBD vape juice. You should know that CBD tinctures or CBD oil are not suitable for vaping.
Usually, CBD vape oil is a mix of vegetable glycerin and propylene glycol, explicitly created for vaping. Most vape juices are a combination of these two fluids with a different ratio. These are odorless liquids mixed with flavoring agents. Vegetable glycerin and propylene glycol produce vapor when heated, which is why they can be inhaled. Fluids are not toxic but may cause some side effects, such as the feeling of dehydration or dry mouth, sore throat, and thirst. Usually, the liquids hypoallergenic, but some cases of allergic reactions have been reported. Devices used for vaping are weed or CBD vape pens, vape mods, tanks, or pod vapes.
CBD Capsules & Pills 
CBD pills contain a concentrated dose of CBD, usually derived from the hemp plant. The tablets come in various forms, such as CBD capsules and CBD gel caps. CBD capsules generally contain 10-30 mg of CBD per pill and become more effective in higher doses.
Capsules are easy to take as they contain pre-measured doses, ensuring the exact CBD amount in every serving. When consumed, the pills work the same way as regular vitamins — they get absorbed in the digestive system when swallowed or dissolved under the tongue. Due to lower bioavailability, they may not be as effective as other CBD products and take longer to produce effects.
Pills can be made from different CBD types. Some pills are made with CBD Isolate, while others contain full-spectrum CBD. Capsules made of CBD Isolate usually contain no THC traces. At the same time, full-spectrum caps may have negligible amounts of it, less than 0.3%. In any case, this trace amount will not cause any psychoactive effects or "high."
CBD Pet Products
CBD for animals can be administered in many of the same forms they're used for humans, such as oils, edibles, pills, or topicals.
So far, there are not a sufficient number of studies to demonstrate how CBD interacts with the endocannabinoid system of animals and what health benefits it can provide. Some studies consider CBD products to be useful treats for different health conditions. It was shown that CBD could alleviate pain and improve activity in dogs suffering from osteoarthritis and reduce seizure frequency in dogs with epilepsy.
Veterinarians don't have many medications to alleviate these conditions, and some that are available come with side effects, such as weight gain and lethargy. According to the World Health Organization report, pure CBD is mainly well-tolerated by animals. At the same time, the studies show that CBD may affect liver function. It's important to know that THC is toxic to cats and dogs and causes poisoning. For that reason, pet care products should contain zero THC.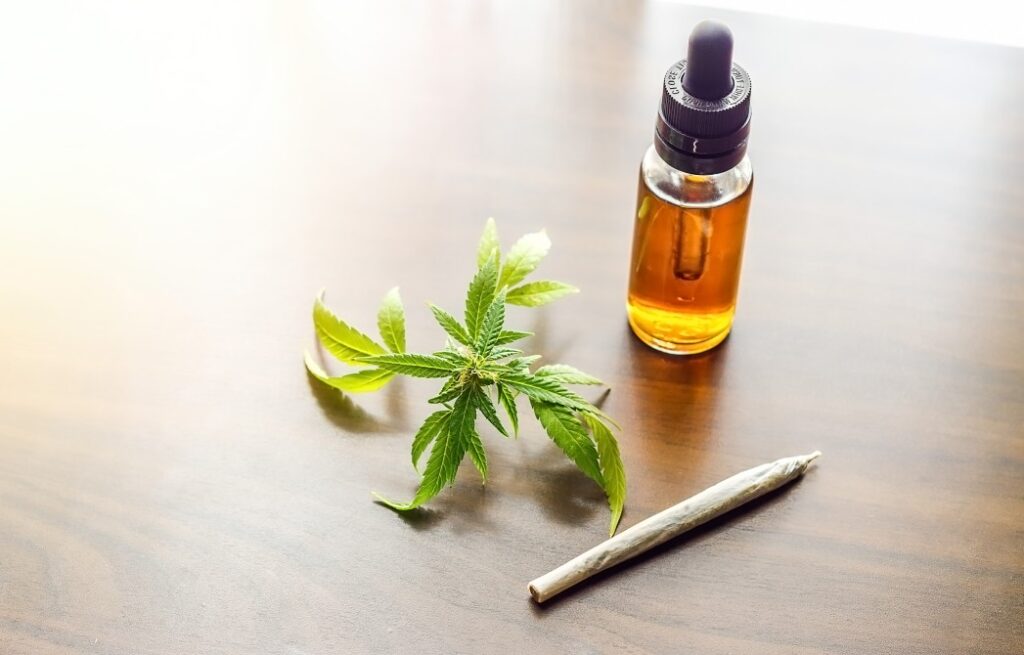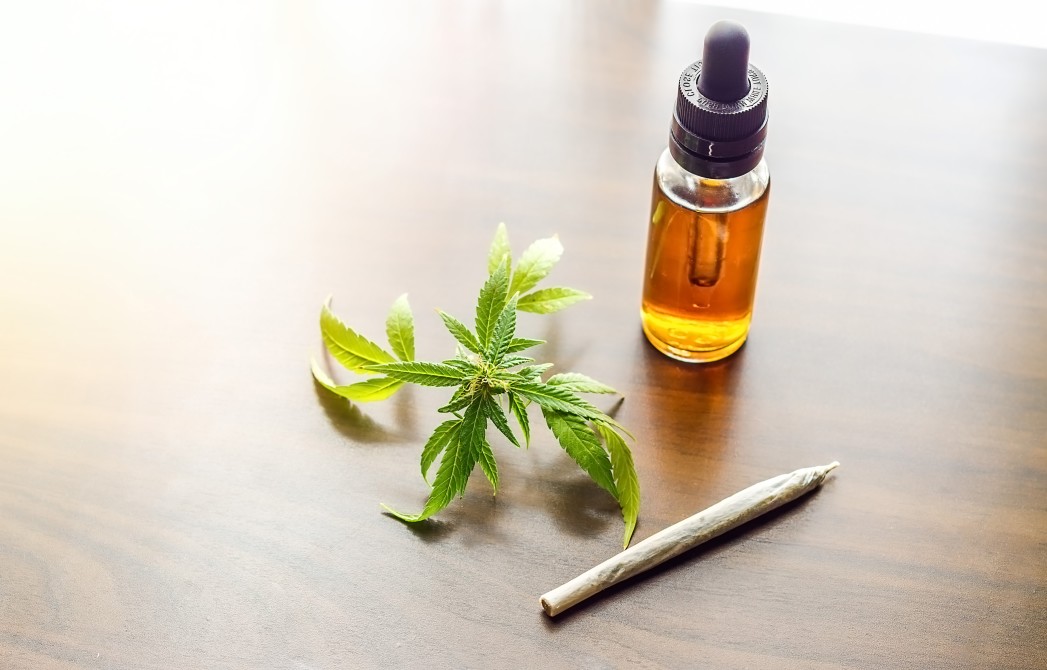 The Sources for CBD Products
It is essential to consider the CBD type when purchasing a CBD product.
CBD Isolate is the purest type of CBD and is cleared from other compounds, making it the best CBD option for consumers who want to avoid THC.
Broad-spectrum CBD products provide the full range of health benefits from cannabinoids, but generally don't contain THC. This is the best choice for individuals who have doubts about THC usage or are sensitive to THC. It is also recommended for those who have conditions that CBD Isolate could not ease, or those who live in the areas where THC usage is prohibited.
Products made with full-spectrum CBD contain all of the plant's flavonoids, terpenes, and cannabinoids, including THC. Full-spectrum products have the best therapeutic benefits due to the entourage effect. It means that cannabinoids have a more significant impact combined than consumed alone. It's necessary to check the label and make sure that the product has no harmful ingredients and contains a negligible amount of THC.
The best way to define the right CBD product and the optimal serving is to consult with a physician. Please keep in mind that many additional factors, such as the simultaneous usage of other medications, may enhance or reduce CBD effect. Take care and be well.
References:
Read more: 
Benefits of Water-Soluble CBD Oil