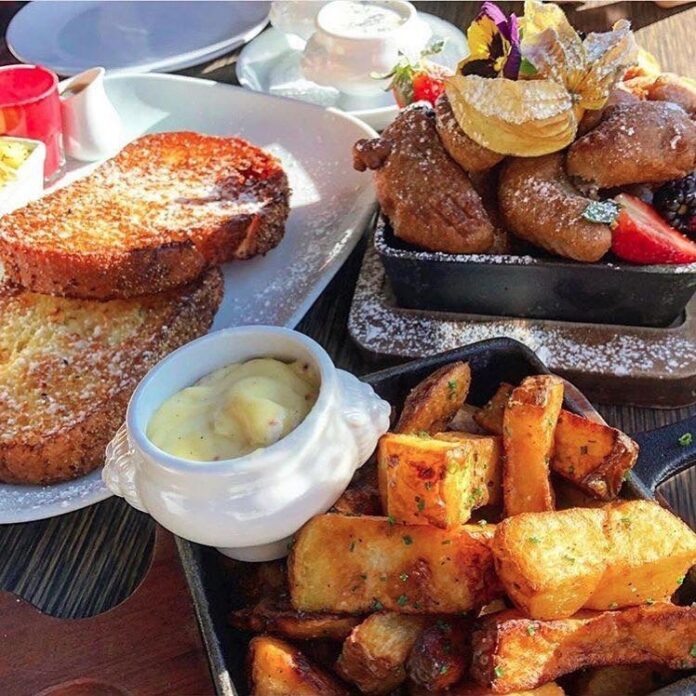 Montreal has a serious brunch edge over most cities in Canada. From the heavenly carrot cake pancakes at L'Avenue to Foiegwa's seriously delicious fried chicken and waffles, this city rarely disappoints when it comes to brunch. However, I recently visited Le Passé Composé, a restaurant I'd only heard about. It blew my other Montreal brunch experiences out of the water. This unsuspecting brunch spot in the Gay Village elevated even the most simple brunch dishes to next level.

The first sign of a good brunch spot is the line out the door. We arrived around 10:30 am on a cold Sunday morning. There were few signs of life on any neighbouring streets, and so it was easy to spot the line outside Le Passé Composé from several blocks away. There were 15-20 people in front of us, and we ended up waiting in line for roughly half an hour before we were seated. Despite the long-ish wait time, complimentary coffee is set up by the front door so patrons can sip while they wait. Plus, waiting in line allowed us to sneak a peek at other people's orders, which helped when it come time for us to decide what we wanted.
Once seated, we perused the menu to find a range of items, from a whole section of poached egg options, to the classic Le Passé Composé breakfast, to sweet options like apple beignets, their famous Panko-crusted French toast, and their deconstructed yogurt and granola parfait called, "Le Crumble." They also had a special menu of the day, and on the Sunday we visited, it included a waffle sandwich with fresh figs and mascarpone – we saw it go by and it looked incredible.
In the end, we settled on the classic Le Passé Composé breakfast. As this was our first visit, we figured we would get the lay of the land and try a little bit of everything. First warning: do not eat anything before ordering this meal, and do not plan on eating anything until dinner. The portion is enormous, and everything is so delicious, you will still want to finish it all despite it being way too much food to eat in one sitting.
READ MORE: Beauties & The Brunch
The Passé Composé Breakfast comprised roasted potatoes covered in chives and diced onions (indeed the most flavourful breakfast potatoes I've ever had), bacon, ham, and sausage (the menu just says "sausage," but it turned out to be chorizo, which is a definite upgrade in my books), fresh fruit, a mini smoothie (a refreshing raspberry smoothie in a tiny shot glass – both tasty and adorable), fluffy eggs cooked the way you like them (scrambled, in my case), and finally, the pièce de résistance – one slice of the bistro's famous French Toast.
Full disclosure: While waiting in line, we had seen multiple waiters walk by holding a plate with a single slice of French toast on it. It isn't much to look at so we weren't sure whether to order it at first, but the number of tables that ordered it made us consider it was a must-try, and boy did we make the right choice! It was hands-down the best French toast I've ever had. It was crunchy on the outside, soft on the inside, and had almost a funnel cake-like taste. With a drizzle of pure maple syrup, it was perfection.
So there you have it, my brunch experience at Le Passé Composé, prompting me to declare the restaurant as the best brunch spot in Montreal! To reiterate – run don't walk to Le Passé Composé. I plan on making this a regular stop on my rotating brunch lineup, and especially can't wait to visit in the summer when the patio is open!