Reading Time:

10

minutes
On Tuesday, March 12, ABC will close out its 23rd season of The Bachelor/Bachelorette franchise. When the show first started in the early 2000s the premise was clear: An eligible bachelor (read: rich, charismatic, handsome, worldly) is wooed by 24 single women in hope of finding a partner at the end. Somewhere along the way however, aspects of the ratings juggernaut changed and the show ran into a dilemma.
The leads and contestants became younger and less wealthy, while the show insisted that every season end with an engagement. Furthermore, the way the show kept procuring new leads, resembles a feeder system were losers of the Bachelor edition would then star in the Bachelorette and vice-versa, or if the contestant was controversial, they would end up in Mexico on Bachelor in Paradise.
This is how we ended up with this season's lead: Colton Underwood. The former NFL (practice squad) player first participated as a contender on last year's edition of The Bachelorette. Once eliminated, he shortly thereafter appeared on Bachelor in Paradise, where he left, presumably once he learned that he would be the next Bachelor. Every season the lead is cast in his/her special light. There was the Race Car Bachelor, the Second-Chance-At-Love Bachelorette, or the Twice-Rejected Bachelor. Unfortunately, the show chose to make Colton the Virgin Bachelor, a personal detail the 26-year old revealed in his stint on The Bachelorette.
https://www.instagram.com/p/Bu2wDNjHZLK/
Does He Really Like to Eat?
This made the beginning of this season, especially, quite uncomfortable to watch: too many virginity jokes, unenlightened sex commentary and a flurry of "spontaneously" exploding champagne bottles. A rebranding after that proved to be difficult, since Colton, unfortunately, has the charisma of Wonder Bread. What he kept insisting, though, is that he loves to eat. This claim was widely debated in Bachelor Nation, since he didn't seem to enjoy much of the exotic food he tried on the show.
As a reputable food publication, we at DINE Magazine decided to investigate these claims without inherent bias. We give you a complete episode-by-episode breakdown and verdict at the end.
Before Colton's Season
Since contestants never get enough airtime with the lead we decided to forego any evidence from Colton's time on The Bachelorette. We know a little more about his time in Mexico. In an interview with Newsweek, Colton revealed, that he gained 12lbs in his week on Bachelor in Paradise: "We're eating a lot of chips and a lot of guacamole and… we got after the chicken tacos. It was a lot of fun." Coupled with the constant flow of alcohol and fast-food, like burgers and hotdogs, that makes for a crappy diet.
At home however, the Denver-raised Underwood seems to take care of his body. In an article for Men's Health, Colton described his diet routine: Oatmeal, peanut butter and blueberries for breakfast. Complex carbs and protein, preferably salmon for lunch. Salmon will prominently feature again, my friends…  Again, fish and vegetables for dinner. For a snack in between he'll have a rice cake with more (creamy) peanut butter.
Other tidbits: He loves Chipotle and would love to cook with his favourite chef Guy Fiery.
Episode 1: Let's Do This Thing
In the over two-hour premiere we get almost no food content. The only exception is contestant Erika McNutt who brings Colton an assortment of nuts. A thoughtful gift to prevent him forgetting her name. Spoiler: It did not work – he quickly forgot. Since there is not much to go on here, I would like to go on a tangent about Colton's drink choices. He almost exclusively drinks white wine on the show. There is no judgment here, but it could show that he is not a seasoned follower of Dionysus. Most former contestants have a proclivity towards brown spirits in tumblers. I chalk up his choices to his athletic past, or that he just doesn't like alcohol and would rather have something resembling juice – ergo: white wine.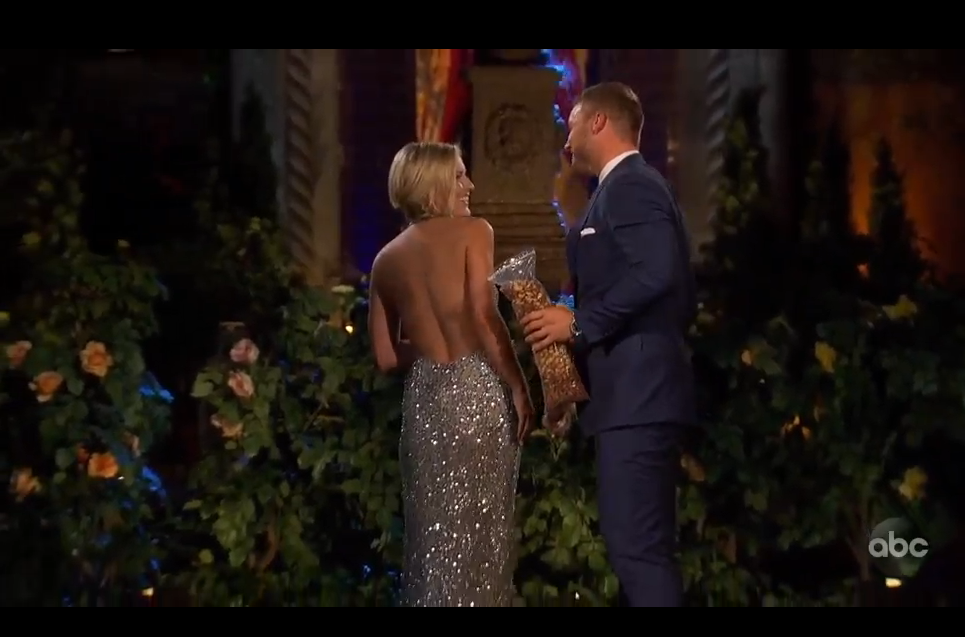 Episode 2: Uneaten Food Everywhere
In episode 2 we see a reoccurring theme in the Bachelor franchise: a ton of uneaten food. We are not the first publication to remark on this fact. Every one-on-one date is capped off by a dinner, which the lead and contestant barely touch. In this case it is a plate of salmon and roast vegetables (what did I tell you!) Every mini-date is usually accompanied by a cheese and/or charcuterie plate. In my many years following the show, I have yet to see someone eat a piece of cheese.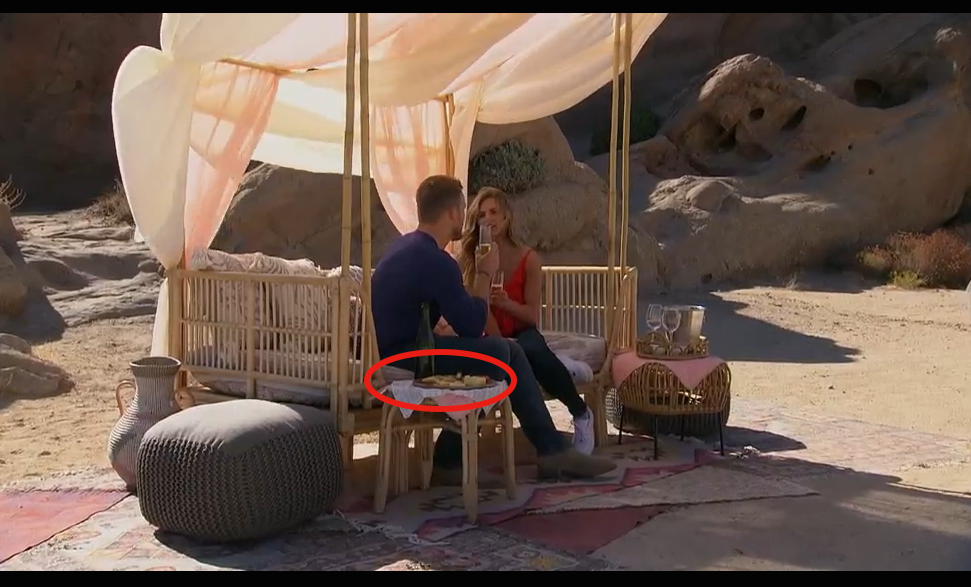 Episode 3: A Common Love For Sushi
Once again it is pretty slim pickings in episode 3. Except for more untouched food, we don't get many visual clues. But, in a mini-date conversation with contestant Katie Morton, Colton reveals his love for sushi. Now, I personally take Colton for a Salmon/Tuna-Avocado or California Roll (with fake crab) kinda guy. We see later in the show that he does not treat all creatures of the sea equally. He adds that food will always be a passion of his and that he looks for that feature in a partner.
Episode 4: Strange Choices in Singapore
For the first time this season the show goes on the road. Colton and his girls are off to Singapore. We learn that it is Colton's first time outside North America. Insert your own childish virginity joke here. We see him wandering the night markets, buying fruit and drinking juice. After a date with more salmon and roast vegetables we finally get a food activity. A number of girls go on a group date with Colton and eat in one of Singapore's many markets. On the menu: stewed bullfrog, crispy pig feet, eel, fish eyes and pig intestines. While we hear Colton say off-camera that he liked the bullfrog, we don't actually see him take a bite of anything. As a former law student I'll rule this as a classic: In doubt for the accused.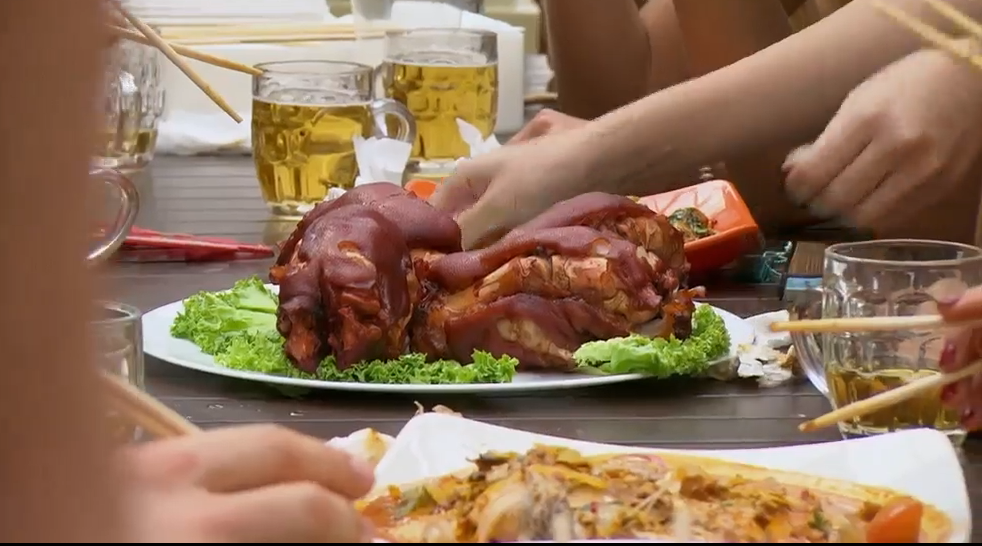 I also want to mention that this activity drew considerable criticism in the media and online. The Washington Post's Maura Judkis called the group's conduct and the decisions by the production "disrespectful" and "perpetuating nasty stereotypes". People on Twitter took note too:
This 👏 food 👏 is 👏 not 👏 weird 👏 if 👏you're 👏 not 👏 white #TheBachelor

— Gossip Chris (@gossipgurl) 29. Januar 2019
My least enjoyable part of any season of #TheBachelor is when they go to another country and laugh at/disrespect/gross out about local food and customs. Like, what an ugly American thing to do.

— Casey (@cmbeecat) 29. Januar 2019
so we're still doing the thing where asian food and culture are "weird" challenges for blond girls to prove they're game to do ANYTHING for love, eh? in 2019? #TheBachelor

— Claire Fallon (@ClaireEFallon) 29. Januar 2019
I couldn't agree more. Furthermore, if the production knew that they had a rather novice group of travellers, they could have shown off other celebrated Singaporean street food. With its influences of Malay, Chinese, Indian and Thai flavours, Singapore is one of the best places to eat in the world. Try harder The Bachelor.
Episode 5: Getting Adventurous in Thailand
Our friends stay in South-East Asia and make their way to Khao Lak, Thailand. Colton finally eats something on camera: Grilled shrimp, Pad Thai, and ice cream – good for you, Colton. In another group date he takes a few of the women to a survival Afternoon in the Jungle. Everybody tries some banana tree root, but no one likes it. Then the survival guide cranks up the heat. In a scene reminiscent of the Lion King's Hakuna Matata, he lifts some leafs and dares the group to try some fresh larvae. While Colton appears to eat one, he later admits that he only faked it. Fooled me. Afterwards, the group splits into 3 teams to forage for food. While two teams seem committed, the third team catches a shuttle back to the resort to procure burgers and fries. When they arrive back with their bounty, Colton seems happier about the burger than about any of the girls around.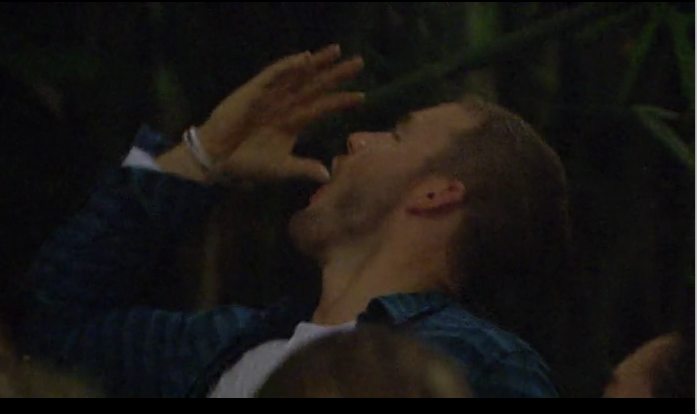 Episode 6: A Very Wet Time in Vietnam
It's week 6 and we are still in South East Asia. In Vietnam Colton has a spa date with what seems like a two-hour shower scene, a date in monsoon-like conditions and… another food date!
This time it is Kirpa Sudick's chance to spend some quality time with our bachelor. The activity: Spearfishing for sea urchin. While Colton proves to be a prolific hunter, he does not enjoy the raw delicacy right out of the shell. As I suspected – a salmon-avocado guy.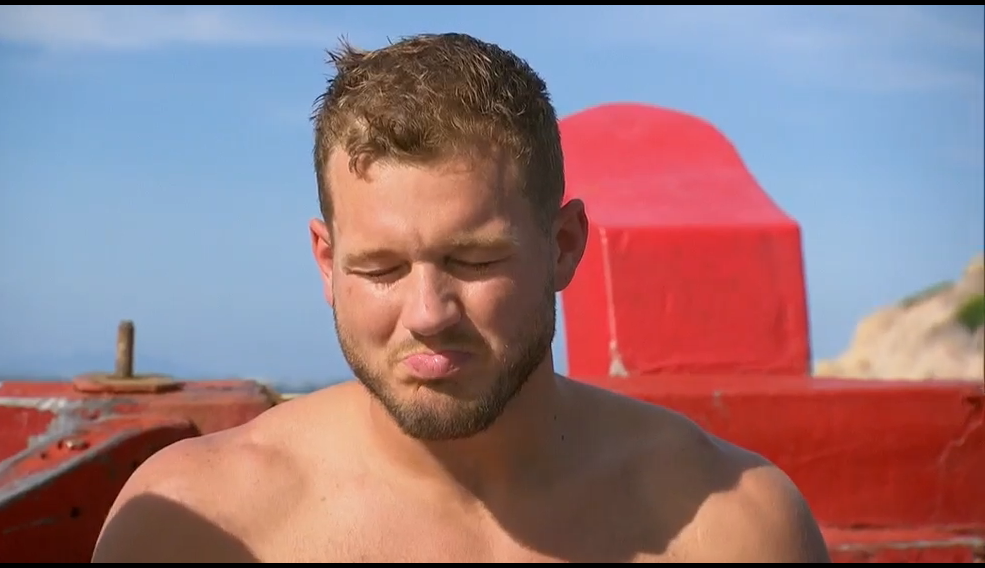 Episode 7: Home Sweet Home
The final six contestants headed back to the US and to Colton's hometown of Denver, Colorado. We know that Colton's first meal upon his return was from Chipotle. Then it was time to show Tayshia Adams around his favourite Denver spots. They visited an oyster bar where Colton again made a face while eating raw seafood. After a wine tasting and some ice cream they decided to cook at "Colton's apartment". What dish do you think these two came up with? You guessed it! A healthy serving of salmon and roast vegetables.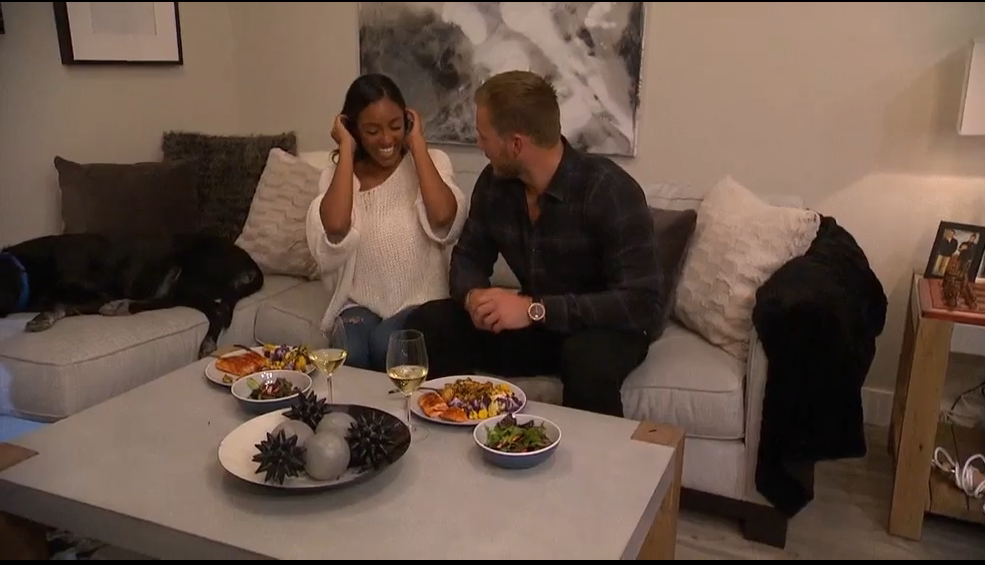 Episode 8: Home Sweet Home – The Reverse
Let's turn the tables. It is time for Colton to meet the final four contestants' families. We don't get much food here. All the families have a barbecue or roast of some kind, but we don't see much eating. It's time to ask four different fathers for the hand of their daughters. How is this still a thing in 2019?
The only thing worth mentioning is a Southern etiquette lesson Colton attends with contestant Hannah Godwyn. Over steak(!) and roast vegetables he learns how to properly butter a dinner role under the watchful eye of the instructor.
Episode 9: A Shocking Twist
Yes, many of you will have heard by now that Colton, after learning that Cassie Randolph, his one true desire on the show, rejects his confessions of love, literally jumps an 8-foot fence and disappears into the Portuguese countryside. It becomes an instant classic Bachelor moment and is truly breathtaking. Here, enjoy this .gif(t)
The truly shocking twist happened the day before. After an uneventful overnight date with Tayshia, the two share breakfast. We learn that Colton had never eaten an apricot or a date and that he can't have cheese! You thought you could bury this in your outtakes ABC?! I, however, do not think that Colton is lactose-intolerant, since we see him having cream-filled Portuguese pastries with Cassie the next day. Colton, we demand answers to these pressing issues.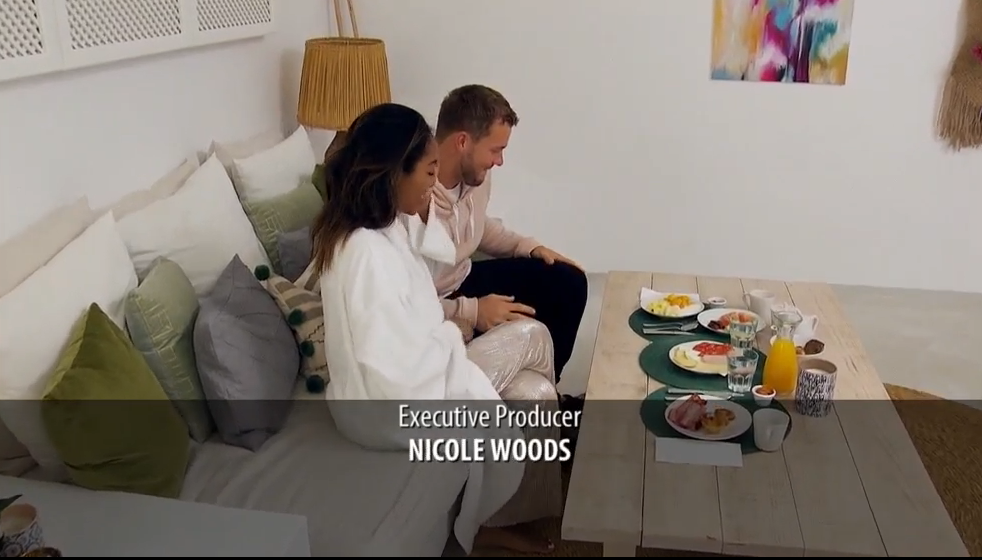 Verdict:
After this deep-dive into Colton Underwood's eating habits on the show I am ready to deliver my verdict. Is Colton a fussy eater? I wouldn't go that far. I believe he thinks he is a foodie. And I am sure he likes certain foods a whole lot, but he hasn't got a worldly palate. He tends to stick to his familiar tastes. When he goes out of his comfort zone he looks around for a medal. He is in great shape and maintains a strict diet. My advice would be: Baby steps… Travel a little; try to learn new things. It will make you infinitely more interesting than just knowing about what's not happening in your bedroom.
If this made you more invested in the show, here is a public service announcement: The finale to Colton's season airs Monday and Tuesday nights at 8pm(EST) on ABC and CityTV.
Read more: