Reading Time:

11

minutes
Gummies, cookies, cakes, and brownies are just a few examples of marijuana edibles you can make at home. And just in case you are wondering, no – you don't need any special skills to prepare edibles in your own kitchen. All you need is a clear recipe and you are good to go, and of course some weed and the right ingredients.
First things first though, you cannot make or cook marijuana edibles without first decarboxylating your weed. If you do, you won't get high! Let's see why.
The Importance of Weed Decarboxylation for Making Marijuana Edibles
This is for beginners. If you are not a beginner, you probably know what weed decarboxylation is, and why it's important. In that case, feel free to jump straight to the recipes. But for beginners, it is important to decarboxylate or decarb (in short) your weed, otherwise, you might not get your desired effects or results from your edibles.
You see, weed or cannabis, in its raw form, contains hundreds of compounds (cannabinoids). Out of these compounds, only a few have been found to be beneficial, and they include CBD (cannabidiol), and THC (tetrahydrocannabinol).
Studies are still ongoing to see what the rest can do, but as of now, CBD and THC are the most recognized.
Since it is possible to separate these compounds from each other, marijuana edibles can either be infused or cooked with CBD or THC. CBD doesn't have psychoactive agents and will, therefore, not get you high or stoned. For this reason, it is commonly used for medicinal purposes and is especially good for treating pain and anxiety. THC, on the other hand, is psychoactive in nature and will definitely get you high.
This is where the decarboxylation process comes in. THC, in its natural form, is THCA (tetrahydrocannabinol acid). Decarboxylation activates THCA or rather, turns it into THC.
How does THCA turn into THC?
Through light or heat! To decarb your raw weed at home, using heat is going to be the easiest and most effective method. This is a process that happens automatically when smoking or vaping weed due to the heat involved.
To cut the long story short, here is a simple way to decarb your raw weed at home.
Directions:
Preheat your oven (240 degrees Fahrenheit).

Line or coat a baking tray with foil paper/aluminum foil/parchment paper.

Grind 2-3 tablespoons of cannabis flower with 10% THC (You can grind more if you wish for future use).

You may use a hand grinder or a coffee grinder.

Spread the now grounded cannabis evenly on your baking tray.

Bake for 25 minutes.

Remove from the oven and let it cool (5-10 minutes should be enough).

Your cannabis is now decarboxylated/activated.
Now, onto our first edible.
Marijuana Edibles You Can Make At Home – Cannabis Butter
Cannabis butter, also known as cannabutter, is among the most useful marijuana edibles you can make at home, especially as a beginner.
Why?
Because this is what you are going to use to infuse weed into your edibles. This is because CBD and THC are both fat-soluble, meaning they can easily be extracted from cannabis or marijuana by heating them in butter, coconut oil, or any other fatty oil.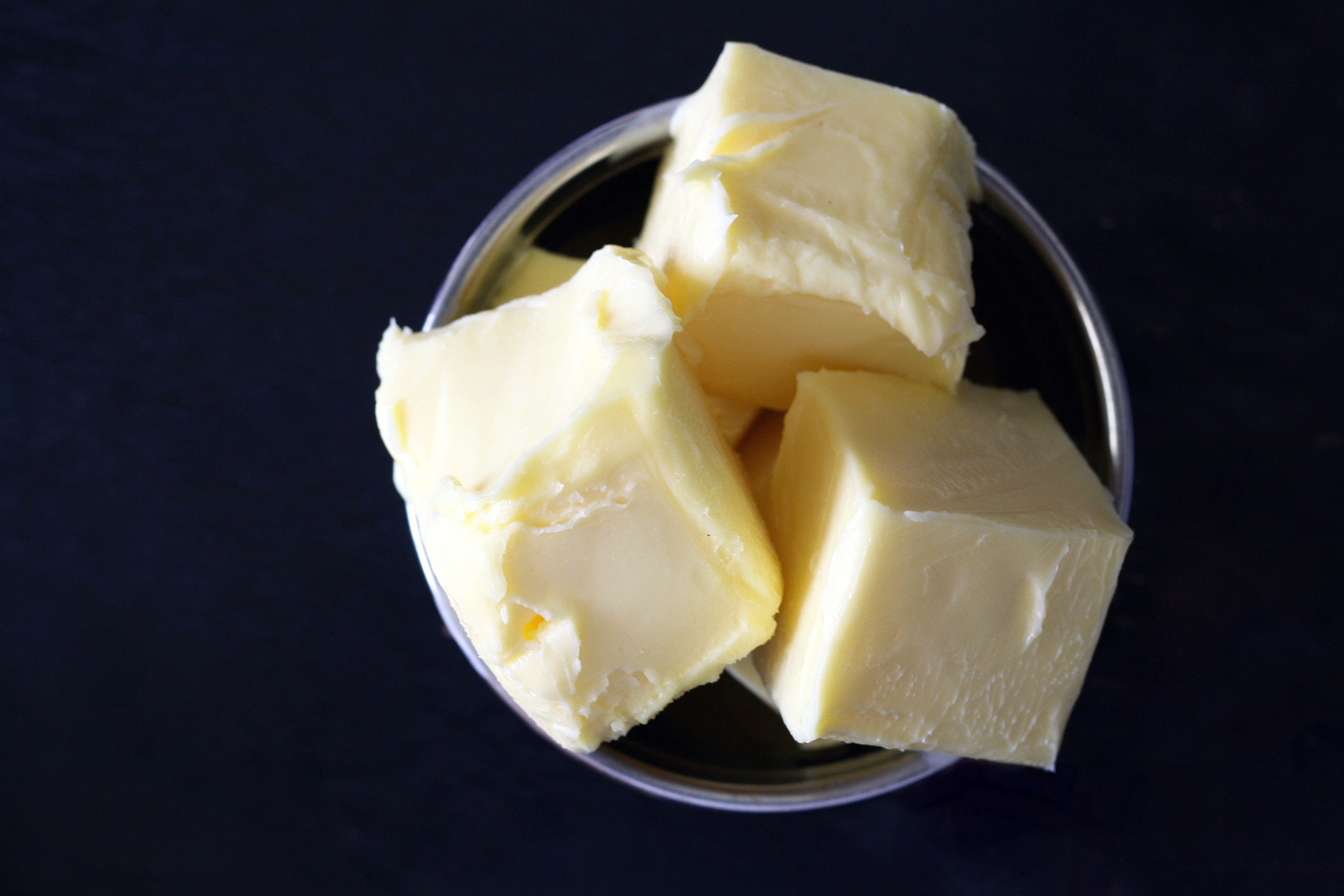 Of course there other means to infuse weed into your edibles, and we'll definitely highlight them in subsequent articles, but using cannabis-infused butter is arguably one of the easiest ways.
Once you make your cannabis butter, you can then use it as a spread, or use it to make your edibles.
Cannabis-Infused Butter/Cannabutter Recipe
Ingredients:
Butter – 2 Cups

Water – 2 Cups

Decarboxylated weed – 1 ½ Teaspoons
Instructions:
Add butter and water into a saucepan and simmer low. Water helps regulate the temperature to keep the butter from burning/scorching.

As your butter melts, add your weed and stir.

Simmer on low heat – above 160 degrees F to 200 degrees F.

This mixture must not come to a full boil during this entire process.

Maintain low heat for 2-3 hours and stir 2-3 times per hour.

Remove from heat and allow to cool.

Once cool, take a funnel, line it with cheesecloth and place it in a glass jar. Strain the mixture by pouring it over the funnel.

Refrigerate the butter for about an hour and check if there's water at the bottom of the glass jar.

If there's water, remove your butter with a knife and drain the water.

Your cannabutter/cannabis-infused butter is ready.
Dosage Tips
Make sure to use cannabis flower, 10% THC for this particular recipe.

10% THC cannabis flower can be bought online or at a dispensary (assuming your country or state has already legalized weed).

When infused into the butter, your entire THC dosage will be around 700 mg.

This gives you around 7.2 mg of THC per level teaspoon of your cannabutter.

For beginners, the ideal THC dosage per edible is 2.5 mg of THC. If your tolerance levels are higher, i.e., if you are already an experienced user, you may use around 5 mg per edible. Whatever the case, don't exceed 20-30 mg of THC per day.

So, a level teaspoon of your cannabutter will make around 3 edibles of 2.5 mg of THC each. Use this estimate to make your edibles.

Please note that marijuana edibles will give you a more powerful "high" when compared to smoking weed.

Also, the effects will take longer to materialize or kick in – usually 1-2 hours, but will last longer – 6-8 hours. So, go slow on your marijuana edibles and don't take them on an empty stomach.
Marijuana Edibles You Can Make At Home – Cannabis Cookies
Cannabis cookies are some of the best THC-delivery marijuana edibles you can make at home. True, it will take some time for you to get high, but once the effects kick in, they will be more intense and will last for a long time.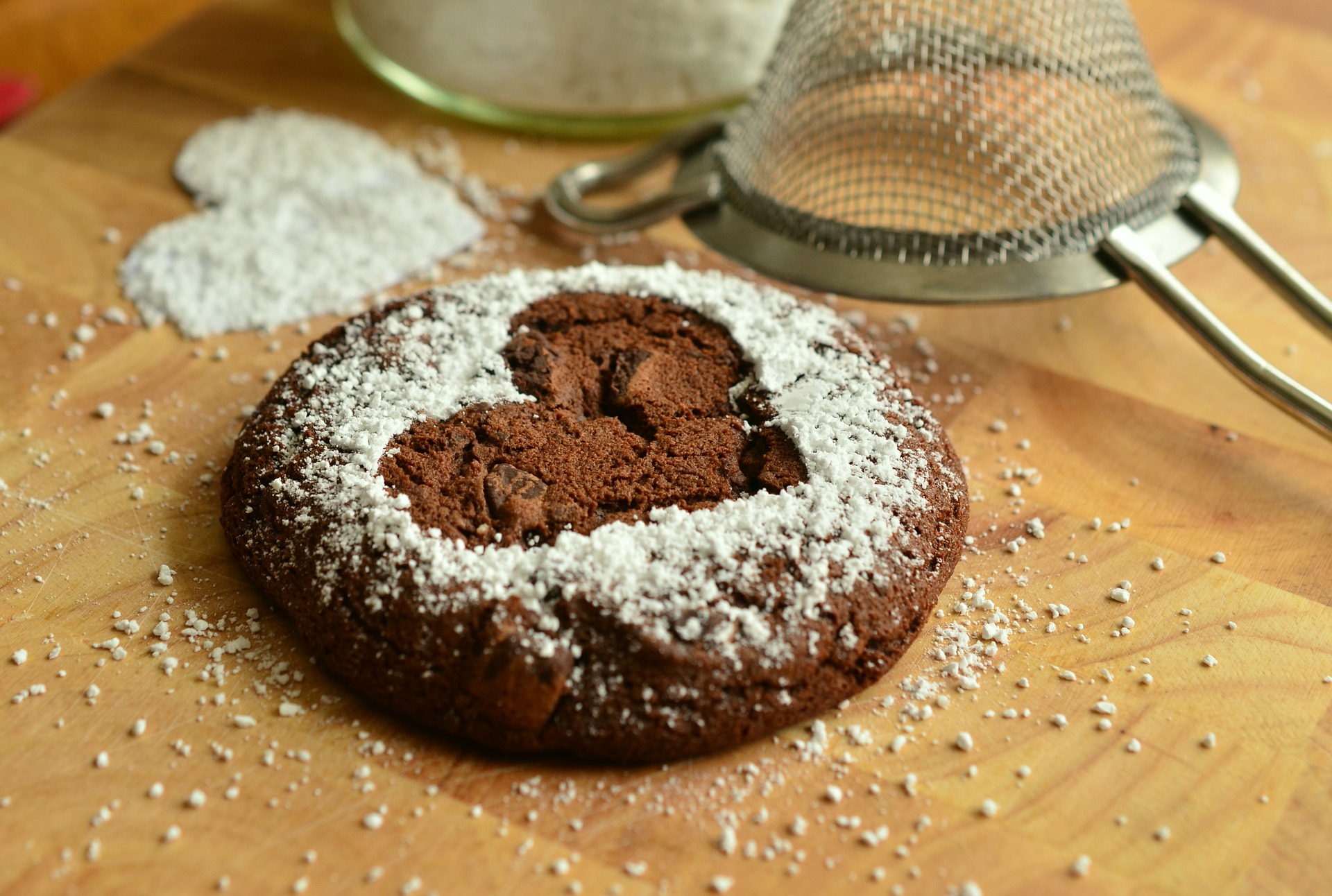 To make your marijuana-infused cookies, you'll need to first make some cannabutter as described in our first recipe.
The recipe below makes around 10 huge cookies or 16-18 small cookies. In that case, using the dosage estimation given above, you'll need 6 level teaspoons of your cannabutter. That way, each cookie will have approximately 2.5 mg of THC.
Ingredients:
Cannabutter – 6 Teaspoons (level)

All-purpose flour – 2 Cups

Baking soda – ½ Teaspoon

Salt – ½ Teaspoon

Brown sugar – 1 Cup

White sugar – 1/3 Cup

Vanilla extract (optional) – 1 Tablespoon

Egg yolk – 1

Egg – 1

Chocolate bar (grated) – ½ Cup
Directions:
Line a baking tray/cookie sheet with foil or parchment paper.

Preheat your oven to 325 degrees Fahrenheit or 165 degrees Celsius.

In a large bowl, mix your flour, salt, and baking soda. Set aside.

Melt your cannabutter,

In another bowl, mix cannabutter, white sugar, and brown sugar until you form a cream.

Add vanilla, egg, and egg yolk into the sugar+butter cream, and beat thoroughly using a wooden or plastic spoon or spatula until you achieve a light but creamy mixture.

Add this mixture into the flour, salt, and baking soda mixture. Beat thoroughly.

Stir in your grated chocolate and continue to stir.

Scoop or pour out your cookie dough onto the cookie sheet. For large cookies, pour out ¼ cup, for smaller cookies, pour out 2-3 tablespoons.

Place the cookie sheet in your preheated oven and bake for 18 to 25 minutes. For crunchier cookies, bake for 25 minutes, for chewier cookies, bake for 18 minutes.

Once done, allow to cool and enjoy.
Take note:
Remember, one small cookie holds approximately 2.5 mg of THC. So, if you are just starting out, take one small cookie and wait at least 1 ½ hours to see how it affects you.
When it comes to dosage, it's always advisable to start small. If one cookie doesn't give you your desired results after about an hour and a half, you may take another small cookie. If you realize you've taken too much, take lots of pure water and take a nap. Orange juice or cranberry juice works well too.
Marijuana Edibles You Can Make At Home – Gummies
Gummies are some of the most interesting marijuana edibles you can make at home in this day and age. You can make your gummies in any flavour or shape you desire, and the fact that you can actually infuse weed into them makes the preparation process even more interesting.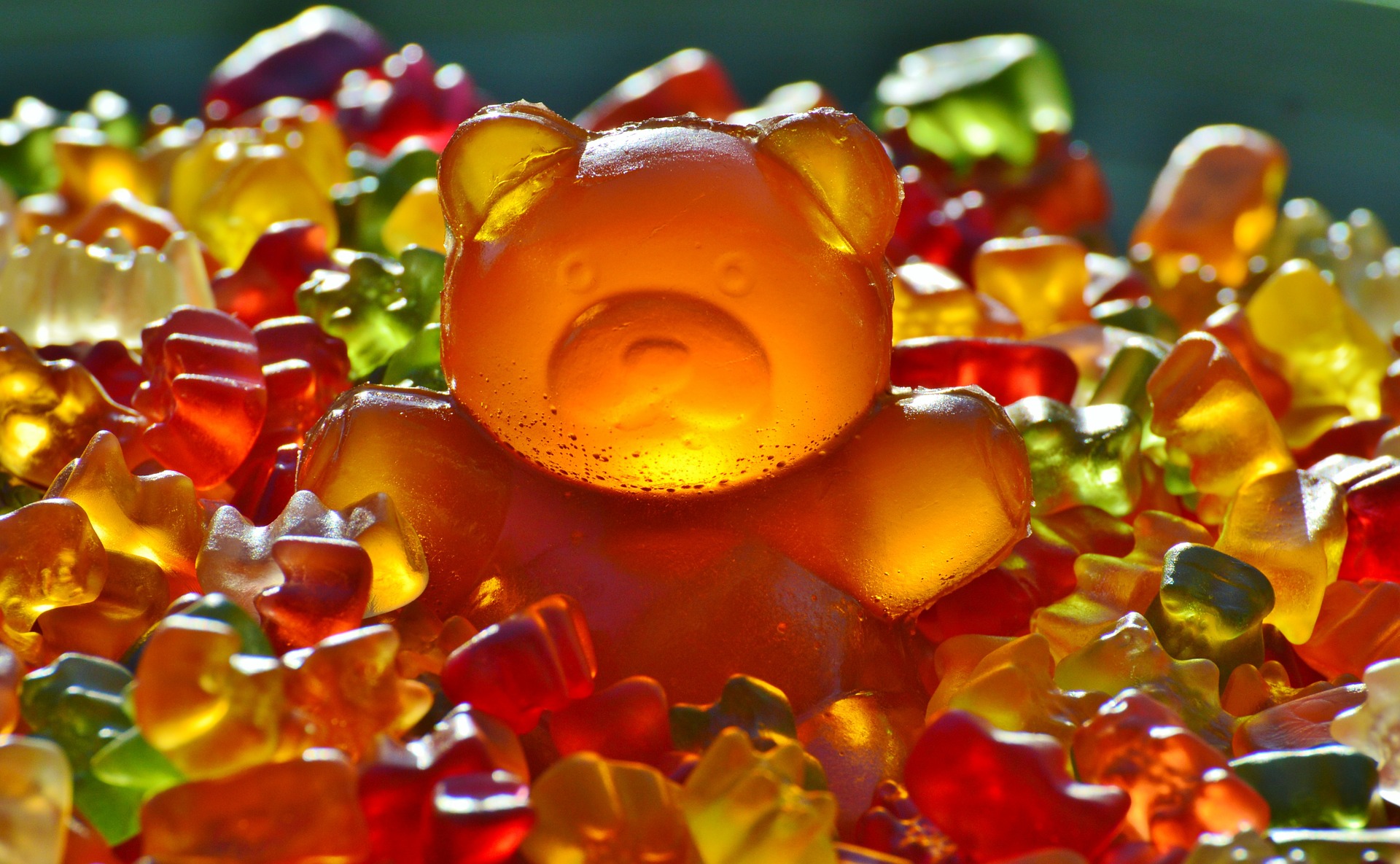 Our cannabis-infused gummies recipe will make roughly 100 gummies. Since you are still going to be using your cannabutter based on our first recipe, you'll need just under ½ a cup of cannabutter. That way, each piece of gummy will have approximately 2.5 mg of THC.
Let's get started.
Ingredients:
3-ounce boxes of Jell-O gelatin powder (your favourite flavour) – 2 Boxes

Flavoured or Unflavoured gelatin – 2 Tablespoons

Melted cannabutter – Just under ½ a Cup

Corn syrup – ½ Cup

Citric acid – ½ a Teaspoon

Cold water (you may use juice if you are using unflavored gelatin) – ½ a Cup

Boiled water -1/4 a Cup

Guar gum/guaran – ½ Teaspoon

Artificial color and flavor (optional)
Special Tools:
Squirt bottle, eyedropper bottle, or syringe

Spoon or spatula

1-inch silicon bear moulds (you may use any shape). You'll need around 4.

Hand blender
Instructions:
In a double boiler pot, mix your boiled water, corn syrup, citric acid, and Jell-O powder. Set to low heat.

In a sizeable bowl, add your cold water or juice and sprinkle your flavored or unflavored gelatin on top in an even way. If using juice, avoid pineapple juice since it has enzymes that may break down the gelatin causing it not to set properly.

Using your spoon or spatula, stir well until no lumps are left. Leave the mixture to rest for 5 minutes to allow the gelatin to bloom.

Once bloomed, add the mixture to your first mixture and stir well.

Once the gelatin has dissolved fully, remove from heat.

Add your melted butter and guar gum. If you wish to add flavor and color to your gummies, add them at this point.

Using a hand blender, blend the mixture thoroughly.

Using your syringe, squirt bottle, or eyedropper bottle, transfer the mixture into the silicone molds. If your molds are not silicon, spray cooking oil lightly on the molds.

Refrigerate for 30 minutes or until set or firm.

Once set, push out all pieces and place them upright on a baking sheet or tray.

Leave them for 48 hours and then place them on their backs for an additional 24 hours. This will dehydrate them and the outcome will be chewy.

Once they are chewy enough according to your personal liking, transfer them to a zip-top bag and store them in an air-tight container.
Just in case you're wondering:
Using corn syrup is very important in this recipe. Not only because it adds sweetness to the gummies but most importantly because it helps prevent crystallization.
Final words:
Once again, these gummies will generate a more powerful high than what you would normally get from smoking or vaping your weed. Start slow and work your way up to your ideal high.
Also, please note that marijuana or weed can interact with medications and supplements. So, if you are under medication or taking a supplement of any kind, it is advisable to avoid marijuana edibles until you are done with your medicines or supplements.
Remember to buy your weed only from a trusted source as this is the only way you are going to be sure about THC dosage. If you live in a state or country where weed is legal, it is going to be easy to identify a trustworthy source, especially because you can always buy from a dispensary. A dispensary is a government-regulated physical location/shop where you can buy different strains of cannabis and their products.
You can always buy your weed online if you don't have a dispensary near you. However, if there's a dispensary in your area, the better it will be for you as you can always pick out your weed in person. If, on the other hand, you live in a place where weed is illegal, the only legal way you can enjoy weed and its products is to visit a place where it is legal.
Under no circumstances are you advised to try and obtain weed illegally. Doing so will only get you into deep trouble with the law.
As we conclude, look out for more recipes of marijuana edibles you can make at home in subsequent articles. We have so many to share! Thanks for reading!