Reading Time:

5

minutes
My favorite season of the whole year is Christmas. Everything is partying, joy and sharing with loved ones. In addition, it's a good time to be forgiving and comfortably enjoying everything.
One of the things I love most about this time is the meals: the feeling of home and comfort that each preparation produces is incomparable and in the rest of the year there is nothing like it.
Many traditional recipes may not be vegan, so today I want to suggest some that you can incorporate into your next Christmas reunions so that no one is left out of the celebration.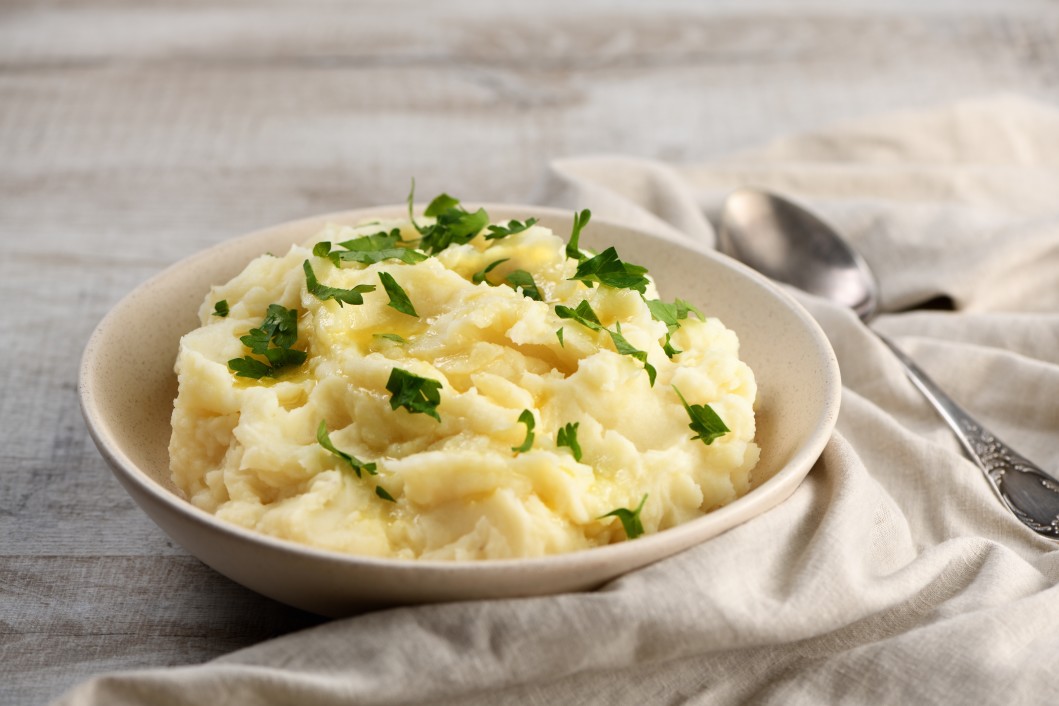 Mashed Potatoes:
Mashed potatoes are one of the most popular foods at the Christmas table, however, its traditional recipe requires dairy products that do not make it vegan-friendly.
've used this recipe for a long time and it's delicious because it does not change the flavor of the traditional recipe, in addition, its result is more creamy and its ingredients are very healthy.
Ingredients
3 white potatoes
2 cloves of garlic
1/4 cup coconut oil
1/2 cup almond milk
Nutmeg
Salt and pepper to taste
Instructions
Cut the potatoes into four pieces and put them in a pot with enough water to cover them. Boil the potatoes for about 20 minutes until they are soft enough.
Remove from heat and put them in a bowl with cold water to cut the cooking. Remove the skin carefully so you don't burn yourself.
Remove the potatoes from the water and crush them.
Put the coconut oil in a pan and sauté the garlic cloves there, keep the flame at a low temperature and add the almond milk. Bring to medium heat and stir until it starts to boil. At that moment, put out the fire.
Pour the mixture of oil, garlic and milk over the potatoes and finish crushing them. Stir well and add nutmeg, salt and pepper.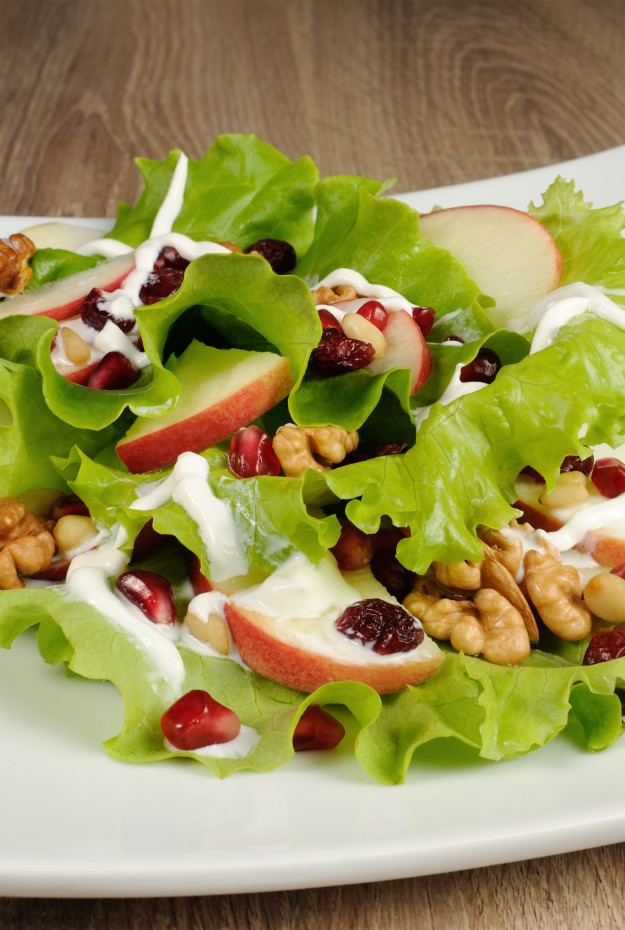 Christmas salad:
This is one of the most successful salads in my dinners because it has sweet flavors, the crunchy touch and is also super fresh and easy to make!
Ingredients:
4 cups of chopped lettuce mesclun: arugula, American lettuce and purple lettuce
1/2 cup dried cranberries
1/2 cup chopped walnuts
2 apples in thin segments, green and red
Balsamic vinaigrette or any sweet vinaigrette (Approximately 1/4 cup)
Instructions:
Place all the ingredients in a large bowl, mix well and add the vinaigrette.
Adjust the amount of vinaigrette and if you like add salt.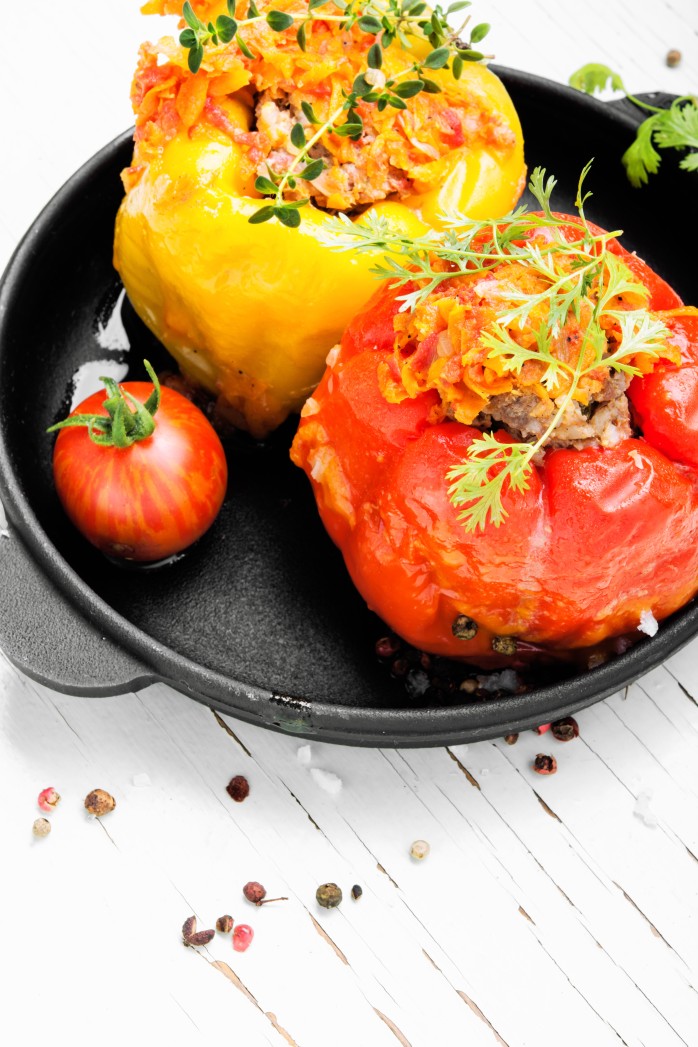 Sweet peppers stuffed with vegetables
These peppers work perfectly as a strong entree or as a main course. I love them because you can serve two red and one green pepper on each plate and it will give a sensational Christmas touch to your dinner
Ingredients:
4 bell peppers
2 green peppers
2 zucchini
4 onions
2 carrots
1/4 of cabbage
150gr of peas
300gr of mushrooms
4 cloves of garlic
1 glass of white wine
Water
Extra virgin olive oil.
Instructions:
Wash the peppers, season them with a little oil and salt, place them on a baking sheet. Bake them for 1/2 hour at 200 degrees Fahrenheit.
Chop the cabbage and cook for 8 minutes in a pan with water and salt.
For the sauce, chop the onion and 2 cloves of garlic, the mushrooms, and place them in a casserole. Add the white wine with water. Season and cook for 10 minutes.
Chop 3 onions, zucchini, and peas; peel the carrots and chop them, chop 2 cloves of garlic into slices and put everything in a pan with oil until they look goldish.
Fill the peppers with the vegetables, adding the mushroom sauce; then put them in the oven for 6 minutes.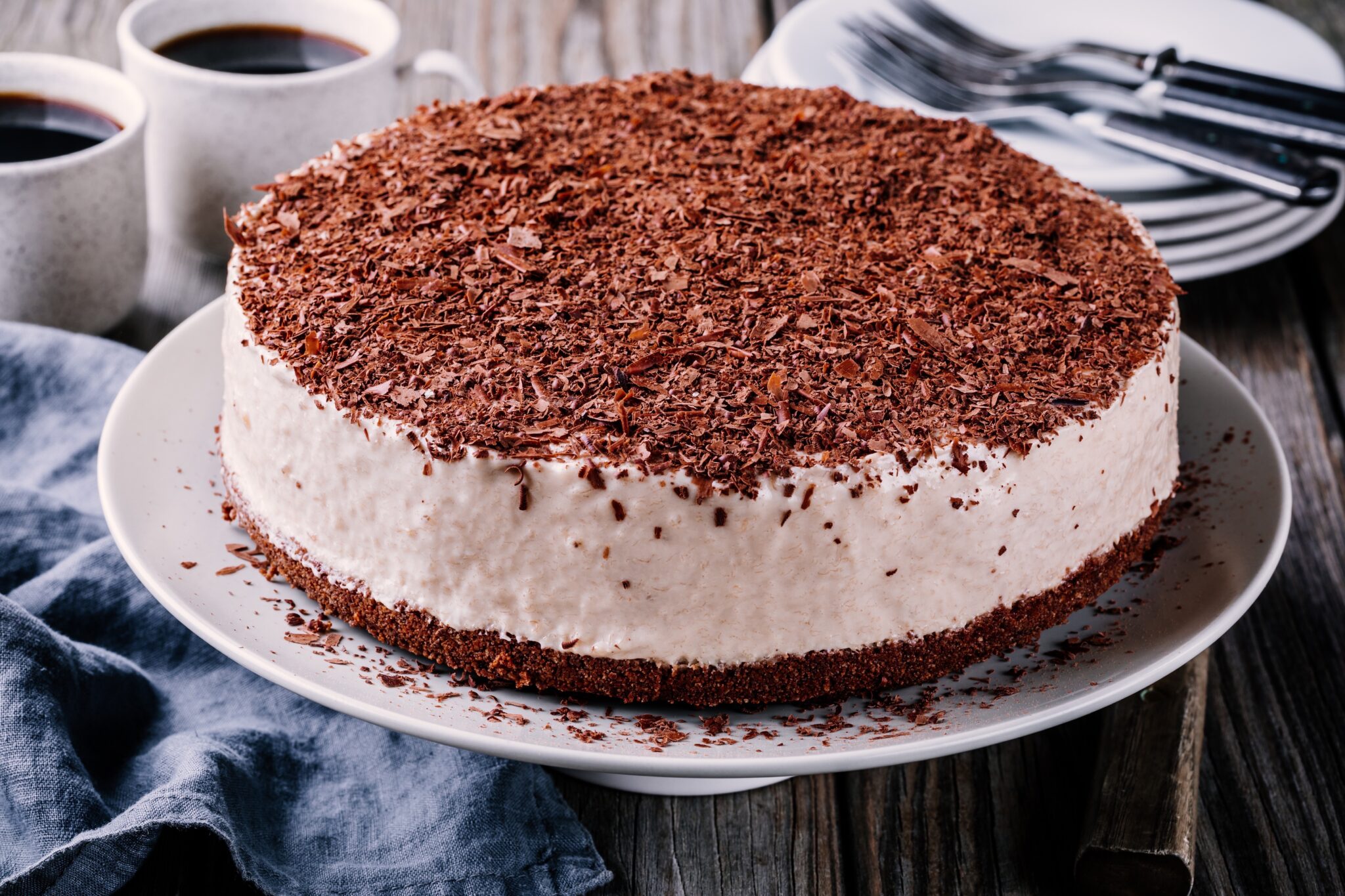 Vegan chocolate pie
Who can resist chocolate? This is a totally vegan dessert option that is also delicious and surely your guests will ask you for the recipe.
Ingredients:
For the base:
2 cups of walnuts
1/3 cup shredded coconut
1 cup of boneless dates (previously soaked)
1/4 cup hemp seeds (optional)
For the filling:
3/4 cup tender coconut meat
1 cup ripe avocado (soft and without spots)
1/4 cup cold-pressed extra virgin coconut oil
1 cup of boneless dates (previously soaked)
4-5 tablespoons cocoa powder
1/4 cup coconut milk
1/4 cup organic maple honey
1 spoon of vanilla
Instructions:
Crush the walnuts to form a flour. Add grated coconut and hemp seeds and process until well mixed. Add dates and process to form a dough. You can do it in a blender in a food processor.
In a removable 25cmx6cm pie mold, place wax paper, then place the dough you formed for the base, flatten the dough with your hands until everything is uniform and reserve.
Now, place all the ingredients marked for the filling in a food processor or blender and process until it looks homogeneous. Try the mixture and correct the cocoa or sweetener point if necessary.
Add the filling mixture on the base and cover the entire surface with a spatula.
Cover the pie with aluminum foil or some silicone protector and refrigerate for at least 4 hours.
Remove the pie from the mold, cut into 8 pieces. Garnish with grated coconut, cocoa and also you can add some red fruits such as strawberries or raspberries. Serve and enjoy.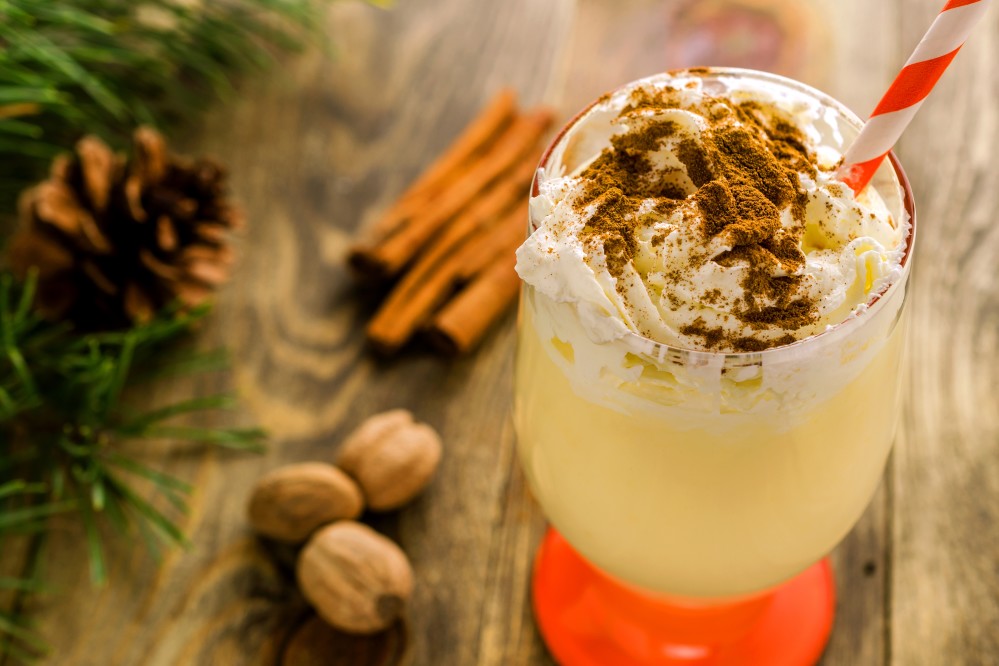 Vegan Eggnog
The eggnog is a Christmas classic and after several failed experiments I managed to find this recipe that tastes like the original But it's vegan!
Ingredients:
1 can of coconut milk
1/2 cup raw cashews
1/4 cup of water
3 tablespoons maple syrup
1/4 teaspoon nutmeg powder
1/4 teaspoon of cinnamon powder
Instructions:
Let the cashews soak from the previous night to soften and have a better texture.
Pour all the ingredients in a blender and beat until you get the desired consistency.
Let it cool in the fridge and cheers!
Read More: