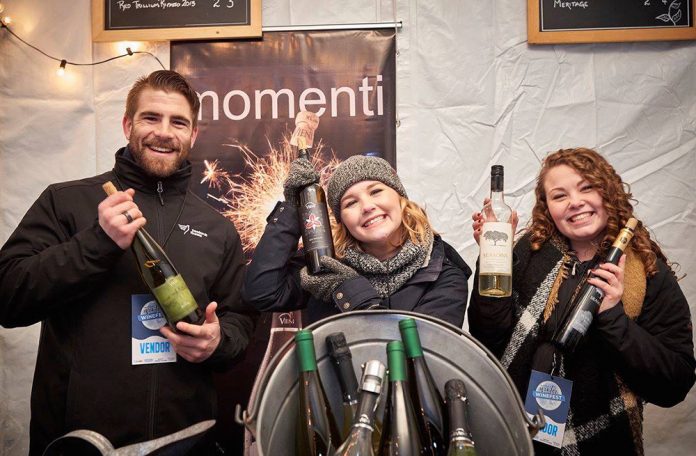 Kicking Off 2019 with Icewine Harvest Celebrations
Niagara's Twenty Valley Winter WineFest is returning to the streets of Jordan Village in Lincoln, Ontario January 11th until the 13th. What better way to ring in the new year than with a glass (or two) of wine.
"Winter WineFest is celebrating its 10th anniversary. This event has grown through the hard work and dedication of our talented chefs and winemakers, devoted sponsors and loyal patrons both local and from out of town. Winter WineFest has created so many unforgettable memories and traditions. Thanks to all who have helped us reach this milestone," said Erin Thomson, Executive Director of the Twenty Valley Tourism Association. "We are looking forward to the continued success of this festival and the many great memories to come."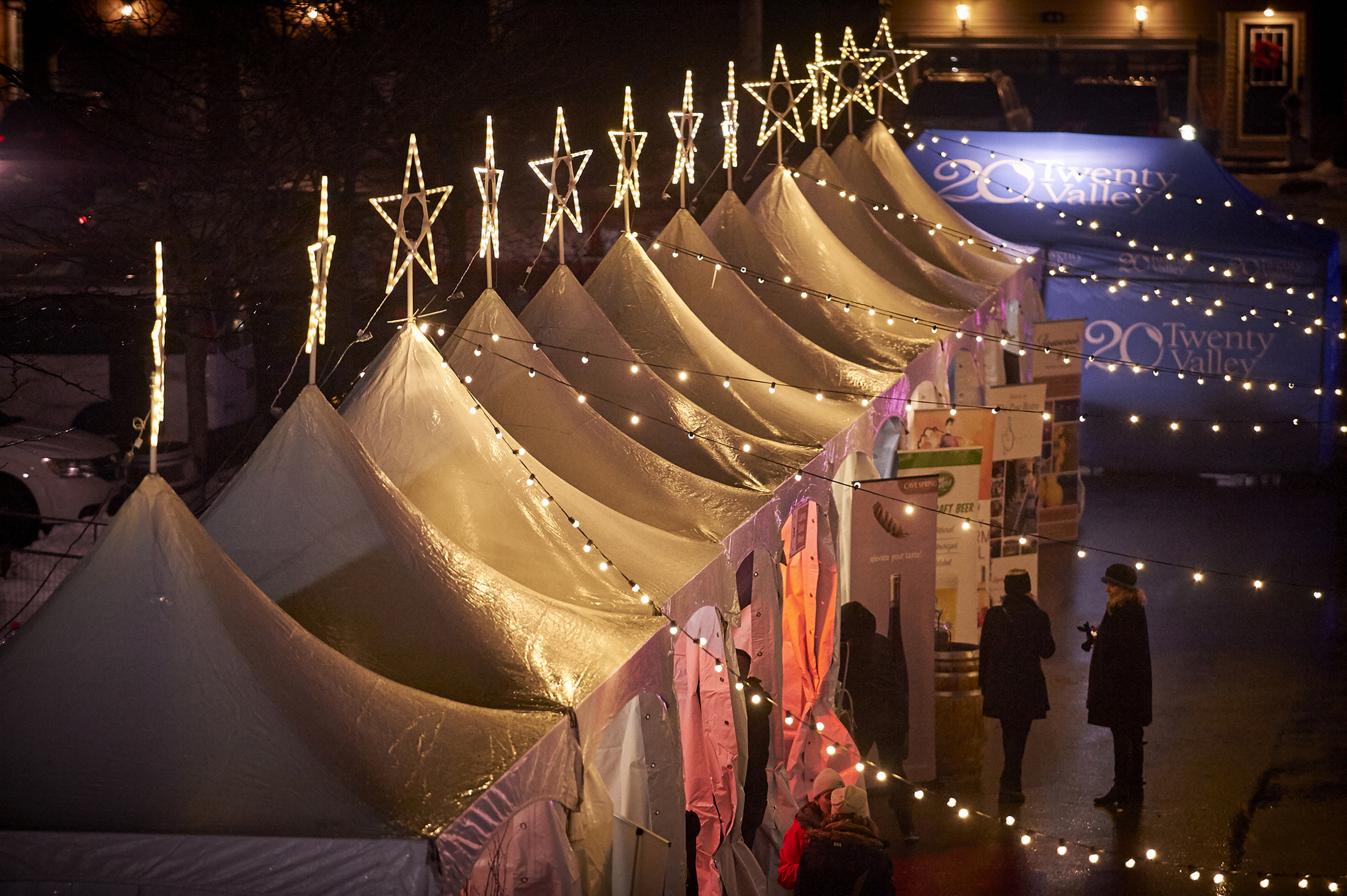 picture courtesy Twenty Valley Tourism Association
Winter WineFest kicks off Niagara's month-long Icewine celebrations. The event showcases over thirty premium food and craft beverage producers, creating a truly authentic, local culinary experience. The European-styled outdoor market highlights the beauty of this icy snowy season, and the quiet charm of Jordan Village. Gather with friends and family around cozy fire pits and take in the beauty of the outdoor art installations and thousands of twinkling lights. This year, back by popular demand are the Jordan Village Merchants sponsored Fashion Shows, the Scott Lab sponsored Barrel Rolling Competition, the Grimsby Peach Kings sponsored Ice-Puck Shoot Out and the Community Care of West Niagara Black Box Chef Challenge sponsored by Niagara Peninsula Energy Inc.
Winter WineFest 2019 welcomes Celebrity Chefs Connie DeSousa and John Jackson. Hailing from Calgary, Alberta they are co-chef/owners of CHARCUT Roast House and Charbar. Chef DeSousa is also known for her stand-out butchery skills and for achieving a finalist position on the Food Network's Top appearance at Winter WineFest for Chefs DeSousa and Jackson. They will host the popular Meridian sponsored Sparkling Dinner on January 12th and the Icewine Brunch on January 13th. Both ticketed events are held in the panoramic Windows Room at the Inn on the Twenty Restaurant. Chef DeSousa and Chef Jackson have leveraged their passion for house-butchered meats and regional ingredients to create menus that pair perfectly with the craft beverages from Niagara's Twenty Valley.
The Sparkling Dinner features a four-course dinner inspired and curated by the Celebrity Chefs. Each delectable course is paired beautifully with VQA wines. Dinner tickets are $130 plus HST, but seating is limited. The Icewine Brunch, also developed by Chef DeSousa and Chef Jackson, features aromatic wines paired with a three-course menu fit for any epicurean! Brunch tickets are $85 plus HST, and again, seating is limited. Tickets are on sale now for these two hot events. These tickets sell out quick, so don't wait long to get yours!
In addition to the Celebrity Chef events, Winter WineFest is a weekend filled with free, stellar live entertainment happening on the main stage. In celebration of its 10th year, Winter WineFest will host three musical headliners for the first time ever. On opening day Friday, January 11,th fiddling sensation Ashley MacIsaac returns to Winter WineFest as the featured headliner. Singer, songwriter Coleman Hell, is coming to the event for his first time, and will be the headliner on Saturday night. To close the event on Sunday, January 13,th Whitehorse returns to Winter WineFest. Local bands from Niagara and beyond will be heating up the festival stage all weekend long. These bands and artists include: Peter Katz, Spencer MacKenzie, Vintage Flight, Megan Bonnell, Riley Michaels, Fake Shark and The Associates.
The party doesn't stop there! You don't want to miss the popular after parties in the Cave Spring Cellar. Dillon's Small Batch Distillers hosts a Video Dance Party with DJ Tanner on Friday night. On Saturday, you can catch the soul train at the Bench Brewing Afterparty Funk-tion featuring DJ Lovejoy. Tickets to these parties go fast.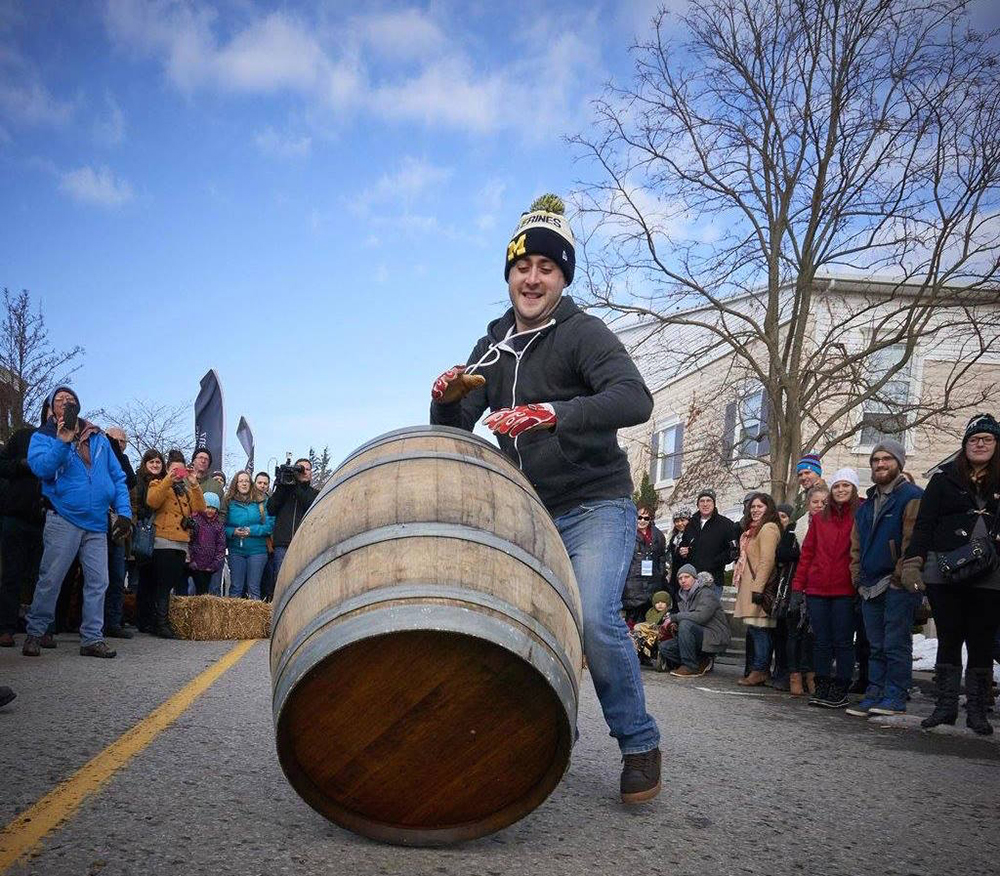 picture courtesy Twenty Valley Tourism Association
New to Winter WineFest in 2019 is the A1 Label sponsored Courtyard Event Tent which includes several workshops including one to make a unity bracelet and another to make a hardwood cheeseboard. The Event Tent will also be the location of the returning Grape Growers of Ontario sponsored 8 Below Series about Icewine featuring special guests Bill George and Grape King Chris Van de Laar.
Festival hours are Friday, January 11th: 5:30PM – 9:30PM, Saturday, January 12th: 12:00PM – 9:30PM and Sunday, January 13th: 12:00PM – 6:00PM.
To purchase tickets or to learn more about Winter WineFest, visit:
https://www.twentyvalley.ca/site/winter-winefest
 to stay updated on all events like us on
Facebook: https://www.facebook.com/TwentyValleyTourism or follow us on
Twitter: @TheTwentyValley and
Instagram: @twentyvalleytourism
Niagara's Twenty Valley is a premium wine country destination, with breathtaking landscapes that are rich in culture. Annually the tourism association hosts its Winter WineFest as a celebration of the Icewine harvest. The valley spans from West St. Catharines to Grimsby. Twenty Valley Tourism Association hosts events year-round including "Get Fresh in the Valley", "Wrapped Up in the Valley", and "Winter WineFest". For more information, visit www.twentyvalley.com.
Read More
Wrapped Up in the 20 Valley Winery Passport Program 
Napa Valley: A Delicate Balance