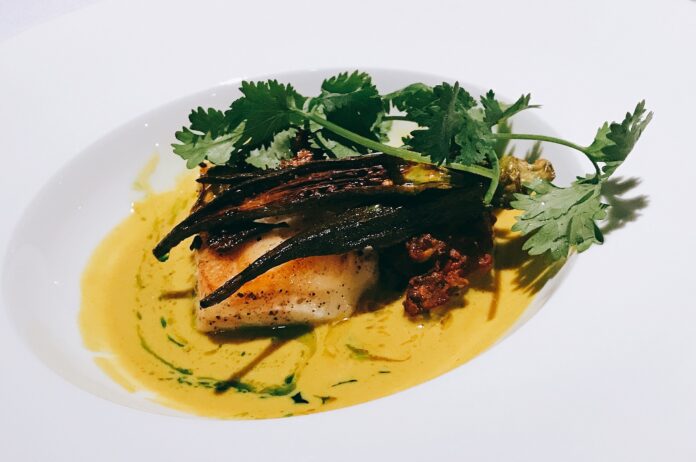 Mention the name Sash to any food lover who has his finger on the pulse of the city, and the reaction is "have you been there yet? I hear it's fabulous. Yes, my friends, I am happy to share with you the good news: it is fabulous.

An unusual area, some might say, right next to the Summerhill LCBO parking lot. But this impressive curved structure with its gorgeous window walls, enhances the landscape and fits right in.

Sash Simpson is a risk-taker, and his timing is right. After several decades of working with Marc McEwen at North 44, planning and catering events for a diverse group that included the National Ballet, weddings, birthdays and any number of private functions, his name is a household word to a large segment of society. Fortunately, it's the segment that dines out often.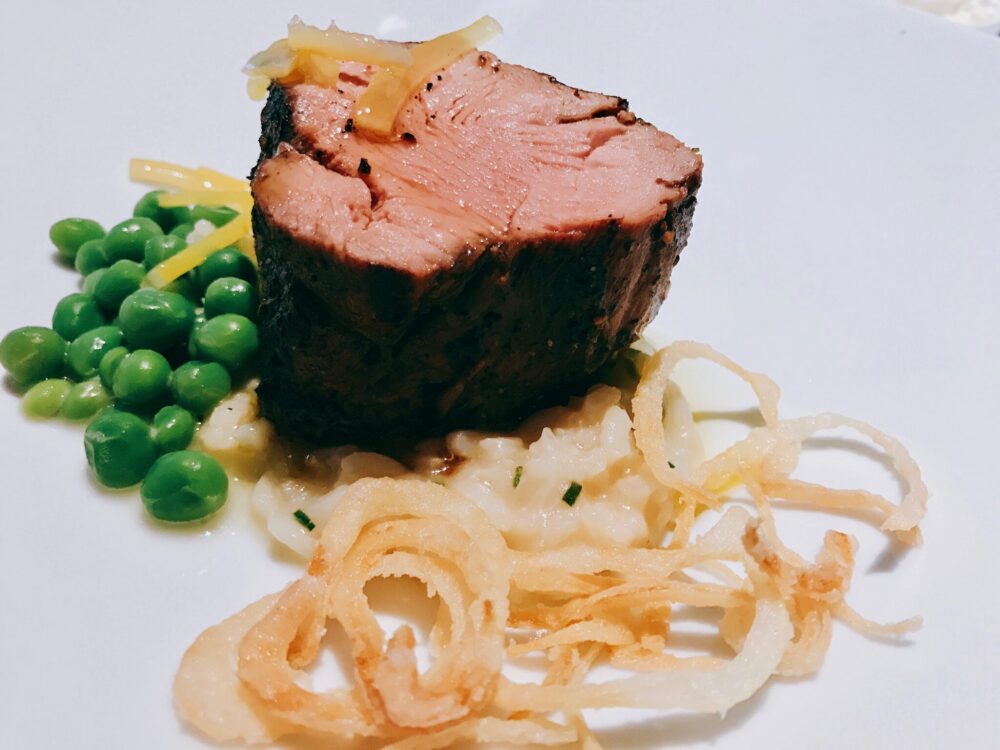 At the media preview, the dining scenario opens with an extravagant service of Blue Fin toro, a good dollop of Russian Osetra caviar, a drizzle of crème fraiche, sparks of shaved jalapeno, and the citric edge of sesame yuzu. Cherishing the balance and texture of all this lushness, I linger over each bite. Next, we're presented with a two inch thick slice of milk fed veal tenderloin, delicate pink, fork tender, as perfectly cooked and seasoned as veal could ever be, bejeweled with house made preserved lemon, and elegantly partnered with risotto, each delicate grain a receptacle for creamy Parmesan. Colours pop from a hill of fresh spring peas, and a scattering of crunchy onion rings add yet another element.

When the extravagant 1980s passed, folding into the tighten-your-belt 90s, the unspoken rule in restaurant kitchens was, "No more than three ingredients on the plate if you want to stay in business." Clearly, Simpson has thumbed his nose at this and gives us the "Dining world according to Sash."

A scoop of Gelato Fresco blood orange sorbet is afloat in a goblet of Veuve Cliquot. Ooh la la, too sophisticated to simply be called a palate cleanser.


And there is more. My taste buds turn cartwheels at the first few bites of rare Chilean seabass teased with Madras curry made with coconut milk, capped with crisply fried okra (the first time I've ever liked okra) and crunchy vegetable filled pakoras. Selecting a few Petits fours and another glass of Veuve, I make plans to return.

A few weeks later, we are here, anticipating greatness. Meanwhile, we admire the classic décor of the large room with it's subtle color scheme that ranges from pale gray to charcoal, the sparkle of white table cloths and pale gray floors. The cozy bar at one end of the room is a world of its own, to be explored at another time.

They say that love (and cuisine) is more comfortable the second time around. Knowledgeable servers assist us in navigating the menu with friendly good manners, which lists every dish I ever wanted to eat, and make our decisions. Crispy tempura shrimp/peaky toe crab cake, Hollandaise and the seasons first thick white asparagus, cooked to crispness, blonde frisee, and Meyer lemon is a treasure trove of flavours and textures. Don't bother looking for a false note, you won't find it in this globally inspired cuisine.


Seared foie gras gets a few kicks from unique sources. Who would have thought to add rhubarb, just in season; spiced dark chocolate jus, and praline. Wonderful fresh bread invites us to send our plates back, clean. It's the creative, culinary mind of this young chef that takes a dish over the top. He pairs roasted lamb rack with a zesty chimichurri sauce, adds some white bean ragout for ballast, then lifts the dish with pickled ramps (try them, you'll like them) and Canada's green vegetable, fiddleheads.

At the end, we agree that the prize on the menu goes to Bison tenderloin, pampered to extreme tenderness and rubbed with a five spice blend of coriander, cumin, star anise, fennel sichuan peppercorn to bring out the unique flavour. This is the most tender Bison we've ever experienced. It's partnered with crisp slices of potato in which are embedded whole sage leaves. Few kitchens would bother, or even think of this added dimension. Yellow chanterelle fricassee is so luscious, and lightly steamed spinach brings the whole dish together with an earthy quality.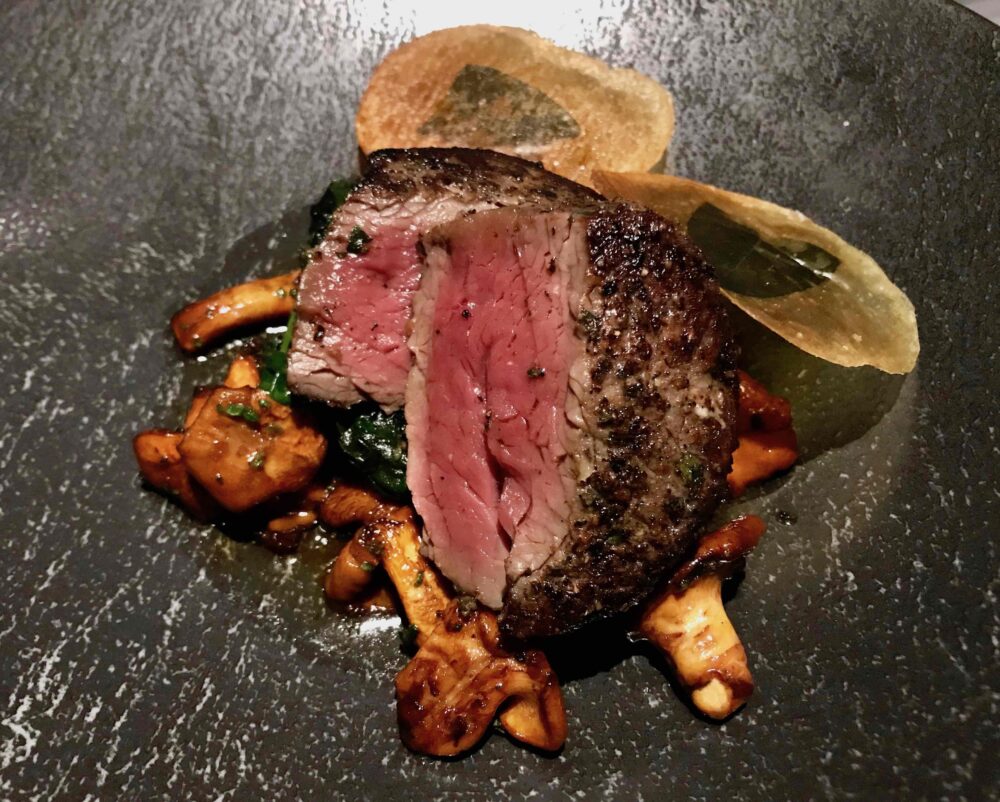 Our server offers the greatest seduction line ever spoke in a restaurant: "Would you like to see the dessert menu?" My plan is to just have a peek, but I am smitten by Milk Chocolate Souffle with chocolate and toffee sauces. Yes, or no thank you? Why waffle when you can soufflé. This airy, chocolatey soufflé whipped up by a canny hand and served oven-to-table is the perfect ending.

Sash has managed to take the pretension out of the fine-dining, white tablecloth experience. No need to get dressed up at this neighborhood restaurant–-but out of respect for this beautiful food, you may want to.

Sash Restaurant and Wine Bar, 1133 Yonge St., 416 921 7274
Open 7 days lunch and dinner – Valet parking – Elevator