Old Toronto marks the stone entrance to Marbl, the new kid on the city's hottest dining block, but once inside, this new room of marble tops and crystal chandeliers is polished and sexy.

The dynamic duo of Peter Girges, with his out-of-the-box Vancouver sensibilities, Executive Chef Ryan Morrison, with impressive Vancouver/New York/LA credentials, along with Chef de Cuisine Kyle Campbell, have developed an inspired menu of sizzling deliciousness.

It is an almost forgotten feeling to want to order everything listed on the menu—like an album in which every song is a hit. With a name like Marbl, we sense that steak is in order. Tartare, uniquely mixed with Dijon mustard seeds and egg yolk, is crowned with Fontina cheese and a King's ransom worth of black truffles. It's a mellifluous medley of ingredients and textures that we scoop with delight and all hail as the best tartare in Toronto.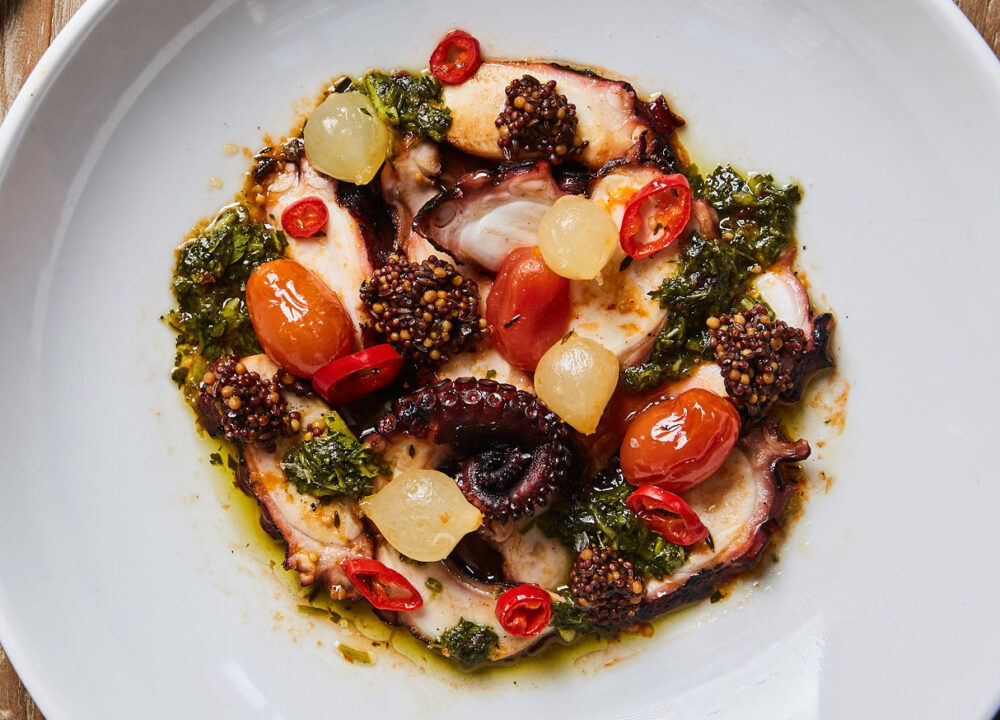 I don't care for beets, and yet when my partner orders the beet salad, I can't get enough of it. Red and golden wedges, speckled with crunchy pistachios, a cool frisée, creamy goat cheese and a tangy punch of pomegranate molasses fill a bowl with refreshing colour and a vibrancy of flavour that is addictive.

Let Montreal keep its smoked meat, here we order smoked octopus with rye and mustard for a cosmopolitan twist. The octopus is a bit chewy, but the assemblage of colour and texture is artful and enticing.

Now, we're still on the starters, but I cannot pass up what just passed by–a delicate bowl of gnudi luxuriating in a rich tomato and leek sauce. These soft pillowy balls of "nude ravioli" melt on the palate with a subtle sweetness, complemented by the umami of the sauce, and are enlivened with tender plump lobster claws. This is my new favourite indulgence.


There are several sections to this long room that create rooms within a room: the bar, marble of course, in front of the open kitchen is a good choice; the lounge with its TV for sports and the dining room with booths and tables. Much thought and design skills have gone into this room, and it all works! Ensconced in a curved tufted leather booth, we sit back and enjoy service from an attractive and professional wait-staff. There is a generosity of spirit here, which is also reflected on the plate.

Stop the press! This is the best damn veal parm' in my life. First of all, it's not battered and beaten to a pancake. This is one thick chop of tender veal, lavished with tomato and basil and elevated with a burrata. It's like melting fresh caprese on succulent veal. Run, don't walk, to order this.

Agnolotti prepared al dente by a knowing hand in the kitchen is enhanced with an array of fresh woodsy ingredients including winter mushrooms, toasted garlic and Jerusalem artichoke. This is the way we like to eat: full tilt flavour forward.


Reading the Marbl Share Platter on the menu makes me do a double take. One 48oz Tomahawk steak, one whole rack of lamb, sautéed prawns, seared scallops, vegetables, AND…one whole entire lobe of foie gras in a caramel sauce. I love all of those words, and will return with friends for the sole purpose of convincing them to order this feast…for me.

There's always room for dessert, and frankly, everything has been so delicious thus far, I don't want to leave without it. "We were all kids once," Chef Morrison assures me, as he presents a warm monster cookie with a heaping scoop of vanilla ice cream on top. Far as I can tell, there are two ways to eat this: fold it up like a taco or just go at it. Absolutely decadent. I am totally Marbl'd over.



Read more: