Reading Time:

4

minutes
Montreal. A taste of Europe, nestled in Canada's Belle Province. A city of art, culture, history, romance and of course…
Food.
Many would argue, the best food in Canada is to be found in Quebec. And there is no denying it… the French know good food. Pastries, breads, cheese, meat (I wasn't always a vegan… and when I wasn't boy did I love those classic Montreal delicacies…)
But you don't need to be a cheese loving, meat eating being to enjoy the tastes of this city.
Montreal is incredibly vegan friendly!
Here are my top picks of the best plant-based restaurants in Montreal Quebec.
Locations: 1245 Bishop St, Montreal; 600 Boulevard de Maisonneuve; 444 René-Lévesque Blvd; and many more
Copper Branch is the ideal restaurant for fast, fresh, quality vegan food. With a wide array of options to choose from, you and your friends can enjoy plant-based burgers, bowls, salads, soups, smoothies, desserts, wraps, sandwiches, waffles, wings, nachos… shall I go on? The price is right and the portions are perfect. The bowls are always a crowd pleaser, and always too big to finish. Fresh ingredients like sprout mug beans, sweet potato, spinach, tomatoes, hummus, broccoli, avocado and chickpeas fill the menu. Copper Branch uses organic, fair trade, and non-GMO produce, so your meal is good for your body and good for the planet. With a menu this tasty, it can be difficult to choose, but I would recommend the Aristotle bowl, the Spicy Black Bean Burger, Bacon Maple Tempeh Sandwich, and the Chocolate Zucchini Brownie. Enjoy!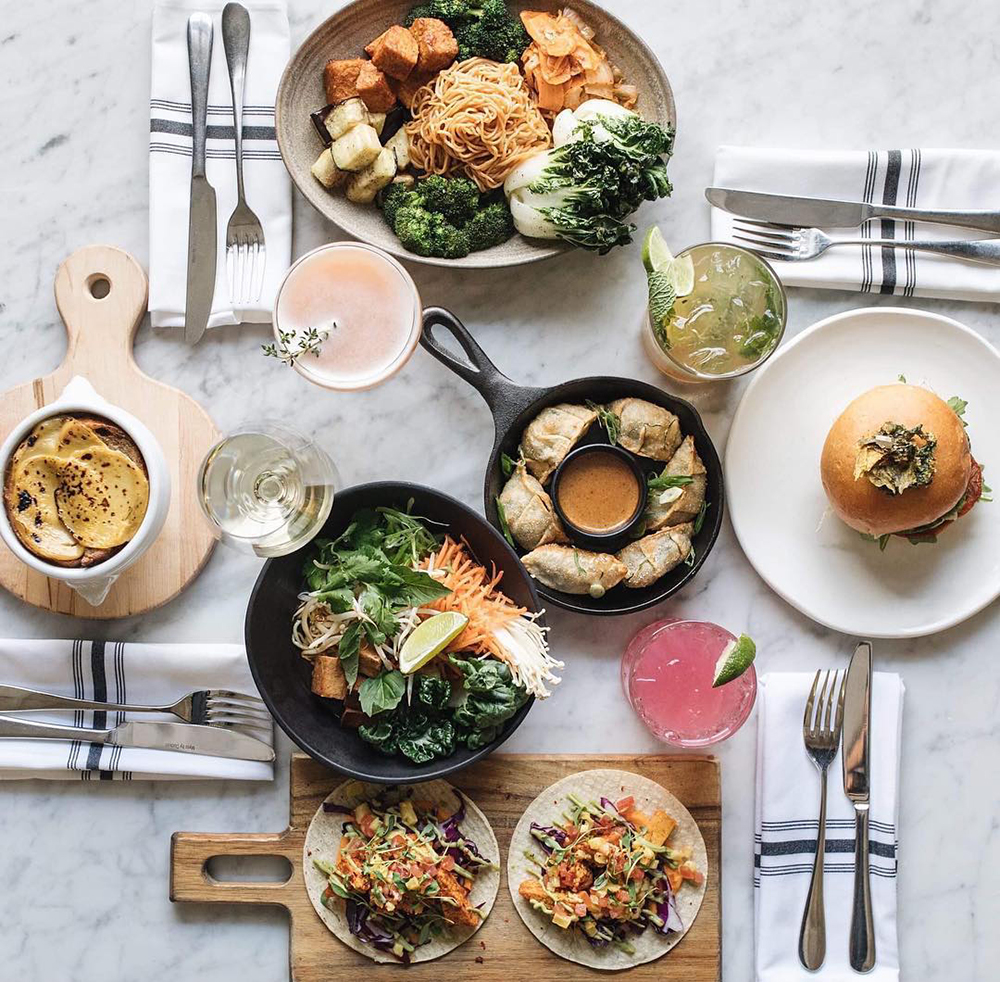 @lovrestaurant
Locations: 464 McGill St, Montreal
Refined elegance and style. That is what awaits you at LOV. The décor is a feast for your eyes. Bright brick walls, woven basket chandeliers and an array of botanical plants create an atmosphere of garden grace. At LOV, vegetarian and vegan cuisine is served with sophistication. Truffle and Caviar, with zucchini spaghetti and oyster mushrooms is a heavenly dish. The Power Bowl salad, with mesclun, quinoa and green goddess dressing is a treat for your taste buds and your body. Casual comfort foods are elevated to perfection; the Kale Mac'n'cheese, with casarecce pasta, squash and sweet potato sauce and almond parmesan is like no other mac'n'cheese you have tried before.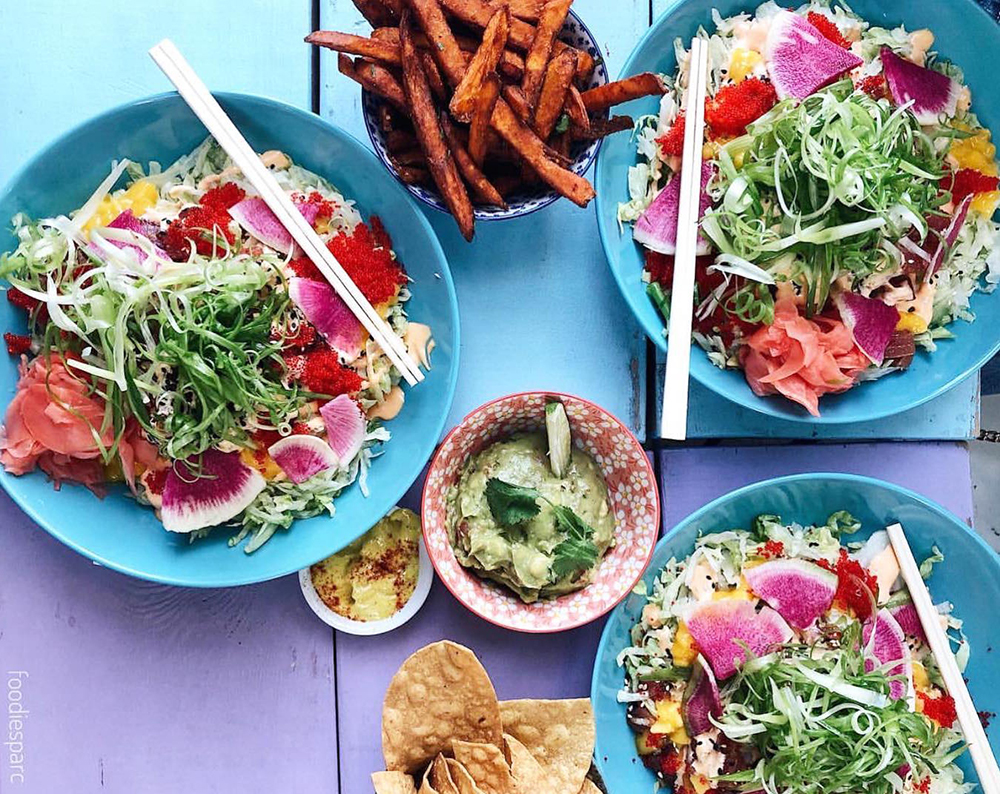 @venicemtl
Locations: 400 St Francois Xavier St; 1045 Côte du Beaver Hall
The freshness of California brought to the streets of Montreal! Savoury, light and healthy vegan and vegetarian options are offered here. Their dishes are ideal for sharing, or grabbing on the go. Flatbreads, Poke Bowls, Salads, Soups and tasty Tacos! The flavours are rich, the ingredients are fresh, and the restaurant is like a happy beach house beaming with colour! Visit Venice when you go to Montreal – and be sure to try the the Tofu Poke Bowl!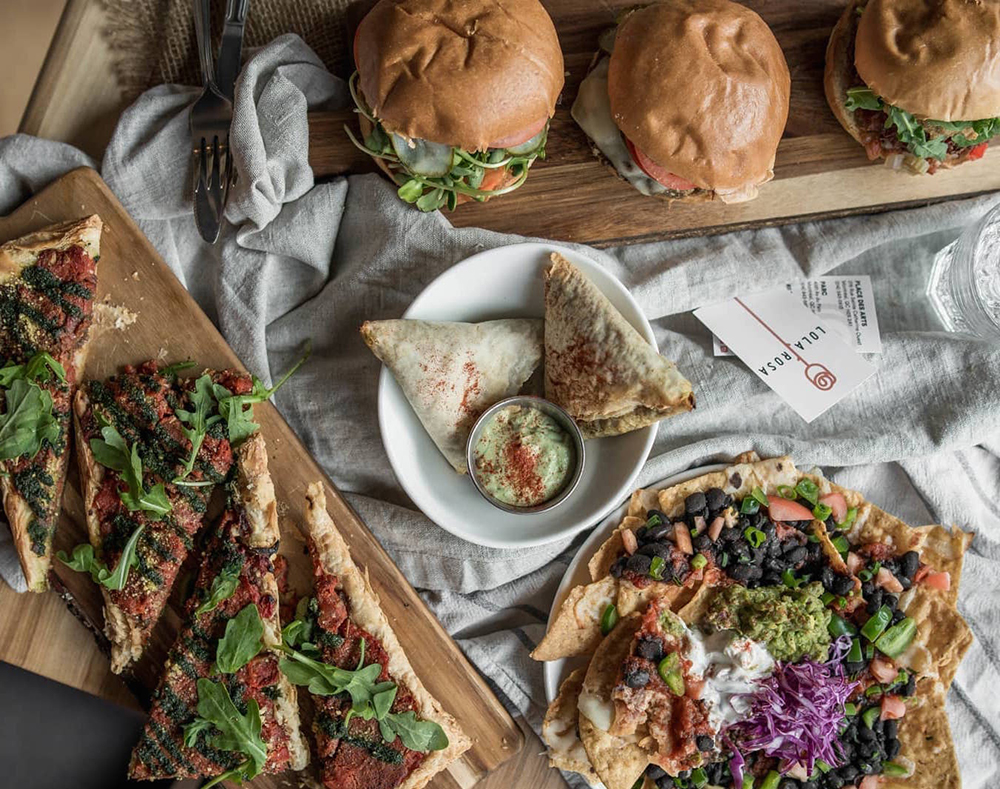 @lolarosamontreal
Locations: 545 Milton St, Montreal; 4581 Parc Ave; 727 William St; 276 Ste. Catherine O
Everything is homemade at Lola Rosa. Here you will find plant-based and gluten-free "comfort food," inspired by family recipes. Samosas with sweet potato, spinach and spices. Quesadilla with whole wheat tortilla, mozzarella, sour cream and salsa. And Spinach Lasagna, with tomato and mushroom sauce, cottage and mozzarella cheese, are just some of the yummy items you'll find on the menu. If you're out to share with family and friends, try Lola's Nacho's, you can't go wrong! The burgers are also a delight. My personal favourite is the Black Bean Burger… I would run back to Montreal for a bite of that alone!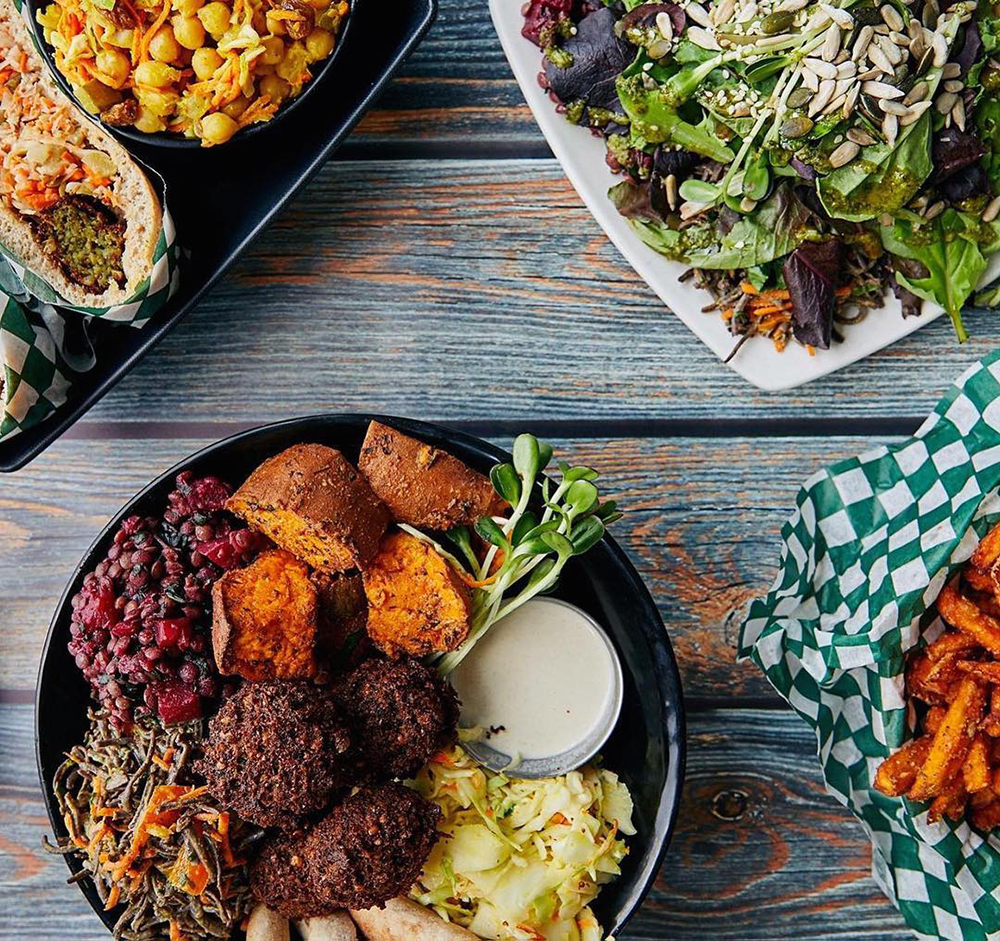 @lapanthereverte
La Panthère Verte
Locations: 160 Rue Saint Viateur E; 5265 Queen Mary Rd; 145 Mont-Royal Ave E; 1735 St Denis St; and more
Fresh, fun and addicting. La Panthère Verte makes it easy to enjoy healthy plant-based foods. At these casual restaurants, you can dig into delectable sandwiches, burgers and bowls. It's fresh fast food, and all deliciously vegan. When you order, you have to try the Falafel Bowl. Served with sweet potatoes, marinated lentils and soft fluffy falafels, this is a meal you'll want again and again.
Keep reading, follow the links below
Canadian Cuisine: Quebec