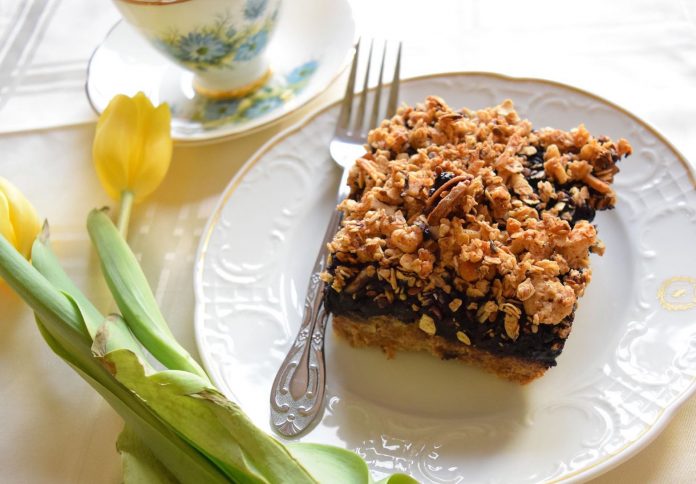 The morning rises, filling the kitchen with warm winter sunshine. The room is bathed in pale light; a fire of yellow topaz burning on the walls. Ferns of frost with feathered arrows, paint spirals on the glass. The windows shine with crystal starlight. Outside the snow gleams; a silent desert of naked trees shivering in the cold. Inside, my palms press against the heat of a porcelain cup. A floral mist of green tea and white jasmine wafts beneath my nose. I take a sip, and rest the cup on an ivory tablecloth. Beside it, a plate of oat crumble sits patiently, waiting to be devoured. Pulled from the oven, fresh and warm, vapours of vanilla pirouette above its golden crust.
Scents of cinnamon and blueberries seep into the air. My fork breaks into the crown of crumble, captures a cloud of oats and berries, and floats into my mouth. Are you ready for a bite? Preheat your oven, and let's bake.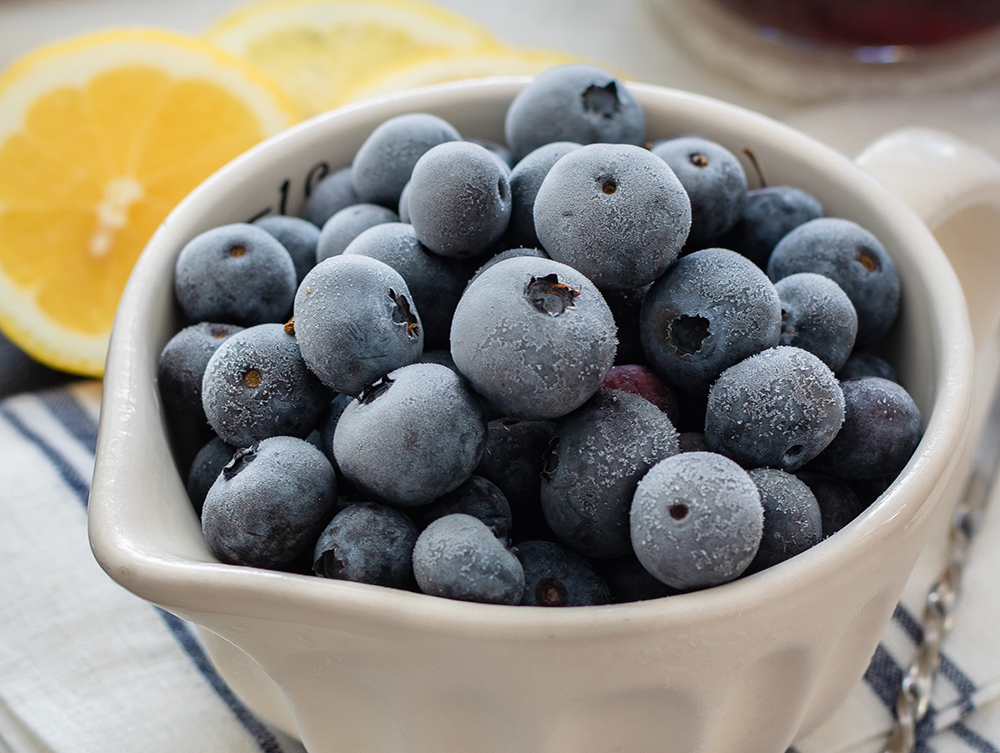 Ingredients
Base
1 ¾ cup whole wheat flour (or gluten free)
½  cup of rolled oats
¼ cup extra virgin coconut oil (melted)
¼ cup pure maple syrup
1 tsp baking powder 
1 tbsp chia seeds
1 tsp pure vanilla extract
1 tsp salt
Filling
4 cups of blueberries (frozen, thawed)
1 tbsp ground flaxseed
2 tsp pure maple syrup
½ tsp cinnamon
a pinch of nutmeg
Top
1 cup rolled oats
¼ cup chopped almonds
¼ cup chopped walnuts
2 tbsp flaxseed
2 tbsp pure maple syrup
2 tbsp extra virgin coconut oil
½  tsp cinnamon
1 tsp nutmeg
a pinch of salt
Directions
Preheat the oven to 350˚F.
Now, let's start at the bottom and build our way up.
The Base
In a small bowl, combine the chia seeds with three tablespoons of water. Stir and let sit for 5-10 minutes (when it thickens, this will serve as our 'egg' binding ingredient).
As you wait for the chia seeds, grab a medium glass pan and line it with parchment paper.
In a large bowl, throw in the flour, oats, salt and baking powder. Mix well.
Then, add the coconut oil, maple syrup and vanilla extract to the chia seeds and stir. Toss this mixture into the large bowl of dry ingredients and mix until the wet and dry have full blended.
Once the ingredients have been mixed thoroughly, press them into the base of the pan.
The Filling
In a large bowl, combine the thawed berries, flaxseed, cinnamon, maple syrup and nutmeg. Stir, then pour over the base ingredients in the pan (covering every inch).
The Top
In a medium bowl, combine the oats, almonds, walnuts, flaxseed, syrup, melted coconut, cinnamon, nutmeg and salt.
Use a spoon – or better yet your hands – to work the mixture into clumps of crumble.
Sprinkle the crumble topping over the blueberry filling, then place the pan in the oven.
Bake for 45 minutes, keeping your eye on the oven. When the crumble is golden brown, remove the dessert and let it cool.
Bon Appetite.
Read More 
A Little Bit of Dough, A Whole Lot of Love
Crepes, Strawberries & Vidal Icewine Chantilly