Reading Time:

3

minutes
Following a plant-based diet can sometimes mean having to give up some of our favourite tasty treats and indulgences. But more often than not, it just means that we find new and creative ways to satisfy our cravings and give in to our temptations. These vegan and gluten-free tahini cookies are by far the best vegan cookies I've made. They have no refined or processed sugar, and they're also guilt-free.
What I love about these cookies is that they are not overly sweet like so many other baked treats. They're soft and chewy and have just the right balance of sweetness and substance. They are also incredibly quick and easy to make and only take eight minutes to cook. That means you can go from craving to satisfaction in about 20 minutes!
Tahini cookies have been referred to as the grown-up version of peanut butter cookies. The main component in these cookies is sesame: tahini is a healthy paste made from toasted, ground sesame seeds, and sesame seeds also coat the outside of these cookies. Substituting regular flour for almond flour also makes these treats more nutritious.
The sesame seeds and tahini have a delicious, earthy flavour and add both crunch and moisture to the cookie. The subtle sweetness is perfect for helping satisfy your sweet tooth without going overboard and indulging on sugar or other refined ingredients.
The sweetness in this recipe comes from the maple syrup rather than processed sugars. If being completely vegan isn't an issue for you, you could substitute this for honey. Agave syrup would also work just fine.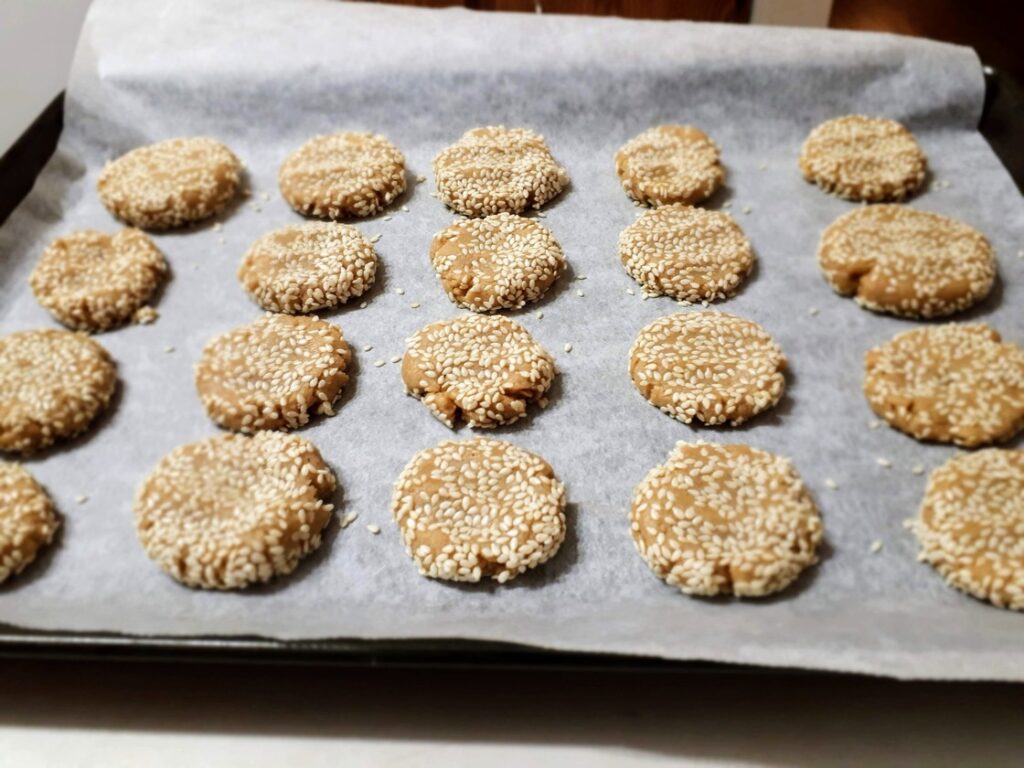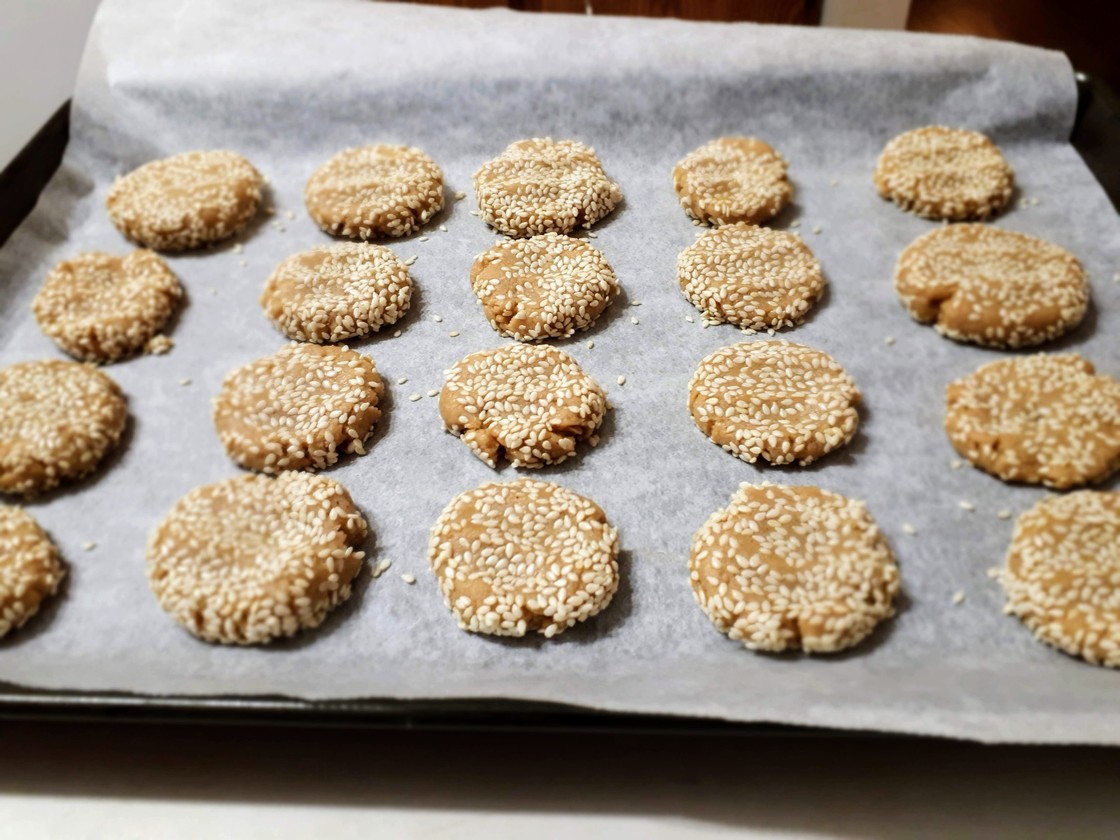 I love spices and warm flavours. Most tahini cookie recipes don't include cinnamon, but I think this spice is the perfect addition. It adds subtle extra flavour and makes the batch smell genuinely delicious when they're baking.
READ MORE: This Spinach and Feta Quiche is Totally #BRUNCHGOALS
Make sure to watch the timer like a hawk for this recipe. Over-baking these cookies can make them hard and crunchy, and you'll miss out on the deliciously soft and chewy texture they offer.
These vegan, gluten-free cookies are perfect for a little tea-time snack or for a light, last-minute dessert. They're a bit "classier" than other cookies, and your guests will appreciate the homemade touch. Once baked, store them in an airtight container. They should keep for around three days, assuming they last that long.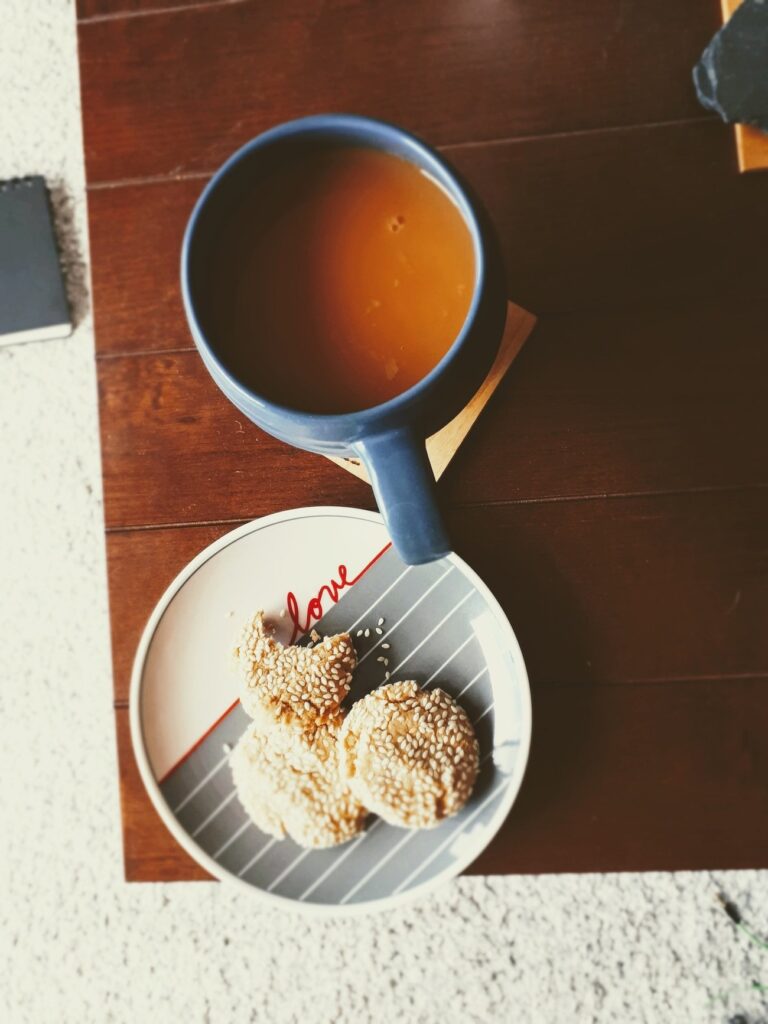 Yields: 20 cookies
Ingredients
½ cup sesame seeds
1 ½ cups almond flour
½ tsp baking soda
2 tsp cinnamon
pinch of salt
1/3 maple syrup
1 tsp vanilla extract
1/3 cup tahini
Method
Preheat the oven to 350 degrees and line a large baking sheet with parchment paper.
Set the sesame seeds aside in a bowl or on a plate.
Mix the almond flour, baking soda, cinnamon and salt in a bowl, making sure to break up any large chunks in the almond flour.
In a larger bowl, combine the maple syrup, vanilla extract and tahini until the mixture is smooth and no large lumps remain in the tahini.
Add the dry ingredients to the wet and stir until combined. The mixture will become quite thick and dry.
With slightly damp hands, roll the cookie mixture into small balls, about an inch and a half wide. Roll the balls in the sesame seeds to coat, and then place on the baking sheet and flatten into rounds with your fingers.
Bake the cookies on the middle shelf for eight minutes, until they are a light golden colour. Transfer to a cooling rack immediately.