Reading Time:

3

minutes
What's an affordable dish that can feed a whole family and be made in a casserole dish, but isn't a casserole? Stuffed cabbage rolls!
Originally from the Balkans, cabbage rolls often feature some type of ground meat in their filling. For a vegan twist, however, here is a recipe that swaps in three heart-healthy, plant-based proteins: bulgur wheat, quinoa and lentils.
Red Lentils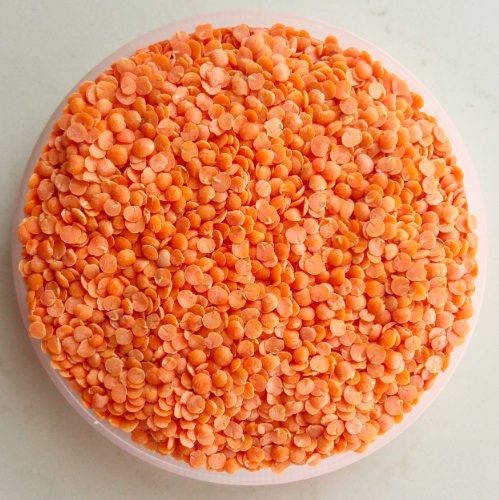 Lentils are part of the legume family and are high in protein and fibre. They come in a variety of colours such as red, brown and green.
Ultimately though, it doesn't matter which ones you choose to cook with, as they are all great sources of essential nutrients such as potassium, iron, and folate. Lentils are very affordable and easy to prepare; for utmost convenience; however, canned varieties are highly recommended to keep on hand.
Bulgur Wheat and Quinoa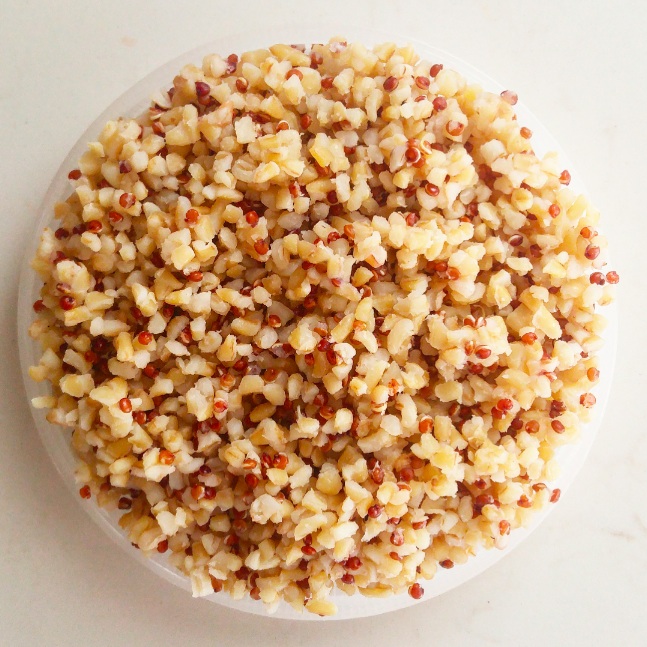 To add some variety in texture, this recipe packs in two types of hearty complex carbohydrates: bulgur wheat and quinoa. Bulgur wheat is traditionally used in Middle Eastern cuisine, is high in protein and is also an excellent source of fibre.
Quinoa, on the other hand, is one of the few plant foods that is found to be packed with all nine essential amino acids. It is also a good source of vitamins B and E, in addition to magnesium, iron, potassium, calcium and phosphorous. If you do not have either of these ingredients accessible to you, feel free to substitute in brown rice or any other grain of your choice.
Vegan Lentil Cabbage Roll Recipe:
To make these cabbage rolls, you will need:
2 tbsp cooking oil
2 cloves garlic, minced
1/2 cup white onion, chopped
1 cup of cooked red lentils (or 1 8oz can, drained and rinsed)
1/2 cup of cooked quinoa
1 cup of cooked bulgur wheat
8 whole savoy or green cabbage leaves (approximately 1/2 of a large head)
1 cup tomato sauce, divided
salt, pepper and paprika to taste
Heat the oil in a saucepan over medium-high heat. Add the garlic and then the onion. Sauté until the onion begins to soften and turn translucent in colour. Add in the lentils, quinoa and bulgur wheat. Stir together well and then season the mixture to taste. Cook for 1-2 minutes before pouring in 1/4 cup of the tomato sauce. Stir well and set aside.
Fill a large pot approximately halfway full with water and bring it to a boil. Peel off about 8 cabbage leaves and place them in the water. Let the leaves cook for about 5 minutes, or until they wilt. Remove them from the water and gently pat them dry with a paper towel. Set them aside.
Preheat your oven to 375 degrees. Use approximately ¼ cup of the tomato sauce to coat the base of a casserole dish evenly. Clear some space on your counter and place a cabbage leaf in the center. Scoop about a ¼ cup of filling into the middle of the leaf.
Tightly fold and roll the cabbage as you would a burrito and place it, seam side down, into the casserole dish. Repeat with the remaining cabbage leaves. Evenly spread the remaining tomato sauce over your cabbage rolls and cover your dish with aluminum foil.
Place it on the middle rack of your oven to cook for approximately 25 minutes. Once cooked, remove your rolls from the oven and let them sit for at least 10 minutes before serving. Serve your cabbage rolls either warm and on their own, or with a side salad.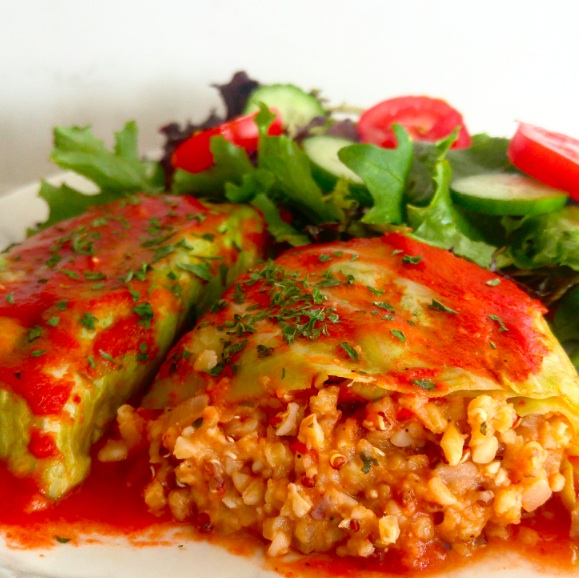 Read more: