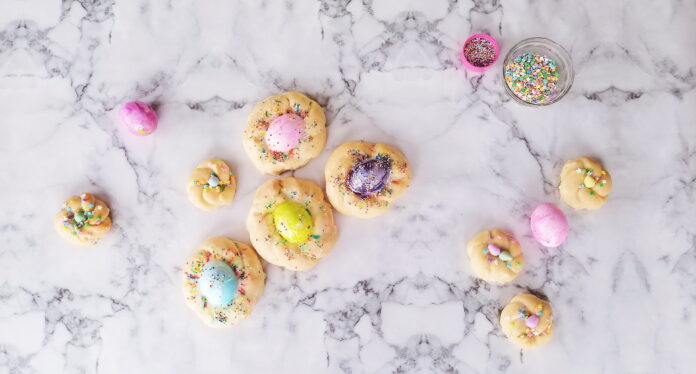 One of my mother's favourite Italian Easter cookies is the traditional Abruzzo Ciambella. A Ciambella is a twisted biscotti-style cookie that usually has a decorated egg at its centre and a clear sugary glaze all over it with sprinkles on top. Ciambella is a treat that is traditional in almost every region in Italy. Most Italians more commonly know Ciambella as a bundt cake. However, in the town where my mother is from, Ciambelle is more of a biscotti-style cookie.  Not only are these whimsical treats fun to make and cute to look at, they are also delicious! Every year, we make some extra Ciambelle, wrap them up nicely with cellophane, and give them out to family and friends as a little Happy Easter gesture.
Ingredients:
4 eggs
1 cup of sugar
1 cup of vegetable oil
4 teaspoons baking powder
1/2 cup of whiskey [or a flavoured liquor]
1 teaspoon vanilla
3 cups of flour, or more if needed
1/8 cup of milk [only if you accidentally put too much flour, the milk acts as a lubricant and softens the dough]
1 cup of icing sugar
1 whole lemon
Sprinkles
Mini Eggs (for miniature Ciambelle)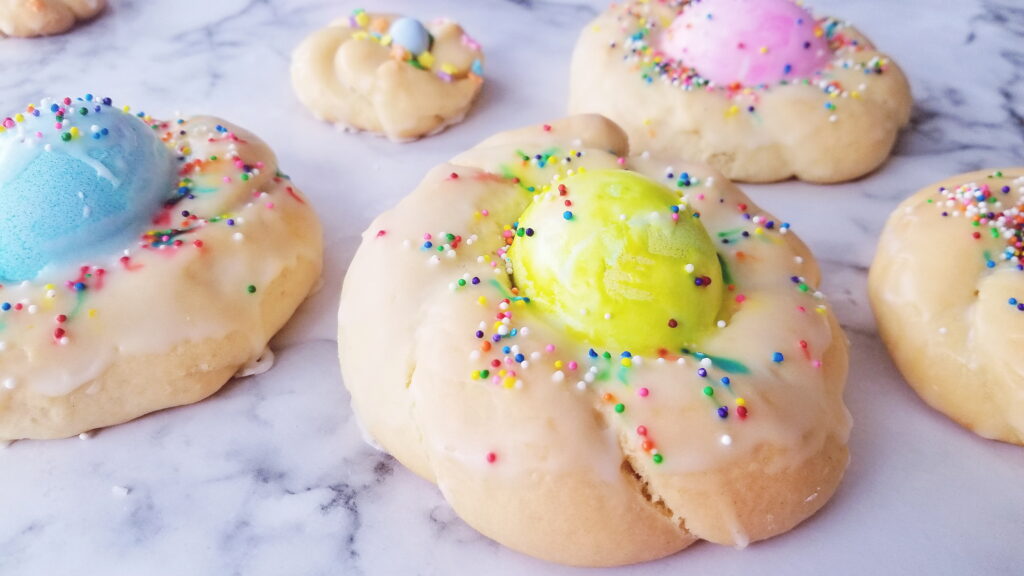 Tools:
Commercial Style Egg Mixer [ideal] If you do not have a mixer, a wooden spoon is actually preferred.  Based on our experience, the dough can become too dense with a handheld egg mixer
Pastry Brush
Cookie Sheet
Cooling Rack
This year, we decided to double our ingredients and give out even more Ciambelle!  We made regular-sized Ciambelle as well as some miniature ones.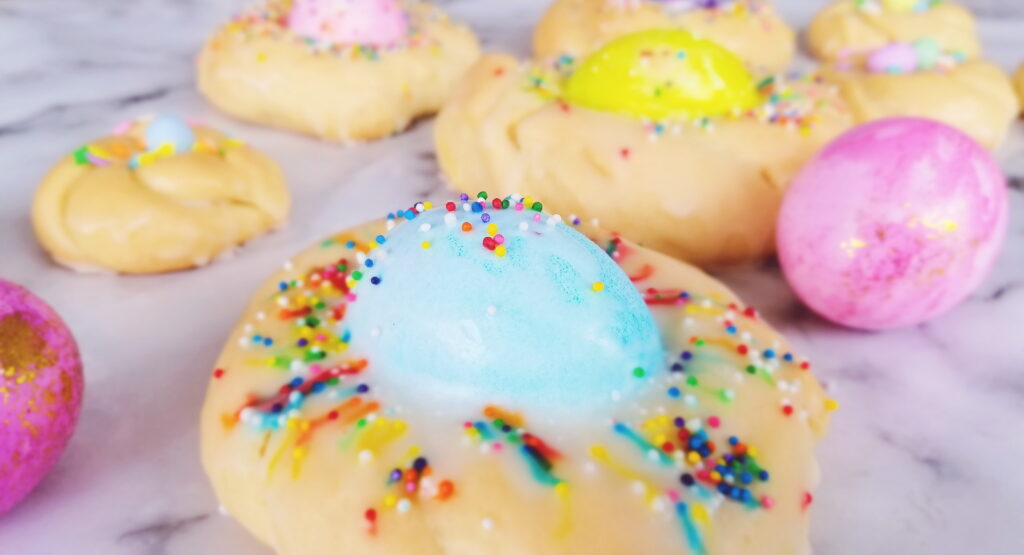 Instructions:
Preheat oven at 350ºF.
Mix all dry ingredients in a bowl and set aside.
Beat eggs, sugar, and oil in a separate bowl, then, gradually add the whisky. Slowly add your dry ingredients into the wet mixture and mix until it's thick enough to roll in a ball but still slightly sticky.
Make a meatball-sized ball and then roll it out into a strip about 10-12 inches long and half an inch thick. Fold the strip in half and twist it then make it a circle [see video below]. Insert a coloured hard boiled egg in the center and then place on a cookie sheet lined with parchment paper. For the miniature Ciambelle, you won't be able to fit a hard boiled egg at the centre. Cook the minis without the hard boiled egg. Bake at 350ºF for roughly 10-15 minutes or until golden – keep your eye on them!
Remove the cookies from the oven and let them cool off on your cooling rack. Then, make glaze with about a cup of icing sugar and the juice of one whole lemon – this really depends on personal preference. Keep mixing and tasting so that you can decide how strong you want the lemon flavour to be and how sweet you want the glaze.  Brush on the glaze using your pastry brush and immediately scatter on your sprinkles.  For the minis, add a mini egg to the centre of it and adhere it using your glaze. Once the Ciambelle are dry, wrap them up and give them out! Happy Easter!