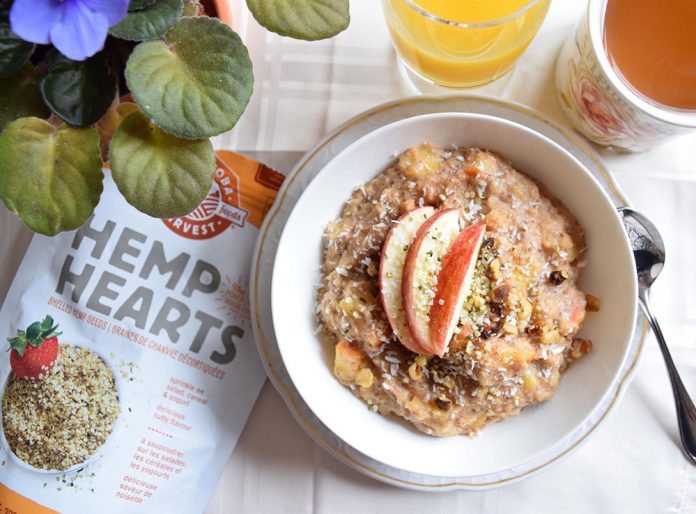 In the mornings, the air is a crisp cool bite. Foggy mists kiss the dew-dropped grass. Leaves let their fresh coats melt into vibrant flames of yellow and red.
Summer has faded, given way to a new season of wood smoke fireplaces and blazing orange pumpkin patches. The land abounds with harvest yields, golden under the light of a Harvest Moon.
This is the season of the Apple. Apple pies, apple strudels, apple sauces, apple cider, apple Danish, apple turnovers, apple muffins, apple compote, apple crumble, APPLES, APPLES, APPLES GALORE!
And what better way to settle into the calm warmth of Autumn, than with the tastes and smells of the season. An aroma of heated apples, stewing, boiling and baking; the sweet perfume of warm vanilla and brown sugar wafting through the walls; and the irresistible fragrance of cinnamon mixed with nutmeg – the surest sign of Fall's arrival.
Ingredients
For the Oats
1/3 cup gluten-free rolled oats
2 medium apples, peeled, cored, and chopped (I like to use Gala for this recipe)
1 tbsp chia seeds
½ cup unsweetened applesauce
1 cup vanilla almond milk
For the Flavour
 1 tsp cinnamon
½ tsp ground ginger
½ tsp nutmeg
a pinch of sea salt
A sprinkle of crushed walnuts, almonds, hempseeds and/or flaxseeds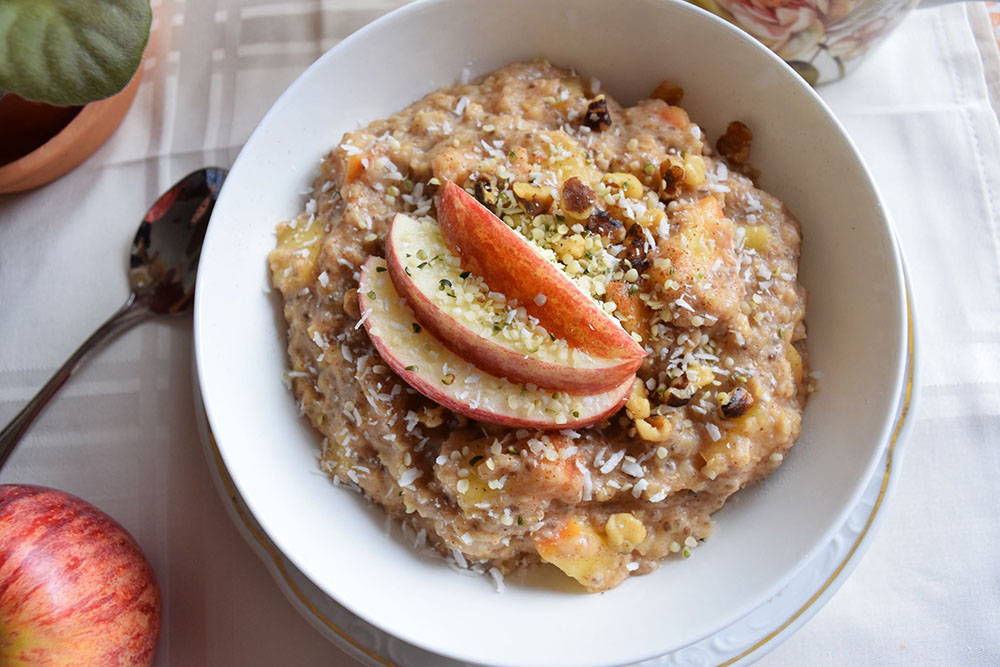 Instructions
In a medium saucepan, medium heat, combine your oats, apples, chia seeds, applesauce and almond milk. Then throw in your spices – cinnamon, ginger, nutmeg and sea salt.
Keep an eye as it cooks, you don't want it to overflow or worse, overheat and stick to the bottom of the pan! Continue to mix and stir often for about 10 minutes, until the ingredients are well blended. You will notice the apples become soft, their colour will change, and the magical chia seeds will expand (almost like making over night oats).
Once it's thick to your liking, pour it in a bowl and serve with a sprinkle of nuts, flax and hemp seeds and enjoy! Bon Appetite!