Reading Time:

3

minutes
Eating out for vegan cuisine is not always easy. True, there are a growing number of plant-based restaurants in the city of Toronto. But finding options in a restaurant that is not exclusively vegan can be a dismaying challenge.
When friends and colleagues gather to dine, you do not have to feel left out. And you certainly do not have to order a grilled chicken feta salad, minus the chicken and cheese, to create a vegan dish.
Take a trip down Bay Street and turn left on Adelaide. Yellow umbrella's light the way, like torches in the night. A patio cased in glass. A sign glowing white. You have arrived at your destination. The Cactus Club Café.
Through the doors and to the table. This is a night your vegan palette can applaud. When the menus are open, there is more to discover than merely fish and steak.
My vegan eyes scour the page, on the hunt for the elusive VG emblem. The crest of our plant-based tribe. And there it is, alongside its vegetarian sister.
For the Table, well let's see… Szechuan Lettuce Wraps, Chimichurri Guacamole, Edamame and Truffle Fries. One is vegan, the others easily can be. Let the first course begin!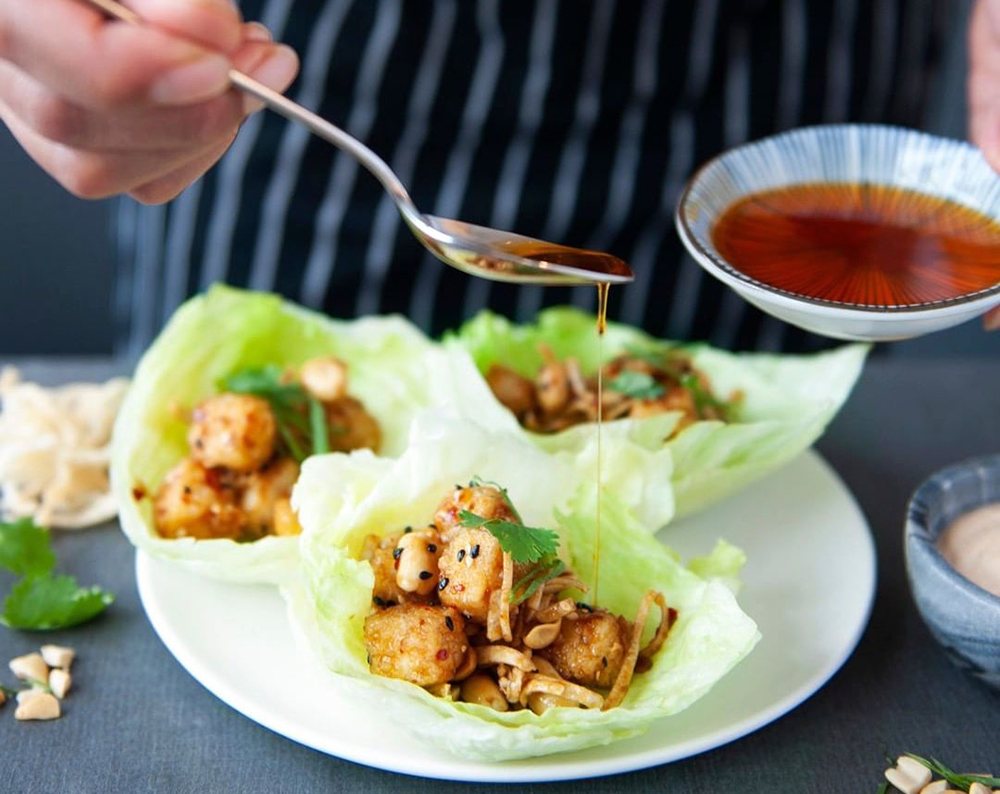 @cactusclubcafe
I order the Szechuan Lettuce Wraps without the spicy yogurt and Chimichurri Guacamole minus the feta. Small steps to convert a vegetarian dish to vegan, and hardly a hassle. The edamame is of course vegan by nature, but I'm craving more than steamed soybeans tonight. The lettuce wraps are fresh and crisp, with a sweet and spicy filling of soft flavourful tofu, peanuts and wontons. There comes a time, however, when one must trade in fingers for forks, and for the sake of a clean dress, turn to cutlery.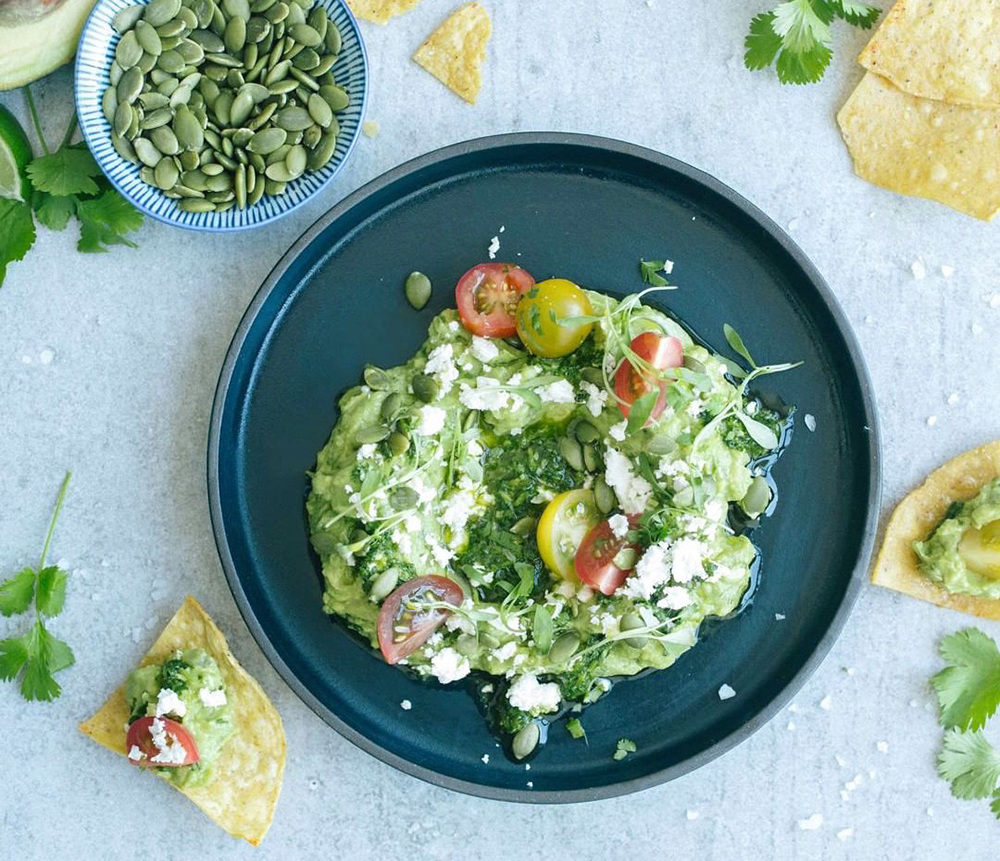 @cactusclubcafe
The colour of the guacamole is striking. Layers of garden fresh green beam with blossoms of flame coloured tomatoes; gems shining in an array of amber hues. Pumpkin seeds add a balanced crunch to this creamy smooth dip. We dig in, and soon it's gone.
The main course, the major star. What to order, what to eat? A vegan dish like the Crispy Tofu bowl, or the Modern Bowl with pineapple salsa and roasted cauliflower? Perhaps something simply vegetarian, like the Garden Burger, or Rob's Flatbread. Other dishes can convert, with a request to cast off chicken or prawns. But I would prefer to remain vegan tonight.
The Crispy Tofu Bowl is my choice. The promise of soy chili tofu, jasmine rice and fresh mango has my taste buds in a tizzy. When the dish is presented, I am far from disappointed. The sweet smell of warm spice wafts from the tofu; the first element of the plate to reach my lips. I have tasted a great deal of tofu in my time. In the course of a seven-day week, half if not more of the days, will feature a meal with tofu in one form or another.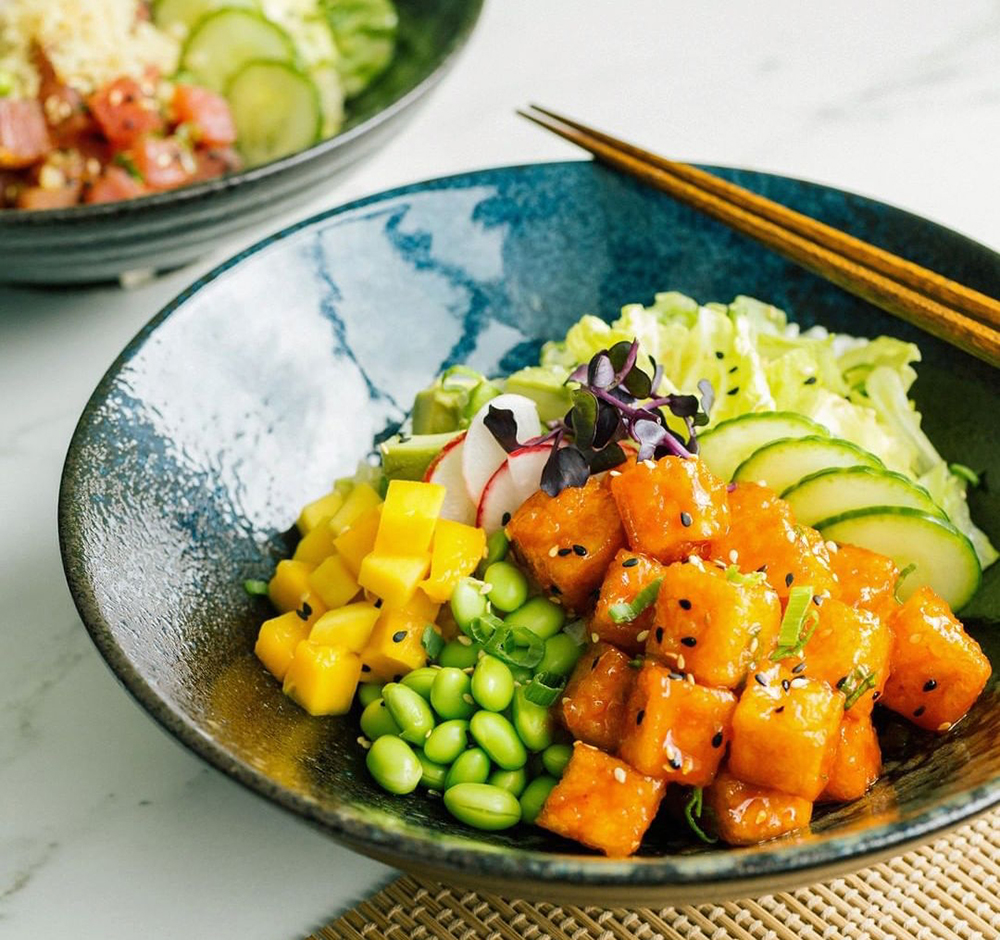 @cactusclubcafe
The chili tofu in this crispy bowl is a savoury delight. Sweet with a slight zing, and just the right amount of sauce. My fork greedily returns for more… and more. The cucumber and edamame add a nice taste of freshness, but it is the mango and jasmine rice that pair best with the rich flavour of the tofu.
Dessert offers velvet smooth chocolate mousse… caramelized apples… and hand whipped cream. Vegetarian, yes. Vegan, no. Tonight I keep to the plant-based code. Sweets will simply have to wait, until the menu adopts a new sugary treat.
To be sure, the majority of dishes on the menu of the Cactus Club Café are built with non-vegan ingredients. Yet with a step on the path to green-living. Poultry is free run and grain fed, and the restaurant is a member of Ocean Wise. Three dishes are undeniably vegan, with several others that are vegetarian (or can be made as such). Dessert is still a plant-based work in progress, but all in all, the restaurant serves vegan dishes with fresh, full flavours.
Read More:
Farm Boy: More than a Grocery Store
For the Love of LOV
Soula's on the Danforth