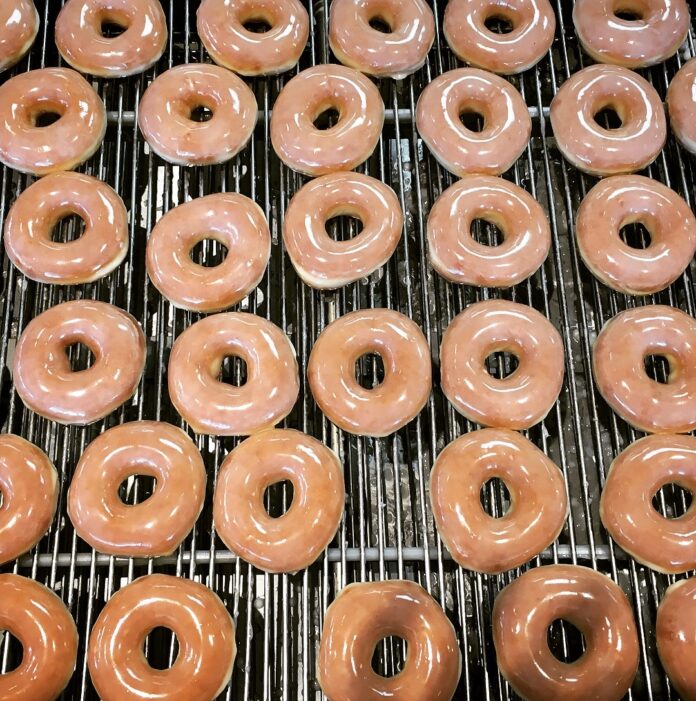 It's hard to go wrong with a glazed donut. That shiny layer of sugar mixed with the soft, pillowy interior makes for a heavenly treat. Luckily, you can find delicious glazed donuts right here in Montreal. From gourmet iterations at Trou de Beigne or Léché Desserts to the iconic Krispy Kreme donut, below is my list of the best glazed donuts in Montreal.
Léché Desserts wins the award for the most inventive donut shop in Montreal, but it's their glazed passion fruit donut that shines through. An extra thick, sugary glaze infused with tropical passion fruit coats the outside, giving way to a soft, light, doughy interior that makes each bite better than the last. If you're in the St. Henri neighbourhood, be sure to stop in for coffee and a donut, or be the best coworker in the world and bring them into work! If you're after some variety beyond the passion fruit glazed, their featured donut flavours change monthly but are all pretty delicious, ranging from maple cream and caramel popcorn to strawberry rhubarb, earl grey, lime coconut, and almond with rose water.
Another one of Montreal's premier donut shops, Trou de Beigne, is located in Little Italy and boasts some of the most delicious, Instagram-worthy donuts in the city. They offer nine rotating flavours regularly, but it's always their glazed donuts that are the best, in my opinion. From the classics like maple, vanilla, and chocolate glazed, to the more creative like a blueberry dark chocolate glaze and a London Fog glaze made with earl grey tea and cookie butter, you can't go wrong with any one of Trou de Beigne's glazed donut options.
As of April 2019, downtown Montreal is officially home to its very own Krispy Kreme. While I'm a huge fan of the gourmet donuts currently trending in North America, I can't deny the deliciousness that is a classic Krispy Kreme donut. The new Montreal location offers the brand's signature treat (made using a recipe that dates back to the 1930s), as well as other types of glazed donuts, including chocolate glazed, maple glazed, and even regular glazed filled with lemon curd and raspberry jam. Get there early as lines are still out the door during peak hours at this new addition to central Montreal's food scene.
Some of the most creative (and Instagrammable) donuts in Montreal hail from DoughNats. This gourmet sweets shop specializing in miniature, two-bite versions of the beloved Canadian treat. One dozen flavours are always on the menu with nine of the twelve being glazed donuts. From the classic chocolate and vanilla glazed to specialty flavours like matcha glazed or raspberry glazed, there are plenty of mouth-watering options at this Decarie shop. Some of my favourite flavours are French Kiss, consisting of a glazed maple donut with a mini piece of challah French toast on top, and Dough Me Good, a cookie dough-stuffed donut topped with chocolate glaze and chocolate chip cookie crumble.
Read more: