Reading Time:

4

minutes
This is the year of Tarryn Skuy. Not only does her account, My Celiac Life, have the largest following for a Celiac account on Instagram, but she is continually being recognized for her hard work: she is this year's recipient of the Notable's Food Influencer of the Year award. A Toronto blogger darling, Tarryn is making a huge difference in the lives of those with celiac disease, providing gluten free resources within the community. DINE sat down with Tarryn to talk about all things Toronto, and her top gluten free recommendations. 
What is your favourite Toronto neighbourhood?
I'm a huge fan of the Yonge and Eglinton area. It's not right in the middle of all of the hustle and bustle of downtown Toronto, and not too far north. It's central, and near all of my favourite restaurants, and I can get downtown and up north quickly whenever I need to. 
Name three places you would take someone new visiting the city.
Hmmm. Great question! In terms of visiting, I say the Ripley's Aquarium is a must-see. It's so cool to see life under water, and I actually find it very relaxing! Kensington Market is another favourite of mine. Kensington is filled with great eats (tons are gluten free too), antique shops, unique stores, and some of the best graffiti I have ever seen! And the third place would have to be visiting the Toronto Islands. I love just walking around there, seeing the homes, and nature on the island.
Three favourite GF dishes in Toronto?
My favourite gluten free dishes include: Literally ANY bagel at Almond Butterfly. I miss being able to just eat a bagel! Next up, any gluten free dish at Riz on Yonge. They have TONS of options, including gluten free tempura, Pad Thai, sushi and more, and they're actually certified gluten free, which is incredible. Tied for third, Off The Hook has amazing gluten free fish and chips, which is really hard to find. They have a separate gluten free fryer, so as long as you order the gluten free items, there's no chance of cross-contamination. The other tied for third is Pizza Libretto on King Street. They have a gluten free pizza crust which can be made in their separate gluten free pizza oven. How can you say no! (so here's four dishes rather than three.)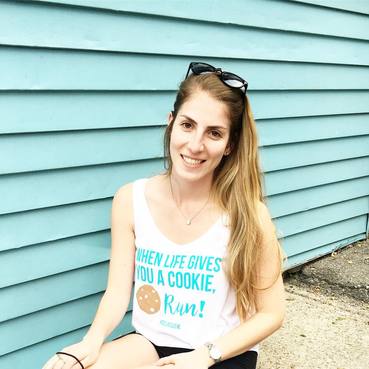 Most underrated GF grain?
Gluten free oatmeal. It's no doubt my-go to! I eat gluten free oatmeal for breakfast every single day. It's what I look forward to before I go to bed every night. Some people don't realize, but not all oatmeal is gluten free, only specific kinds are gluten free.
What is your guilty pleasure?
Definitely chocolate. I am a chocaholic who cannot go a day without chocolate of some sort! Of course gluten free chocolate, but it really is my guilty pleasure. I will do an extra hour of spinning to eat more chocolate in a heartbeat. 
Has anyone ever recognized you on the street for your blog fame?
Yes – I have been stopped on the street a number of times and asked if I am "My Celiac Life." It actually happened to me in Mexico, and that's when I thought to myself, "Wow – I really am making a difference!" That's something very exciting to me. 
If you could change one thing in Toronto, what would it be?
The transportation system, and the traffic!
Who is the biggest celebrity you've seen in Toronto?
Gigi Hadid. I was working at a PR agency over one summer, and we did a Maybelline event. Gigi was there, and made a speech, and I remember upon her arrival she wanted a Tim Horton's Iced Capp, and I swear I was so nervous to buy it for her!
Are you as obsessed with Drake as the rest of the city?
No – I am not a big Drake fan. I've actually met him in person as well, and of course got a picture, but I do not have the Toronto Drake obsession.
What's your favourite song about Toronto?
Does the Canadian anthem count?
Read more: