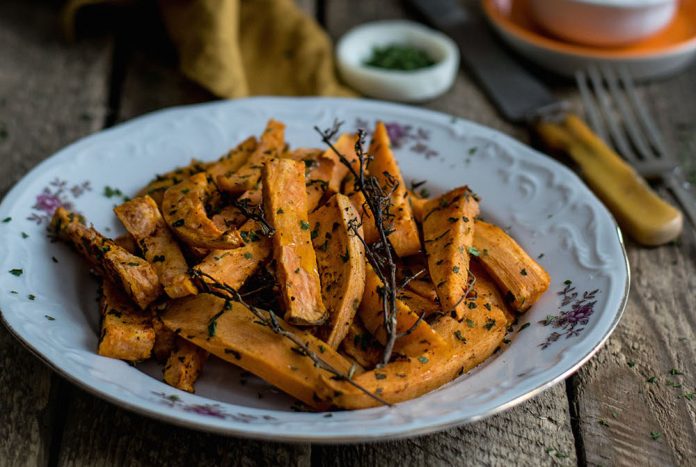 Sweet potatoes. A major superfood. These orange angels are a high source of fibre, iron, copper, calcium, potassium, and Vitamins A, B and C. They are rich in antioxidants and manganese (a mineral that promotes healthy skin). They even contain natural anti-inflammatory compounds that can help ease the pain of inflammation. And despite their name, sweet potatoes are low in sugar and will not spike your blood sugar levels!
The health benefits are tremendous. And the taste… too good to be healthy!
So if you're looking for a healthy snack that tastes good and is good for you, look no further.
This recipe is so simple, so fast and so easy to make! It takes only few ingredients and a few short minutes to make your sweet potato snack!
Ingredients
3 large sweet potatoes
3 tbsp olive oil
1 tsp thyme
1 tsp oregano
1 tsp basil
½ tsp cayenne pepper
½ tsp garlic powder
½ tsp sea salt
a pinch of pepper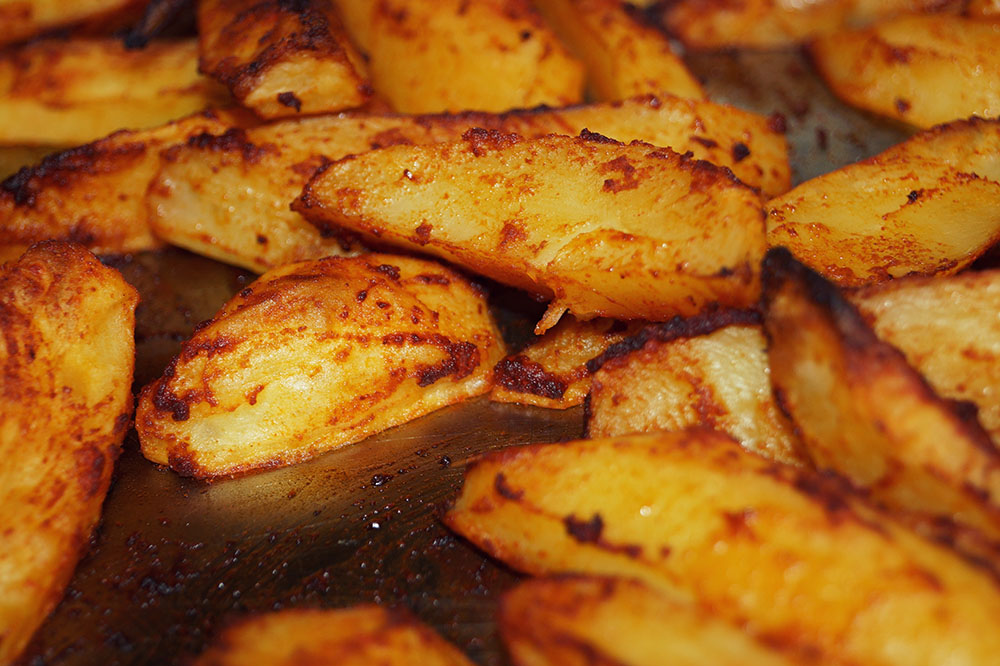 Instructions
Preheat your oven to 350˚F
Grab a baking tray, cover it with a sheet of aluminum foil (or use a non-stick tray if you have one).
Wash and peel the potatoes. Be sure to cut off the tips, then proceed to cut the potatoes into wedges (I find this tends to be easiest when I slice the sweet potato in half). You can cut them into thick wedges or thin, the choice is yours. The important thing is to ensure all wedges are roughly the same size – if there are big differences in size, then either the smaller ones will cook faster and burn, or the big ones won't be fully cooked.
Once you have your wedges, place them in a large bowl along with your oil olive, thyme, oregano, basil, garlic powder, cayenne pepper, sea salt and pepper. Mix them well, then let the wedges sit for about 5 minutes to absorb the flavours of the seasoning.
Next, spread the wedges evenly across the baking tray. Place them in the oven and bake for 10 minutes. But don't run away and leave the kitchen just yet! Keep your eyes on the potatoes, especially if you have made thinner wedges; these will cook faster. After 10 minutes, open the oven and with the remainder of your olive oil and seasoning, baste the wedges (we want them nice and crispy, and full of flavour!). After this, place the tray back inside and watch them bake for another 10 minutes (or less, depending on their size and the type of oven you own).
Once their colour is a rich autumn orange with dark russet edges, they are ready to plate.
Now comes the best part of all… time to eat! Bon Appetite!