Reading Time:

4

minutes
The RC Show is Canada's largest foodservice and hospitality event. Each year, people in the industry gather to shop, taste, learn and connect. It's a three-day networking bazaar of inspirational talks, workshops and demos to showcase new innovative products that will transform our dining experience. This year's show is set to take place February 24th – 26th at the Enercare Centre and the theme is sustainability.
The show may be a month away, but we have a special sneak peek treat… a taste of the technology and flavours you will find at the RC Show. Grab your napkin and pick up a fork, let's dig in!
Enter the RC Media Show…
Seeing the Future
Do my eyes deceive me? Is it a hunger induced illusion, or is that a glowing cheeseburger hovering midair?
Holograms are here and they are delicious! A digital apparition greets us as we venture into the future… what else awaits our hungry eyes?
Meat, Move Over!
A server welcomes us with a smile and a snowy white tray packed with a platoon of sliced sausages. We take a bite and savour the rich smoky flavour of the meat. "This is delicious, what is it? Lamb, pork?" "Plants!" he responds. Our eyes pop, and our stomachs can barely believe the news. The taste and appearance are so convincingly pork it doesn't seem possible. But it is. Beyond Meat has created the, Beyond Sausage, Original Bratwurst, a 100% plant-based sausage derived entirely from healthy veggies, and it is delicious! Without doubt, meat-lovers and vegans alike will soon be celebrating this satisfying snack.

Waste Not, Want Not
Another bite of the Beyond Meat Sausage and we're on the hunt again. Our feet wander to the bar, landing in front of the sign "Waste Based Cocktails." Curiosity takes over. Waste based… as in scraps, trash, garbage? We're both excited and a little anxious to try this creation. The bartenders catch a whiff of our angst and begin to explain the concept, "When it comes to food, we talk about the value of using everything, but we don't have the same mindset for drinks. People don't usually think about bars and waste, but there is a lot getting thrown out that can be reused, and it's so much better for the environment and the bar economically speaking." Avocado pits, lemon and black currant are just some of the reused ingredients, and with a little creativity the results are both beautiful and tasty.
Robot Take-Over
I turn to the left, and what do I see? A child-sized robot, ready to serve me.
This cheerful machine stands at the ready, with a red pixel grin, and a tray of wild blueberry power balls, made with coconut oil, dates and blueberry flour. Silent and sweet, is this robot server the future of food service?

Root to Shoot Sushi
A raw wooden serving board with rolls of sushi is our next stop. This isn't your average California Roll. This sushi is sustainable, fresh and for the most part, made of plants.
Ricky and Olivia talk about the ingredients as they prepare and plate these pretty pieces of sushi.
The grilled and marinated Jerusalem artichoke, (aka, sunchoke, the root of a sunflower) has a nice smoky flavour, replacing fish in this roll. Sunflower seed furikake (sunflower seeds mixed with seaweed), also provides a taste of the sea for this spin on sushi. Cold pressed sunflower aioli, miso, and cured trout roe are part of the show as well. Together they create an addictive new way to enjoy sushi (and believe me, one piece is simply not enough).
Hold the Alcohol
Beside the sushi, we find a creative collection of cute critters decorating the bottles of Seedlip; the world's first distilled non-alcoholic spirits. Eager for a taste, I take a sip of a vibrant red Grove Collins, made with Seedlip Grove 42, blood orange cordial, baking spices and fizz. Smooth, zesty and full of flavour, the alcohol is not missed one bit.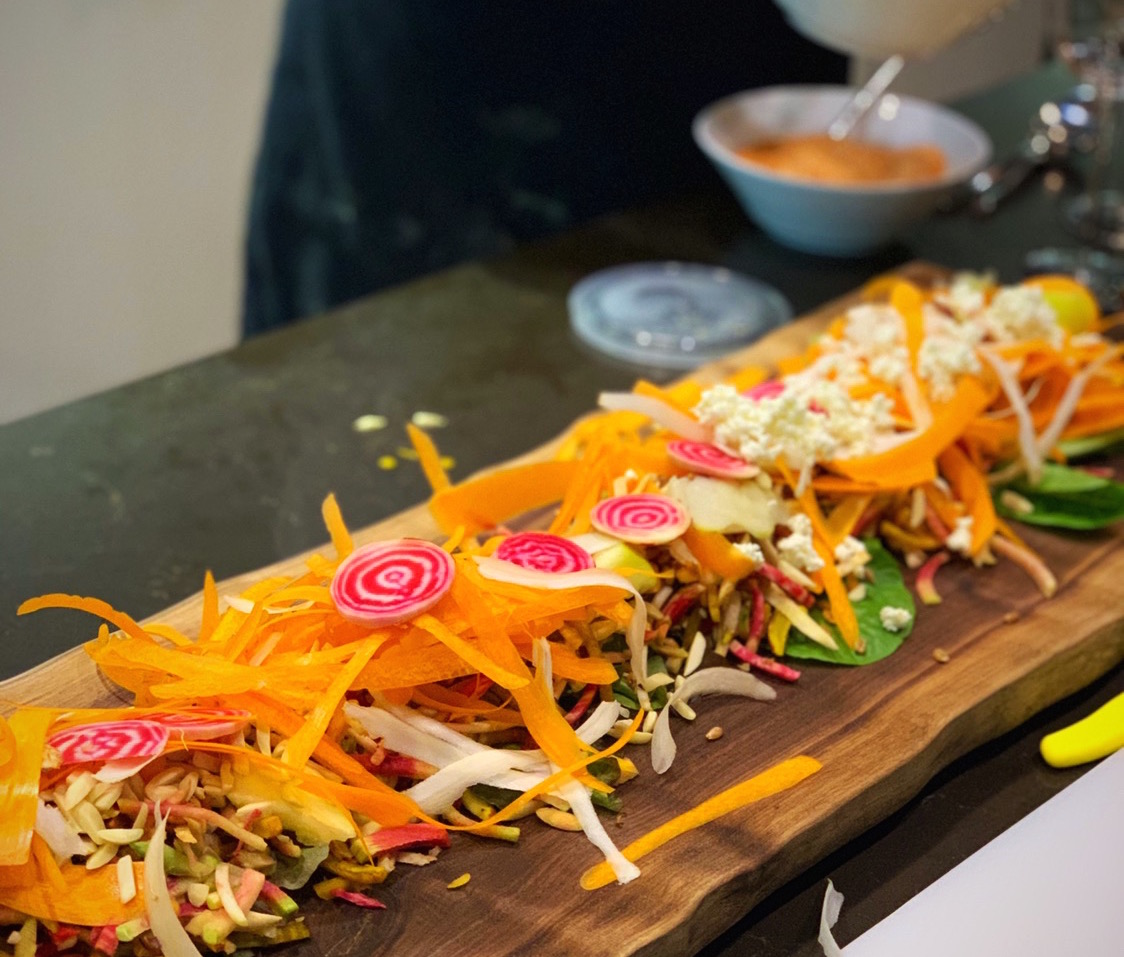 A Salad Manifesto
Chef Charlotte Langley takes the stage, and we are quickly pulled in to helping create her unusual salad manifesto. Carrots, radishes, apples and baby lettuces are all used – every inch! Peels and all. And you know what, it was delicious. Topped with a carrot vinaigrette and carrot salt, this sustainable salad will soon find its way onto my dinner table as well.

Simple & Seasonal
Chef Brad Long is an advocate for eating in season, and his blanched & buttered greens have us all bewitched and on board. Buying food locally grown and in season is the sustainable choice. The food is fresher, tastier and leaves a much smaller carbon footprint. And when Chef Long is the one making it, the vegetables shine.
Sustainable Canadian seafood, sustainable wine making, kitchen must-haves, snack solutions, and so much more will be on display at this year's upcoming RC Show. To register and secure a spot, you can visit rcshow.com.
Read More
A Valentine Kiss: 4 Perfect Kiss Proof Colours
Holiday Fair in Nathan Phillips Square