Reading Time:

2

minutes
For those seeking healthy options for breakfast, power your morning with a vegan quinoa porridge.
If you are all about some sunshine and want to embody some Caribbean vibes, this Tropical Quinoa Porridge is satisfying and it's also gluten-free and vegan.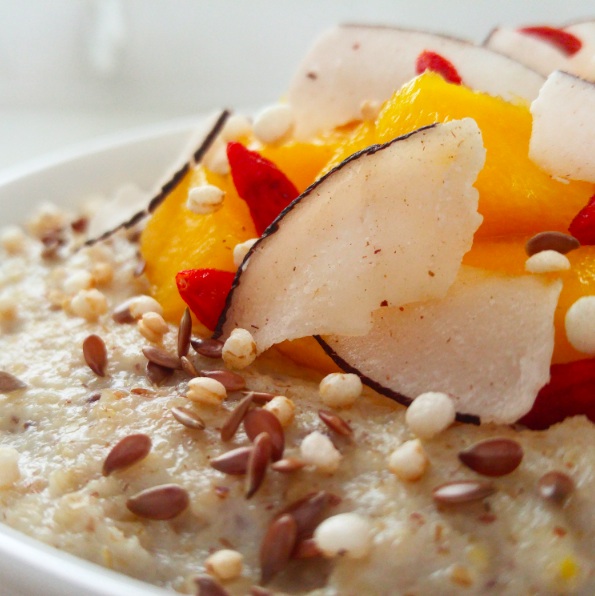 Photo: Mirieta Selimovska (@thesweetenedpea)
Tropical Vegan Quinoa Porridge Recipe
For optimal time efficiency on busy mornings, I use quinoa flakes to prepare this porridge. Quinoa flakes are super affordable and available at most bulk food stores, but if regular quinoa is all you have on hand, that works too! Keep in mind however that regular quinoa will take longer to cook, approximately 15-20 minutes (vs. 3-5 minutes when using quinoa flakes).
Here's what you'll need:
1 cup light coconut milk
1 cup water
1 cup certified gluten-free quinoa flakes (or regular quinoa)
2 tbsp ground flaxseeds
¼ tsp salt
1 tbsp pure maple or agave syrup
1 tsp real vanilla extract
1 red mango, chopped
¼ cup dried coconut flakes
Optional toppings:
Goji berries, flax seeds, puffed quinoa
Add the milk and water to a saucepan and bring it to a boil. Stir in the quinoa flakes, flaxseeds and salt. Reduce the heat to a simmer and cook the porridge for about 3 minutes, stirring well throughout. Once the porridge has thickened, remove the saucepan from the heat and stir in your sweetener of choice and vanilla extract. Distribute the porridge into two serving bowls and top with the mango, coconut and any other toppings.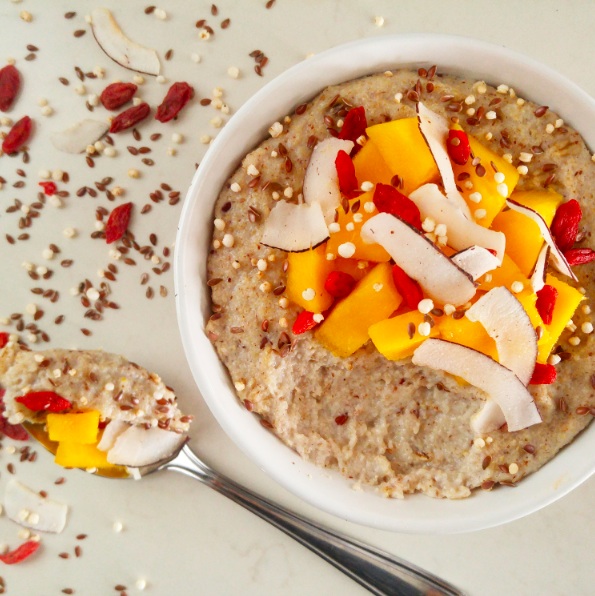 This recipe yields enough porridge for two generous servings so adjust measurements accordingly based on whom you are feeding. Feel free to make a double batch to keep handy in the refrigerator throughout the workweek. When reheating, gradually add some additional coconut milk until you reach the desired consistency.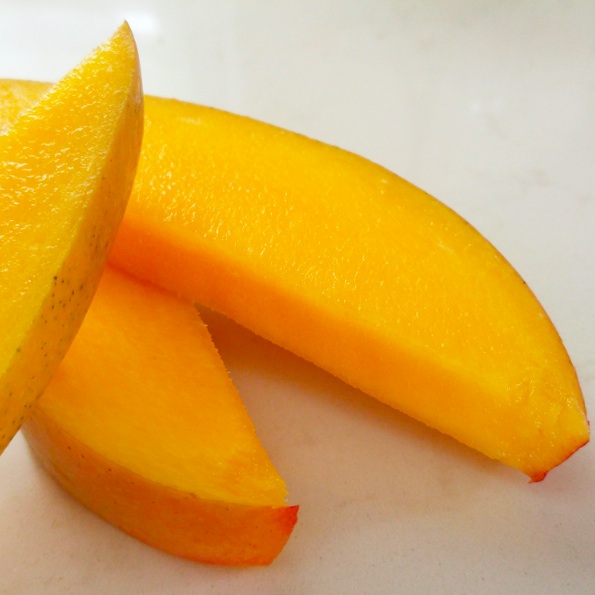 Read more:
Real Food for the Road: 5 Tips for Eating Well On The Go