Reading Time:

5

minutes
Cannabis enthusiasts in Denver Colorado were treated to pot-infused burgers on their special day this year, 4/20. In case you missed details of the event, just know that Carl's Jr was not disappointed by the response. In fact, other Carl's Jr franchises are requesting to try out this treat as the norm and not a "special day" treat.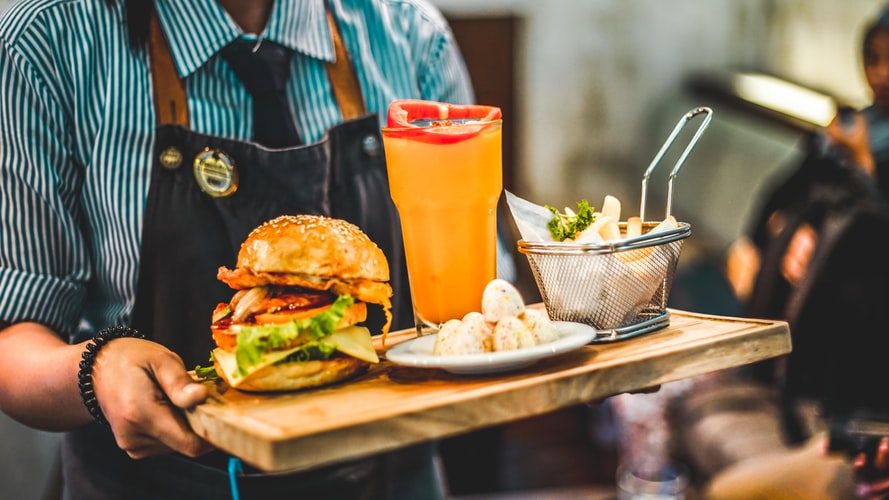 Photo by Bimo Luki on Unsplash. Pot infused burgers.
Pot Infused Burgers: CBD Goodness It Is
Why is pot-infused burgers all the rage? I guess, we all love burgers, and now we are all getting to love CBD goodness. CBD or cannabidiol is a compound found in weed that offers a good number of therapeutic benefits. This includes pain relief, anxiety relief, and treatment of depression as well as neuroprotective benefits among others. CBD does not get you high, but another compound in weed called THC (tetrahydrocannabinol) will get you high. THC also has numerous therapeutic uses.
Back to what happened on 4/20 at Carl's Jr, by 6 am the restaurant was thronged by eager diners, ready to have a bite of the scrumptious burger. But no, it was the burger sauce that was laced, CBD oil mixed with pickled jalapenos and pepper jack cheese.
Speaking to Leafly, Alex McConnell the district manager for Carl's Jr reported that their target was to sell 1,000 CBD burgers by 4 pm. Each burger retailed at $ 4.20.
CBD Gaining Mainstream Acceptance
Some diners at Carl's Jr remarked that the burgers were juicy, the CBD sauce added subtle hints of earthiness. For those yet to try out any weed-infused treats, always expect some earthy taste that hits your palate soon after you bite into the treat.
Two diners in their early thirties had some interesting observation to make as told to Leafly.
"It normalizes CBD and the perception of it and maybe destigmatizes it for the public to let them know that it's not a dangerous chemical, especially in these small dosages. It's not going to harm anyone—and if anything it's going to help people—so if that's the case it's a fun promotion here. I think it could be an interesting menu item, and I think it could be the start of something."
The gesture by Carl Jrs will hopefully change the mass perception of CBD. Time will tell whether this event made any impact on people's minds and perceptions. It will also be a while before we know wether Carl's Jr will include this savoury in their everyday menu. So let me take the liberty to share a recipe for pot infused burgers that you can DIY at home.
Cannabis Infused Burgers Recipe
Burgers are great for entertaining friends; they get even better when they are spruced with CBD goodness. The CBD doesn't do much for flavor, especially if your taste buds are not accustomed to the earthiness of weed. However, CBD infusions make these burgers a "healing and relaxing snack."
Get the right ingredients For Your Pot Infused Burger
The first step to getting a good meal is to start out with the right ingredients. You need fresh ingredients that offer both quality and taste. A burger is really the patty; you have to get this right. Make sure that your ground beef is fresh and organically grown. Fatty meat will make the patty more succulent.
The cannabis dried bud also needs to be of high value. Go for a strain with high potency such as Sour Tsunami which was created by Lawrence Ringo of Southern Humboldt Seed Creative. Sour Tsunami has 10%-11% CBD. 20mg-50mg of CBD should be good for each burger.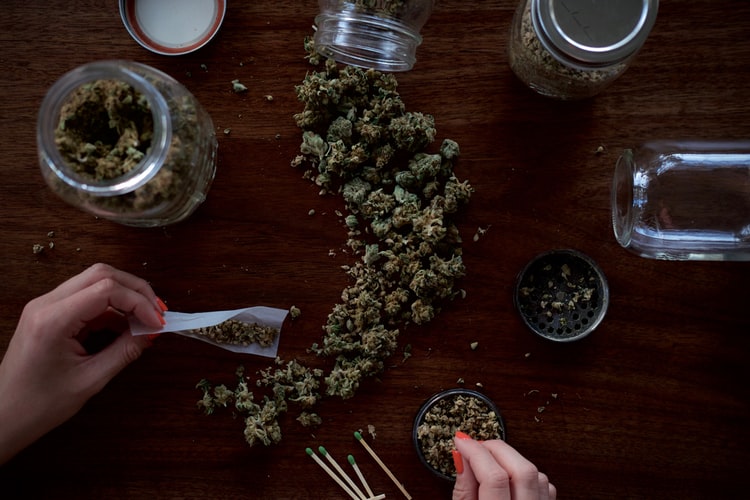 Photo from Unsplash. Open jar of dried cannabis buds.
Down to the recipe
Ingredients
1 kg ground beef
2 onions thinly sliced
200mg of cannabis bud, decarboxylated. (Decarboxylation is the process of exposing the buds to heat so that CBDA can be converted to CBD. CBDA is decarboxylated at 22 degrees Fahrenheit, for 30-45 minutes. Some people prefer decarboxylating for a longer time but at lower temperatures to preserve terpenes.)
2 eggs, beaten
Jalapeño peppers
Pinch of salt and pepper
4 burger buns
Vegetables of your choice such as tomato slices, cucumber slices, lettuce
Cheese for sprinkling
Sauce of your choice
Method
Set all your ingredients on a flat surface such as a table.
Grind your decarboxylated buds to small particles, but not to powder consistency
Take a glass bowl and combine the meat, onions, cannabis, spices and eggs. Thoroughly mix the ingredients.
Divide the mixture into four equal parts. Make four ground beef patties by rolling on a flat surface with flour.
Chill the patties for four hours.
You can either bake the patties or fry them in hot oil.
Grilling Pot Infused Burgers

Light your grill and let it heat up until the rods are hot to the touch. Place the patties on the grill and allow the ground beef to hold together. Flip after a minute or two and let it cook for 15 minutes. Flip again and let the other side cook. Be careful not to break the pot infused patties before they cook.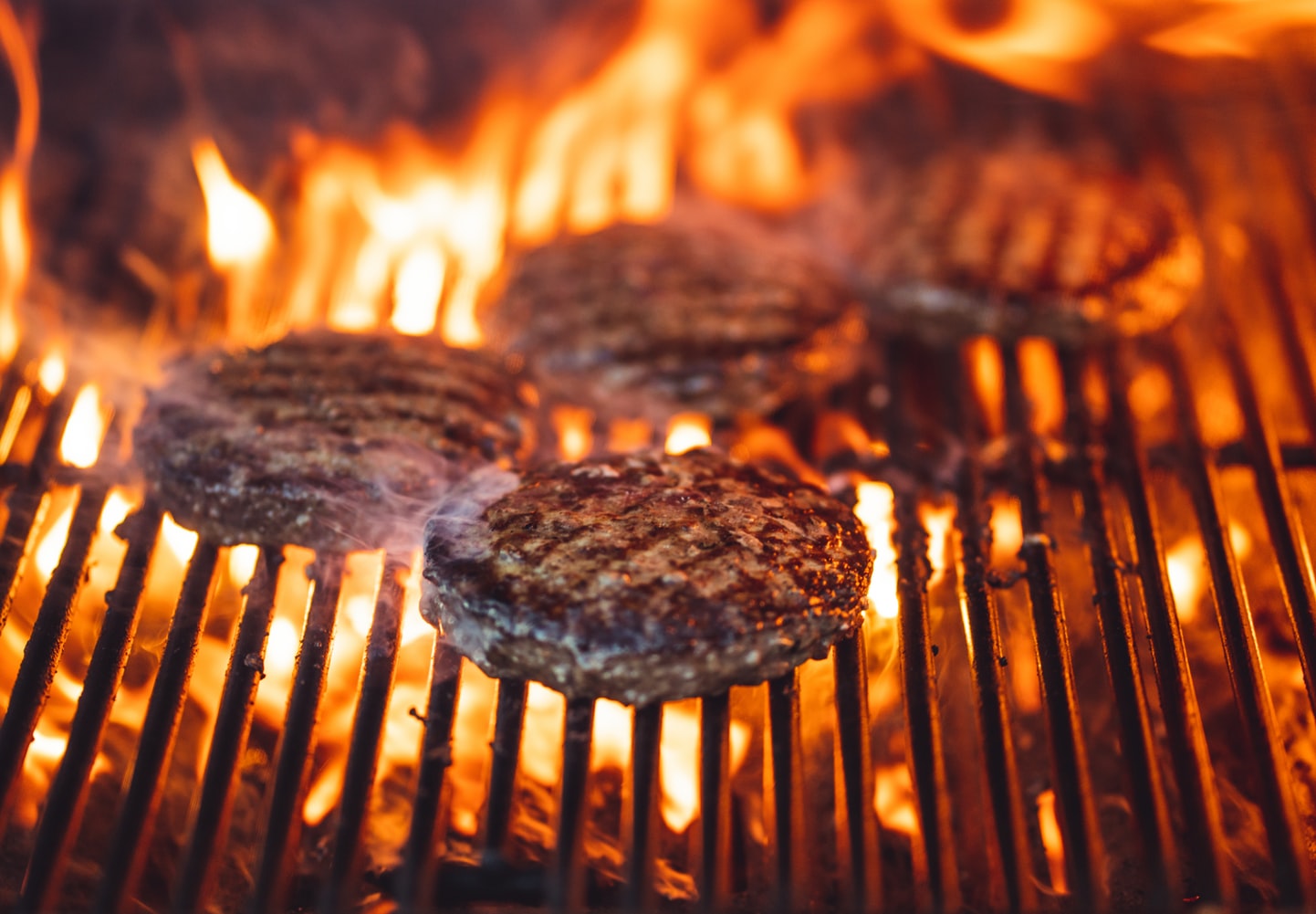 Photo from Unsplash. Grilling pot-infused burgers.
Frying Pot Infused Burgers

Let the oil heat first and then place the patties in one by one. Lower the temperature to medium and flip to ensure that both sides of the patties are well done.
Slice your buns into halves. Place the cooked patties between the bun halves; add veggies, cheese and sauce.
Treat yourself to this CBD-infused burgers.
A healthy smoothie will help wash this down.
What Makes CBD Infused Burgers A Fav?
Some people may try out pot-infused burgers just because they are a novelty. But there's actually more to it than the freshness, CBD has relaxing effects on the body that will be experienced an hour into consuming the infused burger. It may even take two hours to feel the effects.
Will CBD Infused Burgers Get You High?
Not at all, CBD infused burgers will not get you high. Pot infused burgers with THC will get you high, but CBD interacts with the endocannabinoid system in a different way. You get to enjoy full-body relaxation without having to worry about psychedelic effects that come with pot.