There aren't many foods I look forward to during the Passover week. As an Ashkenazi Jew, the dietary restrictions of Passover basically relegate me to eat potatoes in every way, shape or form for 8 days. There are however a few notable exceptions. Firstly, I, unlike many of my peers, am a fan of Matzah. It presents a blank canvas for any type of spread you're in the mood for. My personal favourite is chopped chicken liver. But I digress… In common parlance and popular culture, chicken noodle soup is known as "Jewish Penicillin". I tend to disagree. In my opinion, Matzah ball soup is the one truly deserving of the aforementioned title. Today, I'll share with you my family's recipe for this incredible dish, which goes back to my great-great-grandmother.
I grew up eating Matzah ball soup in a vegetable broth. No frills, no fancy garnish, the Matzah balls were the star of the dish. Trying to run a household myself, I have come to learn the delicious way of serving my family's Matzah ball recipe in the traditional chicken broth. In this recipe, I am going to show you how to make the latter. However, if you are a Meatless Monday enthusiast, vegetarian, or vegan, you can make these Matzah balls and serve them in a veggie broth. It will be just as delicious.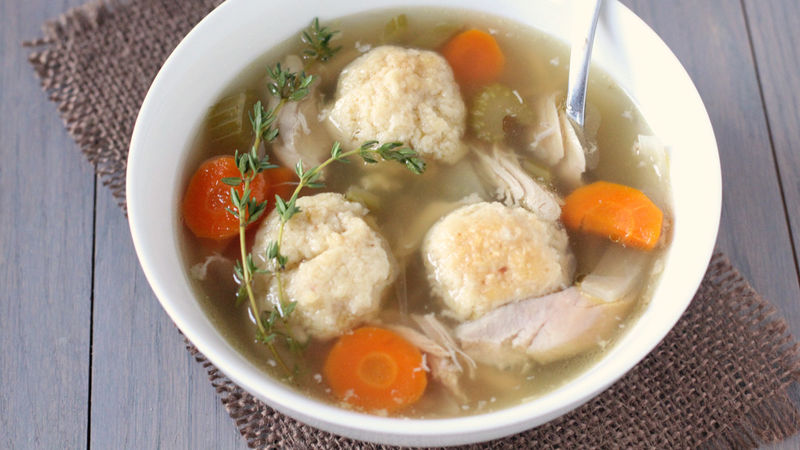 Matzah Ball Soup Recipe
For a long time, Matzah balls were known as knaidl, a Yiddish word derived from the German Knödel. The word Knödel is hard to translate into English but refers to a type of bread dumpling, which has been popular in German, Austrian, and Eastern European cooking since the Middle Ages. The Knödel made it into Jewish diet in a time when most Eastern European Jews lived in small farming communities known as shtetls. While Knödel can be sweet or savoury, the knaidl are mostly savoury. A further difference is that Knödel are made from breadcrumbs, while Matzah balls are made with Matzah meal. Born as a Passover specialty, Matzah balls are now eaten year-round by Jewish families all over the world.
A few tips before we start with the recipe. The first concerns the Matzah meal. In most North American grocery stores, you'll find Matzah meal made by the famous Manischewitz company. Their meal is very good, but read carefully what you're buying. They offer Matzo [sic] Meal and Matzo Ball Mix. This recipe is based on plain Matzah meal. The Manischewitz Matzo Ball Mix is pre-seasoned and your balls would turn out rather salty if you use it in my recipe.
Sieh dir diesen Beitrag auf Instagram an

The second note I have before we start is about time. These Matzah balls turn out best if you make the balls the day before and refrigerate them overnight. The last point to make is the used fat component to bond the balls. Many people use vegetable oil or chicken fat. In my family we use margarine. "Why not butter?" you might ask. Since most Jews eat their Matzah balls in chicken soup or have meat in a different course of the meal, they can't use a dairy product. Under the rules of kashrut (kosher rules), mixing meat and dairy is prohibited.
Ingredients
For the Matzah balls
130 grams of Matzah meal
130 grams of salted margarine
4 eggs
2 white or yellow onions, grated or pulsed thoroughly in a food processor
half a tablespoon of pepper
a pinch of nutmeg
For the chicken soup
1 large chicken, weighing about 2.5kg (5lbs)
1 large onion, quartered
2 carrots, cut into larger pieces. I prefer an oblique cut.
2 celery stalks, cut into large slices
A few sprigs of parsley, separate stems from leaves
Salt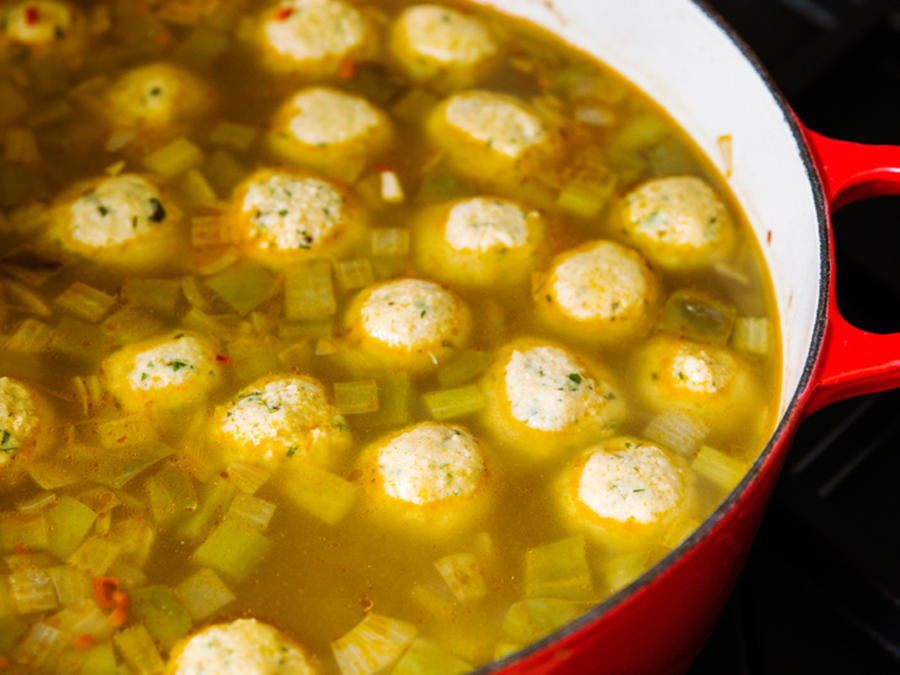 Method
Let's start on the Matzah balls first. I would also recommend making your chicken soup the day before. Melt the margarine in a microwave or small saucepan. Then combine all the other ingredients in a large mixing bowl. Let the mixture rest in the fridge (uncovered) for an hour.
A few minutes before taking out your Matzah ball mixture, bring a large pot of water to a boil and salt generously. Roll your mixture into even, golf ball-sized balls. Your mixture should yield somewhere around 16 knaidl. If the mix sticks to your hands while rolling the balls, just wash your hands with cold water (no soap) every once in a while.
Gently, and without crowding the pot, lower each bowl into the boiling salt water. Do that in 2-3 batches. Poach your Matzah balls for 10-15 minutes in the pot. Remove and let them cool down on a large baking sheet or in a storing container.
Once all the balls are poached, refrigerate overnight. Note: You can make double or triple the amounts suggested in the recipe and freeze your Matzah balls for a rainy day or whenever you need a pick-me-up.
Let's move on to the soup. Put the chicken in a large pot with 2 litres of water. The chicken should be submerged by about 10cm (4 inches). Bring to a boil and remove any scum floating to the surface.
Add your vegetables and the stems of your parsley. Keep the leaves for garnish. Season to taste with salt, pepper and/or stock cubes. Simmer on low to very low for 2.5 hours. Add water if necessary.
If you are using a whole chicken, remove it an hour after you added the vegetables. Remove all the meat and set it aside. Some of the meat you'll reuse for garnish once you serve, the rest you can turn into a delicious chicken salad. You can keep that chicken meat moist with a few splashes of broth before storing it away. Return the chicken carcass and bones back to your soup for the rest of the time. If you went to a butcher and got a stewing chicken, leave that in for at least 2 hours before removing the meat.
After 2.5 hours strain your broth through a fine sieve. Discard the bones and carcass, but set aside a good number of carrot, celery and onion pieces. Refrigerate if possible the day before. Otherwise, keep warm on stove. If you make this soup a day in advance, you'll be able to skim off any unwanted fat more easily once it comes out of the refrigerator.
Before serving, gently bring your soup to a simmer. Add your Matzah balls and some of the vegetables reserved for serving. Once everything is nicely heated through, serve immediately.
Read more: