Reading Time:

3

minutes
I've been obsessed with croissants for as long as I can remember. As a young girl, my mom would make her versions of them (the eastern European "kifla"), which is a lot denser and would often be stuffed with feta cheese or little squares of chocolate. I have memories of being three or four, circling around her in the kitchen, and then waiting by the oven until they were ready and eating them piping hot.
These were THE ultimate treats and were seldom made for any occasion other than Easter or Christmas, or perhaps if any American guests were coming over. Many years have passed, and much better croissants have been eaten (sorry Mom!), but those first kifli will always be close to my heart.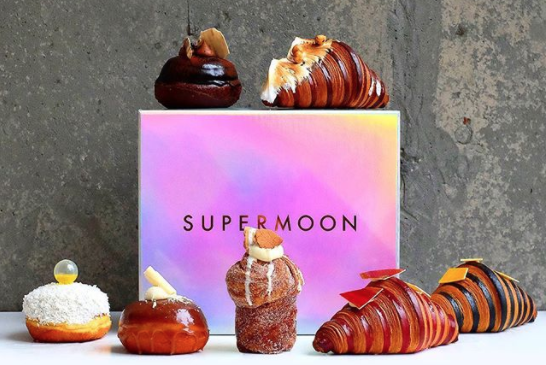 This brings me to Supermoon, a unicorn pasteli croissant bakery that my younger self could not have dreamed of. I'll admit that I initially found out about Supermoon through an Instagram influencer that I follow, and I immediately knew that I HAD to go. Tucked between Nolita and Lower East Side, this beautiful bright bakery is an absolute hidden gem. The bakery is inviting with minimal pink and white décor and a few small tables for sitting. I planned my NYC trip around being a mere walking distance to the bakery from my hotel. This is normal right?
It was love at first bite! I've now been to this bakery about three times in the last year and can attest that the quality has not changed at all. They release new flavors bi-weekly and have a very strong social media presence that is constantly luring me in for the latest creation. The highlight is a variety of stuffed and twice-baked croissants; however, they also have cruffins (croissant x muffins), donuts, and sausage rolls. If you do not like flaky, buttery, sugary or savory snacks, this place is not for you. Please proceed to the closest Dunkin Donuts.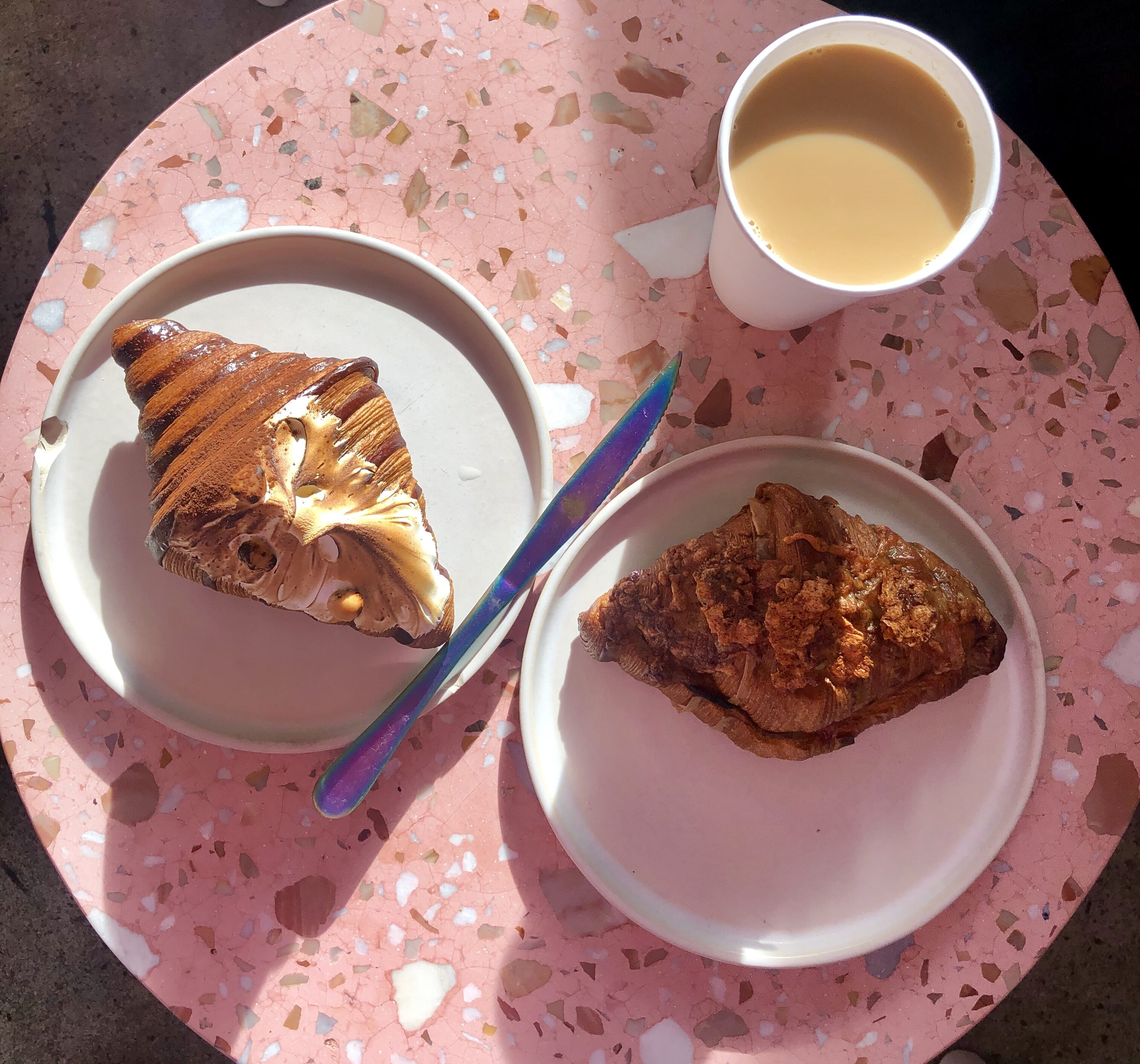 The Flavours
Because the flavors are constantly rotating, I've tried my best to taste the feature flavors as well as some of the staples. On the "staples" part of the menu, the Banana Split Sundae twice-baked croissant left me dreaming of summer. This sticky magical concoction put me in a daze, covered in flakes of gold leaf chocolate fudge and caramel sauce but also had a daily serving of fruit from the whole banana found inside.
The Croque Monsieur twice-baked croissant left nothing else to be desired and was essentially a full transportation to Paris – in my mouth.  All the elements of a traditional monsieur were present, with thick-cut ham, gouda, and the velvetiness smooth bechamel. Not to be overlooked is the delicious sausage roll. Make sure to get it heated up.
My favorites, however, have been the Winter Ferro and the Key Lime pie which, sadly, have already rotated off the menu. The winter Ferro was a decadent ode to "Ferrero Rocher," with its bicolor croissant topped with toasted hazelnuts, torched meringue and a chocolate ganache filling. The Key Lime Pie, another bicolored croissant, was filled with tangy lime curd that gave me extreme satisfaction when ripping into the green and blonde hues. It was also topped with torched meringue and candied lime.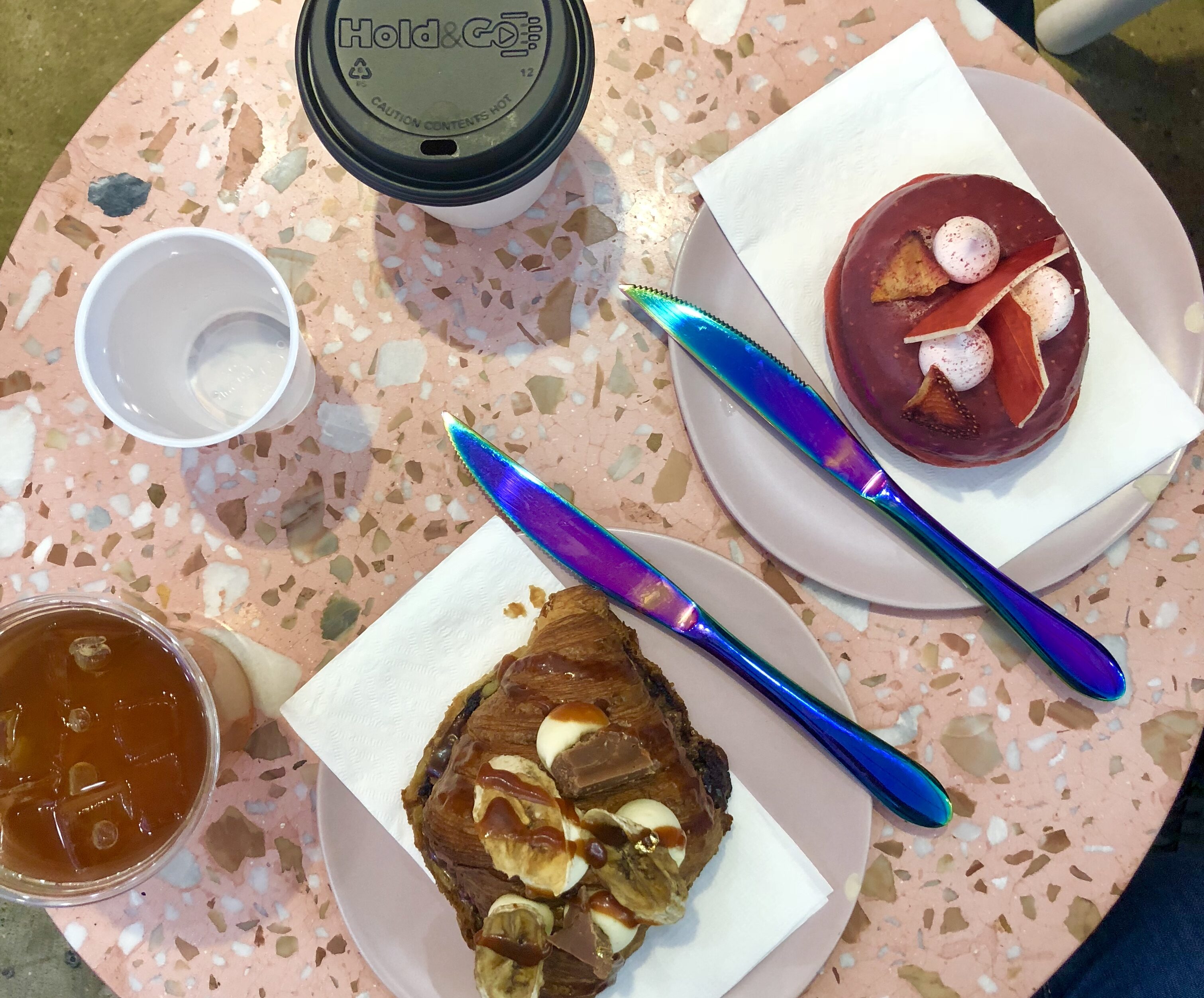 If you do manage to make it up to Supermoon, make sure you arrive early. By afternoon many of the more popular flavors have already sold out. Also, be prepared to battle gaggles of girls trying to take the perfect swoon-worthy photo with the best light. I've had success with going mid-mornings or afternoons on weekdays and being able to enjoy my sweet treats there. There is also a small menu of beverages and they can make a mean cappuccino to wash down your treat, or for those not partaking in any indulgence. I'm already creating my next excuse to fly to New York and have too many afternoon croissants.
Read more: