Reading Time:

2

minutes
Finding the right restaurant for a date night or dinner with friends closely resembles trying to find something to watch on Netflix. Mindless scrolling, mitigated by endless discussions once a suggestion is raised. How do you decide? Is it the location, reputation, or recommendation? A Canadian study by Little Dragon Media found that a large segment of the population relies on the best online review. Other significant factors were location, price, menu and web design.
Canada has some of the best food cities in the world. There are over 70,000 restaurants in the whole country. Consistently, new restaurants are popping up in every urban centre offering an array of options to satisfy any taste or craving. It has never been harder to make the "right" choice. The paradox of choice, popularized by Prof. Barry Schwartz, says that the more choice we have, the less satisfied we are with our selection. We always think there could have been a better thing out there.
Choosing Reputation Over Comfort
The study polled 1000 Canadian between the ages of 18 and 65+ from coast to coast about their decision process when choosing a restaurant. The premise was as follows: "You want to eat at an Italian restaurant but find out there are ten restaurants near you. Which one would you most likely pick? The following graph illustrates the results.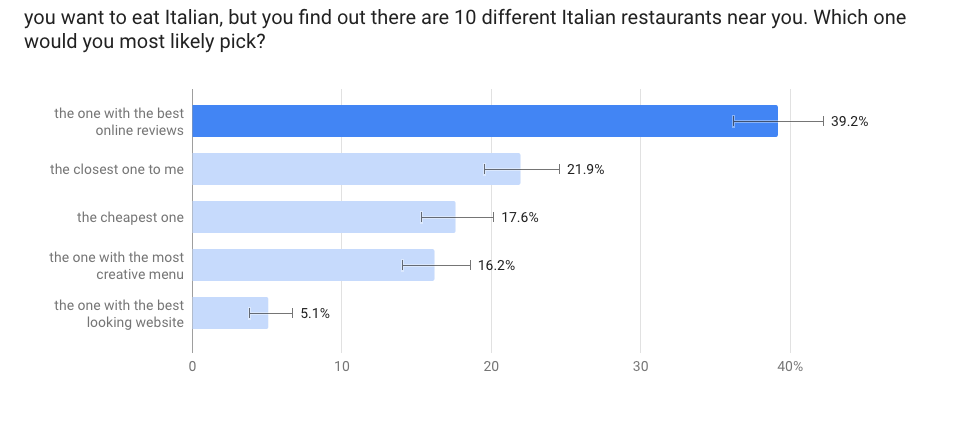 The fact that online reviews would play a significant factor in choosing a restaurant today was plausible. The size of their impact, however, is astonishing.
According to the study, almost 4 out of 10 Canadians responded to make their choice based on the best online review. When digging a bit deeper into the numbers, the demographic most concerned with reputation is the age bracket of 35-44 year-olds. Over 45% of all "middle-agers" and an unbelievable 57% of women in that bracket choose according to online reviews. Location, described as "the closest one to me" overall only came in second with around 22%.
Money is Only a Factor for Youngsters
While online reviews are most important to older millennials and young Gen X-ers, price is a driving force for the younger cohorts. 25.3% of respondents within the age demographic 18-34, indicated that affordability is the most crucial element when choosing a restaurant. Online reviews, however, matter the most even to younger diners.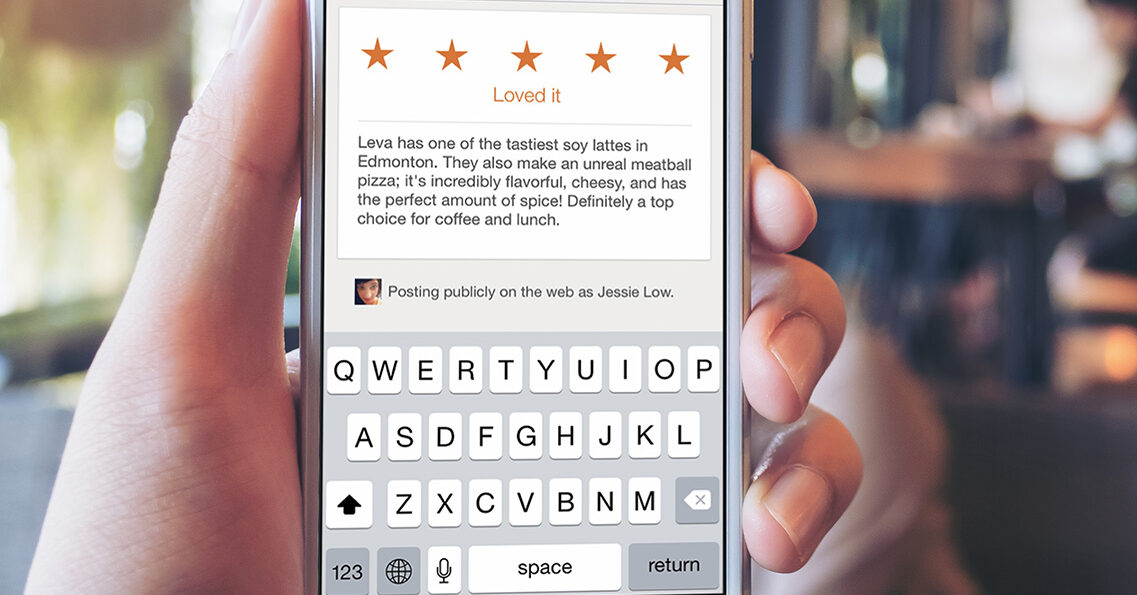 With the myriad of food items readily available, people have increasingly discerning palates. Dining out is no longer purely about satiating hungry. Retirees especially seem to enjoy the experience aspect of dining out. 24% of the respondents claimed to choose a restaurant based on the creativity of its menu.
Read more: