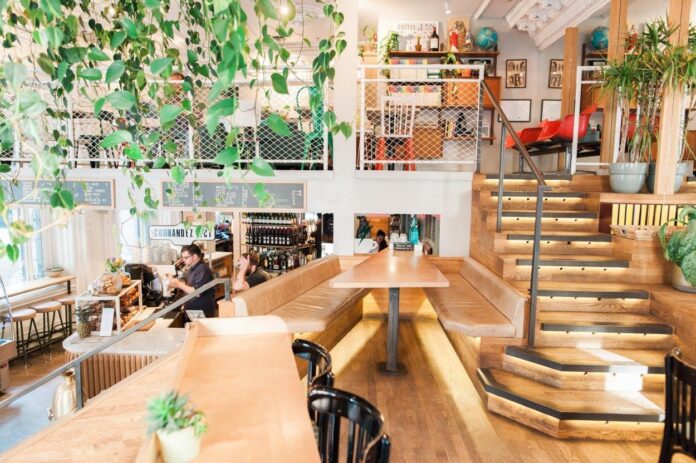 In this day and age, Instagram is everything, and there's no better way to up your Instagram game than by posting a pic from an ultra-trendy restaurant or café. The list below highlights some of the most aesthetically beautiful coffee shops in the city of Montreal (AKA spots where you're guaranteed to get that perfect pic for the 'gram). As a bonus, they also happen to serve up delicious coffee and treats.
Keep reading for an Instagrammer's guide to cafés in Montreal.
At Tommy, it's not just about the Nutella bomboloni or the yummy lattes. This Old Montreal café serves up delicious food on the daily, but that's only half the reason to visit. The other half is the fact that this multi-level coffee shop happens to be an interior design dream. Cascading plants hang from the ceiling, providing a pop of colour (and nature) in this bright, light, and airy café. Plus, they now offer breakfast dishes, beyond pastries, on the daily, ranging from peach ricotta toast to grilled cheese with prosciutto, avocado, and tomato.
Pastel Rita
It appears millennial pink is still very much trending, as evidenced by one of the newest additions to Saint Laurent Boulevard, Pastel Rita. This trendy new coffee shop is truly an Instagrammer's paradise, with retro pink booths, an "artsy fartsy" pink neon sign, pastel tableware, and an emerald green bar. Plus, it serves up coffee on the daily and even brunches on weekends (dishes include avocado toast, a smoked salmon bagel, and a unique breakfast salad).
Crew Collective is set inside a historic, Cathedral-style building that was formerly the Royal Bank of Canada building, making it one of the most impressive-looking coffee shops in the city of Montreal. Multi-storey ceilings, a gilded interior, and an expansive seating area make Crew Collective the ideal spot to stop and snap a photo. The café even has a pretty grand entrance (perfect for photos). In terms of food offerings, their extensive menu includes grab and go salads, baked goods from popular Plateau bakery Hof Kelsten, soup, various toasts, and smoothie bowls.
Despite having wall tiles spelling out "worst" on the wall, Pigeon Espresso Bar is far from being the "worst." This tiny coffee shop (seriously, blink and you'll miss it), in downtown Montreal, serves up strong espresso inside an ultra Instagram-worthy. Greenery decorates the interior and is paired with a neon sign in the shape of a pigeon and sleek black bar stools and a counter. And as all social media users know, the to-go coffee cup can also provide an opportunity for Instagramming, and Pigeon Espresso Bar's cups are top-notch, adorned with a sleek, black, linear stamp of a pigeon.
With a window front usually surrounded by flowers, you almost wouldn't notice that a quaint little coffee shop is there. But step inside the jungly, mint green facade, and you'll find a general store of sorts – part café, part depanneur. Le Petit Dep sells the usual coffee shop fare (lattes, cappuccinos, Americanos, pastries, etc.), but the rest of the shop is made up of a collection of seemingly random items for sale, such as tea, cocktail napkins, pick-your-own candy, and gourmet chocolate bars. Snap a pic of the quirkiness inside or pose in front of the unique storefront, regardless, it's sure to get some significant attention on the 'gram.
Read more: