Reading Time:

4

minutes
In an interview with Maxim magazine last year, late culinary hero Anthony Bourdain declared that if he had to pick one country to be stuck in forever, it would be Japan. While I have never been to the country myself, I can understand why. I love every type of Japanese food, from yakitori to ramen, and most of all, sushi. During my past life as a sushi cook, I learned how this beloved food item is one of the most intricately delicate dishes to make. I have since found myself on a never-ending search for the best sushi restaurants around.
Bringing to Toronto an element of Japanese finesse in the art of sushi making is Miku, the first East Coast location of famed Aburi Restaurants. To celebrate summer, the restaurant hosted a patio event with a selection of their acclaimed Aburi Sushi and canapés, as well a variety of premium sakes. Aburi, meaning "flamed seared", is Miku's specialty. For the evening, the restaurant featured two of their most popular aburi oshi (pressed) sushi: the ebi, comprised of prawn, lime zest, and ume sauce, and the salmon, made with BC wild sockeye salmon, jalapeño, and Miku sauce. Both were the stars of the event, with constant lines forming around the aburi station. A few tables down, attendees were presented with two beautiful types of oysters, sourced from our very own Maritimes region: The Raspberry Point, a sweeter, brinier variety, and the Chebooktoosk oyster, for those who prefer a meatier option. Next, rows of vibrant sockeye salmon poke on a crispy lettuce leaves as well as spoons full of aburi albacore tuna with masatake sauce were elegantly displayed.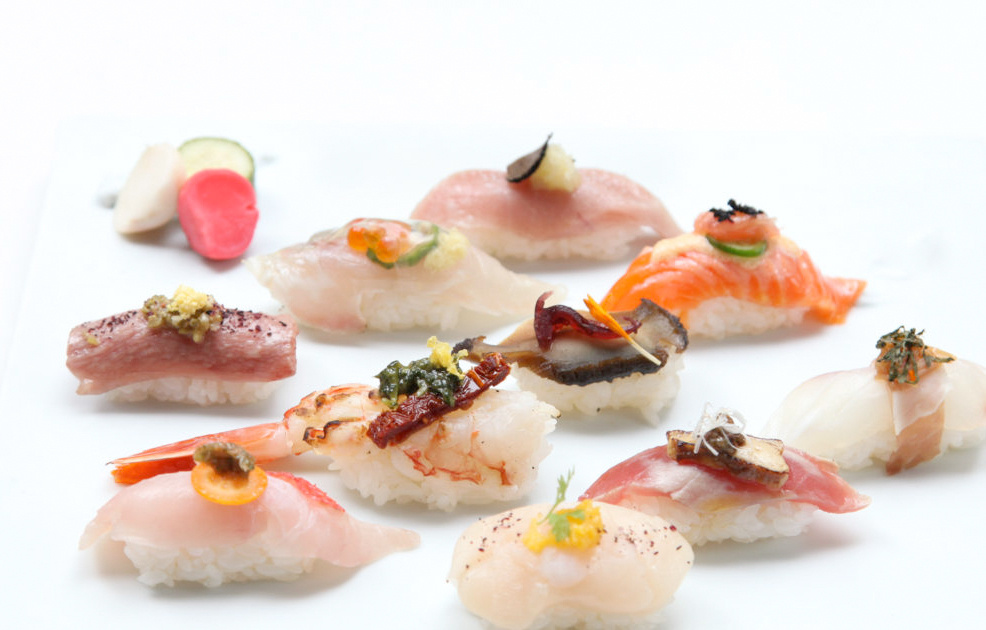 The canapés passed around were just as enticing. Their signature Miku roll – made of salmon, crab, cucumber, rolled in tobiko, and finished with Miku's secret sauce, plus the Red Wave Roll, with prawn and avocado wrapped in red tuna, and masatake sauce, were equally delicious. Moreover, the vegetarian Garden Roll, filled with avocado, red bell pepper, cucumber, shiso, wrapped with pickled watermelon radish, and topped with moromi miso was a colorful surprise.
Another favorite of mine was the tender and juicy kabayaki glazed octopus, served on skewers with baby potatoes, and black garlic aioli. The ebi fritter with soy balsamic and sweet chili aioli was highly addictive. As for dessert, their green tea opera genoise, made with hazelnut wafer, adzuki bean cream, and dark chocolate ganache – which apparently takes three days to prepare, is definitely worth the effort. Only two dishes didn't make my taste buds sing: the aburi beef carpaccio on wasabi masatake and the crispy tempeh and pickled market vegetables. While nothing was particularly wrong, compared to the other amazing offerings, I found them easily forgettable.
Though I consider myself very comfortable with Japanese food, I cannot say the same for sake. Miku's event presented me with a great opportunity to learn more about the country's cherished rice wine. Guests were welcomed with a special aburi Ginjo sake Sangria. Delicious and refreshing. My sake tasting tour then began with an exclusive Jikon sake, which has yet to be released at LCBO, from Kanazawa's oldest brewery, Fukumitsuya. Made with water that spends at least a hundred years filtering underground, the brewery's sake is filled with essential minerals, which make it taste so extraordinary.
Feeling like I had just experienced a revelation, I was ready for more. My second sake came in the form of a Taiheizan Chogestu Junmai Ginjo from Kimura Imports. Very fragrant in sweet aromas, it reminded me of a Sauvignon Blanc, my favorite type of wine. Moving on, I was about to be even more amazed. My following drink was an Aizu Homare Strawberry Nigori. I had never had anything like it. Imagine a strawberry yogurt smoothie, but alcoholic. Amazing!
Following, I was excited to try the Izumi Gold Junmai Ginja Sake, made with local Ontario spring water right here in Toronto at the Distillery District. Nearing the end of my tour, I had yet to taste a sparkling sake. Normally, they are meant to be drank as an aperitif, but I wanted to leave my personal favorite for last. I opted for the Hakkaisan Sparkling Nigori, bright with fresh flavors, the right level of acidity, and a lovely bouquet of smells.
As I was making my way towards the exit, an adorable girly pink and orange bottle caught my attention. It turned to be a Japanese peach liqueur called Momo, perfect for dessert I was told. Intense and sweet, it was just the right ending I didn't even know I needed to an already amazing evening. I will be saying Kanpai way more often now!
~ Miku, 10 Bay St # 105, Toronto, (647) 347-7347 ~