April is asparagus season. Many people aren't fans of this delicious vegetable. It can be for a myriad of reasons – often citing bathroom smells though. These people are not my people. But, to remain completely honest with you, I haven't always loved asparagus either. My mom, however, eased me and my siblings into it by serving steamed green or white asparagus, with either a velvety Hollandaise or a tangy vinaigrette. For this week's Meatless Monday recipe, I've decided to feature the healthy spears in one of my favourite things to eat: risotto.
I think asparagus risotto is the perfect early April dish. The warm risotto reminds us of the comfort food of the harsh winter, while the bright asparagus signals spring. If it is already quite warm where you are, you'll be happy to hear that we will further brighten up this dish with some lemon. For those of you who are afraid that this asparagus risotto is going to be a marathon in the kitchen, I want to put your minds at ease. I'll have you sitting at the dinner table in 30-40 minutes. Let's cook!
Risotto Rules
Risotto gets a bad reputation as being a difficult dish to get right. Put your trust in me, and you'll never fear this delicious meal again. Simply follow these five rules.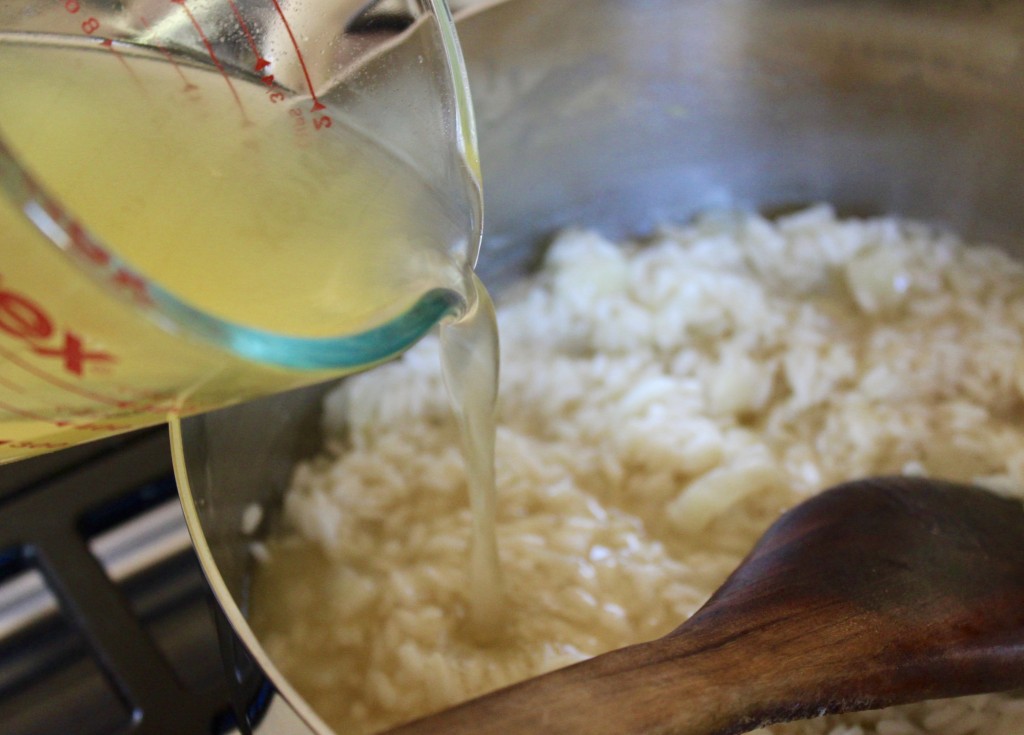 It is all about preparation and not panicking. Have all your components ready before you drop the rice.
When making risotto, don't walk away. This dish needs your attention and judgment for the 20-25 minutes that it is in your pot or pan. You want to get your rice to a sweet spot that is time-wise slightly different every time. If you make any side dishes or a salad, let someone else deal with that, you are on risotto duty.
Have enough stock or broth. Risotto is not like cooking any other rice. You add the liquid bit by bit. Stirring constantly, your arborio rice rubs against one another, releasing starch that thickens the liquid around the rice. Since this is a Meatless Monday recipe, I use vegetable stock. If you make your own stocks, I congratulate you wholeheartedly. But I mostly use a stock powder, or alternatively buy vegetable stock in the supermarket. Since the stock is one of the only ways to season the risotto, I discourage getting low-sodium stock at the supermarket. If the ordinary broths are too salty for you, you can thin it out with some water.
Use a large enough pot or pan. You are constantly stirring, so cook in something that won't overflow. I use my enameled cast-iron dutch oven. For smaller portions a large saucepan could work too.
Know when to stop. Getting the timing right is the hardest thing. The rice should be just cooked enough since it continues to cook with some rest heat, once you let it sit for five minutes. It can't be too soupy and if you stir too long it could get gluggy. Ideally, you want to be able to see every single kernel of rice independently. A good way to figure out the right viscosity is if you put a spoonful on a plate and hit the bottom of your plate gently with your hand. If the rice slowly wanders towards the edges of the plate, you've struck gold.
Asparagus Risotto Recipe
Now that we are all clear on how to make risotto, let's get to this recipe. I strongly suggest you use green asparagus. It is firmer and holds it's shape better in liquid. Trim the spears at the bottom, but otherwise use the whole vegetable. I was a weird kid who liked the stalk better than the head. The stalks better absorbed my mom's delicious dressings, so I was  particularly partial to them.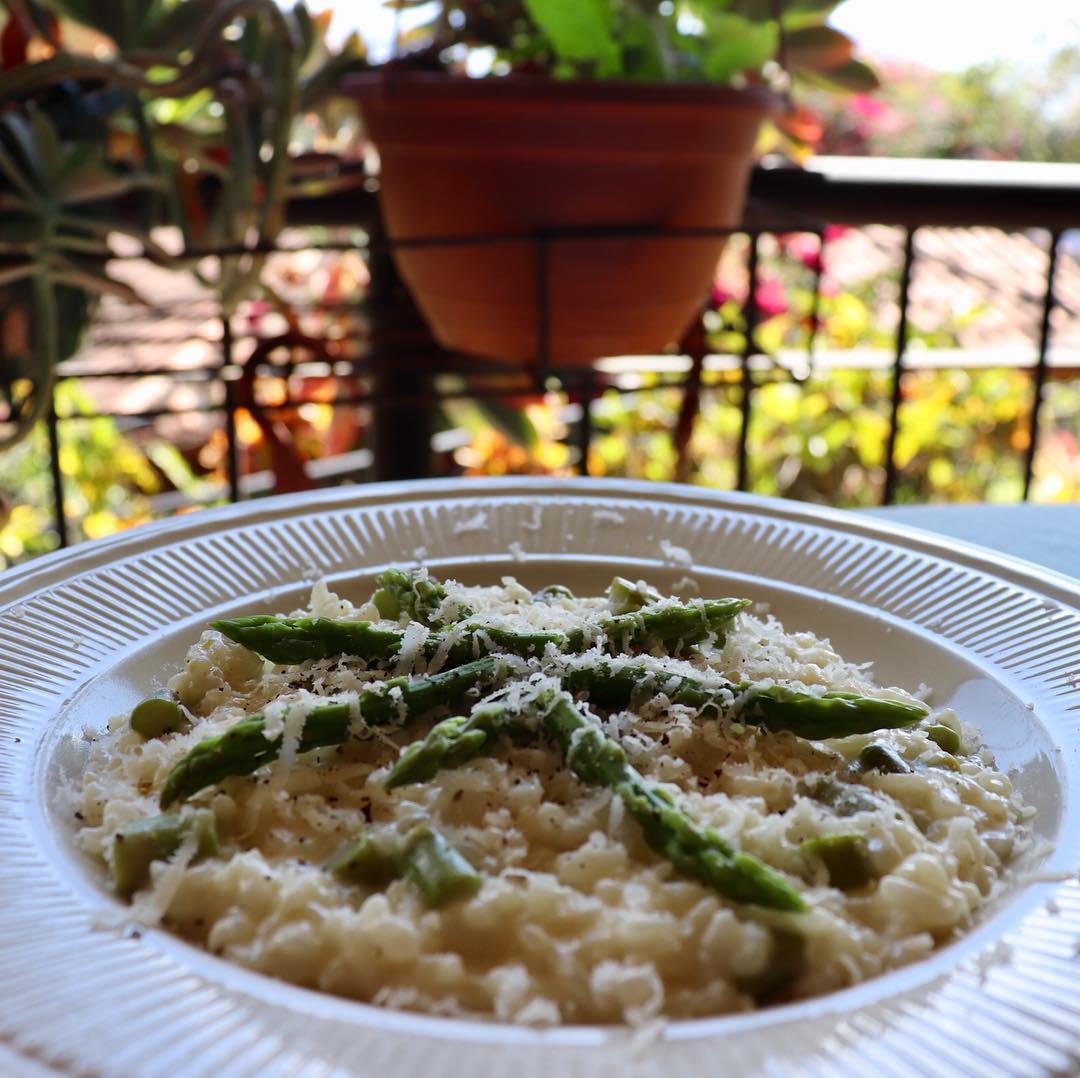 Ingredients
1 pound of green asparagus, bottom trimmed and then cut into inch-long pieces
1.5 litres of vegetable stock
2 small onions, diced
1.5 cups of arborio rice (that is usually half the package you buy)
150ml of white wine
1 lemon, juiced and zested
1 cup of grated parmigiano
8 tablespoons of butter, separated (6tbs on one side, 2tbs on another)
2 tbs Olive oil
Method
Bring a large pot of salted water to a boil. Blanche your asparagus pieces for 2-3 minutes. Then rinse under cold water pat dry. Set aside. For a more wintery feel, you can alternatively roast your asparagus in the oven for 15 minutes at 180°C (375°F).
In a kettle bring 1.5 liters of water to a boil. In a big enough container mix water and stock powder together. If you've purchased broth or stock, it would be a good idea to heat that up gently in a separate pot.
In a heavy-bottomed pot or a large sauce pan, heat up 2 tablespoons of olive oil and 2 tablespoons of butter over medium heat. Add your onion and cook until translucent. Then add your rice and gently toast for 1-2 minutes. If the rice starts catching on the bottom, reduce the heat. Do not burn the rice here! Once your rice has gotten a hint of colour, deglaze the pan with the white wine. Note: If you only have leftover red wine in the fridge, you can also use red wine. Your risotto will take on a colour somewhere between Korean purple rice and your regular brown rice. I've done it before and the tast is still great.
Once most of the wine liquid has cooked off, you start adding the stock one ladle at a time. Add stock, stir, wait until most of the added liquid has cooked off, add more stock. That cycle repeats itself for about 20 minutes.
For the last 3-5 minutes, add your asparagus into the mix. This will cook and heat them through.
Remove from heat. Add the zest of one lemon and 3 tablespoons of lemon juice to your risotto. Then, add the remaining tablespoons of butter to the rice. Once incorporated, you can add your cheese. Let the rice settle for 2-3 minutes and then serve.
Enjoy.
Read more: