Reading Time:

2

minutes
Sometimes, cooking on Monday is the worst. The week has just started, and you can't be asked to stand in the kitchen for too long. I get it. This recipe will cure your Sunday blues. If you want, this recipe shouldn't take you longer than 15-20 minutes – pinky promise. Best of all, it qualifies for our Meatless Monday series.
We've already established, that I am a noodle guy. Shape, topping, cuisine… doesn't matter, I just love me some carbs. I feel like I was conditioned as a child to love spaghetti. It's long and fun, and sauce tends to stick to it quite well. Sunday night was Spaghetti Night in my house and I was looking forward to it every week. Once you grow up, you discover, some might say, more interesting shape of pasta. For Aglio, Olio e Peperoncino however, I stay faithful to spaghetti. Aglio, olio e peperoncino is Italian for garlic, oil and red Italian chili pepper. As advertised, that is pretty much everything you need. Get some parsley and parmigiano and we are rolling.
Spaghetti Aglio, Olio e Peperoncino
Look, there are different ways of doing this. You can use dried pepper flakes instead of fresh chili. You can carefully slice your garlic and chili or add toasted breadcrumbs. But I promised to get you out of the kitchen as quickly as possible. Also don't be alarmed by the quantities of olive oil we are using. It is one of only three ingredients. Also try to use your better olive oil. If you can't find peperoncino, I've substituted it for fresh jalapeño or serrano peppers in the past. Do not use Thai chili!!!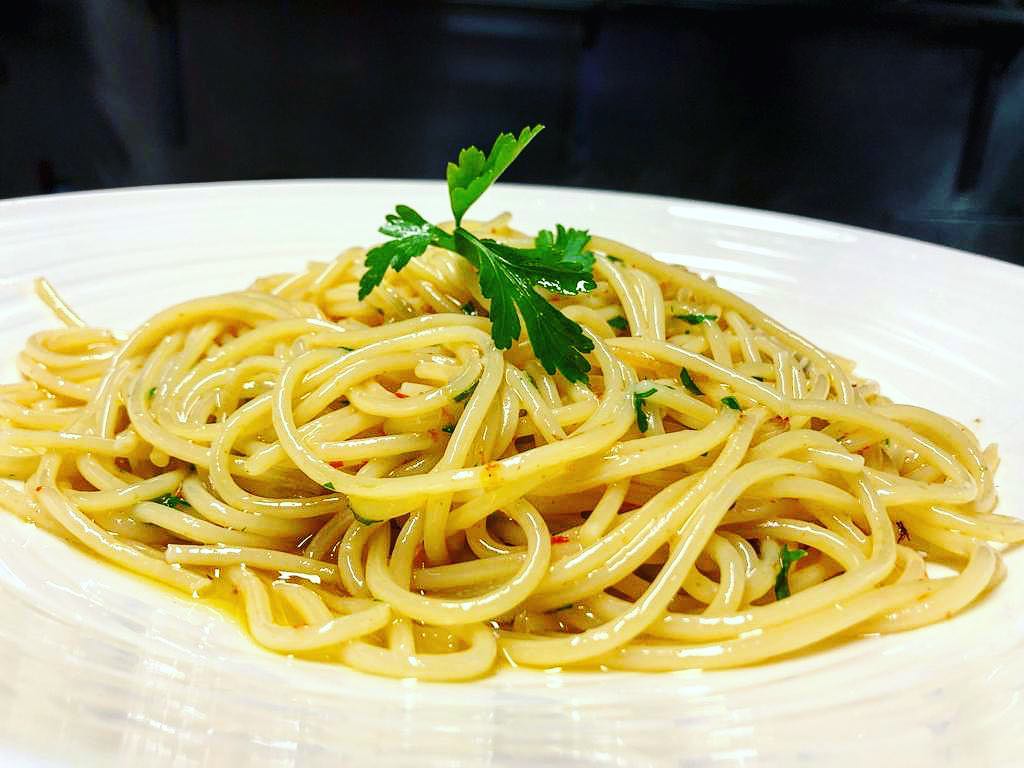 Ingredients: 
1 pound/box of spaghetti
6 cloves of garlic
2 fresh peperoncino peppers (jalapeño or serrano if not available)
2/3 cup of good olive oil
1 cup of parmesan
1 cup of parsley, chopped
Method:
Put a large pot of water on the stove and salt heavily (should remind you of the ocean water) once it boils. Cook your spaghetti 2 minutes less than the package instructions – al dente
Peel the garlic, chop off the ends of the peppers and cut them into large chunks. Put both ingredients into a food processor and pulse a few times. You're looking for a minced texture.
In a large deep pan heat up your olive oil over medium-high until it shimmers. Add the garlic and peppers and cook for 2-3 minutes. Turn off the heat.
Once your noodles are cooked, drag them into the deep pan directly with a pair of tongs. The starchy water that you drag into your sauce will help lighten and season it a bit. Add the chopped parsley and toss well.
Serve with a sprinkle of parmesan.
Read more: