After a short hiatus, we are back with the spring and summer edition of Meatless Mondays. Some things will change, but most will stay the same. The fare will be lighter and more appropriate for warmer days. I still promise to get you out of the kitchen as fast as possible. This week, I decided to feature a dish, that was in regular rotation in my house growing up but garnered worldwide attention thanks to a Pixar movie in 2007: The humble Ratatouille. This dish is a wonderful celebration of vegetables and the arrival of spring.
In the movie, Alfredo Linguini is a low-level kitchen help that befriends a rat with extraordinary culinary talent. Remy, the rat, becomes Alfredo's puppet master controlling his movements at work from under Alfredo's chef hat. When the famous food critic Anton Ego, whose previous bad review killed the former chef at the restaurant, stops by for a visit, Remy and Alfredo prepare a version of ratatouille: a confit byaldi.  Ego is so taken with the dish, which transports him to his childhood, that he writes a great review. Therefore, I hope you'll leave a glowing review of my rendition on our social media.
Ratatouille Recipe
We are going to prepare something similar to Remy's confit byaldi. It is the healthier rendition of the original ratatouille. In the original, the vegetables are fried first, while in this recipe they're getting baked and poached in the oven. The assembly is a bit tedious, but then you're putting it in the oven and have time to enjoy yourself.
Ingredients
4 Roma tomatoes, sliced as thinly as you can (1-1.5mm). Use a mandoline.
2 zucchinis, sliced as thinly as you can
2 eggplants, sliced as thinly as you can
1 yellow onion, finely diced
4 cloves of garlic, minced
2 bell peppers, preferably not green, diced
28oz can of crushed tomatoes
10 basil leaves, roughly chopped
Salt
Pepper
Olive Oil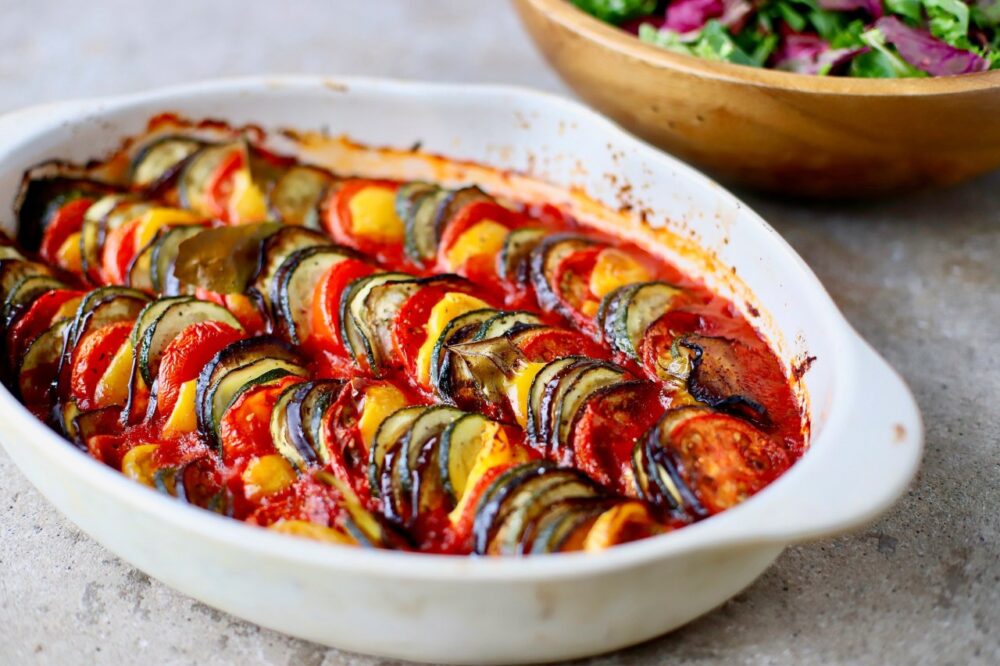 Method
Preheat your oven to 190°C (375°F). First, we need to make the base sauce. In a skillet or non-stick high-rimmed pan heat to tablespoons of olive oil over medium-high heat. When shimmering, sauté the onion, garlic, and bell peppers until soft, for about 10 minutes. Season to taste with salt and pepper and then add the crushed tomatoes. Incorporate everything thoroughly, then add the basil.
At this point, you have to make a decision based on your motor skills. You could make the ratatouille in that same pan you've used, given that you used a cast iron skillet or another oven-safe pan. If you choose to bake it in the pan directly, smooth the surface of your sauce with a spatula and then arrange your vegetables (explained in step 3). If you are like me, having terrible motor skills, pour your sauce into a glass casserole dish and smooth the surface with a spatula.
Let's arrange the vegetables. Pan Method: Arrange your sliced veggies in a repeating pattern. For example zucchini, tomato, eggplant; zucchini, tomato, eggplant, Arrange them from the outer rim of the pan towards the middle in a fossilized snail pattern (see title photo) on top of the sauce. Casserole Method: In a rectangular casserole dish, you also arrange the veggies in the repeating pattern, but you do it in rows, rather than circles (see photo above).
Once again season to taste and then cover either cooking vessel with foil — Bake for 40 minutes. Then, remove the foil and bake for another 20 minutes. Test if the veggies have fully softened. Leave them in for a bit longer if needed.
Serve while hot with some nice bread, or as a side dish. You can also easily make this on Sunday and put it in the fridge overnight. The next day, cover with foil and bake for 15 minutes at 180°C (350°F).
Voilà! You'll be called "nothing less than the finest chef in France."
Read more: