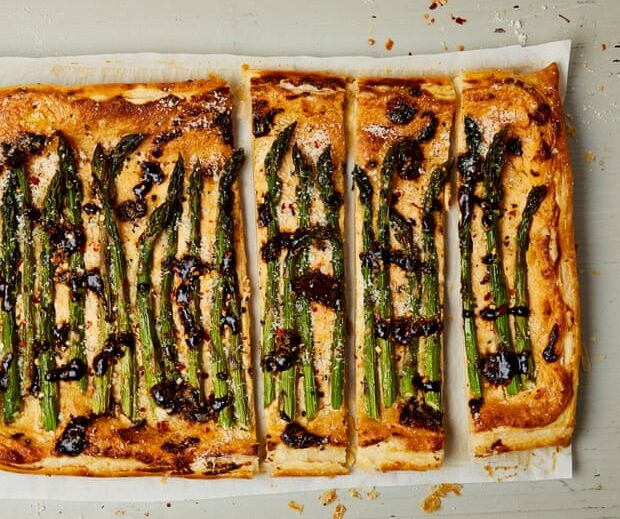 It's almost June and, in Toronto, we finally have the semblance of summer. Whenever the temperature climbs above 17°C, the city changes significantly. Shorts, summer dresses and ice cream cones as far as the eye can see.
In other countries, people would still wear winter or transitional coats, but here the people sit on patios and lay out in the sun. Our diets change, as well. Especially after a weekend when you might have dined out or had a few drinks, Monday cooking in the summer should be light and easy.
With asparagus still in season, I want to present this asparagus and ricotta tart recipe to you. Serve with a vibrant side salad on your balcony and feel the summer wash over you.
Asparagus and Ricotta Tart Recipe
This recipe calls for a few items that might not be readily available in every city. Namely black garlic and white miso paste. In Toronto, we have a vibrant Korean population, and these items are available in the supermarket. You should be able to find miso paste in your supermarket or Asian grocery store.
Black garlic is a bit trickier. If you can't find it in a specialty store, your best bet is to roast regular garlic with some balsamic vinegar.
You'll find the best way to do that here. Since you only need six cloves, don't make 30 bulbs as suggested in the recipe. One ore two bulbs are more than enough for all of our cooking. You can also make your own black garlic. Instructions follow in the video below.
Ingredients
35×22 cm (14×8.5 inch) sheet of puff pastry
150g of ricotta
250g of (thin) green asparagus, ends trimmed
25g of Parmesan
1 tablespoon of white miso paste
2 egg yolks
6 cloves of black garlic
1.5 tablespoons of balsamic vinegar
a quarter teaspoon of chilli flakes
olive oil
salt
pepper
Method
Preheat your oven to 190°C (390°F). In a mixing bowl, combine the ricotta, Parmesan, one of the egg yolks, miso paste and a sprinkle of black pepper.
In a food processor, blitz the garlic, balsamic vinegar, two tablespoons of olive oil and a teaspoon of water into a smooth dressing.
Line a large baking tray with wax or parchment paper and lay the puff pastry sheet on top in landscape format. Create a rim on the pastry by lightly scoring it with a knife about 1cm from the edge. Gently poke the centre of the dough randomly with a fork (10-15 times). Then, spread the ricotta mixture evenly over the centre, arrange the asparagus on top (all pointing in the same direction). Drizzle over about 1.5 teaspoons of olive oil, and lightly sprinkle the asparagus with salt and pepper. Add a small splash of water to the remaining egg yolk and whisk to create an egg wash. Use the egg wash to brush all around the rim.
Bake in the oven for 25-30 minutes, until the puff pastry is golden brown. In the meantime, make a fresh side salad to go with your tart.
Transfer the tart to a large board, spoon over the black garlic dressing, sprinkle with the chilli flakes and some extra Parmesan. Let it rest for a bit. Serve warm or at room temperature.
Read more: