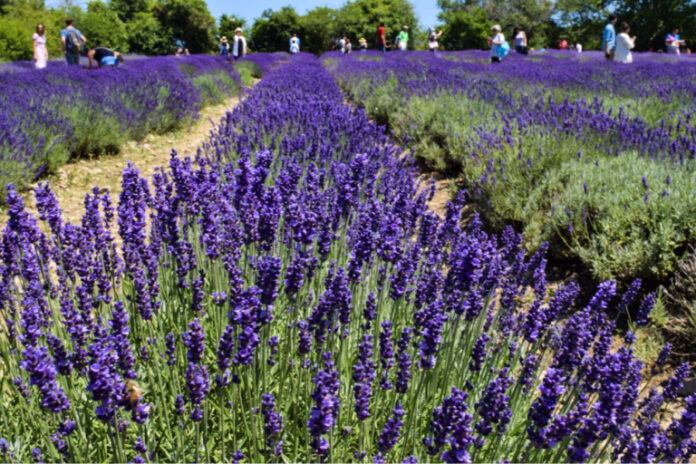 Did you know you Ontario has its little slice of Provence right here at home? Prince Edward County Lavender is one of the province's stunning lavender fields. Located in Hillier, Ontario, PEC Lavender boasts rows and rows of beautiful, vividly hued lavender every summer. For me, it's the reason I always try to visit the County in July. Not only is the scent from the lavender heavenly, but each year, Prince Edward County Lavender hosts its very own Lavender Festival!
The Prince Edward County Lavender Festival is an annual tradition that invites locals and tourists alike to celebrate the blooming lavender. According to their official website, "We want to share the beauty of our purple fields, the exquisite aroma of the essence of our flowers and the flavour of our culinary treats." More than flowers and treats, there will be live music scheduled throughout both weekends (two performances each day of the festival), as well as food vendors and a variety of fun, lavender-related activities.
This year's festival schedule includes a portable petting zoo, mobile massages in the fields, balloon animals, a presentation on how lavender oil distills, live art by Canadian realist painter Lawrence Addison, an inflatable castle maze, face painting, U-pick lavender bouquets, and of course, tours of the beautiful fields.
In the past, the Lavender Festival was always the second weekend of July, following Canada Day, but due to popular demand, the festival runners have decided to extend it over two weekends this year! That's right; the 2019 Festival will be taking place on both the July 6-7 and July 13-14 weekend, giving you twice the opportunity to take part in this unique (and majorly Instagrammable) event. The festival will be open from 10 am until 5 pm each day and admission costs $10 (be sure to bring cash as everything is cash only).
Unable to attend the festival? Prince Edward County Lavender has a boutique shop with a variety of locally-made lavender products, like soaps, oils, and even lavender gelato, that is open year round. Also, they offer entrance to the lavender fields before and following the festivals, so that you can still experience the lavender in bloom.
Read more: