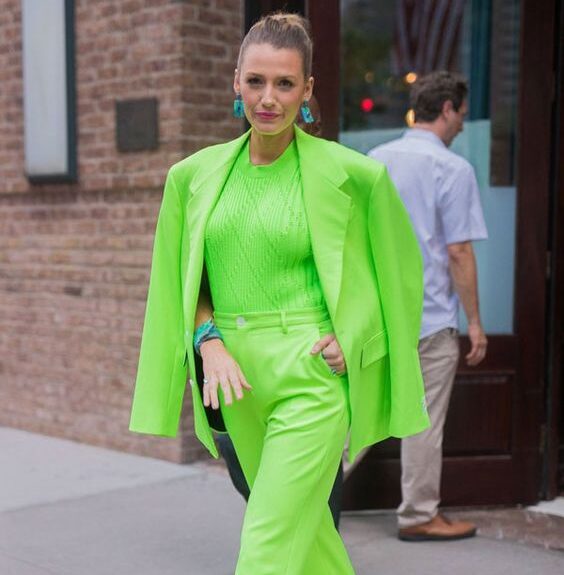 I've been over the whole neon trend since the early 2000's. I wore one too many neon headbands and layered a ridiculous amount of neon tank tops at one point, so seeing the trend come back makes me cringe (just a little.) The more I see people rocking full neon green pants suits and highlighter orange knits, the more I find myself changing my perspective. These loud and proud colours of Spring 2019 may be tricky to pull off. Not all of us want to look like we walked straight out of the 80's (or a pencil case, amirite?). However, there are still a few ways to wear the neon trend if you want to keep it minimal.
All Black with a Pop of Neon
Next time, add a pop of neon in your all-black outfit. Contrasted with all that dark, the neon pops just a little more while the rest of the outfit keeps it a little more chilled-out.
Replacing your Basics
You don't need to switch up your entire style for neon. Replacing the basic pieces that you would've worn with your blue jeans and jacket to a neon-coloured version won't make it seem like you're doing anything crazy out of the ordinary.
Surrounded by Neutrals
Wearing a neutral coloured outfit that complements the neon colour can have the effect of toning down the brightness. For example, wearing browns with a neon orange dulls down the colour a bit more. The same goes for wearing neon yellow with shades of beige.
Accessorize It
Accessories are always the best and easiest way to start dipping your toes into a new trend. After all, they do say that it's all in the details, right? Using accessories is a fun way to play around with the neon trend in a bunch of different ways. From scarves to belts to socks, there's no shortage of ways to add little touches of neon into a basic outfit.
On your Nails
Painting your nails a neon colour is the perfect way to be on trend every day, even when you're wearing a plain white tee and jeans.
Read more: