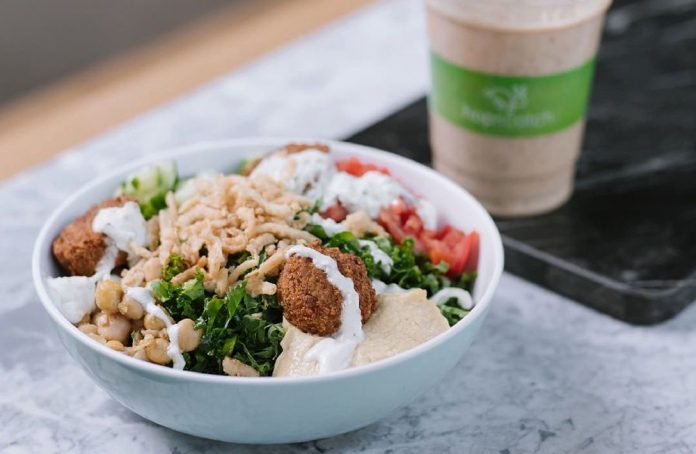 "In one word, Hopscotch is fresh."
A friendly smile, in a red plaid blazer sits opposite me. Leslie Oquendo is the Director of People & Culture at Hopscotch Toronto. We're here to talk food. Fresh, healthy, good food.
Clear bright windows illuminate the restaurant. White tables shine in neat happy rows. Punches of vivid Spring green pop from wall paint and benches. A playlist of good vibes music blasts out of the speakers and floods the space.
The rhythm jumps, and our conversation continues.
"Hop – Hopscotch – has raw whole food, cut and served fresh. Every morning, we get our produce and we get to prep. It's bonding too, as we work we're talking and having a great time. That's an important thing and at the core of Hop. We want everyone that steps inside, customers and employees, to be happy. That's the brand. We preach healthy food, a healthy environment and happy people!"
Healthy food, check. Happy people, check. A healthy environment… considering Hopscotch uses eco-friendly bowls and utensils made from potato starch and recycled napkins, I would say check and check.
And the food?
"Our ingredients are all fresh, all locally sourced, and the food is all prepared in-house by our staff. Locally sourced and seasonally fresh, isn't exactly easy but it's what Hop is about. It's our fresh healthy attitude. It's all for the customers, we want them to have the best experience."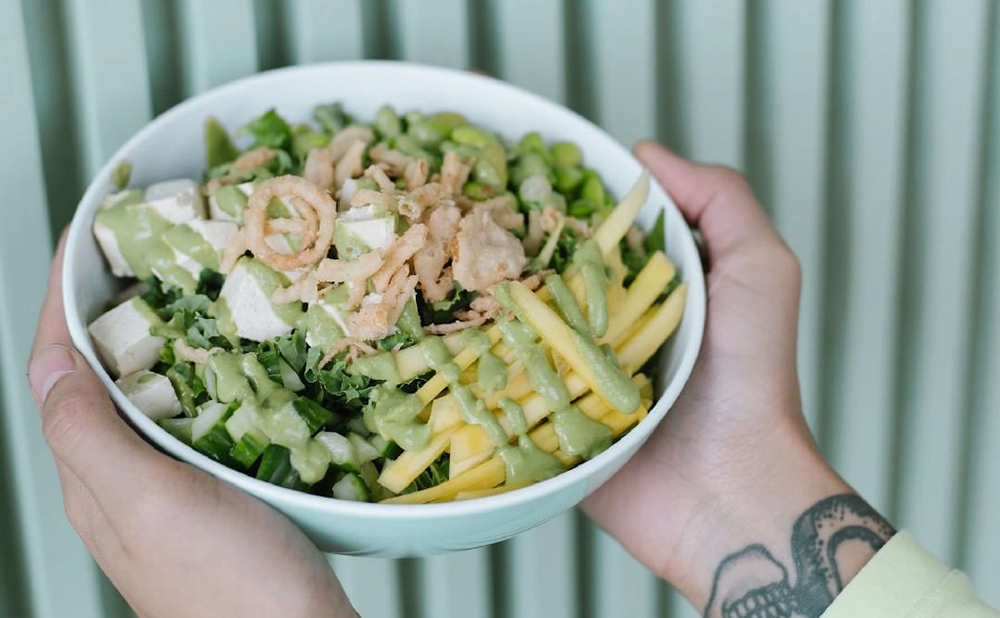 @eat_hopscotch
And healthy is what you get when you walk through the door at Hopscotch. No hormones, no antibiotics, no GMOs; only the good stuff. Halal Chicken, homemade dressings with under 10 ingredients, and options for vegan, vegetarian and gluten-free meals.
Simple, real food, with the idea: Eat Better, Feel Better.
Now I feel hungry. My eyes can see the counter of fresh colourful foods as they're being prepared. My stomach is telling my feet to bounce over and order half the menu.
Lucky for me, an angel emerges carrying two bowls filled with veggies.
"This one is the Lucha Libre! Our most popular bowl." She chimes, setting it down before my anxious teeth. It's a bright bowl with brown rice, bits of romaine lettuce, slices of roasted chicken, chopped avocado, black beans, sweet potato cubes, tortilla chips, and a zig-zag drizzle of lime crema. My eyes devour it. My stomach can barely wait.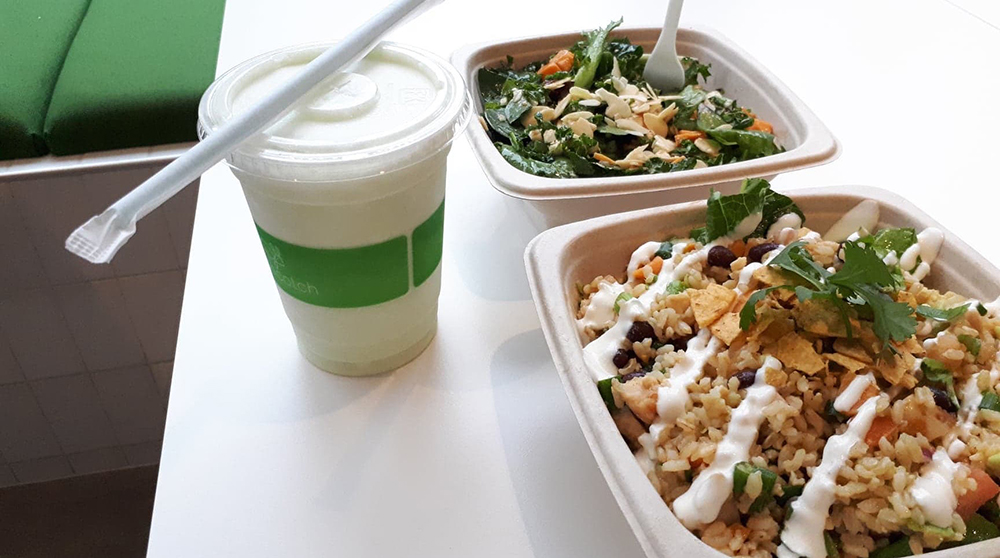 @eat_hopscotch
"And this one," she says, putting down the second dish "is a seasonal bowl we have going on now. It's got sweet potato, romaine lettuce, kale, sliced almonds, goat cheese, and charred sliced Anjou pears."
A blend of dark leafy greens, bits of bright orange sweet potato and scattered pieces of sliced almonds smile back, waiting to be gobbled up. Better not keep them waiting.
I raise my fork, and attack!
The salad is dressed in a light vinaigrette. The leaves are light, the potato is soft and the cheese is delectably creamy. With a slight crunch from the almonds, and the sweet seared flavour of the pear, the bowl is balanced with fresh and savoury tastes, and reminiscent of warm holiday traditions. If Christmas was a salad… this would be it.
Next on the hit list… the Lucha Libre. Uno, dos, tres, eat!
It's a fiesta in your mouth! A little crunch and a lot of flavour. Tangy tomatoes, sweet potatoes, zesty lime and fresh avocados, all surrounded by a party of rice. The scatter of corn tortilla chips on top is a nice touch, and the lime crema is so lip-licking good, I wish there was more!
Time for a sip of something sweet. Pineapple Coconut Smoothie, I'm looking at you.
My fingers reach for the cup. The straw kisses my lips. I drink, swallow, and sail away to paradise. With just one sip, my palette sings… "if you like piña coladas…" because it truly is comparable to a Piña Colada (a healthy, non-alcoholic, less sugary Piña Colada). It's fresh, with a bold cool blast of mint. I take another gulp, and take a trip to the beach. A wave of mint, pineapple and coconut rushes into my mouth. Ah… a sweet pale sip of tropical days.
Just when I think the party is over, another plate appears on the table. Avocado Smash, served on rye bread with pico de gallo, extra virgin olive oil.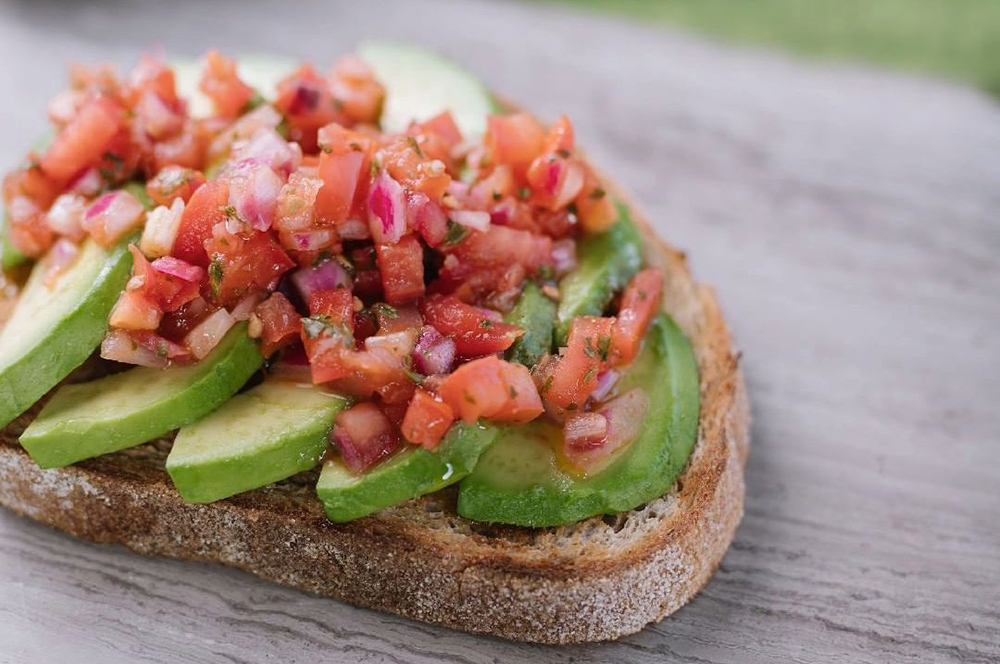 @eat_hopscotch
I still have unfinished bowls and a tropical smoothie to tend to… but the avocado is the perfect shade of green and the tomatoes on top smell garden-fresh. How can I refuse.
An ocean of avocado and an island of pico de gallo… juicy tomatoes splashed with lime, crisp red onion and touch of pepper. The rye bread is soft and spongy, with a fresh crisp crusty.  It's a delicious snack, and an explosion of flavour – that bursts onto my hands!
Tiny tomatoes roll off the sides and plop on the plate. Oil slides over the bread and runs down my hands. Messy, but yummy (just grab a few napkins before you take a bite!).
I clean the mess, and return to the salad.
Hopscotch has gotten busy. Friends and co-workers fill the seats. Salads, bowls, and smoothies consume the tables. I sit back, and soak it up. There's a cheerful energy that comes from friends sharing food and it's dancing in the air.
My eyes look to the left and to the right. They come to rest on a wooden pillar, near the centre of the restaurant. Across the board, written in large green letters, the words, "I'm just sitting here eating salad making plans for world domination," jump out.
A chuckle breaks through my lips as I stab my fork into a pile of leafy greens, and chop down on another bite. World domination will have to wait; I have sweet potatoes to eat.
Read More
Good Vibes and Good Food at Calii Love 
The Vegan Side of the Cactus Club Café