Reading Time:

4

minutes
"I eat antipasto twice just because she is so nice, Angelina! Angelina, the waitress at the pizzeria!" My little cousin, Angelina, sings as she sprinkles cheese on her pizza. Today we're having one of the many heart-shaped Pizza parties we have had over the years. It has become a February tradition and something she starts asking me about as soon as the clock strikes 12 on New Years Eve.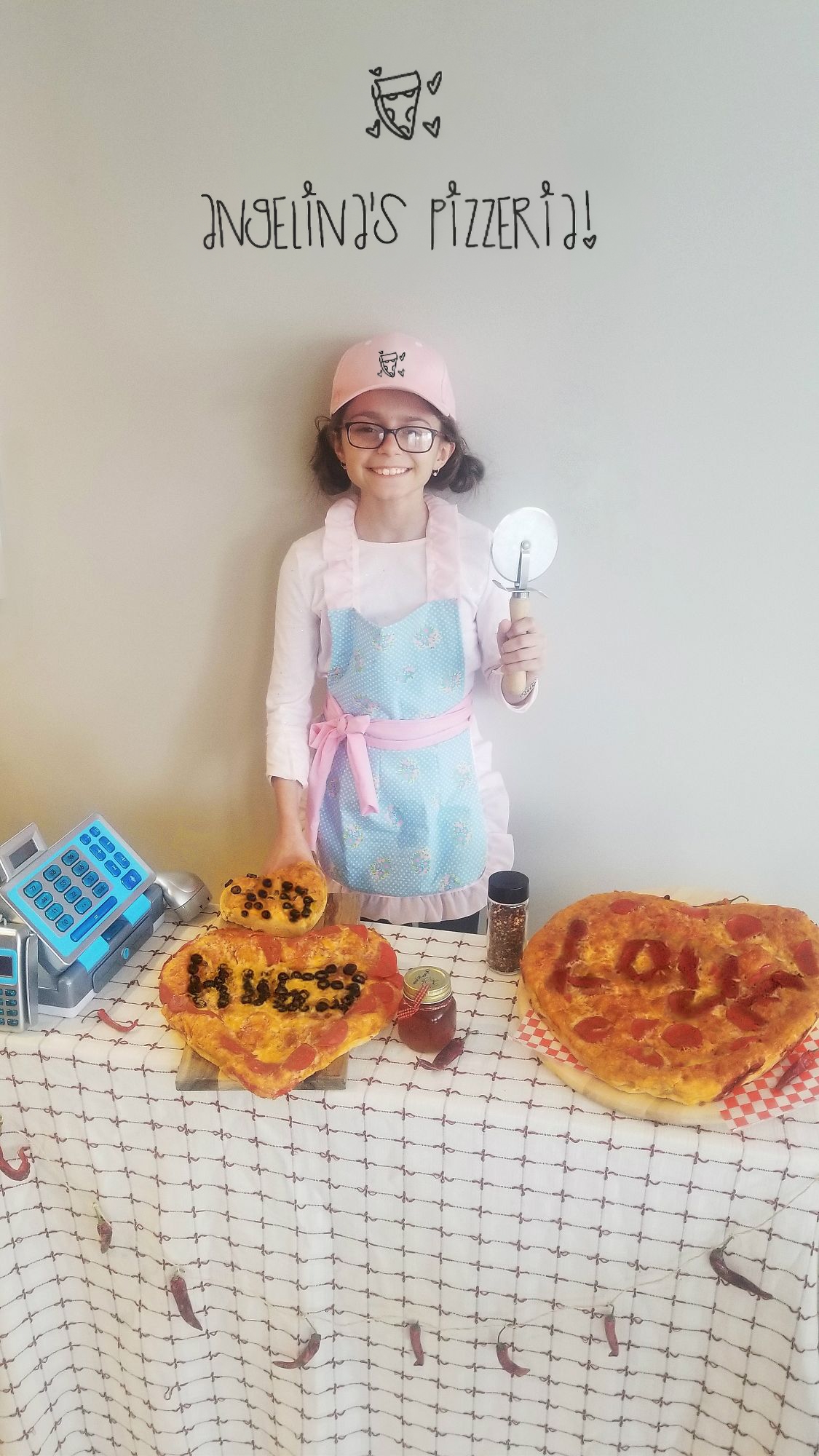 Like any child, Gelie is a vibrant lover of life who can't wait to celebrate holidays and partake in fun activities.  She's the little-sister-I-never-had and I think the reason we get along so well is because I never grew out of my childhood love for crafts and activities, I'm kind of a big kid.  It probably comes from growing up with my amazing mom who was always doing fun, new things with me.  It truly has become a huge part of who I am and why I love having hobbies and sharing them with Gelie.
It's All About the Theme Song
Over time, this heart-shaped pizza party has become more and more detailed, to the extent that we discovered a theme song for it.  One day, I randomly had an idea that if I found a song with Angelina's name in it, she would love it.  So, out of curiosity, I Googled, "Songs with the name Angelina in them," and came across a song by Louis Prima about a nice waitress at a pizzeria named, you guessed it, Angelina.
"How fitting for our pizza parties," I thought as I laughed out loud.  I played it for her, and of course, she thought it was hilarious.  It has become the soundtrack to her life.  We have also picked up more pizza decorating ideas along the way and we include some of Gelie's toys to make her feel like she owns a real pizzeria. This year, my mom even sewed her a brand new apron (see photos). 

The Month of Love and Family
I don't remember exactly how the pizza party started, but we have organized them for many years.  Since February is the month of love and family, with Valentine's Day and Family Day close to one another, it became the perfect time of year for Angelina's heart-shaped pizza party to recur.  Every year, the parties have become more extensive and it has become a fun get-together we look forward to, with more friends and family joining.  Both of our moms join us and give us their Italian-cooking expertise, like how to season the tomato sauce and how much cheese is too-much cheese, (is there such a thing?).  However, once the pizza making starts, we let the kids do whatever they want to the dough.  Everyone loves it, especially the children, and that's why I decided to share this story with my readers.  It has become such a fond memory for all of us, and I think you should have a heart-shaped pizza party at home with your family too. It's easy and inexpensive to put together, enjoy!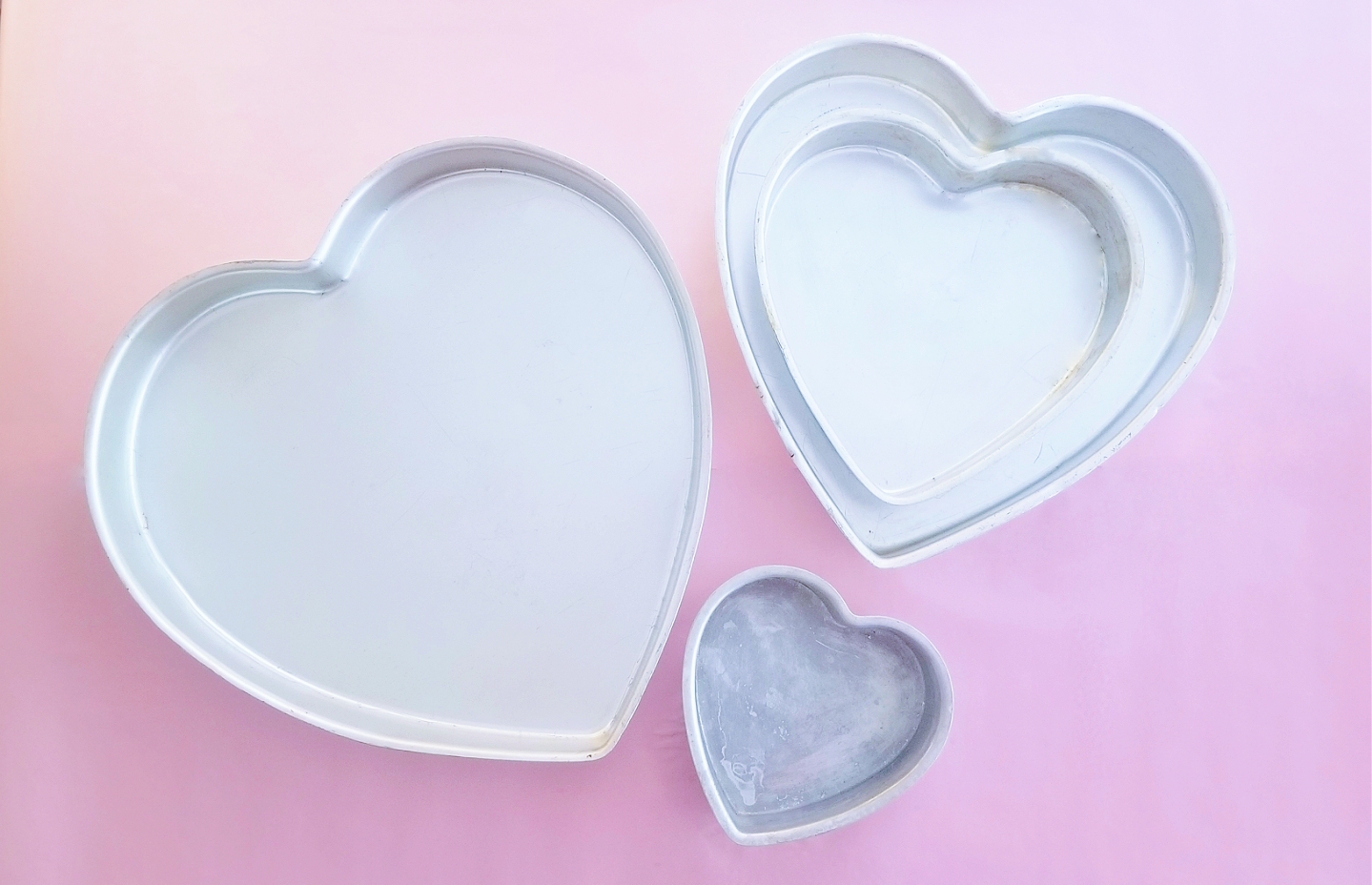 How to make Heart-Shaped Pizza:

Purchase some heart-shaped pans.

 

You can find a set by Googling where to get them. We're pretty sure our pans are cake pans so the pizza is deep-dish style which is a nice change to the regular pizza we make

Pizza Dough (regular, vegan, gluten-free, whichever you prefer)

1 Jar of Tomato Sauce, stir in 1 teaspoon of sea salt, and a half teaspoon of basil

Grated cheese of your choice, Angelina requested cheddar

The toppings of your preference.

 

Gelie wanted pepperoni and olives.

 

It's best to pick something that you can have fun decorating with.

A paper towel with olive oil to grease the pan

Fun utensils for the kids; Angelina enjoys painting, so I intentionally put a basting brush with the utensils.

 

She had a lot of fun with that.

Anything else you see fit for your pizza!

The pizza should bake at 350°F for roughly 20 minutes, keep checking them and decide when to take them out based on how you like your crust!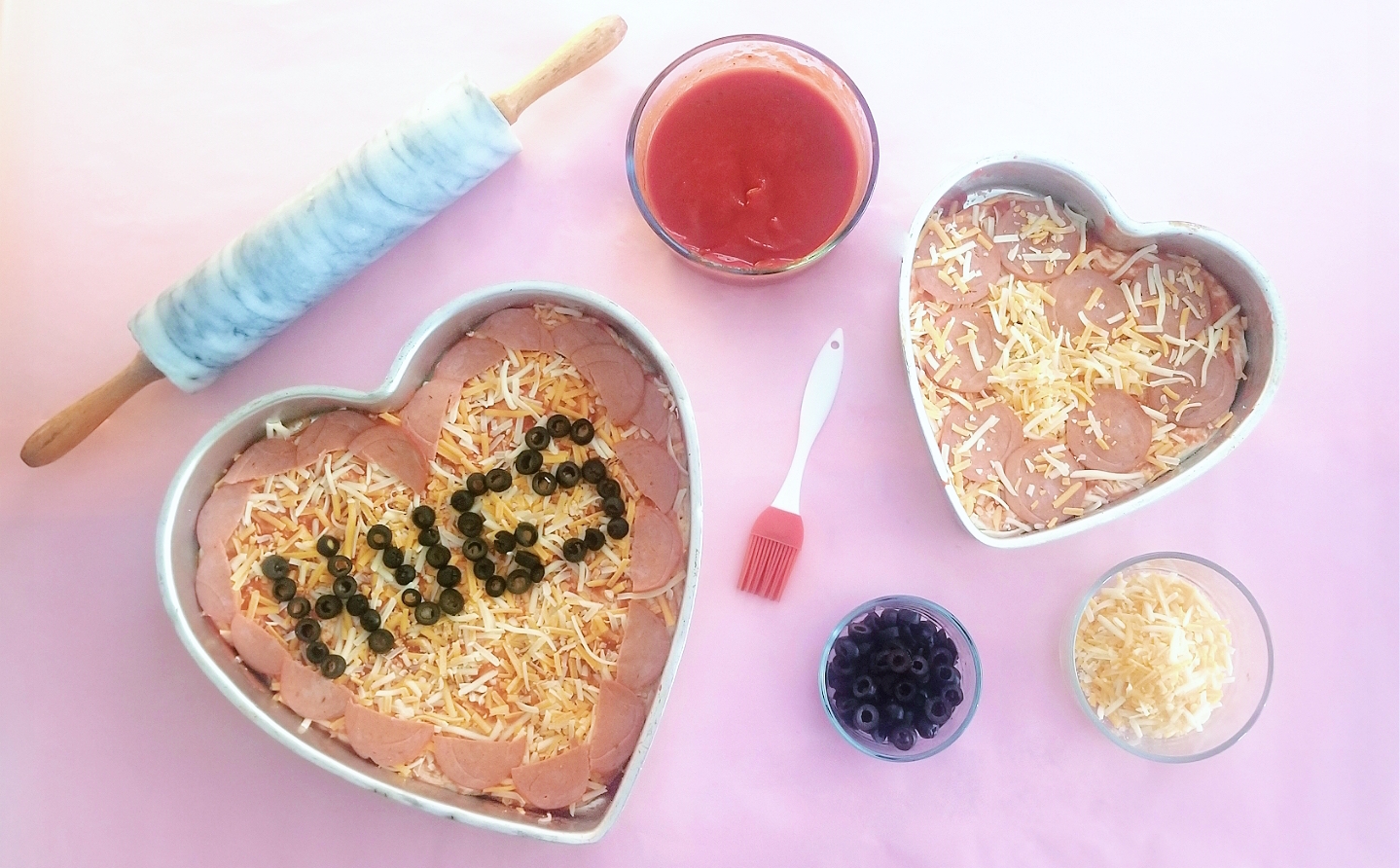 Read more: