Reading Time:

2

minutes
Weekends are made for sleeping in, but that doesn't mean that brunch should suffer the consequences! If something fluffy, sweet, and loaded with flavour sounds appetizing, then this Blueberry French Toast Casserole is just what you need. Plus, with the help of a few health-conscious tricks, it is sure to set you up for both a delicious and nutritious start to the day.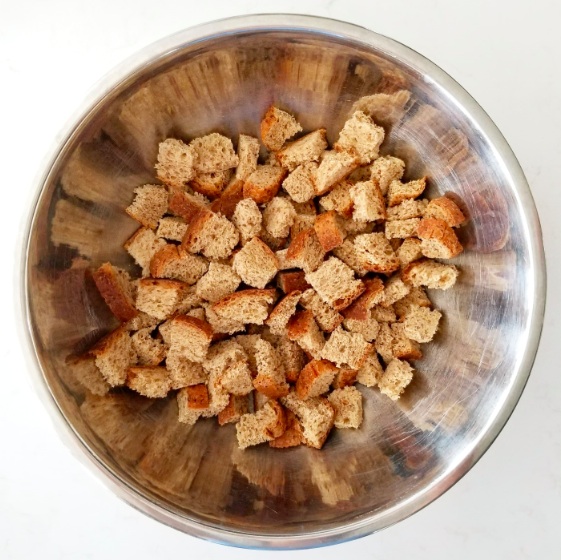 A Health-Conscious Blueberry French Toast Casserole
Using wholegrain bread on this recipe is a great way to add some extra fibre to your brunch spread.
Wholegrain bread is also more densely packed with nutrients such as protein, as well as, vitamin B and iron.
However, a French toast casserole is also a perfect opportunity to revive any leftover, dried out bread lying around. To reduce food waste, feel free to swap in whatever other bread that you have on hand. This casserole is very fluffy in texture and on its own, it is also not overly sweet.
Sprinkling some turbinado sugar and hemp seeds over the top before baking it helps to add some crunch, in addition to an extra boost of healthy fats and plant-based protein.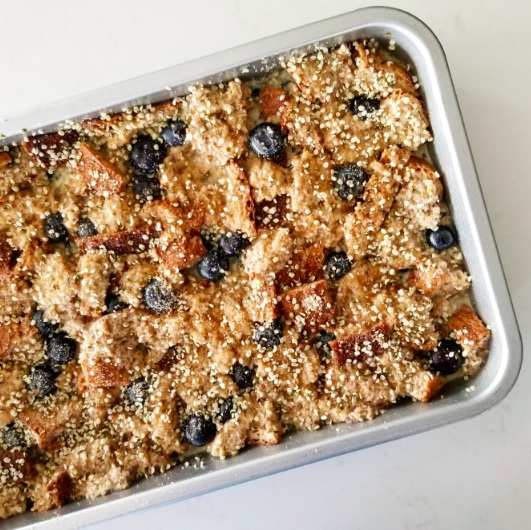 Here's what you'll need for this Blueberry French Toast Casserole:
8 slices wholegrain toast bread
4 eggs
1 cup milk of choice
2 tbsp pure maple syrup
1 tsp real vanilla extract
1 tsp cinnamon
1 cup fresh blueberries
2 tbsp hemp seeds
1 tbsp turbinado sugar
Preheat your oven to 350 degrees Celsius and spray a 7×11" pan or casserole dish with non-stick cooking spray. Cut the bread into 1'' cubes and set them aside.
In a large bowl, whisk together the eggs, milk, syrup, vanilla and cinnamon until well combined. Fold in the bread cubes and berries and then stir until everything becomes coated in the egg mixture.
Pour the contents of the bowl into the pan and spread it evenly to reach all of the edges. Sprinkle the hemp seeds and brown sugar evenly over the top.
Bake the casserole for 35-40 minutes or until the center looks set. Remove the casserole from the oven and allow it to cool for at least 15 minutes before serving.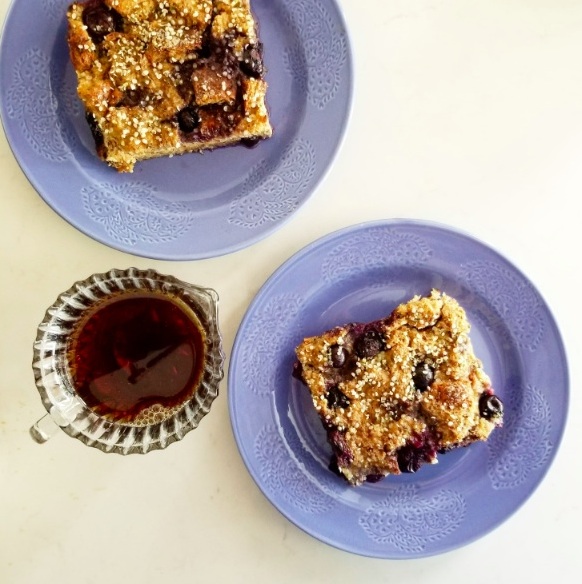 Cut the casserole into slices and serve it with pure maple syrup. Refrigerate any leftovers for up to one week, or freeze them as individual slices for a quick breakfast on busy mornings. Enjoy!
Read more: