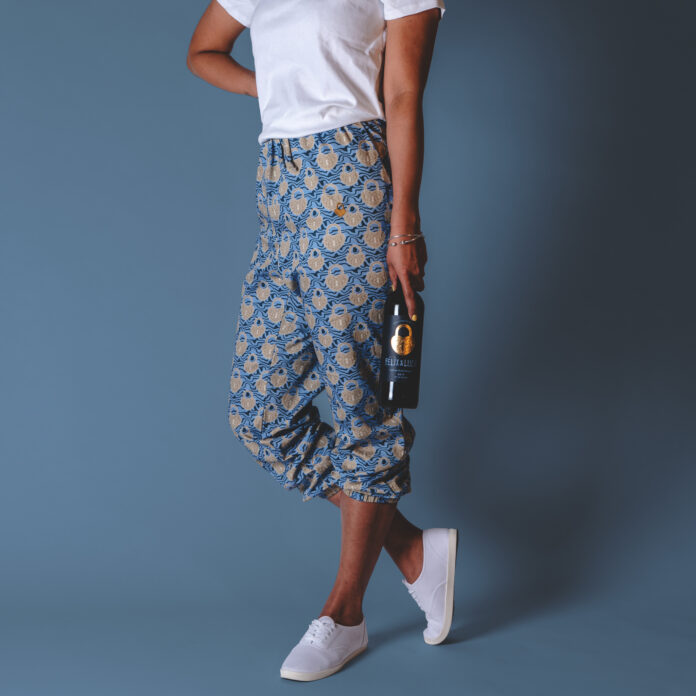 Félix & Lucie has partnered with renowned Canadian designer Hayley Elsaesser to help Canadians disconnect from the working world for a while and reconnect with what's important.
Her solution: Félix & Lucie Wine Pants. Just slip them on, slide your phone into the reception-blocking lock pocket and enjoy a little joie de vivre. The lock pocket is lined with a special conductive material that blocks electronic signals, which means putting a pause on the texts, emails and Slack messages that interrupt your personal time.

"Like so many people today, I have a busy life and a job that I love – I'm working hard to build a successful business," explains Hayley. "In so many ways, it's great to be as connected as we are today – but it makes it that much more important to take a little time for ourselves when we can. Those little moments of disconnection make all the difference."

I had a chance to sit down with Hayley and talk all about her latest collection.
How did the idea for Wine Pants come about?
I think we can all acknowledge that our inability to disconnect from work is a complex challenge. Since I'm all about helping people express themselves through fashion, the French wine brand Félix & Lucie challenged me to design something to address this issue. And so the idea of an ultimate garment of disconnection was born: the Félix & Lucie Wine Pants. They've got a comfortable fit, a cool look, and a custom-designed "lock pocket" to block out cellphone reception. So if you want to take a minute free from work emails, calls, and texts, you can just slip your phone in the pocket and enjoy some quality time with a glass of wine. They just launched this May and they're available online at disconnectoreconnect.ca for $98.00.
Why do you think it's so important for people to unplug?
A recent survey commissioned by Félix & Lucie uncovered that 76% of Canadians regularly work during their personal time. We all do it. You check email before bed. You work on vacation. You work when you're sick. You take a call from work while you're out for drinks with a friend.
But research proves that working more hours is weakening our social bonds and negatively impacting our overall quality of life. We need to disconnect to reconnect with the things that matter most in life. As a business owner myself, I know this all too well, which is why I'm so excited to be part of it this project.
What conversations do you hope to spark with the Wine Pants?
When I was approached by Félix & Lucie about the project, I had just become more aware of my lack of a work-life balance. It seemed like a perfect time for me to work on the project because it was something I was working on in my life and wanted to share. I hope that this collab sheds some light on the fact that Canadians aren't disconnecting from work in their personal time, and it starts a movement towards a better work-life balance. 
What's your favourite way to unplug?
I love to unplug and take some very quiet time for myself. I enjoy doing yoga because it takes me out of my head and simply focusing on feeling physically good, or reading with a glass of wine – for me, that's the epitome of relaxation.
How do you experience joie de vivre?
My best way to experience joie de vivre in life is just being present in the moment. I'm a person who has anxiety and I tend to focus on what I could have done better in the past, or what I need to do in the future. When I can be present in the moment is when I'm at my happiest and experiencing my life to the fullest. 
What impact do you hope to make with the new Wine Pants collection?
I know that disconnecting from work is a lot easier said than done, and as a small business owner, I recognize that completely disconnecting is sometimes not possible. What I'm hoping is that this collab with Félix & Lucie helps kick-start a conversation around the need to reclaim our personal time – and inspires people to disconnect from work more often.
Describe the Hayley Elsaesser aesthetic in ten words or less.
Candy-coated, pop culture inspired fashion with a purpose.
What's your design process like?
In general, I'm inspired by what's influencing or interesting me in my life at that point in time. I'm generally inspired by pop culture or society. From there I build the visual imagery that inspires the prints I draw. Finally, I create silhouettes that build the collection and put the prints and the shapes together to create a final, cohesive collection.
What values are important to you as a designer?
I'd like to have my impact on the industry and our world, no matter how small, be a positive one. There are many aspects of the fashion industry I strongly disagree with, and it almost stopped me from being a designer. However, I realized I could still be a part of the industry and actively work against the negative aspects of the industry so I've made that my core mission. 
Which clothing that you own is your most sentimental?
My graduate collection will always have a very special place in my heart. I worked on it throughout my final year of university, and it is what really kickstarted my career.
Your personal anthem?
Bat Out Hell by Meatloaf never fails to pump me up when I need it.
What fashion era would you live inside forever?
I love everything about the 70's and would love to have been alive during that time to see all of the fashion, and experience all of the music for the first time.
What fashion trend needs to die?
Fast fashion. It's killing independent designers, and our planet too.
As someone who is always on top of the vivids hair colour trend, what hair colour do you think we'll be seeing a lot of this summer?
I think in general, in Canada we love to embrace summer and have lots of fun with it. I think we'll be seeing metallics this summer; think rose gold, silver, copper tones for a nice pop of colour.
Favourite material to work with?
Cotton is my favourite material to work with for many reasons. It's comfortable and breathable, but maintains shape well and always looks great and launders easily. I'm all about comfort, wearability and practicality, and there's nothing more wearable than a gorgeous cotton denim fabric.
Who is your style icon?
I've had many style icons over the years such as Karen O, Prince and Iris Apfel. In general, I'm inspired by people who really express themselves through fashion without trends or norms deterring them. 
Last clothing item you splurged on?
I was in New York about a month ago and spent far too much on vintage t-shirts. I love the idea of getting a piece of clothing with a past life and giving it a new one and making it my own.
What garment or fashion item would you want to make in the future?
I'm obsessed with shoes, so I'm hoping for a shoe collab in the near future.
How do you want to be remembered?
As someone who made a positive impact on the fashion industry.
About Félix & Lucie Wine Pants by Hayley Elsaesser
Félix & Lucie wine pants are available in two unique styles: The Félix and The Lucie.
The Félix: Playful but understated, The Félix is made for those who sip thoughtfully, contemplating the world over something rich and full-bodied.
The Lucie: Bolder, but not brash, The Lucie is for the social butterfly – the one who fills every glass before their own and gets their refreshment from the company they keep.
Félix & Lucie Wine Pants by Hayley Elsaesser are available for $98.00 at www.DisconnectToReconnect.ca.