Reading Time:

8

minutes
Spring is finally here to stay. Winter coats are at the dry cleaner, here in Toronto the Sakura trees are in full bloom, and it is time for grilling season. In our new Friday series, we'll talk grilling all season long, hoping to give you some neat tips and tricks along the way. To start it off, however, we need to get ready for what could be a 4-5 month intensive period. Your equipment was hopefully stowed away properly for the winter and needs some maintenance before first use. We'll guide you through all that. Just invested in new equipment? You came to the right place.
There are different things one has to do depending on your grill. Is your grill old or new? Gas or charcoal? Used throughout the winter or hasn't seen the light of day since September? We will have information for each of these factors. Just skip to where it is relevant for you. You might have picked up on the fact, that we use the word "grilling" and not "barbecuing". While barbecuing is colloquially accepted as a synonym for grilling, we'd like to shine a light on the differences. When you barbecue you are cooking with a slow circumvented unit of hot air (indirect heat source) with the lid closed. Low and slow. Grilling is mostly done with the lid up and direct heat from the bottom.
Getting Ready for Grilling Season
We are just about ready to get started. One tip of ours is to get all your equipment prep done before your first grill day. Take the Saturday and then have people over the following day. That way you aren't rushing through anything. Those hot dogs and burgers can wait another day. Let's get started.
Safety First!
This is mostly relevant for all of you that own a gas grill. I grew up with a 22-inch Weber Original Kettle Charcoal Grill and have never strayed. But I see the many advantages a gas grill might bring. One of the disadvantages is that you can't skip this step. A lot of things can happen during the off-season. Give it a thorough all around check. Especially inspect the hose going from your gas source to the grill. Is it intact? Does it leak? Replace if you aren't sure.
If there is some grimy build-up on the hose, clean it off before igniting the grill for the first time. Public Service Announcement: Hoses can burn! After giving it a visual check for any cracks, try the soapy water test. Brush soapy water on the hose and along the connections. If you see bubbles while the gas is running, tighten your connections or replace the hose.
A Belated Spring Cleaning
Your house might already have undergone a thorough and deep spring cleaning. Afford your grill and surrounding area the same courtesy. The easiest way is to clean from the inside out. For gas grills: Once again owners of a gas grill have it a bit tougher to get ready for grilling season. Start with your flame tamers. They are the long triangle pieces located over the burners. Give the flame tamers a good scrub with a wire brush to get them as smooth as possible. Then remove them and check your burners for possible blockage. It's ok to neglect, but check your grill upon first use. If the temperature can't get over 400°F, you probably have some blockage. If there is some clogging, take a stainless steel brush and clean the holes in an up and down motion reminiscent of brushing teeth.
The next step is to clean your grease pan. This can lead to nasty flare-up fires when going undetected and untreated. Your delicious grill items drip fat and or oil into the grill pan and the build-up is highly flammable. For charcoal grills: Make sure to empty out all the ashes from both the bowl and the ash catcher. It will help in getting the grill ripping hot when you need it. You should also take some time and clean up the area around your grill. If there are any inflammable items close by, I'd suggest to clear them away. Dry leaves and wood in the vicinity should be at a proper distance.
The Secret to Great Grates
Next thing you should turn your attention to are the grates. They can get rusty from time to time, or still have build-up from the year before. With a gas grill, I recommend to turn on all the burners to high, close the lid and wait for 20 minutes. All the debris should turn into ash and can be scrubbed off easily. With charcoal grills, you need a bit of elbow grease. Many people use a stainless steel brush, which works perfectly.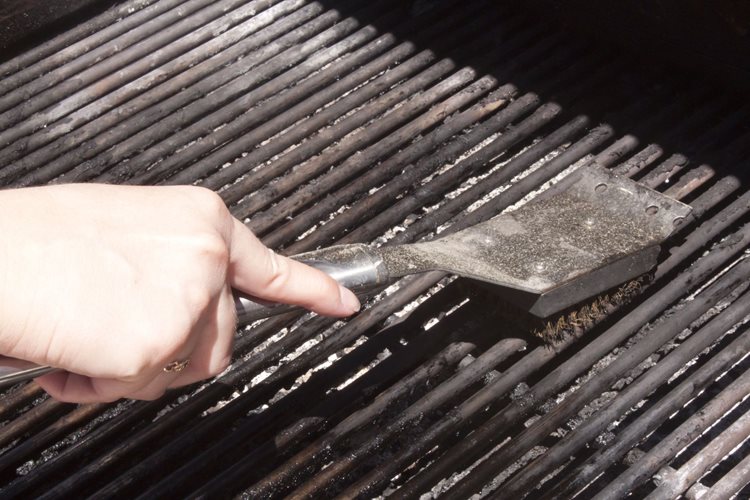 However, there is a possibility that some of the metal bristles fall off and attach themselves to the grate. They can then end up in your food. If you're scared of that, you should invest in a hardwood grill scraper. If you are still having trouble getting the gunk off, you need to soak your grates. A mixture of water, vinegar and baking soda should do the trick. Please do not use soap. The soap bubbles tend to cling to the grates and are incredibly hard to get off.
Seasoning for the Season
Attention all grill owners: Season your grills! Are you mad that your steaks are always sticking to the grate? Well, you probably didn't season your grill, did you? It is so easy and works wonders. Seasoning will ensure easier non-stick cooking and enable your grill to function at its best. This is because cooking oils and fats adhere to the grates and over time develop a smooth non-stick surface. This is especially true of cast iron grates which are porous and will absorb those oils and fats. If you just purchased a new grill, seasoning is paramount. Like most products right out of the factory, your new grill could have residual paint, manufacturing oils, and dust and metal shavings from shipping. This shouldn't end up in your food.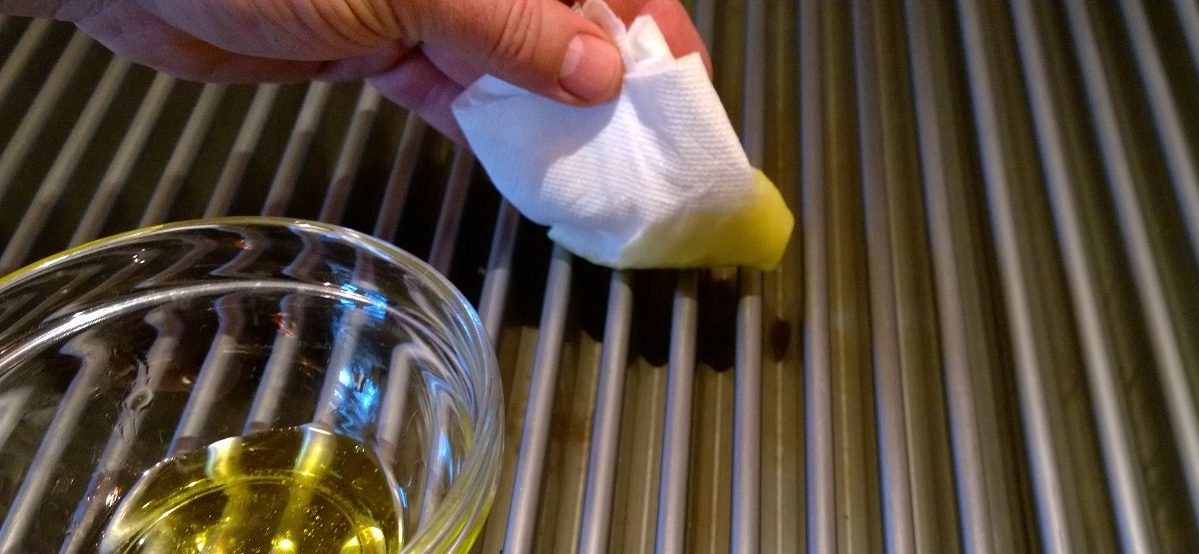 Wash your grates with water and let them air-dry completely. Brush a high-heat resistant oil like vegetable oil on all of the grates. You can do the same to the bowl of a charcoal grill or the inside lid and gas emitters of a gas grill. Then, crank up the heat as high as you can and let the grills do their magic for about 45 minutes. Don't worry that your grates will appear darker than before, that is the whole trick. Let everything cool down. This is not just something for new grills. Do this at least at the start of every season. I oil my grates after every cook and let the residual heat seal the seasoning in. You can even use leftover bacon or trimmings of fat to do this.
Tools to Have and How to Take Care of Them
The gadgets you can add to your barbecue are endless. Smoke boxes, cedar planks for cooking fish, rotisserie attachments and many more. If you feel passionate about any of those, by all means, go ahead and get them. These, however, are the things I believe you should have if you want to grill on a regular basis:
Two sets of sturdy tongs: Flipping is important and not burning yourself is important. Invest in something that feels good in your hand, and that does the trick. I recommend the second pair of tongs, especially for charcoal grill owners. You need a tool to move charcoal pieces around.
A grill fork: Bigger pieces of meat are easier handled with a fork. A staple for every serious grill master
Meat thermometer: Grilling requires a lot of effort. Especially if you have to keep coals hot. Make sure your effort doesn't get spoiled by over- or under-cooked meat. Get a thermometer to regulate your temperature. Don't forget that the interior temperature in meat continues to rise in the resting phase.
Grilling basket: A grilling basket is a perfect way to grill vegetables or fish on the grill without using aluminum foil.
Basting brush: Perfect for basting, applying barbecue sauce and wet marinades.
A good spatula: You don't need it until you need it. Have one on hand.
A pair of reliable oven mitts: It's hot around the grill. You touch a lot of things. Be safe!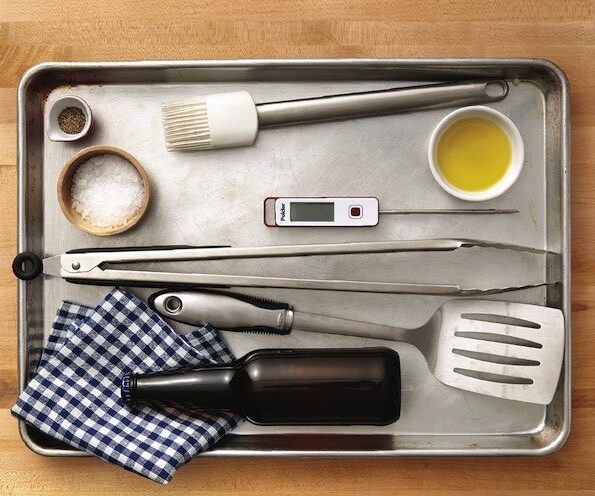 I am trying to get most of my tool in stainless steel so that I can just put them in the dishwasher at the end of the day. If you want a wood-steel combo, those are nice but a pain to clean.
This should be a good primer for grilling season. For any comments or questions, visit our social pipes on Facebook and Twitter.
Read more:
The Difference Between Barbecuing and Grilling
Vermont Castings: No Such Thing as BBQ Season
Sip and Sizzle at Wineries of Niagara-on-the-Lake