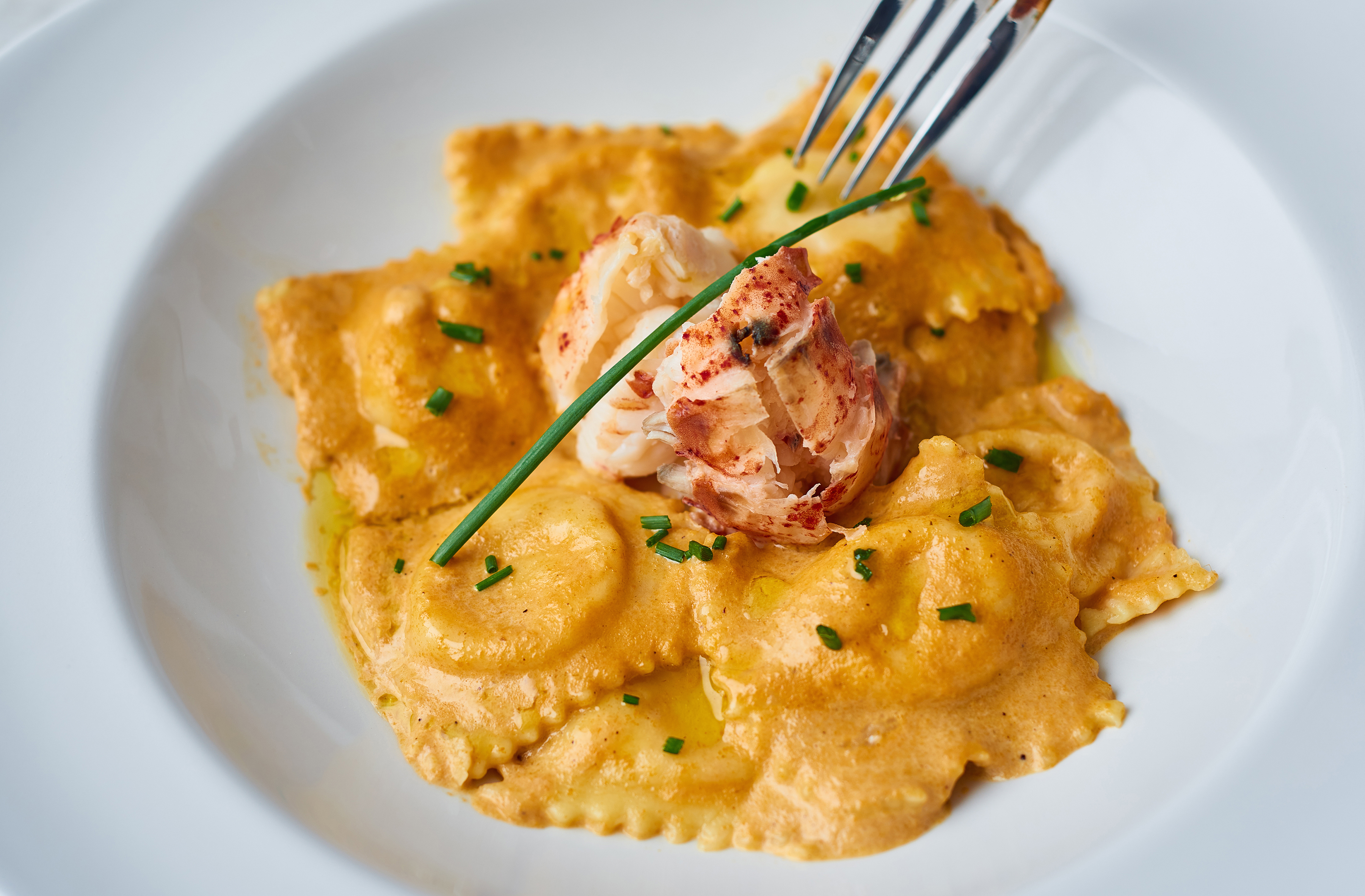 Garrison Creek, Toronto's newest Italian restaurant, has officially opening its doors.
Located at 760 College Street, at the top of what was once Garrison Creek in Toronto's Little Italy, the restaurant features reimagined Italian fare that bridges together both traditional and unexpected dishes. The result; a menu of pure art and exceptional flavours. Step inside Garrison Creek and escape into a monochrome world of modern Italian delights.
An exquisite bar dressed in shades of grey and a show stopping wall of fine wines captures your gaze as you cross the threshold. Sleek, chic and luxurious. Garrison Creek is a restaurant of style. Dark wood covers floors. White paint decorates the walls. Deep dark velvet furnishings invite you to sit and enjoy your evening. The marble tables are shades of pale snow, with thin veins of grey swimming inside. Paintings pull your attention; these contemporary artworks are perfect mirrors of the atmosphere Garrison Creek has created.
The restaurant is dark, cloaked in black, charcoal, pewter and sleet grey; the accents that adorn this shadowy world. But in the darkness there is light. Overhead, modern chandeliers shine like dazzling stars; each a unique group of constellations suspended mid air. Thin bulbs glow from the shells of glass orbs, illuminating the sky of the restaurant.
Every inch is a feast for the eyes, pulling you into a dark spell of beauty.
But just for a moment, break free. It is time to eat.
The first course is served. Our wine for the evening is a fresh J. Bouchon reserve Sauvignon Blanc.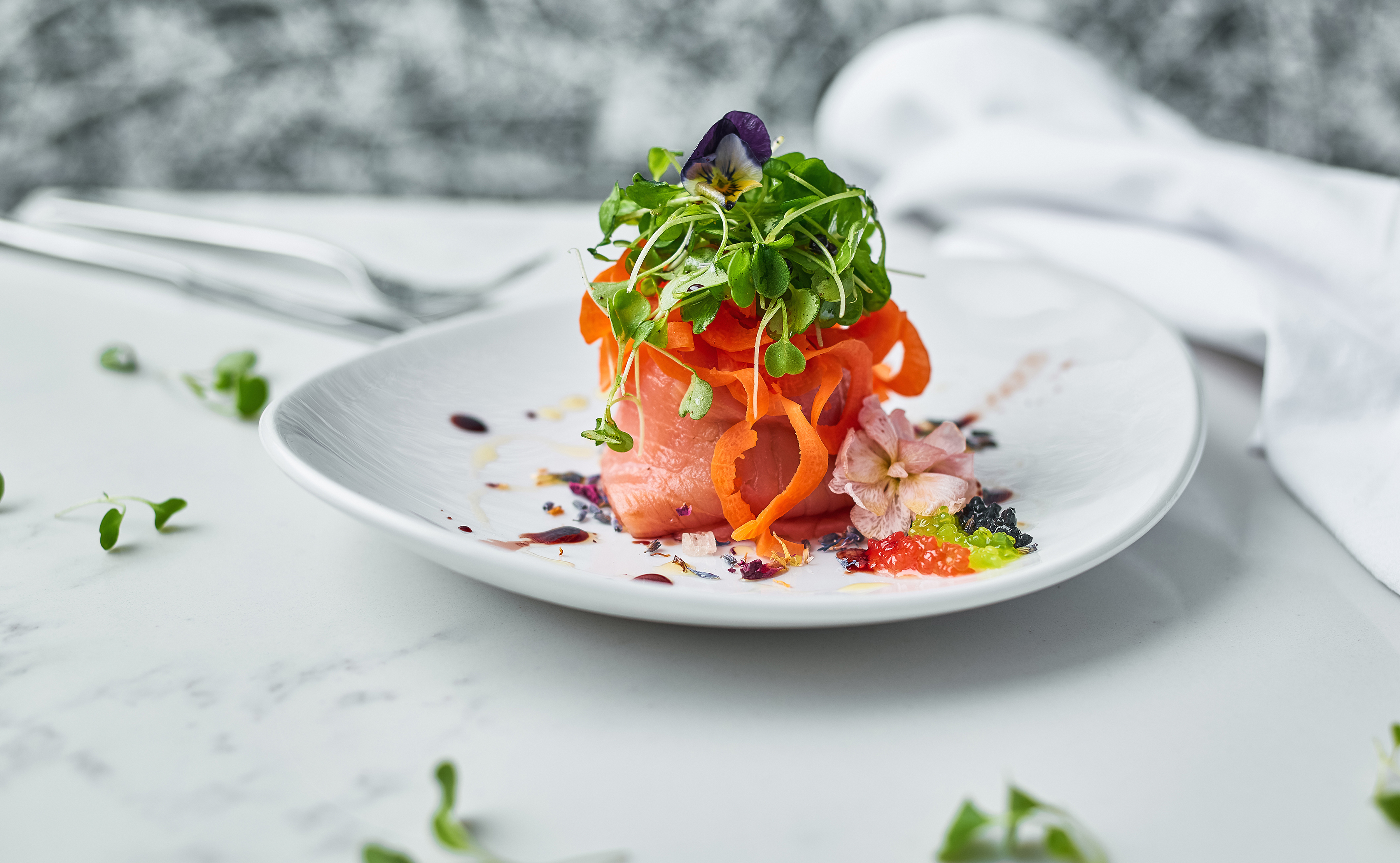 Potafoglio Di Salmone
Our appetizer, Potafoglio Di Salmone, is a masterpiece of art and flavour. Pacific smoked salmon encases a cloud of whipped avocado, green onions and confit tomatoes. A rainbow of caviar sits beside it. The perfect start to a perfect meal.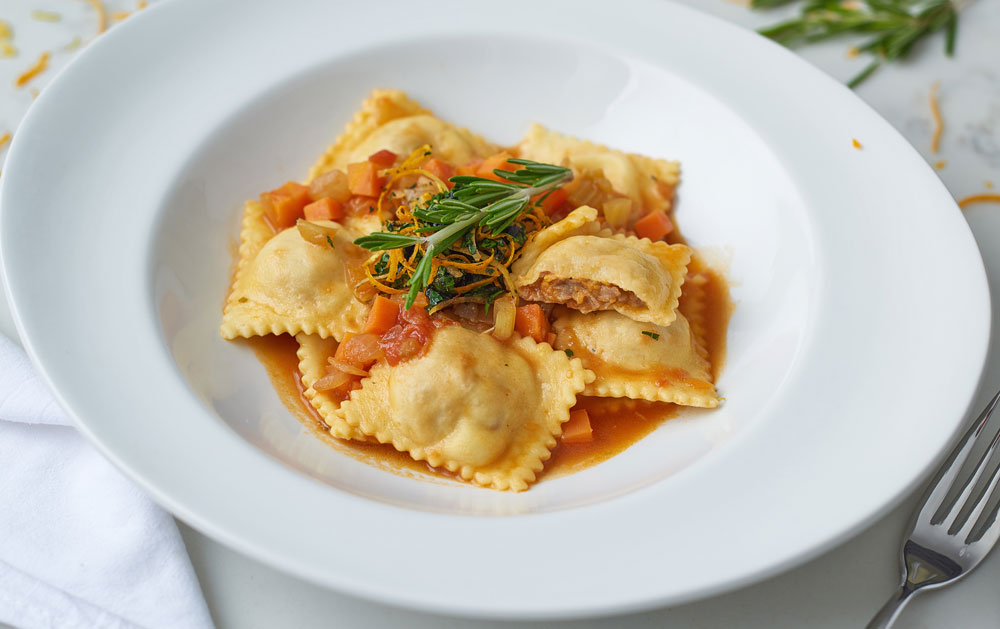 A Trio of Raviolis
Next comes a trio of masterfully divine ravioli. Each a unique creation. Each with new flavours that outshine the last. A bowl of Ratatouille Ravioli, with ruby red San Marzano tomato sauce is the first to enjoy. The sauce is tart and fresh. The ravioli, soft and light. Close your eyes, and let the flavour of the dish whisk you away to a sweet summer garden in Italy. Open your eyes, and let your palette plunge into the savoury tastes of the sea. A bite of the Gameretto Ravioli, with Nordic shrimp and mango will send you deep under waves of blue. If you prefer seafood, then this ravioli is your sunken treasure.
But… if you crave the rich, creamy flavours that the land offers there is no doubt, the Porchetta Ravioli is your champion. Made with maple pancetta and a rosemary, white wine and parmigiano cream sauce, this dish is to die for. My personal favourite of the trio; this ravioli was a true treat. A sauce as smooth as velvet, draped over soft cushions of pasta filled with spiced and salted pork. It is a full flavour dish you will want to devour over and over again.
Costine de Manzo
When our plates are empty, servers reveal the next course; a beautifully plated Costine de Manzo. Slow cooked braised beef short rib over celery-rave and mash potato puree, with a cabernet spiced wine reduction. The potatoes are a soft cloud. The meat melts like butter upon the touch of the knife. Every bite leaves you wanting more. This is a savoury dish like no other.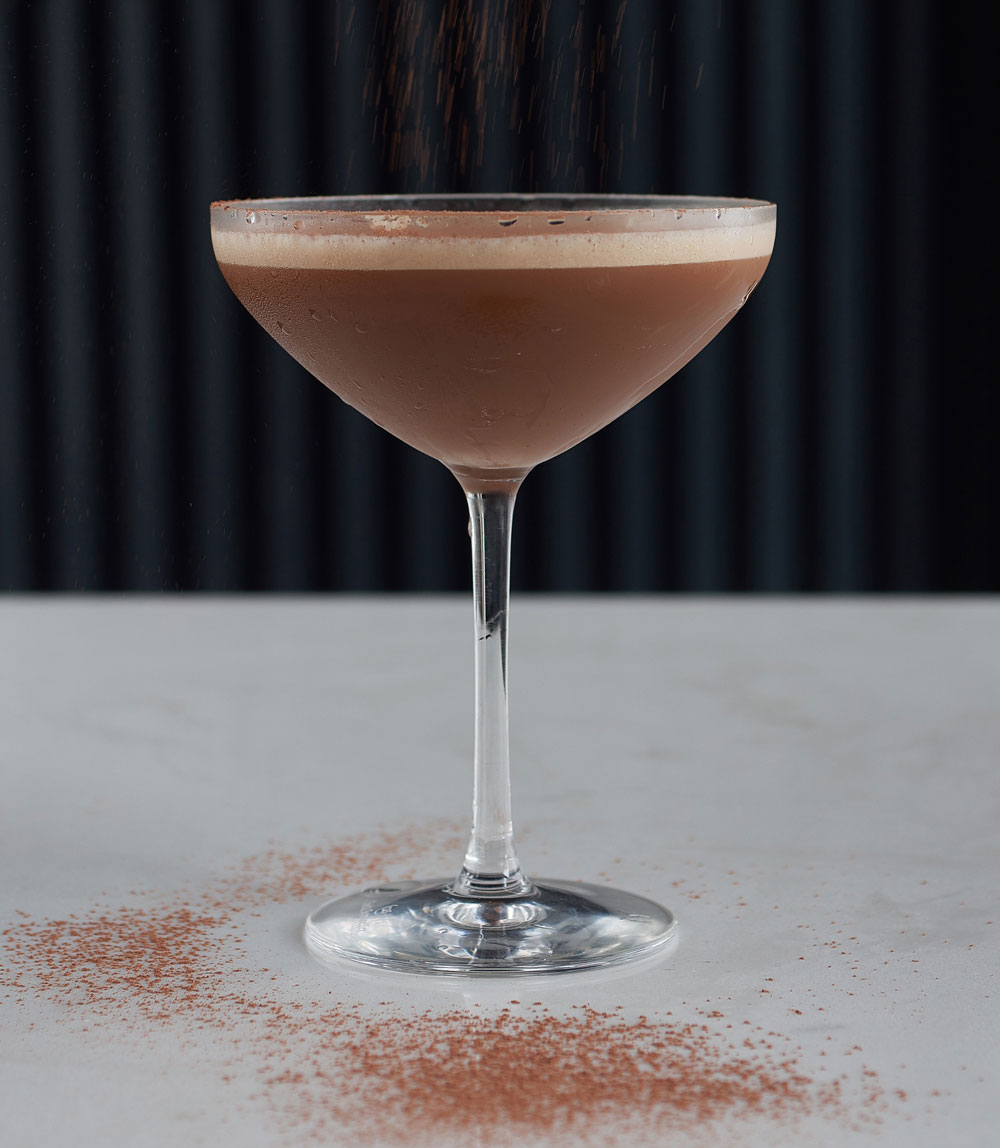 A Nucciola Cocktail
Dessert is near. We eagerly await the promise of a sweet soufflé, but first, are greeted by a happy surprise. A Nucciola Cocktail. Elegant and oh so lovely. There is just the slightest snowfall of cinnamon resting atop this brown sugar hued beverage. The ambrosial scent of coffee floats off the chilled drink, pulling me closer… begging for a taste. A smooth sip of espresso mixed with Bailey's Almande is absolute pleasure. A heavenly delight. A divine indulgence…
Chocolate Soufflé
And an ideal match for the final dish; a delectable Chocolate Soufflé. Perfectly puffed, with a gentle dusting of icing sugar. It is without doubt one of the finest desserts I have tasted to date. A clever mix of cocoa and cream specially from Quebec is what gives our soufflés a distinctively airy texture. Light, fluffy and full of rich intense chocolate flavours; the perfect end to a perfect meal.
Dinner was a masterpiece; the artist, Head Chef Dino Cordileone. Chef Cordileone has worked in the kitchen as a chef for over 30 years, and has labored since August to create the menu for Garrison Creek. Originally from the beautiful city of Montreal, Chef Cordileone has cooked for world renowned celebrities, Bono and Alexander Ovechkin. His creative ravioli recipes have been featured on Breakfast Television. Now his talents will bring the best of Italian cuisine to Little Italy, where he is setting a new standard of cuisine that other restaurants will have to beat.
Vibrant colours, savoury tastes and delectable aromas will beguile your senses. Visions of black and white will enchant your imagination and charm your mind. In this chic monochrome world, diners can savour classic Italian dishes, in exceptionally unconventional ways. Truly, it is the perfection restaurant for both foodies and die-hard Italian food lovers. It is a new dining experience you will not want to miss.
Garrison Creek is open Monday to Saturday from 5:00 pm until close. For reservations, call (647) 748-8500, or email [email protected]
Keep reading: