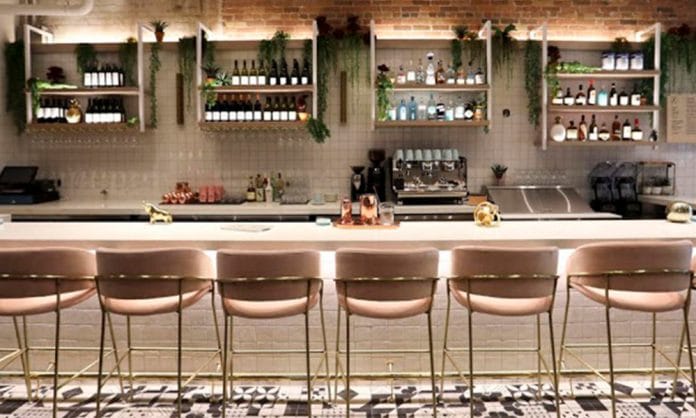 My friend and I are standing huddled together next to the DJ booth. One hand is numb from the freezing handle of the copper mug holding my Wild Muskoka Mule, garnished with candied ginger and a giant stem of rosemary I might add. The other covered in crumbs and aioli from the crispy quinoa coated onion rings. I'd love to wash my hands, I'm overheated and desperately need to pee but I'm here on business. A little stand up label sits on the now sparse food table two metres away. Others are hovering too, pretending not to be. I can't read it from here, but I know what it says, we all know what it says.
Beyond. Meat. Slider.
The event at Fresh on Front has turned us into vegan vultures, hovering around ready to swoop down on whatever new mouth-watering miniatures they bring out from the kitchen. Crispy Panko-crusted squash tacos on whole wheat tortillas, lightly coated in a jalapeño lime sauce. Miniature cups of sweet potato fries topped with a light mushroom gravy. Crispy buffalo cauliflower with a creamy ranch dip, which I ate two of even though I usually despise cauliflower. Even after all of this, we are still not satisfied. We're ready to leave, saying we could forgo the sliders because veggie burgers were usually disappointing, but when we see that tiny sign we know we're not leaving until we get our hands on those burgers. When we can't stand it anymore we decide to take turns using the washroom, and the other will keep a look out. I go second and when I'm washing my hands my phone dings. "I GOT THE LAST TWO." And the crowd goes wild. And by crowd, I mean me.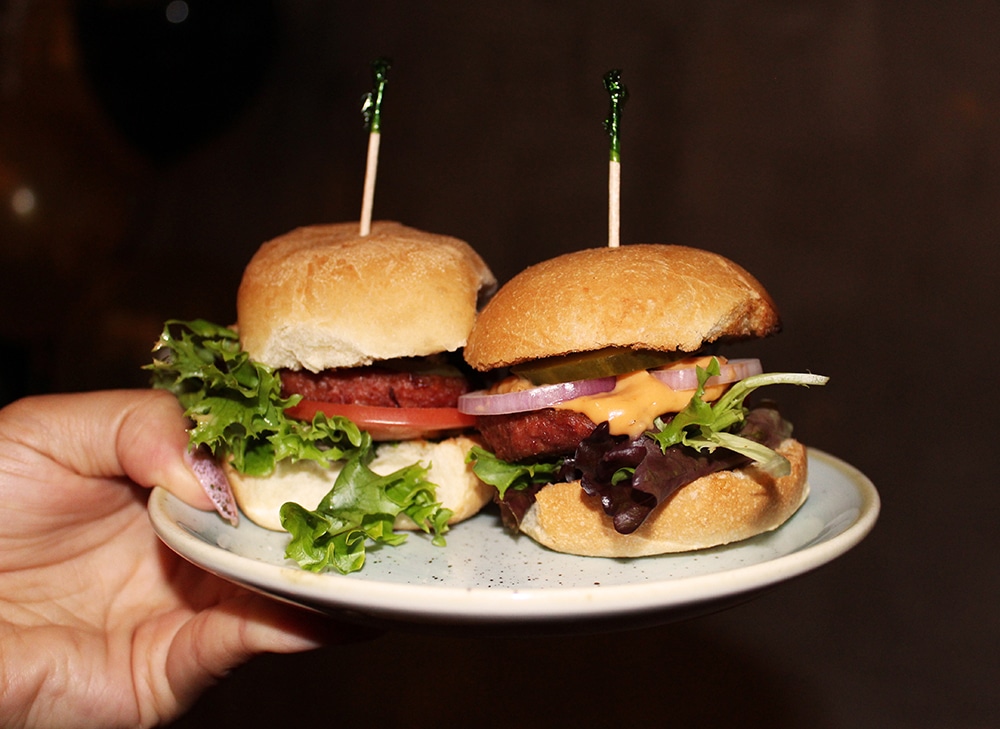 Fresh on Front is Fresh's latest and largest location, with an elevated feel departing from the fast food vibe of their other locations. The high ceilings, mood lighting, and velvety seats make the perfect backdrop for a nice date, or even just an Insta photo. I often find the food at all-vegan restaurants can fall a little flat. Some try too hard to mimic the animal products and as a result they don't actually work with the natural tastes and textures of their plant-based ingredients. This is definitely not the case at Fresh on Front. Everything they served was amazing, imitating it meaty/cheesy counterpart when necessary but focused more on overall flavour instead of just getting it as close as possible.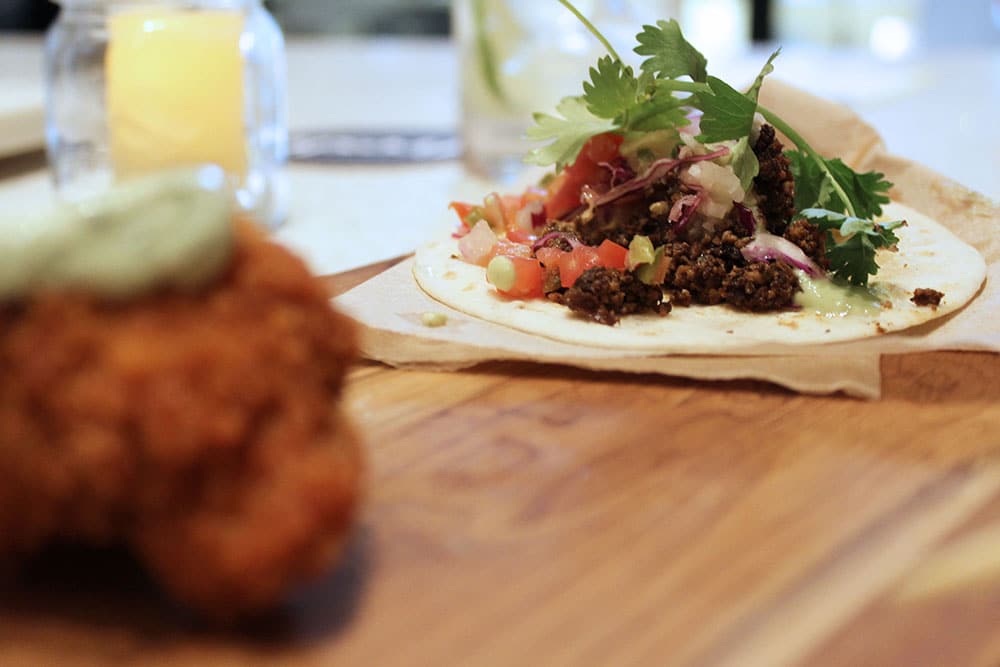 If you're as food obsessed as I am there is no doubt that you've heard about A&W's Beyond Meat Burger. I tried it for the first time a few weeks ago and was so shocked at how close it was to the real thing, so you can understand my excitement when the server said their version was even better. Perhaps she was biased, but she was also correct.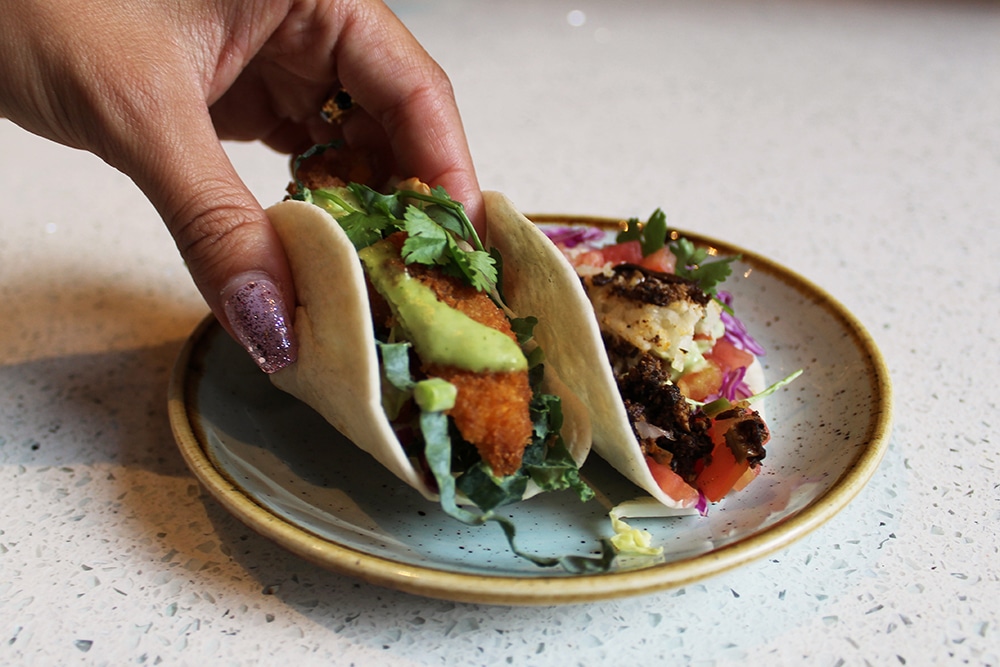 The bar at this location also stands apart as it's the first Fresh to serve cocktails. Besides the gingery Wild Muskoka Mule, I also tried the Gin + Flowers cocktails. Dillon's rose gin, elderflower liqueur, pluck herbal iced tea, mineral water and edible flowers to top it all off, combine for a refreshing and slightly sweet flavour.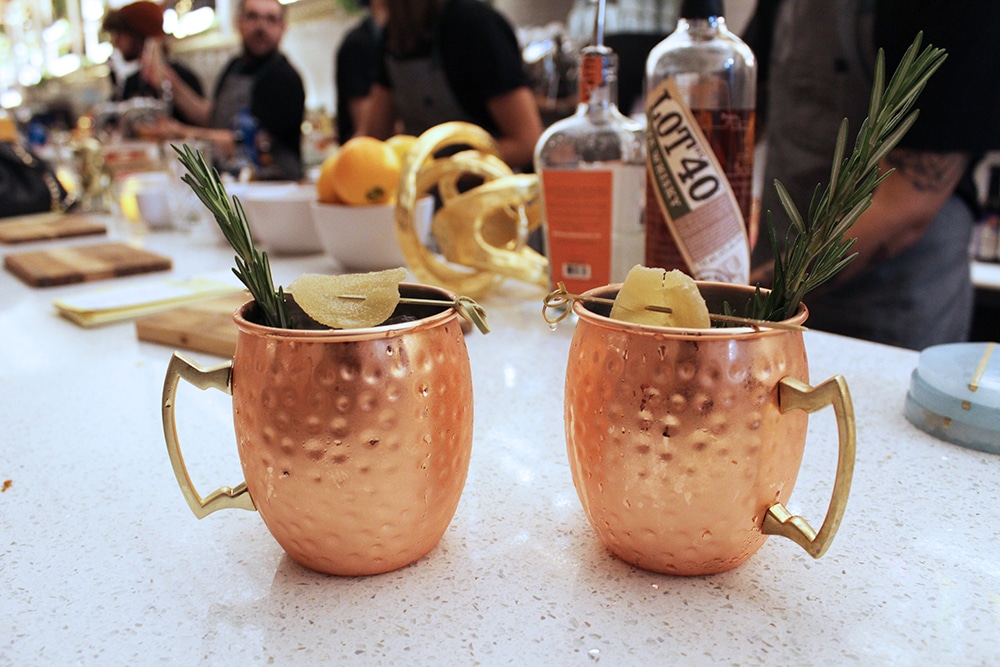 Whether or not you are vegan or vegetarian, I highly recommend you check it out because when it comes down to it, good food is good food. And I have, to say their team throws a hell of a party.