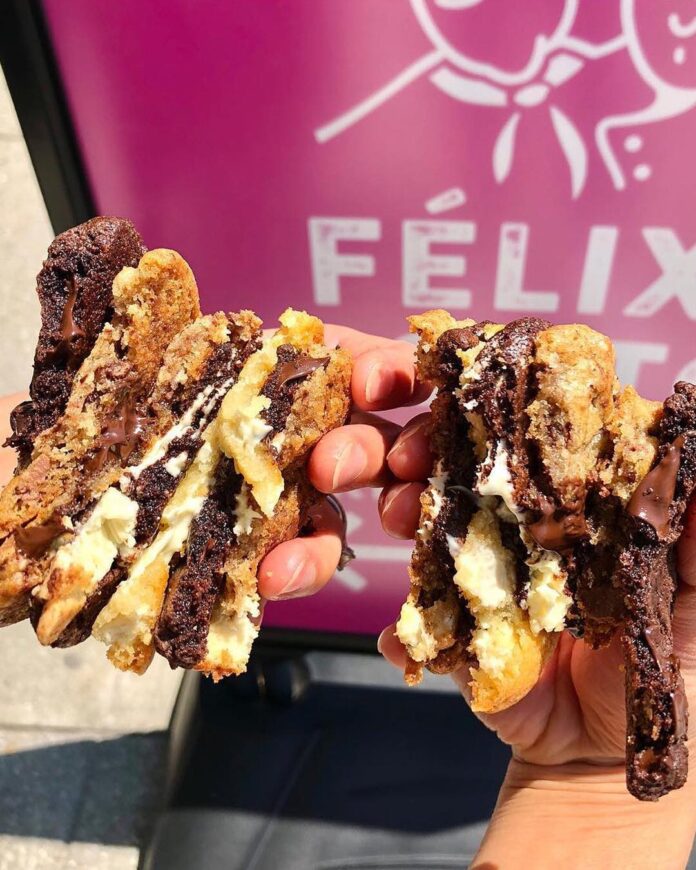 If you haven't already heard of Félix & Norton, or more importantly, tried one of their cookies, then you are seriously missing out. These cookies go above and beyond almost every cookie experience of my life (and as a self-professed dessert addict, there have been a lot.) They are simply decadent.
The Montreal-based brand opened its first retail location in 1985. Since then, it has grown across Canada and beyond, with over 25 retail locations in Quebec and Ontario alone. The secret to their success? Their ooey, gooey, mouth-watering cookies. Biting into any one of them is a heavenly experience. Firm around the edges, chewy in the centre, and made with top-notch ingredients such as dark and milk chocolate, almonds, and caramel bits, they offer everything you could ever want in a cookie and more.
 Another fun fact: The Félix & Norton food truck was the first food truck in the city of Montreal. Now, it resides permanently in Montreal's Old Port, on Quai Jacques Cartier, right along the Saint Lawrence River. The bright pink truck serves up cookies, beverages, and their new tartelles all day long in the summertime, and no trip to Old Port is complete without grabbing one (or a half dozen) to go.
There are six flavours available at the food truck: Chic (dark chocolate) Love (milk chocolate,) Bling-Bling (salted caramel chunks), Caramel (caramel chunks, almonds, and milk chocolate,) Ebony & Ivory (double chocolate with dark and white chocolate,) and finally (and I saved the best for last), the Ménage a Trois (milk chocolate, dark chocolate, and white chocolate.) Cookies are sold individually, by the half dozen, or by the dozen. If you're looking to cool off on a hot summer's day, another truly delicious way to eat them is as an ice cream sandwich. That's right, the Félix & Norton food truck will take a slab of salted caramel or vanilla ice cream and sandwich it between two signature cookies of your choice. Pure bliss!
Though cookies are what the Montreal brand is known for, you can also find mini tarts, known as tartelles, in milk chocolate and caramel flavours, as well as coffee, tea, hot chocolate, water, and milk.
Cookie lovers come in droves to Montreal's Old Port just for the of Félix & Norton food truck. It really is the sweetest food truck in Montreal (pun intended!). Be sure to stop by for a treat next time you're strolling around Montreal.
Read more: