Reading Time:

13

minutes
The boys are back in town. Since last Friday, season 3 of Netflix's reality tv juggernaut Queer Eye is available for streaming. Through 8 episodes, Jonathan, Bobby, Karamo, Tan, and Antoni are once again making over people's lives and souls. This time, the Fab Five leave Georgia, the location for the first two seasons, behind, and start over in the Greater Kansas City Area.
For those of you who might have forgotten, here's a brief refresher. Queer Eye is a reboot of the 2000s' über-popular Bravo TV show Queer Eye for the Straight Guy. While the wider concept of the makeover show has stayed somewhat the same, the new iteration is more diverse in terms of its leads, as well as its participants. In the first episode of season 1 the new Fab Five explained it best themselves: "The original show was fighting for tolerance. Our fight is for acceptance." In every episode each of the five leads lend their area of expertise to the person they make over:
Karamo Brown: Culture and Life Coaching
Tan France: Fashion
Bobby Berk: Design
Jonathan Van Ness: Grooming
Antoni Porowski: Food and Wine
In Defense of Antoni Porowski
Being a culinary outlet, we want to focus our attention on Antoni, the food and nutrition expert on the show. The Montreal native's cooking talents have been called into question after the first two seasons of the show. The New Yorker's Helen Rosner and Vulture's Bowen Yang in particular scorched some of Antoni's culinary conduct on the show. The latter proclaiming that Antoni makes "food a child would make when they're old enough not to need a sitter." All the criticism has led many viewers to the conclusion, that the only thing resembling food is, that Antoni must be eye candy. I'll see myself out…
We're going to defend Porowski here a little bit. Should he have made guacamole with Greek yogurt? …No. His defense of substituting it for sour cream in the avocado dip, did not make it better. People… please do not put sour cream in guacamole! Were his recipes for dressed-up hot dogs, grapefruit-avocado salad, or grilled cheese on the cutting edge of the culinary arts? No, no, and no. But is that really what Queer Eye is about? Antoni is on the show so that people think a little bit more about how and what they eat.
Furthermore, Antoni can actually/probably cook. He has mentioned over and over, that he is self-taught and has never proclaimed to be a chef. He has worked in restaurants in a number of capacities and has functioned as a personal assistant and chef for Ted Allen, the original food and wine guy on Queer Eye. If you are still skeptical, search for him on YouTube and you'll be overwhelmed with content of him wearing an apron. With season 3 now available for streaming, we thought that we'd do an episode-to-episode breakdown and relay his best recipes for your enjoyment. Where it is unclear how exactly his dishes came together, we fill the blanks with our imagination and expertise as best we can.
Queer Eye Season 3 – Culinary Episode Breakdown
This season, a re-occurring phenomenon is that the participants (called heroes on the show) cook just as well as, if not better than, Antoni. This leads to him sometimes just taking people out for food at trendy Kansas City restaurants.
Episode 1: Cracking lobster and a Shaved Zucchini Salad
The first hero is actually a heroine. Jody is a correctional officer and lives with her husband Chris on an idyllic farm 100km north of Kansas City, Missouri. The adorable couple hunt and fish together and mostly sustain themselves off their farm. Here, Antoni is first confronted with the fact that people eat squirrel, but quickly recovers when he sees the marvelous vegetable patch. Later in the episode Antoni teaches Judy how to properly crack a lobster to middling success. But it is in the bountiful vegetable garden where we get his first recipe idea. Raw, shaved zucchini salad with "soft herbs". Soft herbs are herbs with a soft stem, such as: parsley, coriander, basil, sage, tarragon, dill or chives.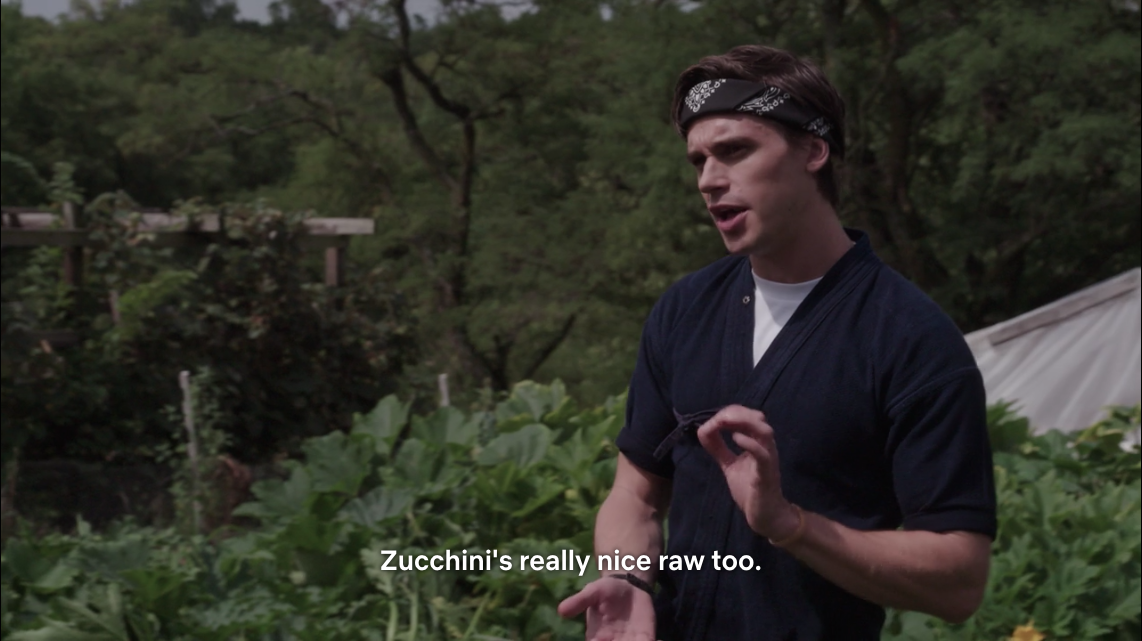 Ingredients:
1 Zucchini, washed
1 Lemon
Olive oil
Salt
Soft herbs of choice
Method:
The aim is to get really thin slices of zucchini. Use a mandolin, a spiral or a run-of-the-mill vegetable peeler and shave the zucchini. For our British/French readers: courgette.
Mix with some olive oil, the juice of half a lemon and a pinch salt.
Sprinkle with the soft herb of your choice. We recommend a combination of chive and parsley or chive and basil.
Enjoy as a side to your summer barbecue or healthy weekday work lunch.
Episode 2: Porchetta and a PSA Concerning Tomatoes
In episode 2 we meet Joey, a program director for a Kansas summer camp with self-diagnosed "Peter Pan Syndrome". He lives at the campsite year-round and therefore Antoni is teaching him a beautiful camp-style recipe: Porchetta. The episode also features an epilogue, in which Antoni addresses the world Sarah McLachlan-stye. He pleads with all of us, to keep our tomatoes out of the fridge. Now, if you use your tomatoes within a day or two of your purchase, by all means, keep them on your counter in a shady spot. Any longer than that, or if you buy a really ripe tomato, just keep it in the fridge. But let's get back to the porchetta.
Porchetta is an Italian pork roast. Anatomically it is a pork loin with the pork belly around/attached to it. Rolled and tied together with aromatics, it can be made in the oven or on a spit. Antoni chooses a dry rub of coffee, aleppo, ancho, brown sugar and chili powders. He envisions that the camp staff eats this dish in sandwich form and also teaches Joey a little slaw to top it off.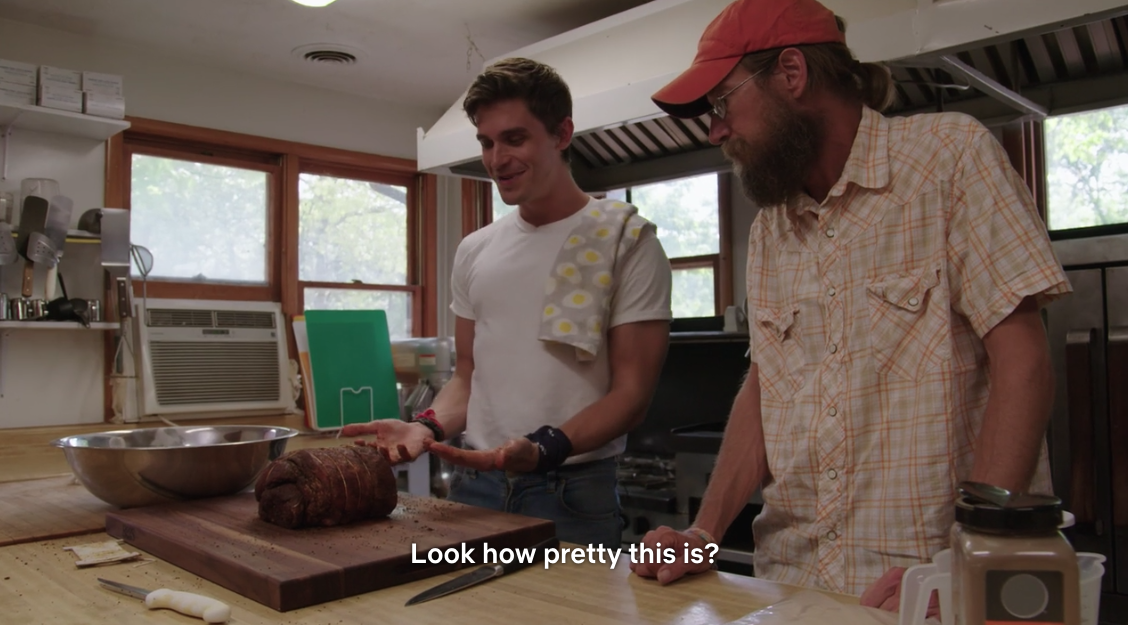 Antoni brings a spit to the camp, so that they can roast the pork. If you don't have that opportunity, there is no shame in making this dish in your oven. We have no proprietary recipes for porchetta and therefore recommend two existing ones. Antoni's Canadian compatriot Chef Matty Matheson finishes his porchetta with hot oil for a blistered skin effect. YouTube favourite and Jamie Oliver contributor Gennaro Contaldo shows a more traditional preparation. We can teach you the slaw recipe though.
Ingredients:
A quarter of a red cabbage, sliced as thinly as possible
2 tablespoons of Mayo
1 small can of chipotle peppers in adobo
bunch of coriander
2 tablespoons of red wine vinegar
Method:
Chop the coriander including the stems finely.
Mix the cabbage with the coriander,vinegar, mayo and the juice of the chipotle peppers.
Season to taste and voilà, Antoni's coleslaw.
Episode 3: They won't give you the recipe, Antoni!
This is one of the episodes, in which Antoni is totally outmatched by the heroes. Sisters Deborah "Little" and Mary "Shorty" Jones are female African-American barbecue pit-masters, a rarity these days in the American South. In their little shack they sling hundreds of kilos of smoked meats and sausages every day. But the secret why the customers keep coming back is in their barbecue sauce. Our guy Antoni really wants to know what's inside of it, but the sisters shoot him down what feels like a dozen times – sorry Antoni. He is only mildly annoyed and helps Little and Shorty secure a deal with a bottling plant, so that the world can soon try their famous sauce.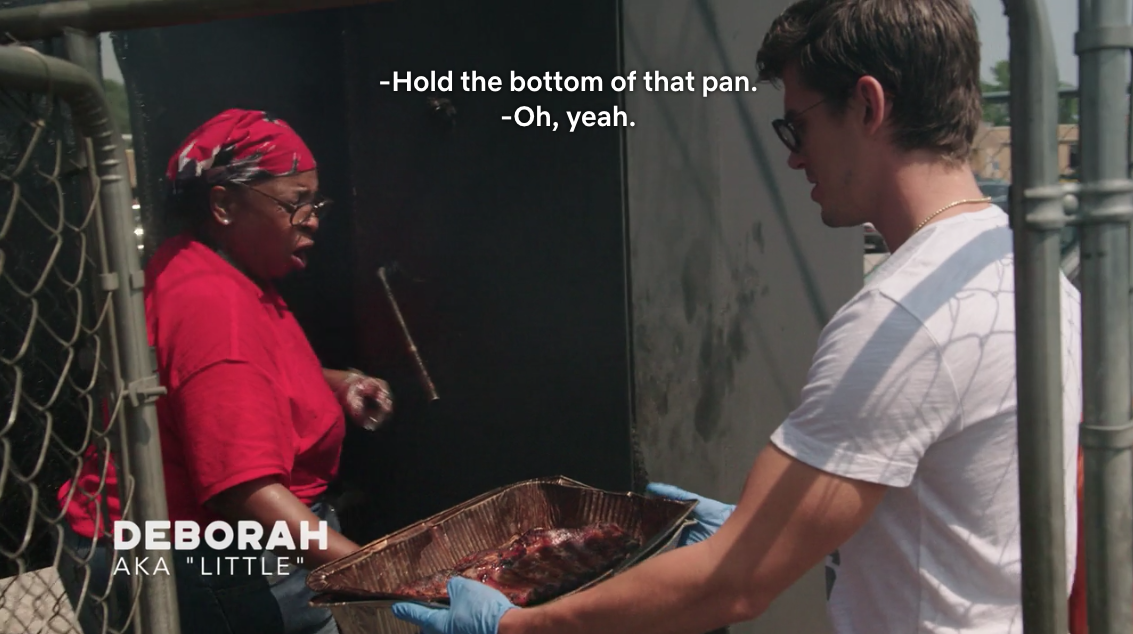 If you are in the Kansas City area and want to try some of the best barbecue the South has to offer, visit Jones Bar-B-Q here. If you just need some of that sauce, you can order it on the establishment's website. Since Friday the sisters have already sold over 11,000 bottles, averaging 1.7 bottles a minute over the weekend. They ask future customers for a 7-10 day grace period for your order to get filled. Unfortunately, the sauce does not ship internationally yet, but the dynamic duo vows to change that in the near future.
Episode 4: No to Cheesy Mash; Yes to Larb
Robert, the hero in this episode is also a great cook. But, to Antoni's dismay, he uses too much butter and cream to make his food taste good. At DINE we will not stand for the slander of these ingredients. However, we agree that they should be used in moderation. Antoni even agrees during the initial house inspection, that Robert's cheesy mashed potatoes taste great, and as mentioned in a previous article, give us mash any day of the week. To shake things up our food guru teaches Robert to make Larb. Larb is a meat salad popular in Laos and parts of Thailand and often eaten as an appetizer within a lettuce wrap. Robert who spent years as a soldier in Korea picks up the dish quite easily and we hope you do the same.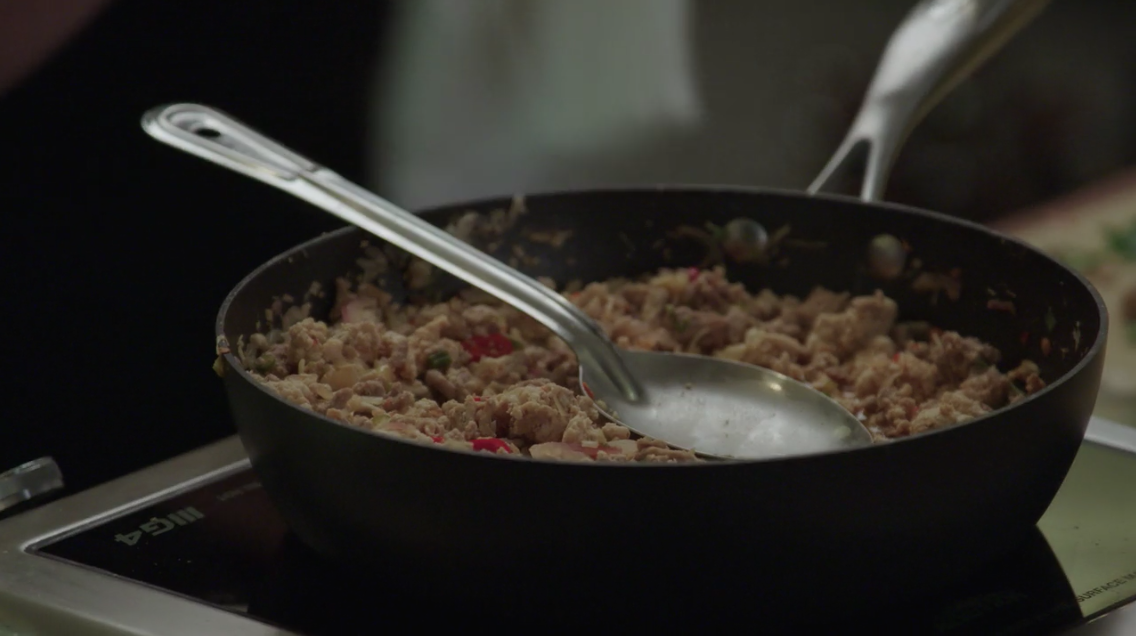 Ingredients:
2/3 cup of fresh lime juice
1/3 cup of fish sauce
1 tablespoon sugar
2 teaspoons Thai roasted chili paste or Sambal Oelek
1/2 cup of chicken stock
500 grams of ground chicken
1 cup of spring onions, thinly sliced
3/4 cup onions, thinly sliced
3 tablespoons of fresh lemongrass, minced
1 tablespoon of Thai chilies, minced
1/2 cup of fresh cilantro leaves, chopped
1/3 cup fresh mint leaves, chopped
1 – 2 heads of big-leafed lettuce (iceberg, boston, butter…)
Method:
In a mixing bowl, combine the lime juice, fish sauce, sugar, and Thai chili. Whisk together and set aside for later.
Pour the chicken stock into a large wok or skillet over medium heat, until the broth starts to simmer.
Put in your ground chicken, break it up with a spoon, and let simmer until cooked through.
Add both types of onion, lemongrass and chili to your mix and stir until vegetables are tender. Once all the liquid has evaporated take off the heat.
Stir in half of the dressing from step 1. Taste, and decide if you need more. Keep adding a tablespoon at a time. Garnish with the mint and cilantro.
Episode 5: No More Ramen. More Ramen…
The crew meets Jess in episode 5. Due to her sexuality, Jess had to leave her adoptive parents' home and fend for herself. There wasn't much time for a culinary education during that time. She eats mostly package ramen – a cheap and flavourful snack. Not that Antoni would know. He claims to never have tasted package ramen in his life – oh please… He instead teaches her to make her own version of ramen. We do not claim at this point, that following the Queer Eye recipe has anything to do with the craftsmanship of creating an authentic ramen broth, which often takes many hours, if not days.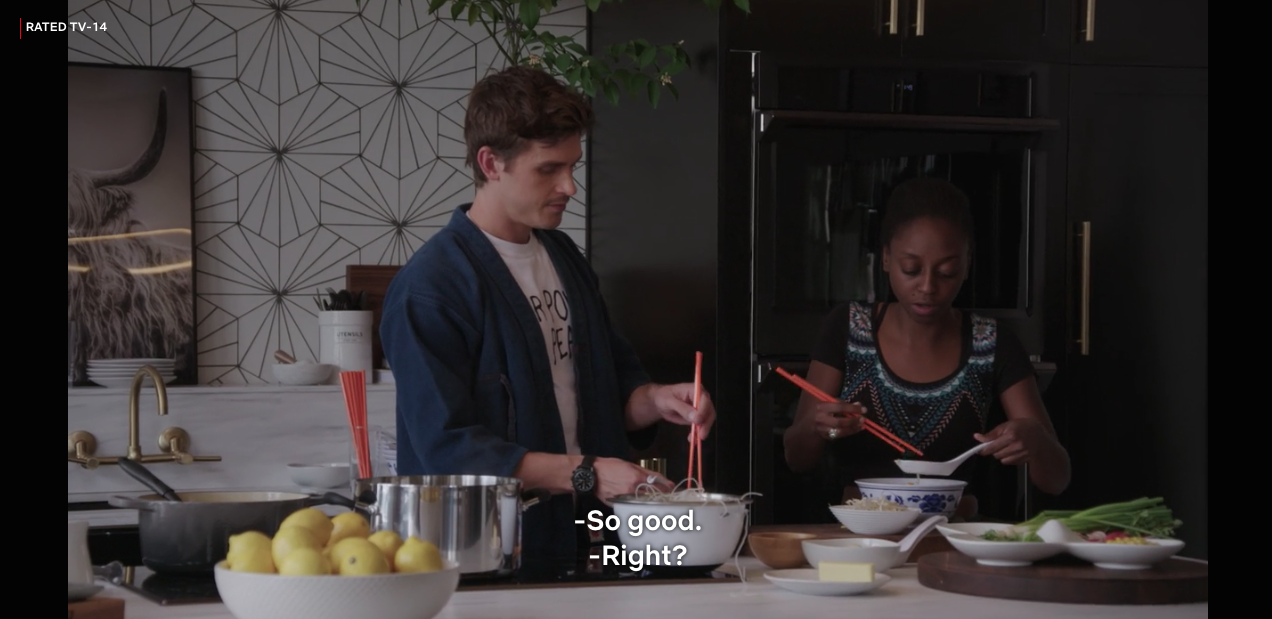 Ingredients:
1 pound of ground pork
1 litre of chicken broth
2 tablespoons of sesame oil
1 carrot, halved and thinly sliced lengthwise
a handful of mungo beans
2 tablespoons of chili garlic paste (Sambal Oelek)
3 tablespoons of miso paste
a finger's worth of ginger
a bunch of spring onion, thinly sliced
packet of rice or ramen noodles of your choice
Method:
In a heavy bottomed pot, pour in your sesame oil. Once the oil is hot, add the pork and brown till cooked through. Transfer the meat into a separate bowl.
If there is still some moisture from the pork left, add the spring onions, carrot, and ginger. If not, add some vegetable oil. Stir until slightly softened. Then, add your miso paste and the chicken broth. Stir until miso is incorporated and let simmer for a few minutes.
In a separate pot, cook your noodles according to package instructions (probably not more than 2 minutes).
Take your broth of the heat and strain your noodles.
Put some noodles in a bowl and pour two ladles of broth over the top. Garnish with some mungo beans.
Episode 6: Fish Sticks and the Lost Casserole
Let's move this along. Rob is a single father ever since his wife died a year prior to the arrival of the Fab Five. Confronted with all the household duties, a lot of meals just get made in the microwave. On top of that, his two boys are alleged fussy eaters. Antoni to the rescue! He brings Rob to EJ's, not to have their delicious brisket, but rather to let the chef teach him how to make a squash casserole. We do not have enough footage to make out what exactly goes into it, and refrain from guessing too much. In order to not traumatize the kids right away, Antoni wants to teach Rob how to make healthy fish sticks. Swap breadcrumbs for crushed macadamia nuts.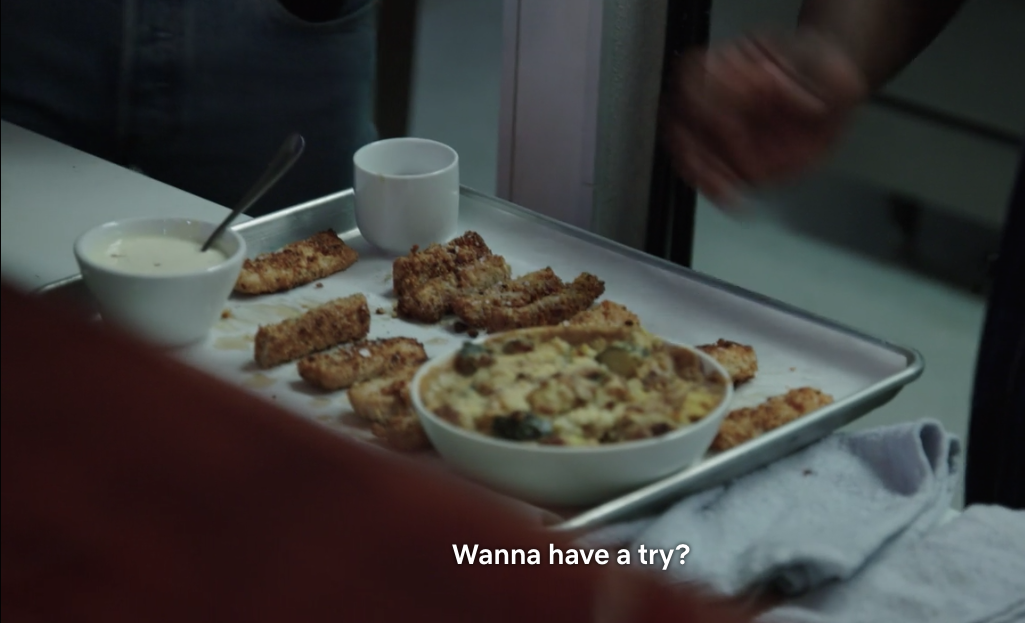 Ingredients:
A few fillets of a flaky white fish of your choice (Antoni uses Mahi-mahi, haddock is a good alternative)
3 eggs
1 cup of macademia nuts
salt
pepper
Method:
Cut your fish into finger food-sized pieces
Make an egg wash
In a food processor, blitz the nuts with a sprinkle of salt and pepper into a coarse powder
Heat a skillet with enough vegetable oil to coat the bottom
Bathe the fish in egg and then drench it in the macademia mixture.
Fry your fish nuggets in the skillet until golden brown.
Episode 7: Conquering Your Fear of Brussels Sprouts
Thomas is our penultimate hero this season. The 21-year old, predominantly, lets his older sister Krissy run the household. That includes the cooking. Thomas mainly knows how to make tater tots and veggie burgers. That's a start at least. If he really dislikes only one food, it is Brussels sprouts, and that is where chef Antoni comes in. He wants to teach his Padawan, that Brussels sprouts don't have to smell like flatulence. Core the centre and pan-fry them in a cast iron skillet with some sliced shallots until they are brown… delicious. For protein, pan-fry a steak in butter and rosemary. Antoni, next time, please let the steak rest for a few minutes. Since we basically explained the recipe in its totality, we won't go into more detail.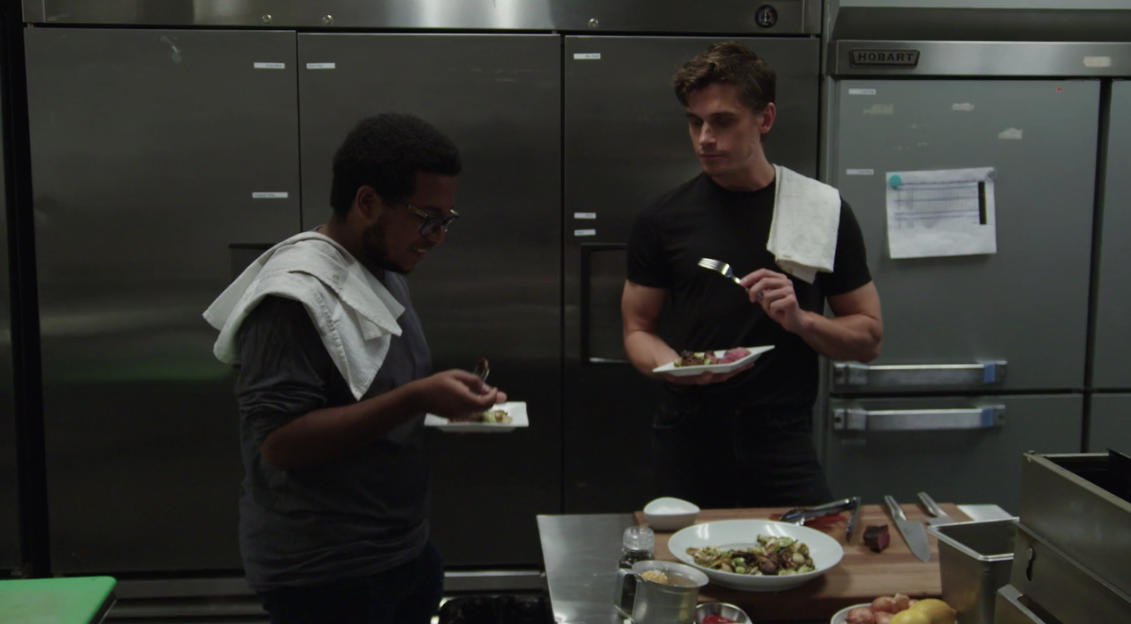 Episode 8: Shortbread for a Baby Shower
We are rounding this out with father-to-be Tony. Correction: He is already taking care of his partner's daughter Kai, but the one we are talking about is his biological first. With only days before the baby arrives, Antoni wants Tony to contribute some baked goods for the baby shower and teaches him a basic recipe for shortbread:
Easy rule for shortbread: one part sugar, two parts butter, 3 parts flour. Combine everything in a mixer and once it resembles a dough, roll tightly into a cylinder with the help of some plastic wrap. Preheat your oven to 375°F (190°C). Cut your dough sausage into one inch rounds. Then, once the oven reaches temperature, bake on the middle rack for about 15-20 minutes. The colour you are looking for is a pale golden-brown.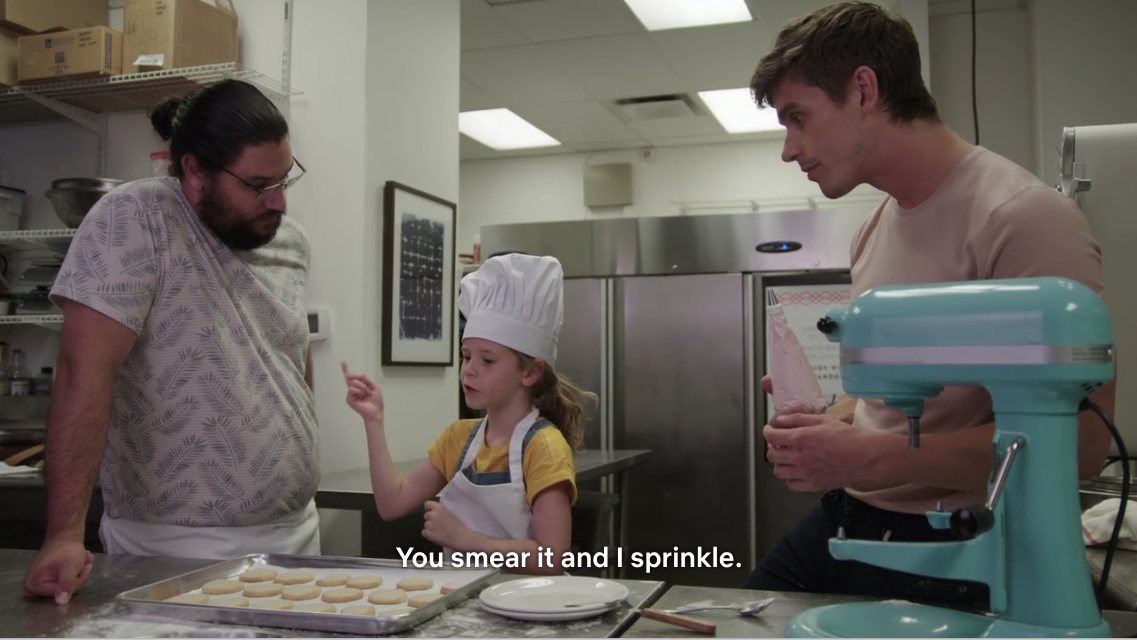 This concludes our Queer Eye culinary breakdown of season 3. Tell us on Facebook and Twitter how your Antoni-inspired recipes turned out. We are looking forward to hearing from you.
Read more:
Thailand's Tapestry of Flavour