Reading Time:

4

minutes
Grocery shopping. Inevitable. Inescapable. Unavoidable.
Each week results in a regimental trek to the supermarket. But there's nothing super about it. And it's a great wonder where the word 'market' comes into play. There is nothing reminiscent of a warm, lively marketplace in the cold, silver grey structures we shuffle through under the glare of obnoxious florescent lights. Picking up produce and a dozen or so eggs is a simple enough task, but lackluster environments and ordinarily mundane products make this particular kind of shopping a chore – and a bore.
There is, however, one place that brings excitement to the idea of grocery shopping. Farm Boy.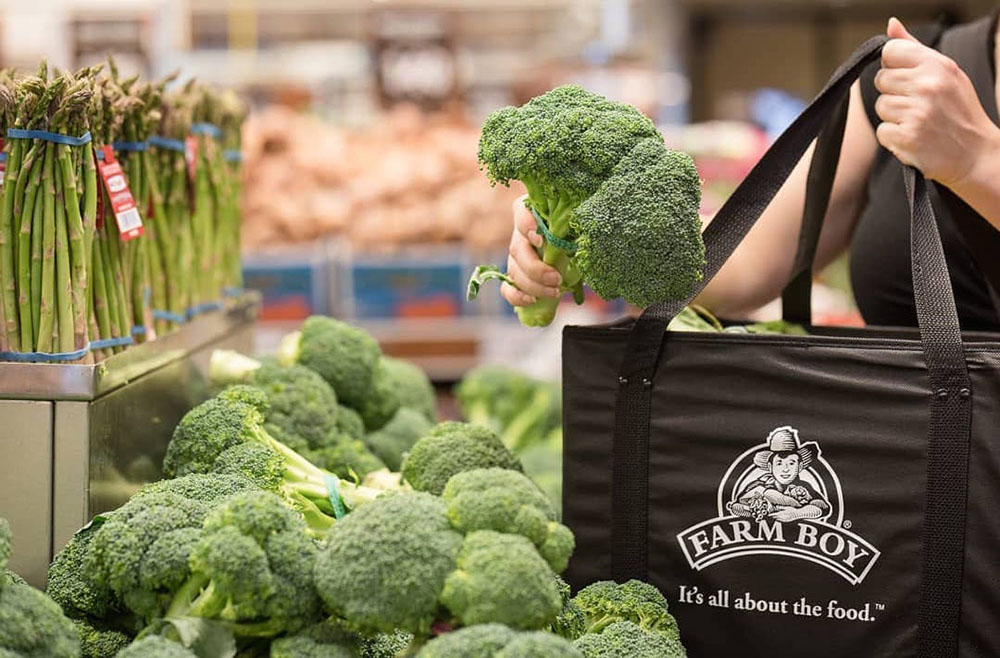 They say 'it's all about the food,' but there is so much more to Farm Boy than just food. Shopping here isn't a chore, it's an experience. The atmosphere alone will make you smile. Cozy warm walls, wooden baskets and shelves, and soft sunny lights that make you feel right at home. The lay of the land is entirely welcoming, and far more suited to the spirit of a marketplace. Scattered vendors and samples, islands of treats, and buckets of bright flowers. Still organized, but not rigid like other stores. And the food… definitely singular from what is sold in other stores.
Fresh, unique, lip-smacking flavours and foods surround you! Everything in Farm Boy is a treat to behold. The store is filled with fresh, wholesome, locally grown and locally sourced foods. Quality meats and cheeses. Fresh as can be fruits and veggies. Deli counters, seafood stations, unbeatable hot bars, and baked goods that will blow your mind (seriously, splurge on the bread and buy as many brownies and cupcakes as you can carry, your stomach will not regret it).
A fresh salad bar is full of leafy greens with a tasty twist! Beans, nuts, berries and a plethora of other ingredients have been tossed into numerous dishes ready to grab and enjoy. Kale pecan crunch salad… grilled artichoke salad… sesame ginger tofu salad… and on and on the flavours go! The salad bar is of course, very vegan and vegetarian friendly, but you might be surprised to find that half of the store follows suit. Freezers are filled with exceptionally good 'faux' meats and fish; vegan and gluten free pizzas, waffles, desserts, milks, yogurts, ice creams, dips, chips, sauces, soups and more!
Head over to the hot bar for succulent, restaurant quality ready to go meals. Roasted meats and ideal side dishes are prepared fresh daily. Beer braised pork and tomatoes, lamb ragu with walnut gremolata, beef stew and chicken provencal are just a few of the foods offered.  But it's not all beef and chicken. There are numerous mouth-watering steamy hot vegan and vegetarian options to choose from! Vegan butter chicken, vegan General Tao tofu, and buffauxlo chicken are among my personal favourites. Of course, the beauty of our Canadian climate and the fresh menus at Farm Boy mean that each season brings something new and exciting to taste. In the summer, Caribbean cuisine took control, and boy was it good! In the Fall, savoury squashes and hardy vegetables seized power. And as Winter weather slips in, we can revel in the finest comfort foods.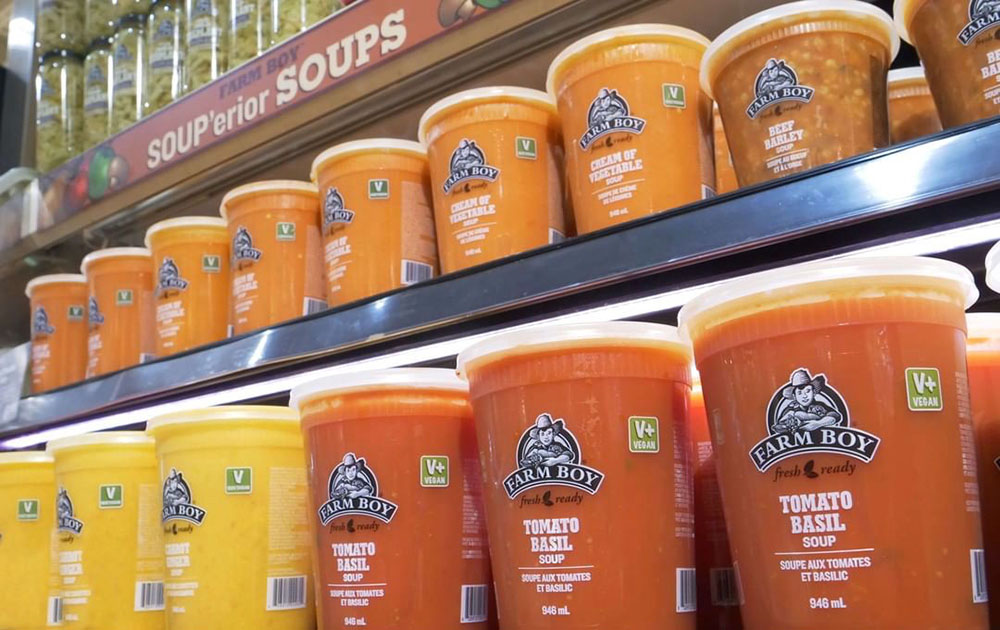 In addition to their salad and hot bar, Farm Boy also has a station for fresh stir fry, soups, artisan pizza, sushi, wine and beer. And pastries. Oh the pastries! Pies, tarts, cakes and muffins that are out of this world good!
The food served here is exceptional. Whether you're buying from the hot and ready sections or the aisles of ingredients to cook yourself, you will leave with bags of fresh, wholesome, quality goods. At Farm Boy, you feel as though you've taken a trip to the countryside. Coming home is like returning from the journey with a basket of grandma's best baking, garden-fresh veggies and roasted family recipes.
They have options that are light and airy and rich and decadent. Flavourful quality meals and side dishes. Homemade soups, salads and dips that will make your taste buds sing. And desserts that will steal your heart.
Farm Boy has something for everyone. And soon they're be more accessible to all, with two new locations coming soon to Oakville and Toronto. See the link below to find a store near you.
https://www.farmboy.ca/about-us/stores/
Keep reading, follow the links below
Shopping and Dining in Oakville
Canadian Cuisine: Alberta