Do you make the conscious effort to shop for locally-grown produce? If not, it's the season to start! Consulting your province's produce availability guide is a great way to learn more about what is growing in your area and when. Planning your grocery shopping and meals around this calendar is a great way to take advantage of local, fresh nutrition and possibly even save some cash along the way.
Why Buy Local
Local food is fresh and brought to markets and grocery shops faster than imported goods, plus it supports the local economy. Buying local food helps to provide an income for the farmers in your community. This gesture helps to keep them in business and support the continuity of future harvests in the coming seasons.
Shopping local is also more environmentally friendly as it helps to reduce the industry's massive carbon footprint, which as you probably already know, needs all the help it can get.
In 2015, the David Suzuki Foundation found that the average meal travels about 1200 km from where it is grown to where it is eaten – yikes! Buying local reduces the need for transportation, as well as, the excessive packaging and processing required to keep food fresh and safe from spoilage during its travels.
What's In Season
Here is a round up of the top three vegetables that are in season in Ontario and surrounding provinces this month:
 1. Radishes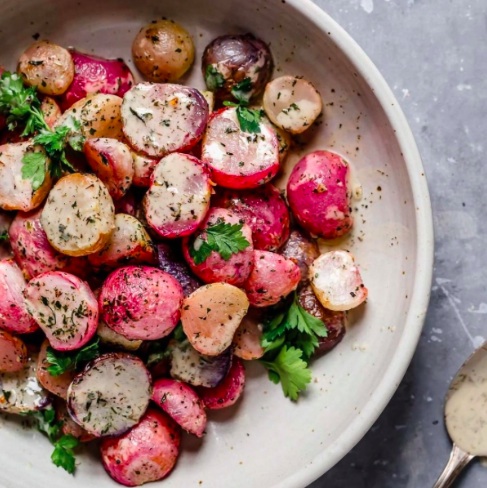 When you think of vitamin C, fruits like oranges and mango may come to mind, but did you know that radishes are one of the most vitamin-C dense vegetables? Radishes are a rather ancient root vegetable that is closely related to mustard, cabbage and other members of the Brassica family.
This ping-pong sized vegetable is well-known for its crunchy texture and peppery bite when enjoyed raw, such as when added to salads. Because of this, some might say that to like radish requires an acquired taste. A great way to make radish more palatable and friendly to any skeptics is to roast it as you would any other root vegetable as this helps to bring out the flavour of its natural sugars.
2. Asparagus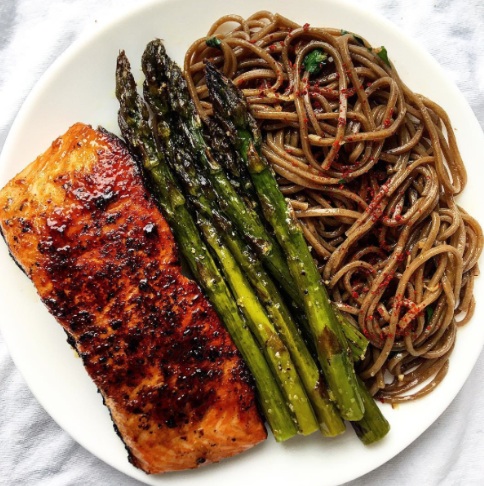 These stalky greens are a great source of folate. If you're expecting, this is good news as this B vitamin helps to build new blood cells and reduce the risk of congenital disorders.
Asparagus is also rich in antioxidants as it is a good source of vitamins A and C. This seasonal vegetable tastes excellent roasted and is super simple to prepare.
Just lay your trimmed spears out on a parchment paper-lined baking sheet, lightly drizzle them with olive oil and lemon, then cover and bake them for about 20 minutes at 400 degrees Celsius. For a little indulgence, grate some fresh Parmesan cheese on top once they have cooked. With the warmer temperatures finally settling in, another great idea is to grill your asparagus on the barbecue.
3. Spinach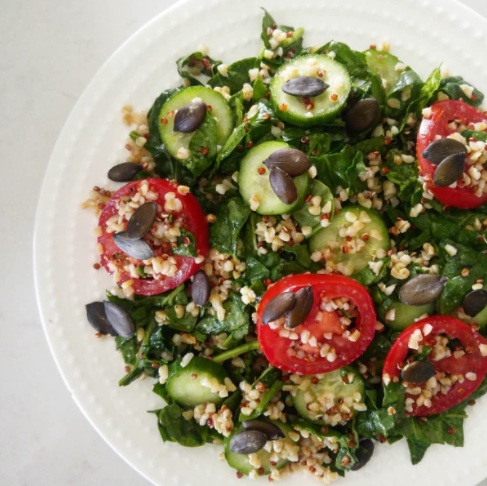 Spinach is no stranger to salads, smoothies and omelets. This leafy green is packed with a variety of vitamins, minerals and antioxidants including iron, calcium, and magnesium, as well as vitamins A, B, C and K.
Spinach blends very well and is also known for cooking down significantly due to its high water content. For these reasons, it is versatile and easily disguised in recipes such as lasagnas, pesto and even in baked goods.
Spinach also freezes well and is a great last-minute nutrition booster to soups and stews. With the help of some creative meal planning, buying this particular vegetable in bulk while it is in season is a wise idea, as it is sure not to go to waste.
Here is a recipe for a Gluten-Free Spinach and Feta Quiche to get you started.
Eating what is grown seasonally is undoubtedly an environmentally and economically savvy way of keeping fueled. To benefit year-round from shopping local, buy seasonal produce in bulk and preserve it in ways that you know you would enjoy in future meals, such as frozen, pickled or as a condiment/ preserve.
Read more: