Reading Time:

3

minutes
In its basic form, risotto is a hearty, warming rice dish. It's typically filled with rich flavors of the stock used in its making, as well as parmesan and butter or olive oil. I do love a good risotto. However, this classic Italian rice takes time to prepare. In order to get the right consistency and creaminess, you need to slowly incorporate broth. I'm not the most patient person in the world, so I've tried the next best thing to make risotto–in a crock pot!
There are two things needed to make a successful risotto: the right type of rice, and time. You must use Arborio or any other short grain, starchy rice. Arborio is an Italian short-grain rice known for its high starch content. Could you use another type of rice? Nope. Medium and long grain rice lacks the starch needed to make risotto creamy. I have, however, used sushi rice with some success.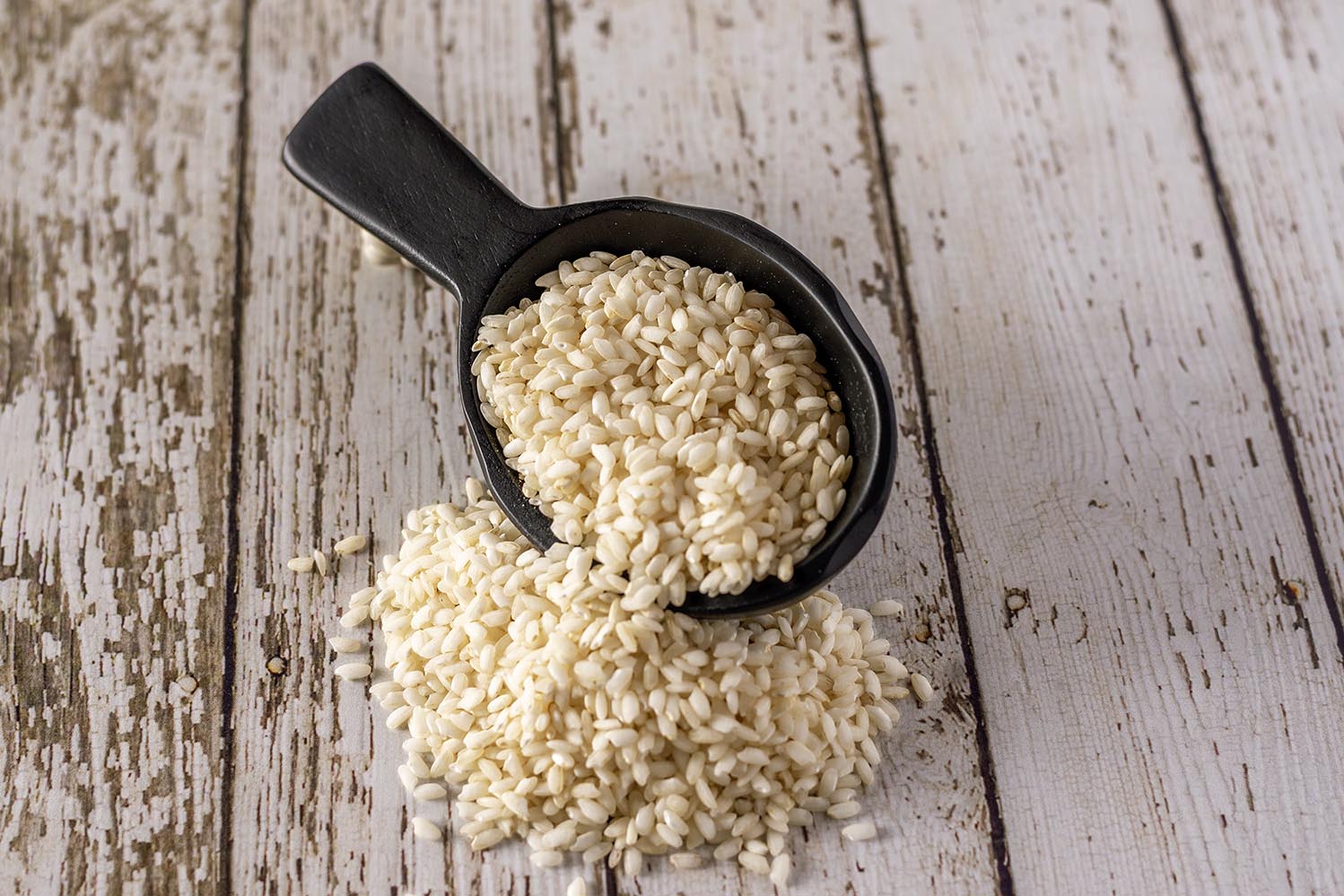 In addition to using a short grain, starchy rice, the liquid must be incorporated slowly into the rice. Slowly adding the liquid will release the starch in the rice while the rice cooks through. The result is a creamy smoothness without the heavy use of cream or butter. Risotto is time-consuming. There's no quick way to achieve that creaminess.
For me, the worst part of making risotto is having to constantly stir the rice while slowly adding in the broth. I just don't enjoy giving that much attention to one dish, no matter how much I like it. I thought, why not stick it in a slow cooker? The whole purpose of a crock pot is to cook things slowly. So, in my mind risotto should work great. Well, I did, and I loved the results! Now, this doesn't get you risotto faster, but it's 100 times easier.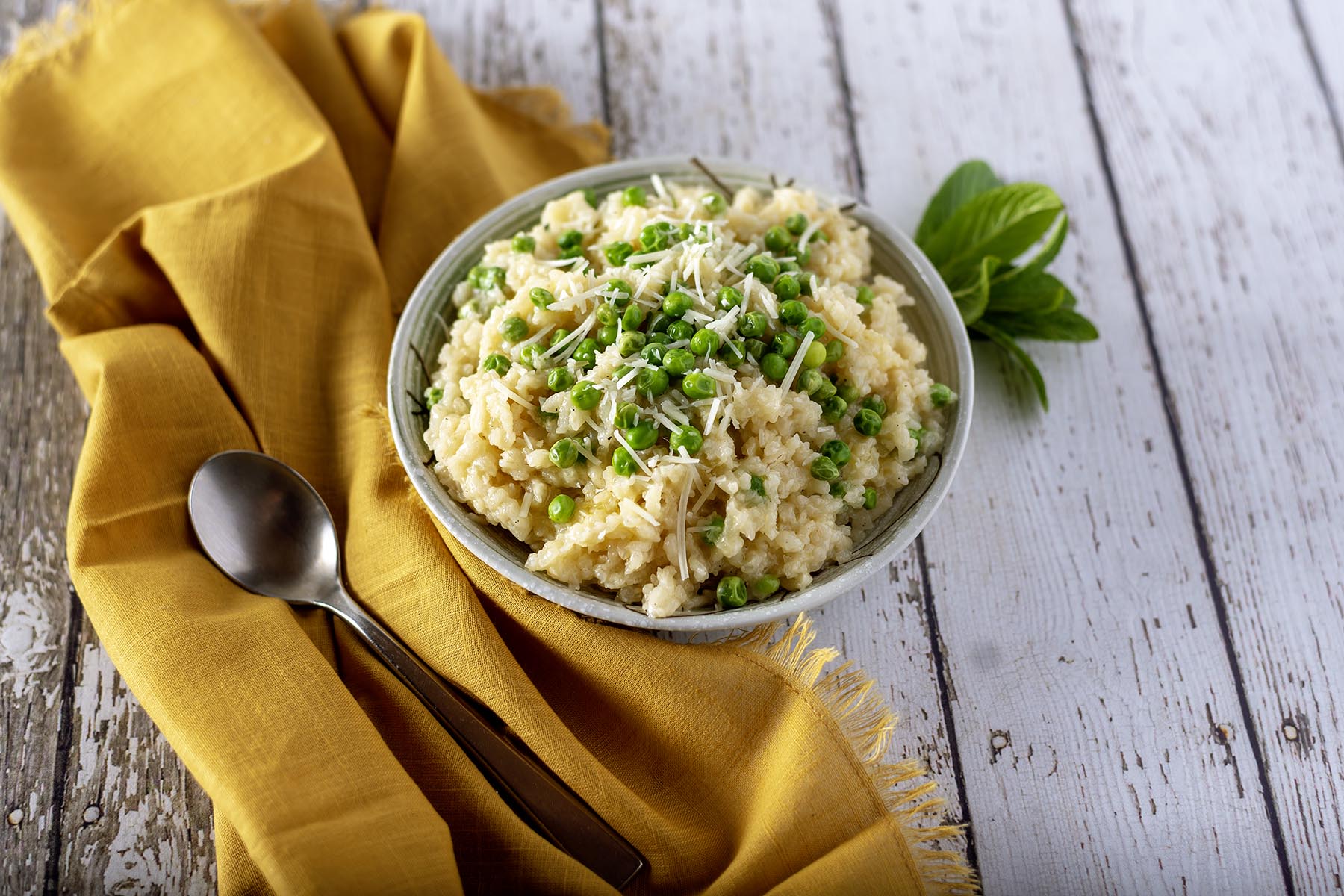 Ingredients
3-3/4 cups broth(chicken or vegetable)
1-1/4 cups Arborio rice
1/4 cup olive oil
1/4 cup white wine
4 cloves garlic, minced
2 tablespoons finely diced shallots
1 teaspoon salt
1/4 teaspoon ground black pepper
2/3 cup shredded Parmesan cheese
1 cup frozen peas
Crock pot or slow cooker
Directions
Mix broth, rice, olive oil, wine, garlic, minced shallots, salt, and black pepper in a slow cooker.
Cover with lid. Cook on high heat setting for 2 to 2 1/2 hours. Periodically, check on the cooking progress. If it seems to be absorbing the broth quickly, add ¼ cup of more broth or water.
The risotto is done when the rice is tender and all the liquid is absorbed. The rise will have a consistency of porridge.
Stir in Parmesan cheese and frozen peas.
Cook uncovered until parmesan cheese is melted and peas are cooked through (about 15 minutes).
Serve warm with extra parmesan cheese on top.
You can make this dish as is or add in an array of other flavourful ingredients. Try adding in scallops, lobster, truffles, veal, mushrooms, squid ink, snails, asparagus, duck, sausage and pumpkin in the last 10-15 minutes of cooking. With risotto's relatively mild taste, it's a great base for a multitude of flavours and textures.
Read more: