Not a lot of countries can boast having a national signature cocktail. Ireland, Scotland and even Japan have whisky. Korea has Baiju, Greece has Ouzo; these are all liquors and spirits, but most other places just have good beer. True, Italy gave us its Aperol Spritz, but Canada is famous for inventing the Caesar. But did it, really? We wanted to hear from Dan Aykroyd, Caesar aficionado and ambassador for Mott's Clamato. But first: Where did the Caesar come from?
The history of the Caesar is a bit convoluted. Mixing vodka, clam juice, tomato juice and Tabasco in a glass with a spiced rim could have been invented by anybody. Paul Pawlowski, the owner of the Polonaise nightclub in New York City, claimed to have mixed it first in the early 1950s. Back then, he called it the "Smirnoff Smiler." Later it was called the "Gravel Bertie" (by Addams Family creator Charles Addams), or most famously "Clam Digger." All of these fine mixologists were looking for a more exciting alternative to the Bloody Mary.
A Drink for Any Occasion
The Caesar in its current form and name, however, originated at the Calgary Inn Hotel in 1969. Restaurant manager Walter Chell wanted to create a signature cocktail for the Italian restaurant; he just opened in the hotel. Chell later explained, that his inspiration came from Italian seafood dishes, which often pair tomato and clams. The Caesar became an instant hit. It spread throughout Alberta, then Western Canada, and later to the East Coast.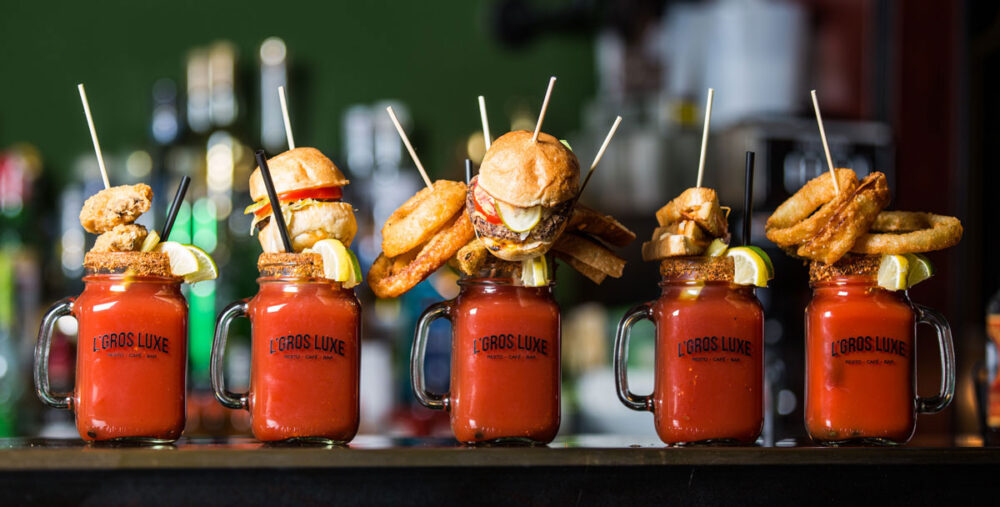 Today, it is widely consumed at boozy brunches, after-work drinks, or whenever one is in the mood for a delicious drink. The drink is often served with extravagant garnishes, spanning from humble pickles to bacon, lobster tails and oysters. Today, nobody is saving the juices from shucked clams anymore. Mott's was the first company in the 1970s to create a clam-tomato juice mix and called it Clamato. Often used for red micheladas in Mexico and the US, Clamato has become the mix of choice for Caesars as well.
National Caesar Day – An Interview with Dan Aykroyd
In 2009, 40 years after the drink was first served at the Calgary Inn Hotel, the then-mayor of Calgary designated May 12 as Caesar Day in the city. The country followed suit and celebrates National Caesar Day in the third week of May every year. In 2019, the 50th anniversary of the Caesar, we celebrate it on May 16.
In honour of the day, we interviewed the legend of stage and screen, Dan Aykroyd. The SNL alumn and Oscar-nominated actor is a National Caesar Day ambassador and has been travelling the country meeting and toasting to Canada's unsung heroes. Aykroyd has his own Caesar story which was recently published in a commemorative book called The Caesar. 50 Years. 50 Stories.
Mr. Aykroyd, thank you for talking to us… Let's dive right in.
What is the classic Caesar in your opinion? And how does the Dan Aykroyd recipe vary from that?
For me, there are two ingredients I need in my Caesar and then I build from there: Mott's Clamato and Crystal Head Vodka*. Mott's Clamato is an obvious choice because in my opinion, there are no other real options for a clamato mix. Crystal Head is the best fit because it's so clean with no additives and it's Canadian-made – which I think is rather important for Canada's Cocktail!  The rest of the ingredients I like to play with depending on my mood.  Sometimes I feel like drinking a spicy Caesar, so I add more hot sauce and other times I look for a real savoury push so I add a lamb chop with some mint jelly – which is typically my favourite garnish.
Speaking of garnish… what is acceptable garnish? What is too much?
I think this is all a personal decision.  As mentioned before, my favourite garnish is a lamb chop with some mint jelly. So clearly, I like garnishes that make a statement – but sometimes a basic celery stick is fine too.  There is no such thing as too much if that's what YOU want.
Can you remember your first Caesar?
I had one with my Dad!  He's always been a fan of Caesars.  His favourite Caesar now is one made with Pickled Bean Clamato.
I have a question about Caesar Etiquette: Is drinking it through a straw acceptable? Caesar Mix or build it yourself?
The great thing about Caesars is that they're so personal.  There are thousands of variations. I always choose Mott's Clamato over making my own, since that's the taste I associate with an authentic Caesar.  Likely because they've been there since the beginning – which is 50 years now.  They've nailed the recipe, so anything I make, would pale in comparison.
Personally, I wouldn't drink a Caesar from a straw because then I'd miss out on tasting the spicy rim on the glass, which is a part of the whole Caesar experience.  But, if that's not your thing, then grab a straw!  Whatever makes you happy!  There's no wrong way to drink a Caesar – it's a personal choice.
When is it the right time to have a Caesar? Is it a breakfast/brunch thing? Evening, late afternoon? With dinner?
Any time.  Period.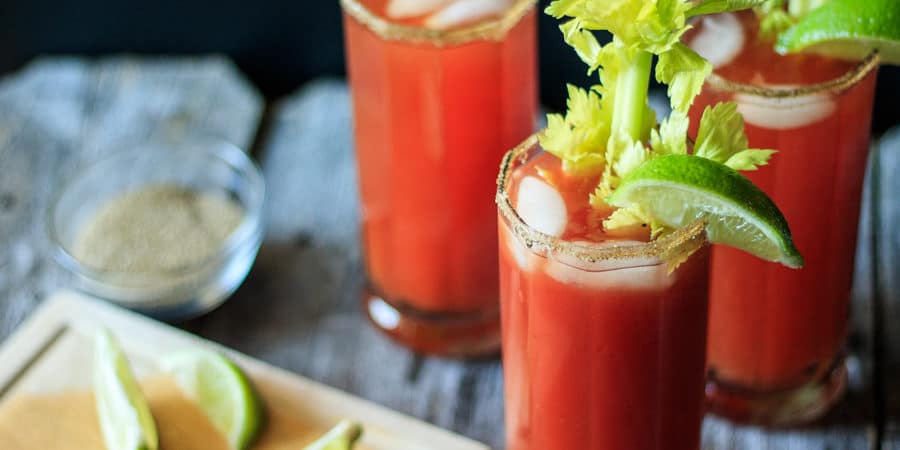 Any places in the Greater Toronto Area you would like to shout out for their Caesar prowess?
Score on Davie has great Caesars.  So does Bar Raval, Real Sports Bar and Grill and Clarkson Pump!
Where do you stand on the Caesar's alleged inferior cousin, the Bloody Mary?
Not as good. Not Canadian. Not interested!
When you moved to New York for SNL, what would you do about your Caesars? Tell the bartender how to make them? Was it the original drink of choice for the original cast? 
It was literally impossible to find Mott's Clamato in the US at that time, so it wasn't common to have them!  Lorne Michaels, Paul Schaffer and I saved them as a treat for when we went back home.
Ok, last question – if you had the choice for your last meal and drink on earth, what would it be and does the Caesar make the cut?
I'd say a rack of lamb with either a nice glass of red wine – or a Caesar.
This interview was slightly edited for clarity.
*Crystal Head Vodka is a brand of vodka manufactured by Globefill Inc. in Newfoundland and Labrador, Canada. It was conceived and founded by Dan Aykroyd and artist John Alexander in 2007.
Read more: