Reading Time:

3

minutes
It's finally April. Two more weeks until 4/20 and we have got you covered with another delicious cannabis recipe to spice up your life: a cannabis herb butter. I love a good herb butter. It was a staple in my family's fridge growing up and I would put it on anything. Noodles, rice, grilled meats, wheat berries… you get it. When I moved to Canada, I was slightly disappointed with the herb butter offerings at the supermarket, so I just decided to start making it myself.
If you have already made our DINE Cannabutter, this is going to be the easiest recipe in this series thus far. No cooking, no baking and, as a plus, it is infinitely customizable. This is what I usually use in my herb butters: garlic, lemon, chives, basil, and thyme. If you eat a lot of fish and like a little herb butter for that, add some dill. Want a delicious compound butter to baste a chicken? Add rosemary. It is yours to discover. My favourite accompaniment for steak for example is this Café de Paris butter. But today, we'll keep it simple.
Cannabis Herb Butter Recipe
This is going to be herb-y, lemon-y goodness. In order for you to use this without having second thoughts about how high you are going to get, we will dose this recipe quite low. Depending on how salty you want this butter, use unsalted or salted butter to combine with our Cannabutter. Let's (not) cook.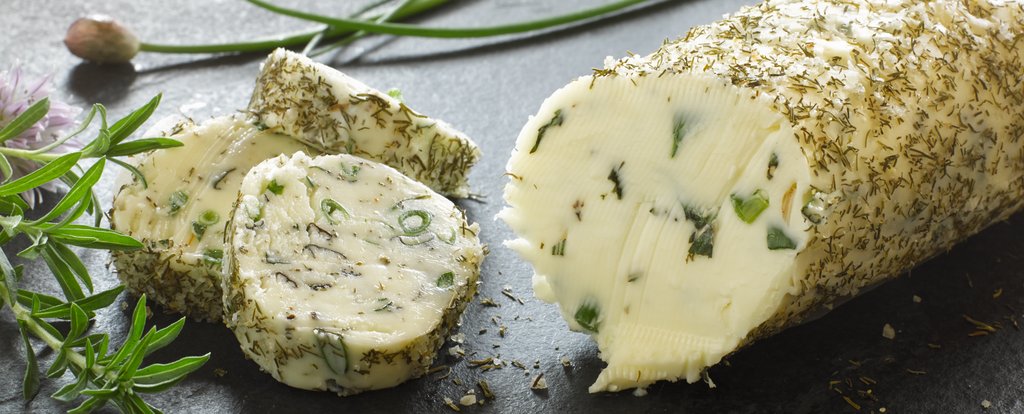 Ingredients
180g of butter (salted/unsalted), softened
60g of DINE Cannabutter, softened
2 cups of chopped herbs (thyme, basil, chives, parsley, and whatever else floats your boat)
2 garlic cloves, pressed
2 tablespoons of lemon juice
1 teaspoon of lemon zest
Method
If you have a hand mixer, beat your softened butters (both) for a few minutes, until it gets really white and creamy. This is not a requirement. You can just let the butter soften to a point where it is easy to mix around with a fork or use a food processor (see step 2).
In order to chop your herbs, you could prove your knife skills. However, if you want everything to go a little faster, put your herbs and garlic cloves in a food processor and pulse a couple of times. If you use the food processor, and didn't use a hand mixer in step one, you can also add the butters, lemon zest and juice to the food processor, once you've pulsed the herbs.
If you went the manual route of chopping with a knife and whipping the butter with a fork, combine all the ingredients now – garlic and lemon included.
Season to taste. If you've used unsalted butter, you should be adding a bit of salt here.
Spread your butter mixture onto some parchment paper or cling film in a log shape. Then tightly wrap your cannabis herb butter and tie off the ends. It should now look like an oversized candy.
Chill in the fridge or even freeze. In the fridge, this delicious compound butter should stay fresh for at least a week.
Note: If you just want delicious herb butter, don't include Cannabutter. Just use 250g of butter.
Dosage
If you followed the recipe to our DINE Cannabutter and didn't make adjustments in this recipe, 2 teaspoons or 10g of the herb butter should give you an enjoyable high. There should be between 5-10mg of THC in that amount (2tsps). Adjust if the butter is used for cooking and not just for 1individual servings. Add 2 teaspoons per person.
Read more: