Reading Time:

5

minutes
Over the last few weeks, we at DINE have tried to give you an introduction into the culinary world of cannabis. With 4/20 around the corner, we wanted to conclude our Culinary Road to 4/20 series with a recipe that will be a hit at your April 20 celebration. It is a recipe to feed your squad and is dosed a little higher than our previous endeavours. It is our cannabis-infused baked Mac and Cheese. From a culinary arts perspective, this will be a little more work than our other recipes, but if you are feeling lazy, I promise to put a cheap and easy version at the bottom of this article.
Baked Mac and Cheese Recipe
This recipe is pretty customizable. From the shape of the pasta to the choice of cheese, you pretty much have free range. I prefer twisted macaroni and a cheese mix of sharp cheddar and gruyère or fontina. This recipe is measured for 6-8 people, but you can easily double or triple the amounts if you expect more company. In honour of 4/20, we will dose this recipe higher than other ones. If you are a novice, use less of the Cannabutter and substitute with regular butter.
Ingredients
350 grams of elbow/twisted macaroni
2 tablespoons of DINE Cannabutter
4 tablespoons of unsalted butter
3 tablespoons of flour
1 tablespoon of powdered mustard
750ml of milk
1 cup of panko breadcrumbs
half a cup of white or yellow onion, finely chopped
1 bay leaf
a pinch of paprika
1 large egg
200g of extra-sharp cheddar, grated
140g of gruyère cheese, grated
Salt
Pepper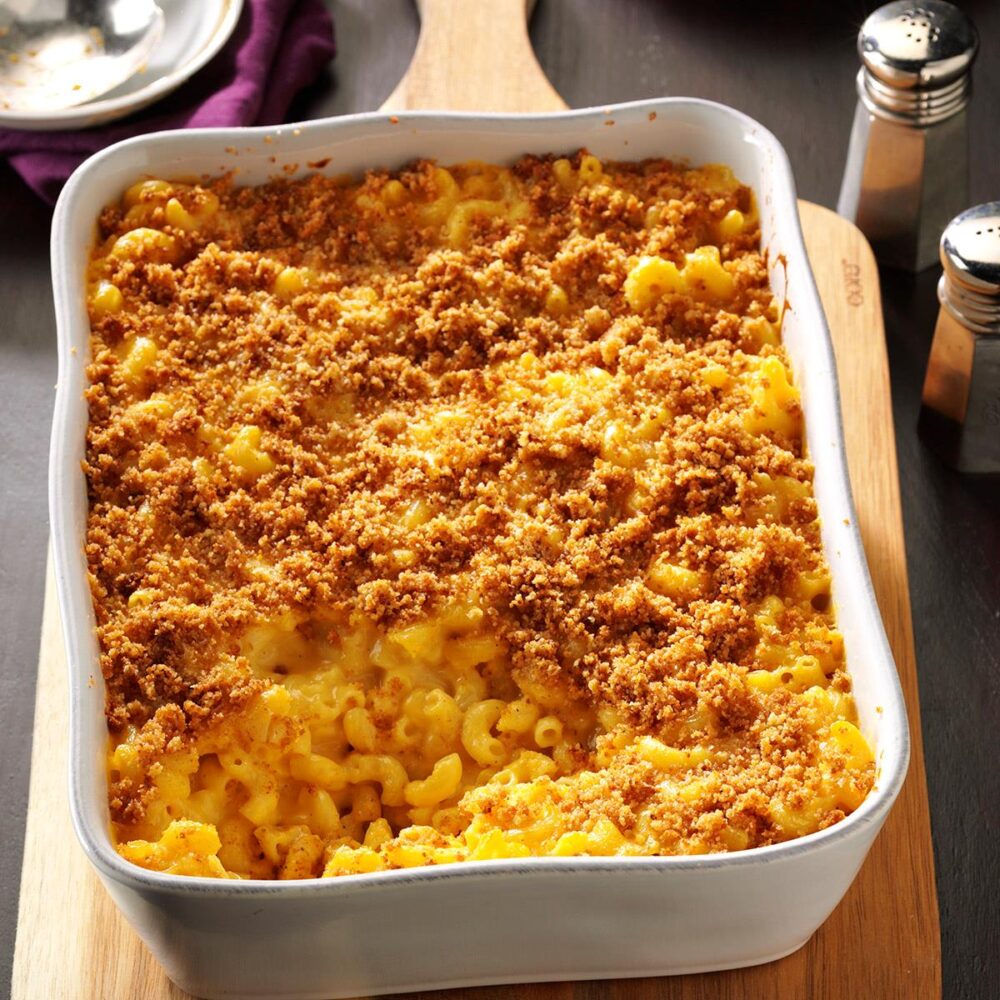 Method
Preheat your oven to 175°C and bring a large pot of water to a boil. In the large pot, cook your pasta al dente.
While the pasta is cooking away, you simultaneously want to make a roux: Melt 1 tablespoon of DINE Cannabutter and 2 tablespoons of regular butter in a separate large pot. I use my enameled cast iron dutch oven. Once the butter is melted, gently whisk in the flour and powdered mustard. Gently move that mixture around, avoiding any lumps.
After about 5 minutes or when you think your roux looks toasted enough, stir in your milk, onions, paprika and bay leaf. Whisk everything together nicely and let simmer for ten minutes.
We are approaching the most challenging stage in the recipe. But before that, remove your bay leaf. We need to temper an egg to get a cohesive mixture that holds together. If you just added your egg to the spiced bechamel you made so far, it would scramble immediately. Tempering means bringing the egg up to a similar temperature to your mix to avoid the scrambling. To achieve that, crack your egg into a separate bowl and whisk thoroughly. Once the white and yolk are indistinguishable from one another, put a tablespoon of your bechamel to the separate bowl and whisk. If the egg doesn't scramble, add one or two more. If it does scramble, try again with a different egg. When your egg-bechamel bowl produces a smooth, cohesive texture, add everything back into the large pot and mix thoroughly.
Combine your two kinds of cheese in the same bowl and add three-quarters of that mix into the bechamel. Once you achieve a creamy, cheesy sauce, fold in your pasta and mix thoroughly.
Transfer everything into a medium-sized casserole dish (2 quarts) or leave it in your dutch oven. Sprinkle the remaining cheese on top.
In a sauté/frying pan melt one tablespoon of Cannabutter and two tablespoons of regular butter. Add in your panko and toss them for a minute. Then top the mac and cheese with your buttery breadcrumbs — Bake in the oven for half an hour.
Remove from oven and let everything rest for 5 minutes. Enjoy!
Lazy Version
Buy Kraft Dinner Original Recipe.
Cook according to box instructions.
At the end, mix in a teaspoon of DINE Cannabutter (20mg THC).
Try the Baked Mac and Cheese the next time.
Dosage and Potency
It is tough to measure how potent your homemade cannabis edibles are going to be. For an exact measurement, you would have to get it tested in a lab. The potency of the strain, as well as the conversion percentages achieved in the process, vary widely. Experts say that THC extraction into fats and oils is highly ineffective, only transferring between 40-60% of the cannabinoids. Manufacturers say that number is even lower, around 30%. As a compromise, we say that we manage to convert 50% of cannabinoids into our cannabutter.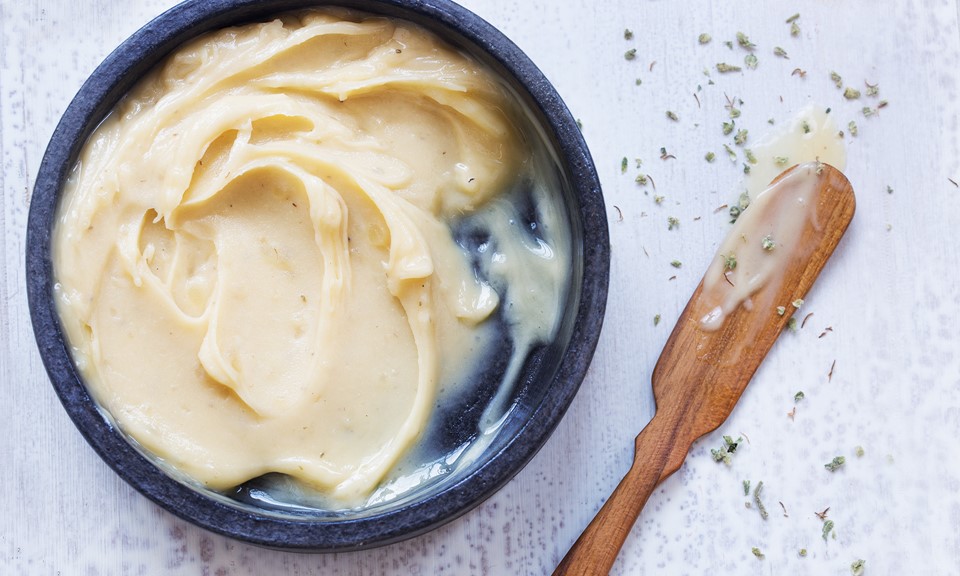 Note: It takes far longer for THC edibles to take effect. Wait for an hour before you consume more. If you want to feel a stronger buzz, take some more after that. The effect of edibles is longer than when you smoke weed. Highs can last anywhere from 1-12 hours. You should not be driving or operating heavy machinery for at least 12-18 hours.
If you feel like you have taken too much, don't panic. Lie down and continuously hydrate. Contrary to popular belief, do not eat fatty foods. Studies have shown that eating prolongs the effect. Other tips on what to do can be found here.
For this recipe, we use two tablespoons (six teaspoons) of the DINE Cannabutter. We usually recommend a THC intake of 5-10mg per person. This recipe in total contains 120mg of THC. If you share your Mac and Cheese with seven other friends, you'd all ingest about 15mg of THC. Eat smaller portions if you are nervous, or substitute some cannabutter with regular butter.
Read more: